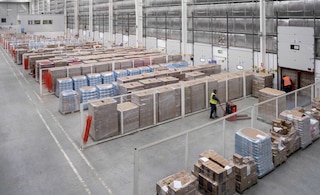 Storage buffer: streamlining production and dispatch
28 May 2021
A storage buffer is a sectioned-off area in the warehouse that serves to temporarily house goods (raw materials, for instance). Items are placed in a particular storage system or directly on the floor (block stacking) for a specific amount of time until they're required.
This solution is commonly used when product supply and demand rates don't coincide or when the installation acts as the halfway point between two production processes.
In this post, we'll examine the most popular solutions for creating a storage buffer in a warehouse, the advantages of implementing this work method, and how to automate it to increase your throughput.
Storage buffer: definition and applications
A storage buffer is a space allocated to housing goods temporarily. It's an area used to stockpile the materials needed for a subsequent process (for example, production, dispatch, picking, or kitting). Its location and organisation can vary depending on the available space and requirements of each warehouse.
The most widespread application of a storage buffer is to briefly accommodate goods destined for a production process (raw materials, packaging, or semi-finished products). This type of storage buffer is seen frequently in the installations of companies with high work rates or that operate according to the just-in-time method, such as firms in the automotive sector. These buffers are charged with supplying the merchandise when appropriate to avoid delays that could hold up production.
Another usual application of a storage buffer consists of sequencing and organising the products for preparing orders and kits or that have to be dispatched directly. In the latter case, the buffer is normally located in the warehouse dispatch area. There, you can also install preload flow channels, where orders remain until they are ready to be loaded onto the delivery truck.
How to design a storage buffer
When setting up your storage buffer, you have to take into account the available surface area as well as the operations to be performed there. Not only should it have enough surface area for storing the necessary merchandise, but it should also be prepared to ensure continuous, on-time supplies.
For the buffer to be sufficiently effective, it must be set up in an area where it can best fulfil its function, for example, as close as possible to the pick stations, the loading docks, or the production lines (in the case of a supply buffer).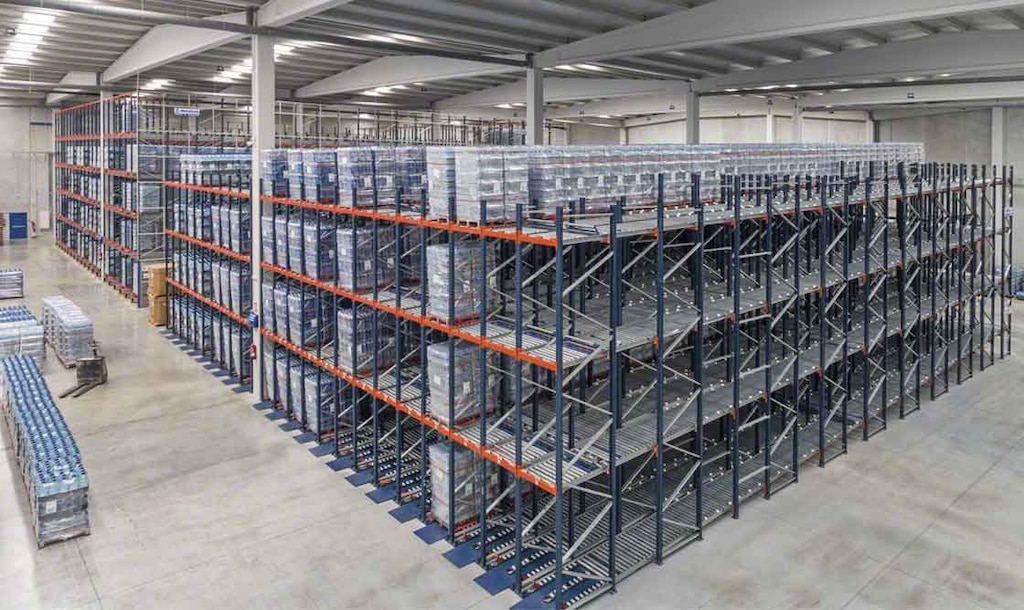 Companies tend to deposit goods on the floor. However, depending on the number of items and movements carried out, it might be a better idea to install a storage system such as conventional pallet racking, live pallet racking or push-back pallet racking. In this way, the products are better organised, making them easier to locate. These solutions also guarantee the safety of both the goods and the operators.
An efficient storage buffer must be agile and flexible. The storage system chosen should provide suitable storage and, above all, facilitate efficient operations, ensuring that product entries and exits are fast and occur at just the right time.
Benefits of a storage buffer
Creating a temporary storage area brings the following advantages:
Space optimisation. All available space is leveraged to accommodate a larger number of products. This space temporarily houses all items that will be needed for processes taking place in the installation.
Proximity and coordination. The buffer is perfectly coordinated with and connected to the other working areas where processes such as picking, kitting, and dispatches are carried out. This makes production and shipping more agile.
Goods availability. Storing the materials required for a process in advance results in total availability, thus preventing delays and interruptions.
Higher productivity. Making the most of the available space and guaranteeing supplies for the various processes taking pace in the warehouse means increased productivity.
Error reduction. In the storage buffer, products are organised following the order in which they will be needed. This minimises mistakes and streamlines supply.
Automating a storage buffer
One of the most widely-used solutions for creating a successful temporary storage area is automation. Conveyors, automated systems with live pallet racking and stacker cranes for pallets and for boxes (miniload warehouses) provide great flexibility and agility, in addition to boosting productivity.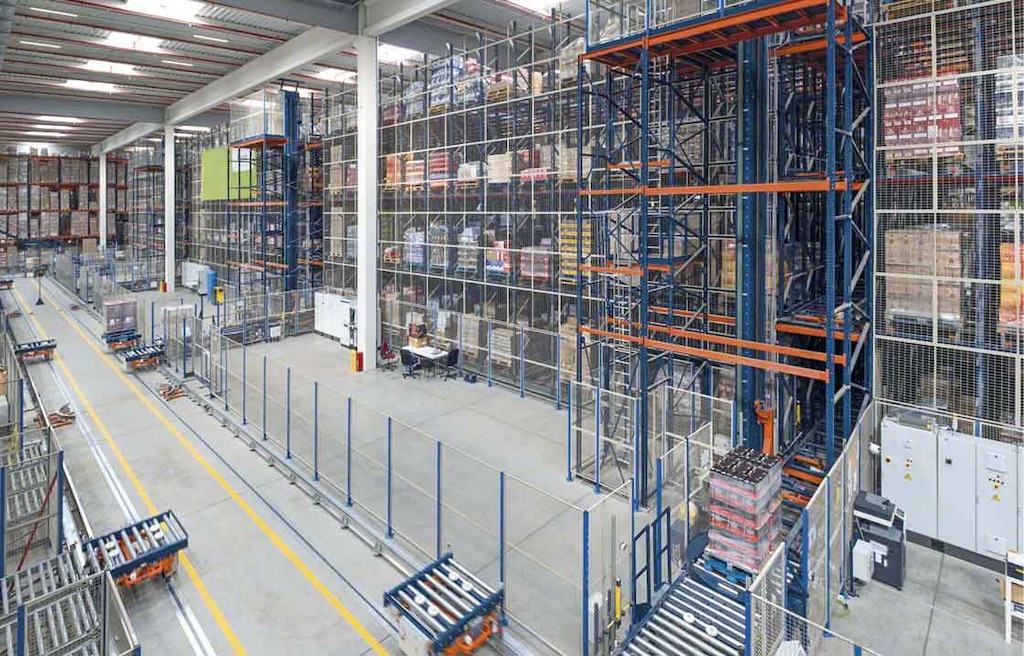 Automation ensures uninterrupted goods flows wherever required. Goods movements consume a good deal of operators' time. Therefore, doing so automatically by means of stacker cranes, conveyors, and/or shuttles reduces manual load handling, hence improving warehouse safety.
Moreover, as everything is automated and digitised through a warehouse management system, full product traceability is guaranteed, and you can monitor the goods available in real time.
Storage buffer implementation: success stories
Many companies resort to storage buffers to house products used in certain processes. An efficient storage buffer takes advantage of the available surface area to deposit the products needed and fulfil the purpose for which it was devised.
At Mecalux, we have extensive experience developing these types of logistics solutions for businesses in all industrial sectors. Let's take a look at two successful examples with automation as the common denominator. Their benefits: increased throughput and controlled movement flows:
Luís Simões. This renowned logistics provider commissioned a logistics centre in Spain, and our company equipped it with a racking unit and the automatic Pallet Shuttle system with transfer cars. This installation serves as a buffer charged with organising, sequencing, and programming prepared orders for distribution.
Yamazaki Mazak UK. We installed an automated warehouse in the production plant of this industrial machinery manufacturer in Worcester, UK. This space temporarily houses freshly painted parts until they are dry. The solution was designed to accommodate products the company needs and to guarantee that they enter and leave production at the right time and without delay.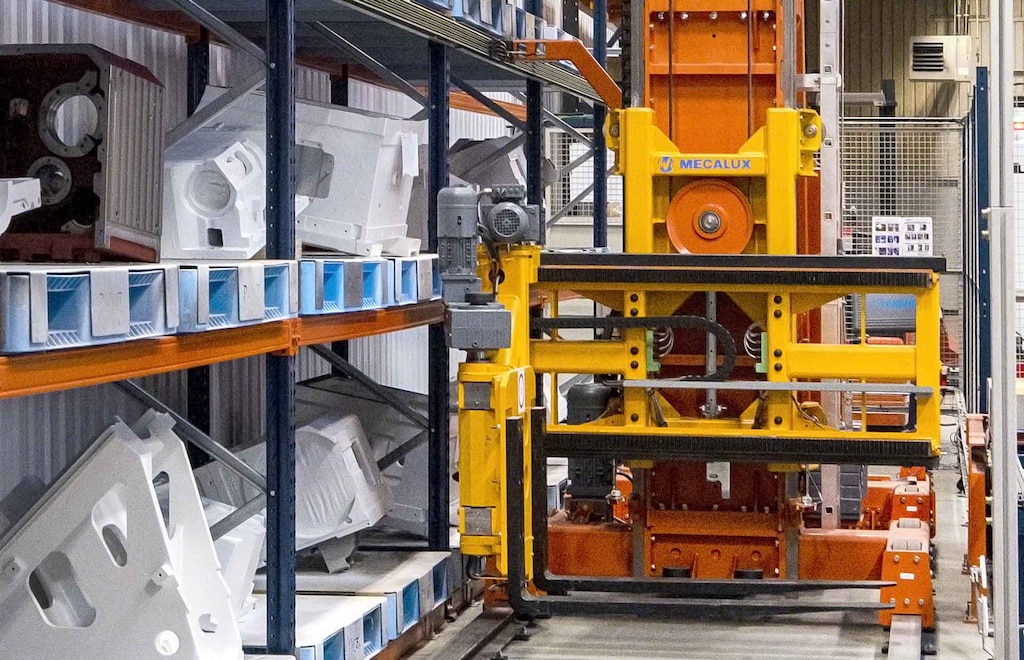 If you're planning on setting up a storage buffer in your logistics installations, don't hesitate to contact us. Our technical team would be happy to help you find the most suitable solution for your needs, adapted to your facility's characteristics and operations.