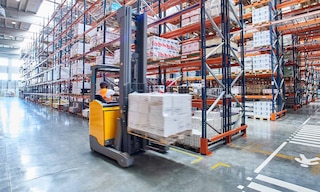 Forklifts: the most appropriate for your warehouse
17 Dec 2021
Forklifts are essential to the logistics operations of practically all companies. These types of handling equipment, of varying forms and weights, are tasked with streamlining the flow of palletized goods between different areas of the warehouse.
The most rudimentary forklift models date back to the 19th century and were based on goods lift technology. But it wasn't until the end of World War I that the first models comparable to those we know today appeared. In 1923, the Yale corporation created the first forklift model to incorporate hydraulic power, an operator cabin, forks and a mast.
Choosing a forklift: what to consider
Your choice of forklift will depend on multiple criteria, as each type adapts to a certain kind of warehouse or storage system. Among other factors to take into account is the drive type: internal combustion (diesel, gasoline, or natural gas) or electric (lead or lithium batteries). This element is especially important because it determines the ability of the forklift to operate in the logistics facility: forklifts with electric motors are mainly used indoors to prevent operators and the goods from exposure to exhaust gas.
When choosing a type of forklift, you need to bear in mind the warehouse layout design, i.e., the distribution of the storage systems in the facility and the width of the aisles, among other factors. For instance, counterbalanced forklifts normally operate in aisles with a width spanning between 3,200 and 3,500 mm. Aisle width also conditions the implementation of forklifts according to mast type: trilateral machines, for example, don't need to turn in the aisles, since they access pallets from the front and by rotating their forks to either side.
The height of the forklift will be conditioned by the characteristics of the racks installed and the weight of the goods, as not all equipment can operate with the same loads or at the same height. The manufacturer will indicate the maximum weight that each forklift can handle.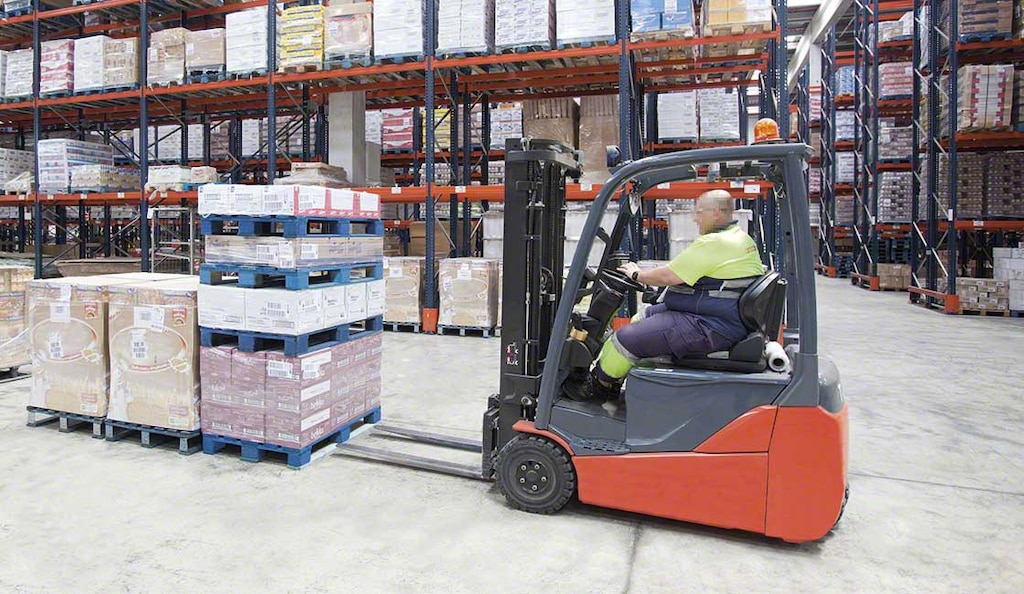 Forklifts according to warehouse type
The kind of forklift you choose for your facility will hinge on your storage systems, the distribution of the aisles and the loads to be handled, among other factors. There are multiple varieties of forklifts based on their structure and function (reach trucks, counterbalanced and trilateral, to name a few). These are some of the most common according to warehouse type:
Counterbalanced forklifts for pallet rack storage
Counterbalanced forklifts are the most typical due to their high versatility. They can be used to load and unload pallets from the trucks, deposit or remove product from the racks and even streamline internal flows of goods. Although they're used with all kinds of storage systems, they're the go-to option for pallet racking.
Reach trucks for warehouses with homogeneous goods
Drive-in pallet racking are often employed to store items that are very similar in nature. What's notable about these racks is that the forklifts enter and move inside the racking. Therefore, reach trucks are recommended in this case, as the operator's seat allows for good visibility when backing up.
Trilateral forklifts for warehouses with heterogeneous products
In facilities that house extremely varied items but need to optimise space (e.g., cold storage warehouses) mobile pallet racking systems are an optimal solution. These compact the products while offering direct access to each pallet.
Standard reach trucks tend to be used with these storage systems because, compared to counterbalanced forklifts, they require smaller working aisles (2,700 mm to 2,900 mm wide) and can operate up to 10.5 m high. In even narrower aisles, these machines can be replaced with bilateral or trilateral turret trucks, which only need an aisle width of 1,500 to 1,900 mm.
Side loader forklifts for warehouses with long loads
Side loader forklifts are employed to handle large or long loads (pipes, profiles, etc.). Their lifting system ensures the stability of these types of items and they can move forwards or sideways without the need for wide aisles. These forklifts are used in conjunction with cantilever racking, whose load-bearing arms are designed to store long or odd-shaped loads.
AGV forklifts for warehouses with predefined flows
Facilities with extremely repetitive flows of materials, i.e., warehouses connected to production, can opt automated guided vehicles (AGVs) that navigate using wires or laser technology. This can be seen in the logistics facility of multinational pharmaceutical company Novartis in Stryków, Poland. There, AGVs transport goods between the warehouse and the production centre.
AGVs are transportation devices for warehouses and production centres that move automatically following a preset route. In logistics facilities with higher order volumes, goods flows can be automated by swapping wire- or laser-guided AGVs with pallet conveyor systems.
Order pickers for order picking and consolidation warehouses
Pallet jacks and stackers are generally used in order picking warehouses. Although they're not considered forklifts as such, one type of machine that could fit this category is an order picker, which is also common in these types of centres. There are order picker models on the market that facilitate picking from the first two or three levels of the pallet racks. Plus, these machines are capable of holding a pallet and can have longer forks ― up to 3.3 m ― to move several pallets or picking carts.
Automation: a warehouse without forklifts?
The gradual swapping of forklifts with automated solutions has led more and more companies to automate their processes to speed up movements of goods, especially in repetitive tasks. This is illustrated in the latest study from British consulting firm Brandessence Market Research, which finds that warehouse automation will grow by 15% annually up to 2027, exceeding $38 billion.
The market features multiple solutions for automating forklift tasks and, thus, greatly boost the throughput of your logistics operations. For example, you can automate the insertion and removal of stock from the racks by replacing trilateral turret trucks with AS/RS trilateral stacker cranes. This solution accelerates the flow of goods without making structural changes to the building. This can be seen in the automated logistics centre of multinational pharmaceutical company Disalfarm in Rubí, Spain. Instead of trilateral turret trucks, the warehouse now uses trilateral stacker cranes. With this change, Disalfarm now has continuous work cycles and has optimised its storage space.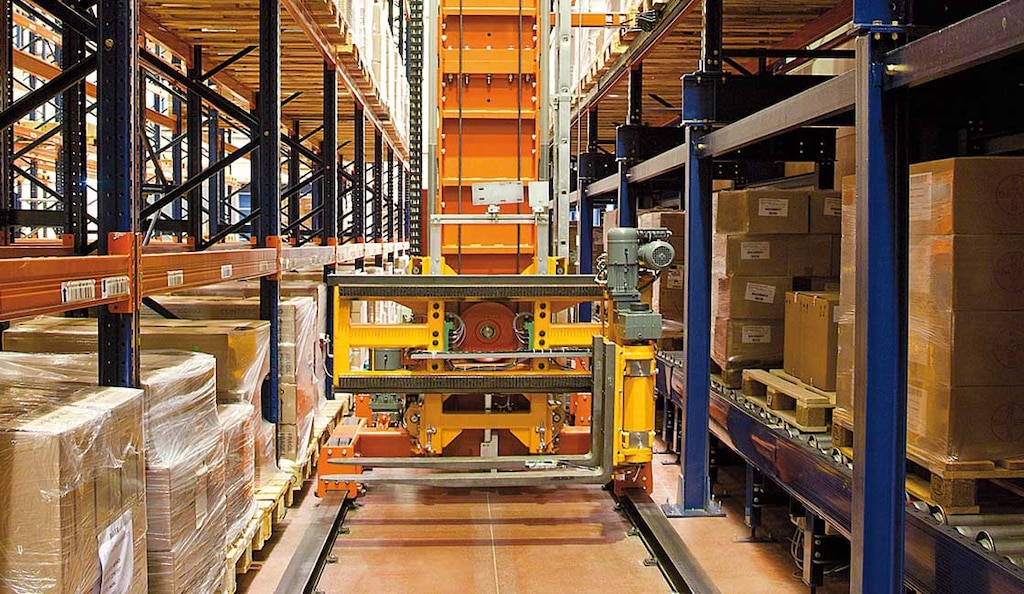 Warehouses looking to maximise efficiency and productivity can automate flows of products in all or part of the facility, depending on the product, the layout and the organisation's logistics planning strategy. When doing this, forklifts and manual storage systems can be replaced with single- or twin-mast stacker cranes for pallets. These can operate in one or more aisles, depending on the demands of each warehouse. Likewise, conveyors for pallets are installed in automated warehouses to streamline the movement of goods from one area to another in the building.
This solution can be found in the rack-supported facility of energy company Cepsa in San Roque, Spain. In this building, a set of seven twin-mast stacker cranes for pallets with double-deep forks speed up the storage and retrieval of products from the racks. Mecalux also equipped the warehouse with a set of output conveyors for pallets that transport the stock directly from the dispatch area to the loading docks.
A forklift for every storage system
Forklifts are vital for moving pallets from the transportation vehicles to the different areas in the logistics facility. Choosing the most appropriate machines for a particular facility will depend on variables such as the type of goods to be handled and the storage systems installed.
Interested in ramping up your logistics throughput and minimising errors in your warehouse operations? Be sure to get in touch. One of our experts will answer any questions you may have and advise you on the best intralogistics solution for your company.