03 Jun 2022
Hub and spoke is a goods distribution method that concentrates logistics activity in a central facility that serves as an operations centre. This central node acts as a logistics hub, transporting products or orders to other warehouses for subsequent processing and shipment.
One of the main goals of the hub-and-spoke model is to optimize a company's transportation flows and reduce its distribution costs.
What is the hub-and-spoke approach?
The hub-and-spoke distribution model centralises the storage and transportation of stock in a central facility ― i.e., a hub ― from which goods are distributed to the various regional warehouse when required.
The hub-and-spoke model differs from point-to-point transportation, in which goods are moved without a centralised point of reference, giving rise to inefficient flows and loss of stock.
Like the structure of a bicycle wheel, in a hub-and-spoke network, the main facility sits at the centre of the logistics operations, constituting the core of the distribution process. Generally, goods are sent from the central hub to a secondary warehouse or a facility along the perimeter of the network to be processed and distributed. Shipments are scheduled taking into account factors such as distance, time, and travel conditions.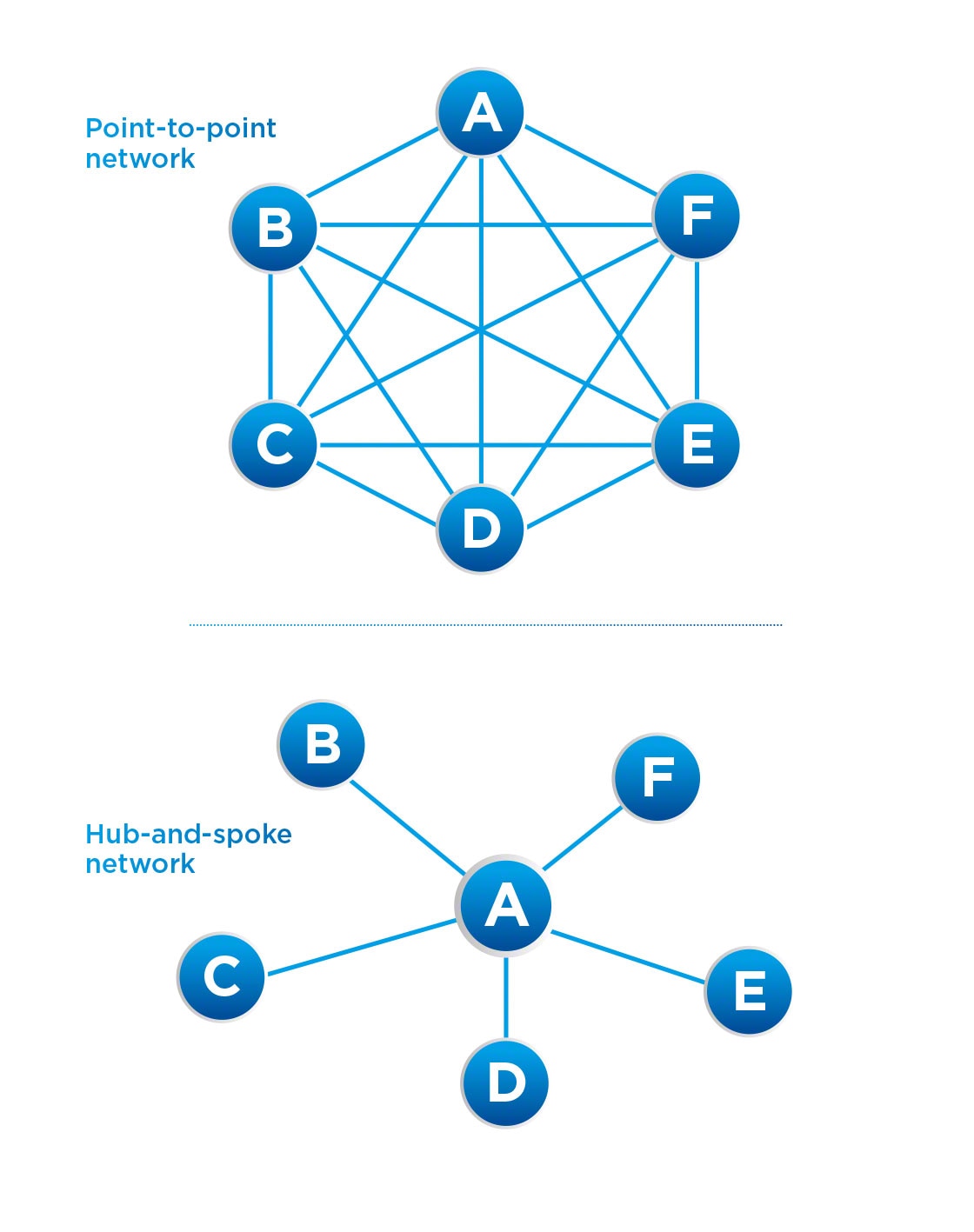 One of the main advantages of adopting the hub-and-spoke model is that in addition to optimizing hauls and truck loading, it's an easily scalable system. Why? Adding more secondary warehouses doesn't complicate management because shipments continue to be organized in the main hubs.
This method is often applied in supply chains with consolidation centres: at the central hub, goods are received and stored, and products are picked. Orders are then consolidated and dispatched, with transportation routes optimized to bring down shipping costs between the different logistics centres. Hub-and-spoke distribution is used in sectors such as the e-commerce, retail, food, pharmaceutical, and 3PL (third-party logistics) industries, among others.
How does the hub-and-spoke distribution model work?
Hub and spoke calls for a warehouse or distribution centre (DC) to function as the heart of the delivery strategy (all shipments are sent from the main centre). Some organizations, especially those with facilities and/or customers in different geographical areas or countries, might have more than one central hub.
Hub-and-spoke distribution speeds up shipments of products to regional warehouses or other company hubs. For example, when products in hub A need to be dispatched to recipients in hub B, they are transported from hub A to hub B. The hub B driver then distributes the goods to the different delivery points. The hub-and-spoke model allows the driver to make shorter trips, reducing the mileage of trucks without loads and optimizing logistics costs.
Benefits of hub-and-spoke distribution
The hub-and-spoke goods management model eliminates cost overruns in transportation between logistics facilities. Stock management is coordinated directly from the DC or central warehouse, which then reroutes the orders to the regional facilities for shipment to the final recipient. This model makes it possible to:
Lower logistics costs: having a warehouse for centralising the transportation of goods decreases a company's logistics expenses, as it curbs inventory management and transportation costs. Likewise, it speeds up goods shipments, fostering more efficient logistics service.
Improve productivity in transportation: hub and spoke facilitates the effective planning of transportation routes around the central warehouse. Instead of stopping off at several centres to pick up goods, the driver loads the truck only once, limiting driving hours and raising productivity.
Simplify shipping processes: hub-and-spoke distribution simplifies the shipment of goods, as all loads are dispatched from the central facility. This model also contributes towards better management of warehouse stock: loading and unloading shipments from a single centralised point enables logistics managers to maintain optimal stock levels.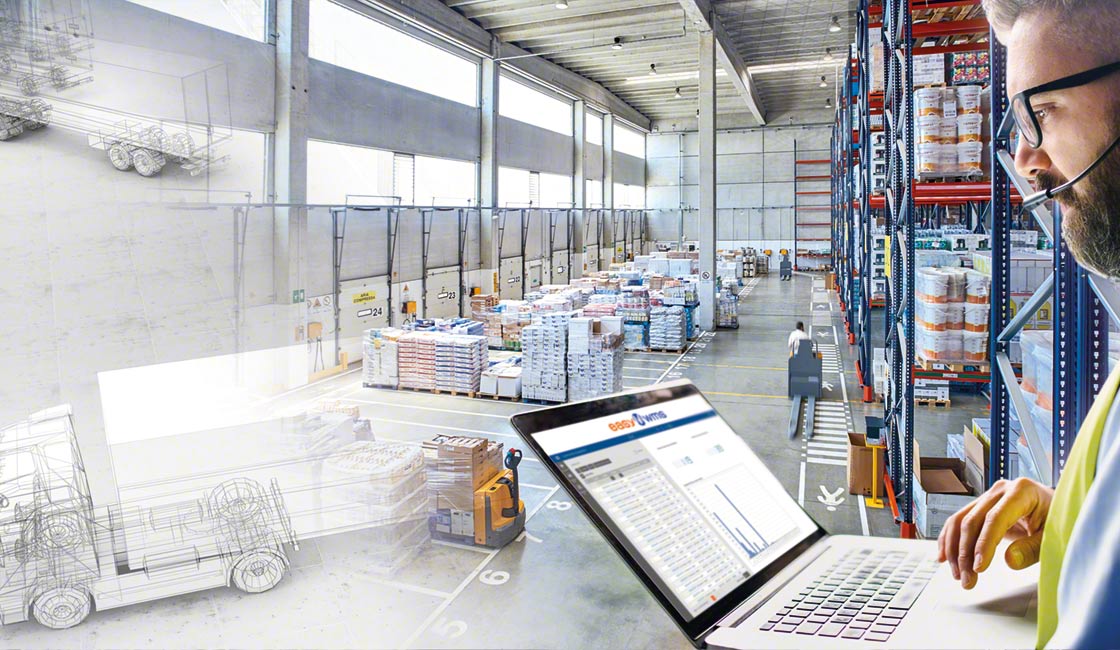 Digitizing the warehouse in a hub-and-spoke network
The hub-and-spoke goods distribution model requires maximum coordination between the central location and the regional facilities, particularly in inventory control and order management.
For this reason, it's difficult to coordinate the tasks and functions of multiple logistics centres manually. In hub-and-spoke distribution, it's essential to be equipped with digital support that automates the management of logistics operations, such as warehouse management software (WMS). Digitizing logistics processes ensures Supply Chain 4.0 and smooth communication, both between company facilities and between suppliers and customers.
Managing a warehouse with a logistics program provides efficient inventory control and complete product traceability. This is crucial for companies with multiple logistics facilities, e.g., those operating in a hub-and-spoke supply chain. Likewise, a warehouse management system such as Easy WMS from Mecalux features advanced functionalities to boost the throughput of this centralised goods management method. The Multi Carrier Shipping Software module, for instance, facilitates organization of the dispatch process according to the carrier route, avoiding errors in this operation.
Hub and spoke: centralised management of goods transportation
The hub-and-spoke logistics transportation model is an excellent option for overcoming the complexities of Logistics 4.0. With challenges like last-mile delivery and shorter delivery windows, having a distribution centre that channels the flow of goods can reduce both errors and logistics costs.
To implement a hub-and-spoke strategy, it's advisable to invest in a digital logistics management program, capable of coordinating the operations taking place in the various facilities. Interested in finding out how you can benefit from warehouse management software? Don't hesitate to contact us. An expert Easy WMS consultant will advise you on the most suitable solution for your facility.