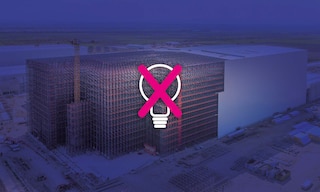 Lights-out warehouse: the pinnacle of industrial automation
08 Nov 2022
New generations of robots are paving the way for lights-out warehouses: completely automated logistics facilities requiring no lighting. Automatic handling equipment performs storage, order picking and dispatch tasks, minimising the presence of operators in the building.
What's a lights-out warehouse?
A lights-out warehouse is a logistics facility or distribution centre without the need for lighting and where the presence of operators is minimal. This is because, instead of people, automatic handling equipment carries out the operations. The term "lights-out" refers to the minimal or lack of worker intervention in the processes taking place in these automated facilities.
A lights-out warehouse is based on fully automated logistics. These facilities are outfitted with stacker cranes — automated storage and retrieval systems (AS/RS) for pallets — or mini-load systems (AS/RS for boxes), internal goods transport systems like conveyors or autonomous mobile robots, picking automation technology and computer programs that coordinate operations.
In a lights-out warehouse, automatic handling equipment is charged with performing all operations, including goods consolidation and deconsolidation. Among other automated solutions, a lights-out warehouse can have sorting and automatic truck loading and unloading systems that don't require human intervention.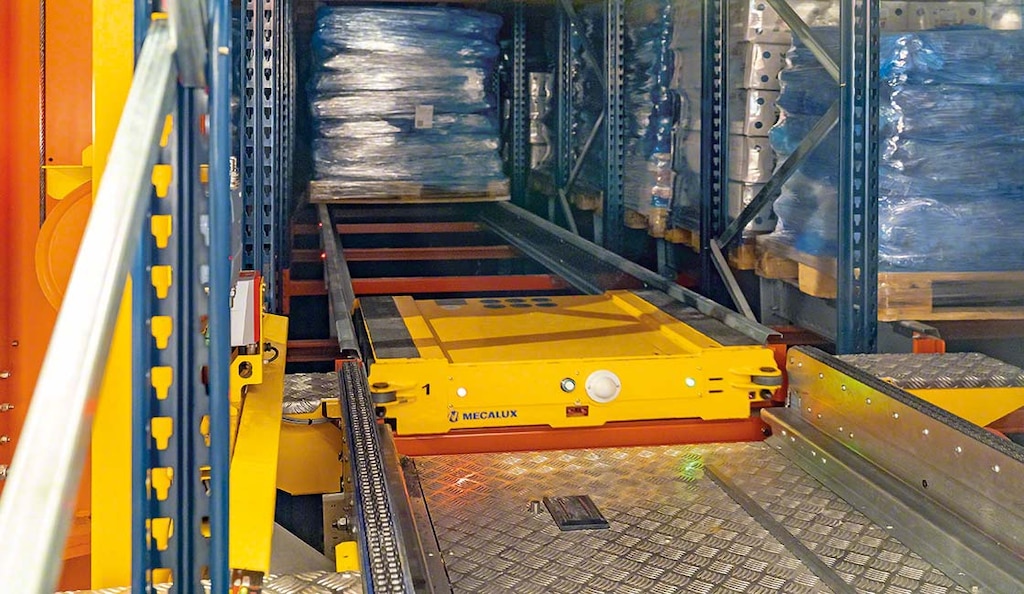 Lights-out warehouses are the pinnacle of industrial automation. However, in the report Automation in logistics: Big opportunity, bigger uncertainty, consulting firm McKinsey says that full warehouse automation is still yet to come: "Many operations could be automated by 2030, as artificial intelligence (AI) takes over the many repetitive activities that logistics companies perform. We expect to see fully automated high-rack warehouses, with autonomous vehicles navigating the aisles. Managers with augmented-reality goggles will be able to 'see' the entire operation, helping them coordinate both people and robots. Warehouse management systems will keep track of inventory in real time, ensuring it is matched to the ordering system."
Lights-out warehouses are an optimal solution in climate- or temperature-controlled warehouses (in industries such as agri-food, chemicals and pharmaceuticals). Why? Because automation does away with human intervention in environments that could have adverse effects on health, i.e., cold or lack of oxygen. Moreover, it raises throughput in facilities with high energy costs.
Advantages of lights-out warehouses
Having a lights-out warehouse provides the following benefits:
Improved productivity. AS/RS and automated internal transport systems move goods between the different areas of a warehouse more quickly compared to facilities with conventional handling equipment.
24/7 operations. Lights-out warehouses can work nonstop 24 hours a day, seven days a week.
Maximum accuracy. Automated robots follow instructions from software that organises and coordinates their movements, eliminating the risk of error in stock management.
Expanded warehousing capacity. Automated solutions compact the goods and make the most of the height of the facility, increasing its total storage capacity.
Technology for lights-out warehouses
As noted in the article Advancing AI smarter intelligence everything in the transport and logistics industry by Cindy Gordon, CEO of technology company SalesChoice, lights-out warehouses "are facilities where robots work alone in the dark, completing tasks formerly done by humans."
Technologies such as AI in logistics, machine learning and the Industrial Internet of Things (IIoT) play a key role in the design and operation of a lights-out warehouse. Robots move materials between the different areas of the facility, automating all tasks, from goods receipt to the shipment of orders to end customers.
For handling equipment to operate in a lights-out warehouse, it's essential to digitise processes with an advanced logistics software suite. This includes a warehouse management system (WMS), a warehouse control system (WCS), a transport management system (TMS) and a yard management system (YMS), among others.
Lights-out warehouse: all-or-nothing?
It's true that the lights-out warehouse concept involves a facility without artificial lighting and in which all operations are automated. Nevertheless, logistics automation isn't usually an all-or-nothing choice. We can see this in The transformation from manual to smart warehousing: an exploratory study with Swedish retailers by professors Joakim Kembro and Andreas Norman of Sweden's Lund University. This publication analyses Swedish industry's commitment to automating logistics processes over the next five years.
According to the researchers, lights-out warehouses are not yet a common practice in logistics. The study, based on in-depth surveys of retailers, shows that in the next five years, 20% of retailers expect to "have automated five or more operations to a very high degree. Of these, many will have automated most of the warehouse operations to a high degree and some even plan to use a fully automated warehouse," i.e., a lights-out warehouse. "Altogether, 44% indicated that they will automate one to four operations significantly. Simultaneously, many retailers (38%) have not specified any of their operations as being highly automated, indicating that a high demand for manual work will remain in warehouses."
Lights-out warehouse: the future is now?
To meet stringent customer demands and commit to Logistics 4.0, companies have chosen to implement automated solutions in processes like product storage, goods flows and order picking. The consolidation of technologies such as machine learning, AI and 5G make it possible to design totally automated facilities. But lights-out warehouses are still few and far between.
For now, automated warehouses continue to rely on workers to carry out part of their operations, especially the most value-added roles. Robots, meanwhile, are assigned to the more repetitive tasks and those too strenuous for humans.
But each organisation has its own specific logistics needs to fulfil. A warehouse automation project has to be adapted to each business's demands and to the technical characteristics of the facility.
The Mecalux Group has over 50 years of experience designing and building warehouses around the globe. We feature a wide range of solutions to digitise and automate any process. If you're looking to get the most out of your facility, be sure to get in touch. One of our expert consultants will advise you on the best solution for your company.