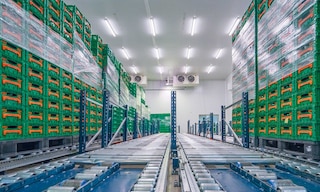 Temperature controlled warehouse: energy-efficient design
17 Sep 2021
Temperature controlled warehouses are logistics facilities that house products to be kept at a specific temperature to guarantee the conservation of their properties and prevent their degradation.
In this post, we'll show you which storage systems are used to maintain goods in ideal conditions while facilitating the work of operators.
What's a temperature controlled warehouse?
Changes in consumption habits, such as the increase in frozen foods in homes, has led to a rise in the number of products that need to be stored at a controlled temperature. According to a study from consulting firm Allied Market Research, the global cold chain logistics market was valued at almost $160 billion in 2018 and is expected to reach $585.1 billion in 2026.
A temperature controlled warehouse is a facility dedicated to the storage, preparation, and dispatch of products that have to be stored at a specific temperature. Generally, it can operate at four different temperature ranges:
Ambient: 59 °F to 86 °F
Cool: 50 °F to 59 °F
Refrigerated: 32 °F to 50 °F
Frozen: -22 °F to 32 °F
Temperature controlled warehouses are made up of storage systems, handling equipment, and other elements that facilitate operations, such as pallet conveyor systems and cleanrooms. They all aim to avoid breaking the cold chain, comply with safety standards, and preserve the quality of the goods stored.
Types of products housed in temperature controlled warehouses
The main industries (albeit not the only ones) that resort to storing goods at a controlled temperature are:
Food and beverage. Perishable items such as food lose their flavour, freshness, and nutrients if they're not kept at a refrigerated temperature.
Pharmaceutical. Many components used to manufacture medication require constant cooling to maintain their useful life and properties, as high humidity and changes in temperature can alter their makeup.
Chemical. Facilities dedicated to chemical warehousing are extremely strict when it comes to temperature for safety reasons.
Cosmetic. Cosmetic products can break down at high temperatures.
Without rigorous temperature control, the cold chain would break, and the goods would go bad. Sometimes this is easily noticeable because the products have crystallised, look unattractive, or appear to have deteriorated. Nevertheless, the loss of stability in their conservation isn't always identifiable, as is the case with medical items and vaccines.
Designing a temperature controlled warehouse
Temperature controlled warehouses are equipped with refrigeration equipment (compressors, condensers, expansion valves, and evaporators) strategically placed based on the square footage, the difference in temperature inside and outside the cold store, and the time the product will remain there. Additionally, these facilities must be built with sandwich panels, an insulating element that prevents the transfer of cold air to the outside.
These types of warehouses tend to use high-density pallet racking systems. They're the ideal option for lowering energy consumption, which is one of the major costs associated with the day-to-day operations in these facilities. By optimising storage space, these compact solutions reduce the square footage of the refrigerated space required, resulting in significant energy savings.
Another common solution is to implement automated warehouses (AS/RS). These minimise human intervention, preventing operators from exposure to the cold for long periods of time.
Likewise, secure airlock systems are installed to avoid subjecting the goods to sudden changes in temperature and to stave off condensation. Located at the access point of the freezer warehouse, the airlock system constitutes an anteroom with two doors that must never be open at the same time.
In short, the optimal design of these warehouses ensures that the company's energy efficiency levels are conducive to the viability of its operations.
Storage systems in temperature controlled warehouses
The choice of storage system depends, among other factors, on the kind of product to be stored, the required movement flows, and space limitations. Based on these three premises and the fact that several systems can coexist in the same warehouse, we'll run through the main solutions available on the market:
Pallet racking
Depending on the company's specific logistics needs, different pallet racking storage systems can be implemented in temperature controlled warehouses: conventional pallet racking, drive-in pallet racking, live pallet racking, push back pallet racking, and so on.
Conventional pallet racking are one of the most popular options, since they offer direct access to the goods to facilitate storage and picking tasks. Moreover, the racking locations can be adapted to the characteristics and sizes of the products. This is the case of Brivio & Viganò, a logistics provider specialising in food. The company equipped its temperature controlled warehouse in Italy with pallet racks from the Mecalux Group due to their versatility when it comes to managing extremely varied goods from different customers.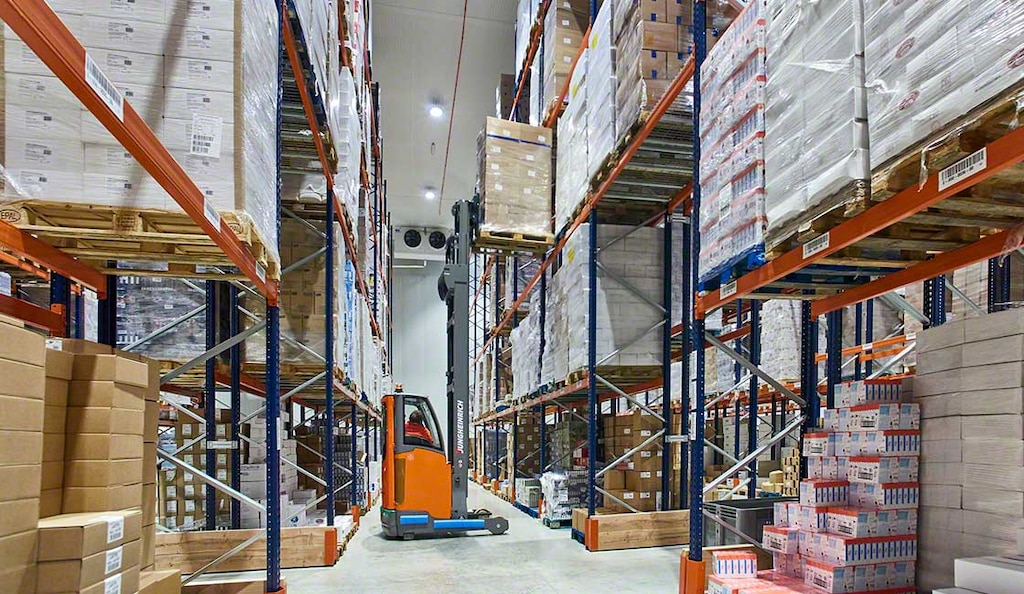 Racking on mobile bases
Mobile pallet racking systems are a suitable storage system for cold storage or freezer warehouses for two reasons. Firstly, as they are a compact solution, they reduce energy consumption. Secondly, they offer direct access to all the SKUs by automatically opening up the required aisle.
This solution was adopted by Polish logistics operator JAS-FBG. It chose the Mecalux Group as its supplier of pallet racks and racking on mobile bases for its three temperature controlled zones. The mobile racks incorporate safety devices, such as exterior and interior barriers, to guarantee the utmost safety of the operators, the goods, and the facility.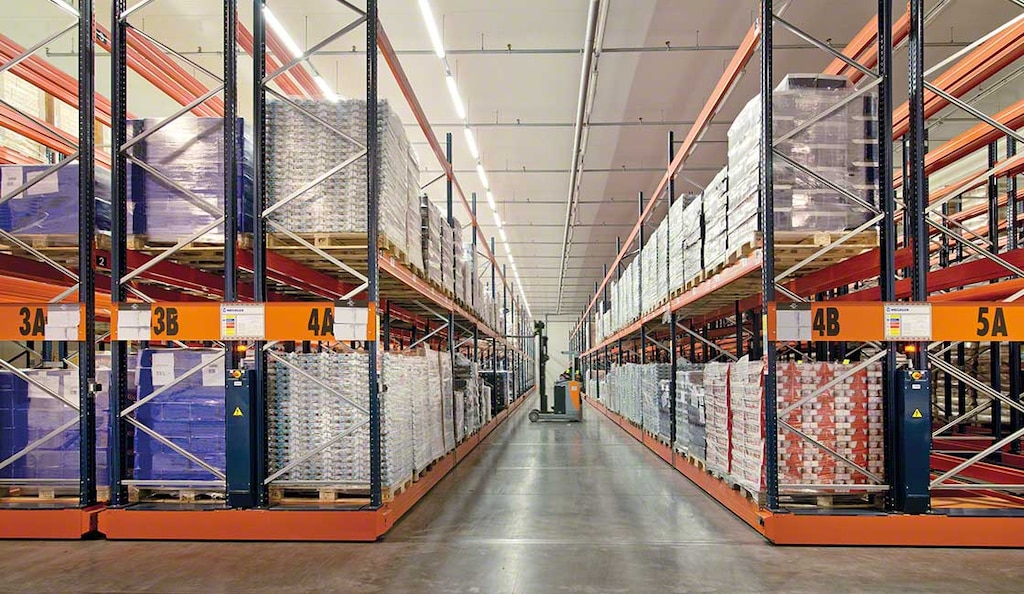 Semi-automated Pallet Shuttle
The semi-automated Pallet Shuttle storage system is a compact solution featuring a shuttle that moves the goods inside the racks automatically. In addition to speeding up product movements inside the channels, this system optimises storage space, substantially bringing down the energy consumption required to run the warehouse at a controlled temperature.
This is one reason why many businesses turn to this solution. Among them is Producers Dairy. At its cooler in Fresno, California, this dairy company has swapped its old racks for the semi-automated Pallet Shuttle system from Mecalux, doubling its storage capacity.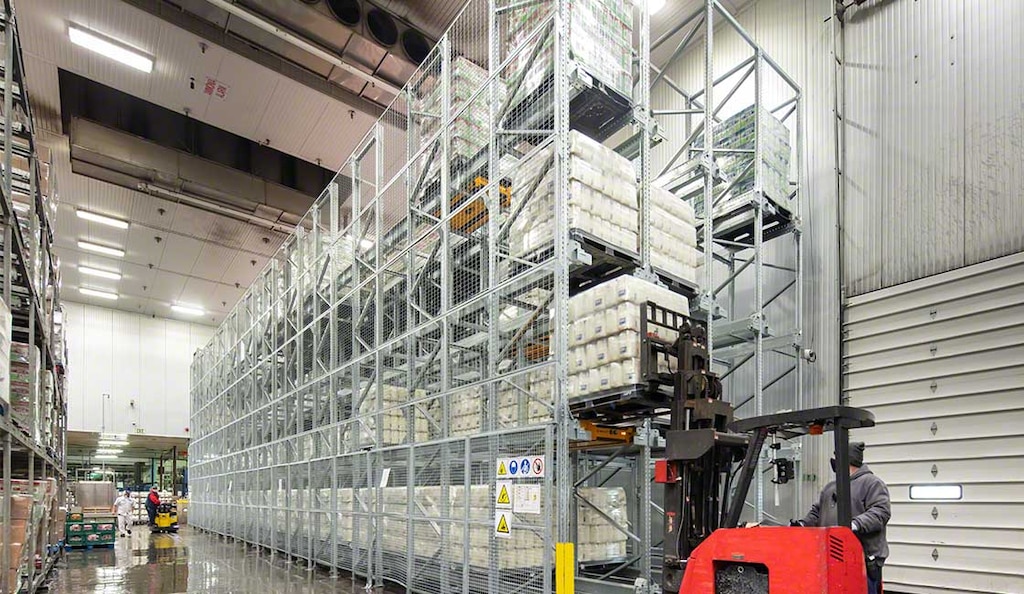 AS/RS for pallets
Stacker cranes (AS/RS for pallets) can be installed in temperature controlled warehouses. These devices move goods in and out of the storage aisles automatically. Automation is a great solution for these kinds of facilities, as it dramatically speeds up product movements and does away with the need for operators to be exposed to low temperatures for extended periods of time.
Kiwi Greensun, the largest producer of kiwis in Spain and Portugal, has an automated clad-rack warehouse built by the Mecalux Group and that operates at a controlled temperature. Two advantages of this facility are highly accurate product control and agility in goods inflows and outflows.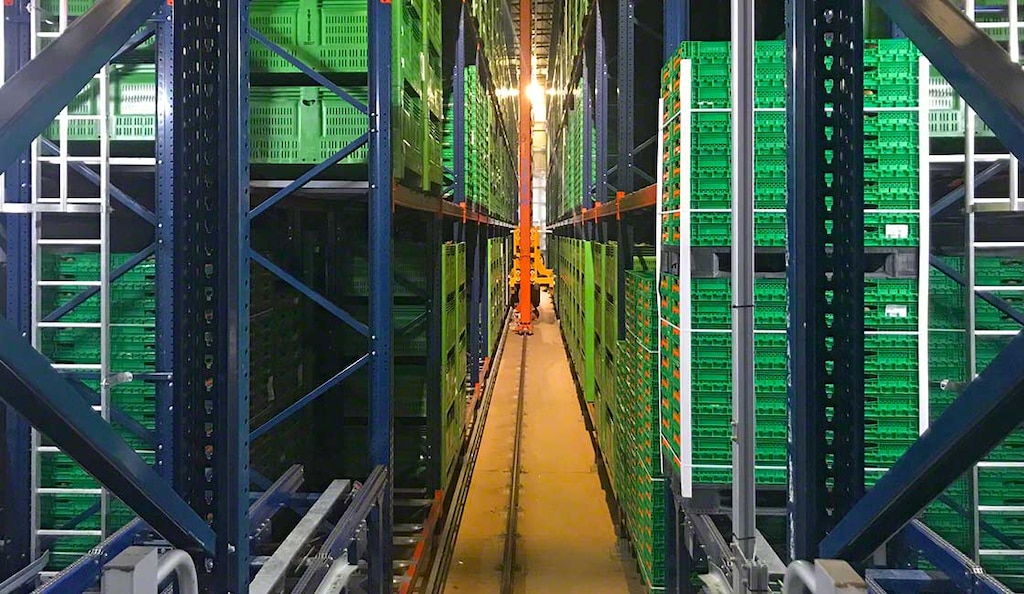 AS/RS for boxes
Small products requiring management at a controlled temperature can be stored in an AS/RS for boxes. Its structure is similar to that of an AS/RS for pallets: a miniload stacker crane picks up the goods from the conveyors and moves them inside the storage aisle to the location specified by the warehouse management system (WMS).
Meat company Elaborados Cárnicos Medina has an AS/RS for boxes where meat is aged at a refrigerated temperature. As all operations are fully automated, the AS/RS is connected to the other processes in the production plant. The Mecalux Group also installed its Easy WMS warehouse management system to control the traceability of the meat in real time.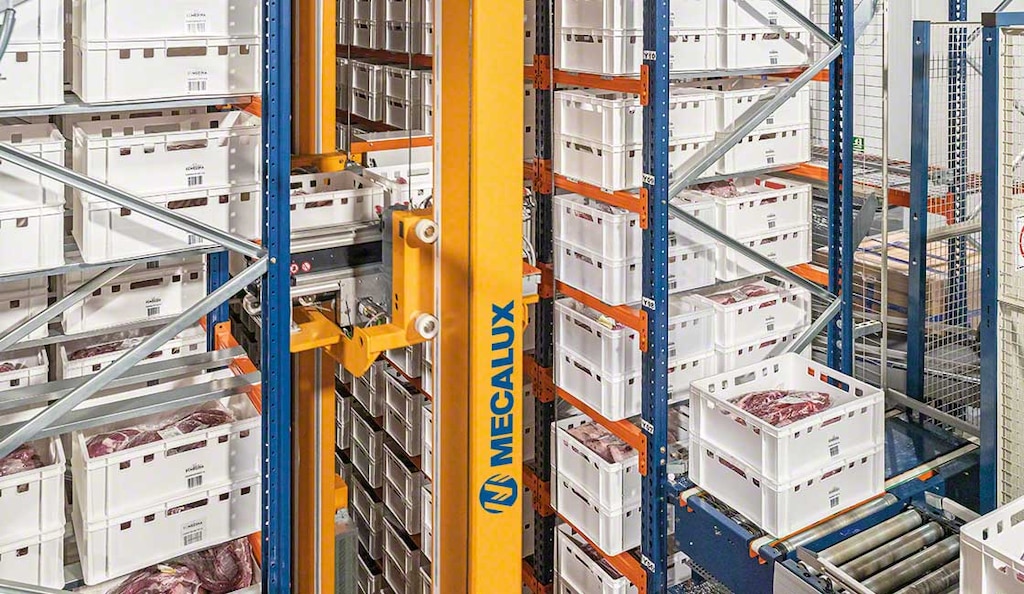 Logistics solutions for controlled temperatures
Temperature controlled warehouses are essential in sectors such as the food, chemical, and pharmaceutical industries. Due to the high energy consumption of these facilities and the difficulties operators have working in them, they must be designed to optimise storage space and shorten the time that employees have to remain inside them.
Therefore, solutions such as Movirack mobile racks and AS/RS are perfect for centres with these characteristics. At Mecalux, we have extensive experience in designing and outfitting cold storage and freezer warehouses. One of our specialties is finding the best solution to meet the needs of companies that work with goods that need to be kept at low temperatures. Be sure to get in touch. We'd be happy to advise you and help you come up with the best solution for your business.