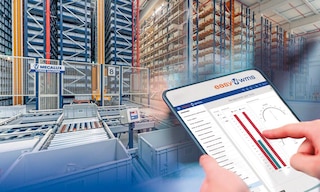 7 logistics trends for 2023
12 Jan 2023
Logistics trends for 2023 point to more automated and digitised warehousing. Technology advances — e.g., digital twins and cloud computing — make logistics operations more agile, secure and reliable.
In a changing environment, your supply chain calls for solutions that boost resilience to the challenges of Logistics 4.0. These are the seven main trends that will shape logistics in 2023.
1. Warehouse simulation
Simulation, which uses digital twin technology, raises companies' competitiveness. It consists of creating virtual replicas of objects or processes to reproduce the behaviour of their real-world counterparts.
In logistics, this virtual representation of processes lets you simulate your warehouse layout as well as operator and goods flows. Thanks to the 3D representation of the facility, you can visualise your prospective logistics operations.
Moreover, once your warehouse is operational, simulation helps to detect inefficiencies and possible adverse scenarios. It's also capable of spotting improvement opportunities to facilitate strategic decision-making. For instance, you can introduce new picking methods or predict how your facility would perform if other storage systems were installed.
2. Logistics flexibility
Flexible logistics was key throughout 2022 and will remain so this year. Factors such as the consolidation of omnichannel, product seasonality and returns management have compelled many companies to implement flexible logistics to remain competitive.
Flexibility is essential in all supply chain stages. Having flexible logistics and production processes guarantees stock availability for end customers. At the same time, it limits cost overruns in manufacturing, storage and transport. Businesses with elastic logistics are able to adapt their warehouses to unexpected changes without altering their throughput. Likewise, they have an easier time maintaining their competitiveness in supply chain disruption scenarios.
Flexibility also gives you a competitive edge in order fulfilment, one of the most demanding logistics operations. Flexible fulfilment is a strategy centred on adapting order picking to complex demand so that items can be shipped from any distribution centre, warehouse or physical store.
3. Robotic process automation
Robotic process automation (RPA) technology — i.e., the adoption of software robots to interact with programs in an automated way — will continue to play a major role in business processes in 2023. RPA is used to automate repetitive tasks. These include connecting to web apps, copying and pasting data, moving folders and creating directories and folders, among other functions.
On a logistics level, RPA technology can improve product tracking and monitor order shipment status. RPA lets you send delivery time notifications, inform customers of possible delays and create an electronic proof of delivery document through messages generated automatically.
RPA also facilitates the execution of purchase orders based on automated criteria such as price, quantity and frequency. You can also use software robots to forecast supply and demand by automatically analysing historical sales data and market indicators. This ensures the number of products required to fill future orders and maintain the right amount of safety stock.
4. Data mining
Data mining consists of analysing large quantities of information to detect and extract patterns that reveal useful knowledge for improving decision-making in organisations. In Logistics 4.0, automatically detecting patterns in operations such as goods receipt, order picking and returns could enhance stock demand forecasting and inventory control.
Data mining has become more relevant, along with the development of technologies such as big data, artificial intelligence (AI) and machine learning. Automatic data extraction methods organise and filter information to transform it into relevant knowledge. In certain fields, this helps to detect fraud (finance), predict demand (sales and marketing) and identify bottlenecks (industry and logistics), among many other applications.
5. Cloud computing
Cloud computing is redefining business management — more specifically, the way supply chains are organised. Software as a service (SaaS) will be another logistics trend to make a mark in 2023. Digitising your logistics operations with a warehouse management system (WMS) in the SaaS model gives you access from any device with an internet connection. Plus, it saves you money on infrastructure and maintenance costs.
Having a SaaS WMS ramps up security in information management. That is, all data generated in your facility are captured and stored through cloud computing technology, with backup copies created automatically. Implementing cloud-based software also makes your digital solution more flexible: the SaaS version allows for a scalable number of licenses based on customer needs.
6. Drones and logistics
Drones are starting to gain ground in the logistics industry and could become a mainstay in 2023. Multinational tech companies such as Google and Amazon have been working for some time on drone prototypes to deliver orders to customers by air. Although still at an experimental stage, drone delivery would bring benefits such as lower costs, faster shipments, less road transport and reduced pollution.
Another application already being put into practice in some facilities is drone inventory management. To perform this task, the drone flies autonomously over the warehouse and scans the barcodes or RFID tags. It then informs the logistics software of the units in stock for each SKU. Together with efficient product management, this lets you detect inventory imbalances automatically, without having to allocate dedicated resources to this task.
7. Green logistics
Also known as sustainable logistics, green logistics encompasses the set of policies and measures designed to lessen the environmental impact of business activity. Environmental awareness is increasingly gaining momentum as companies seek to reduce their carbon footprint, pollution and waste at all stages of the supply chain.
Using electric vehicles, promoting pick-up points and employing biodegradable materials are some of the measures companies are implementing to limit waste and consume less energy in their business processes.
Logistics in 2023: new technologies for better service
In 2022, warehouse automation and digitisation became firmly established as the pillars of logistics strategy. In 2023, it's clear that organisations will continue to rely on new technologies to maintain competitiveness, streamline processes and minimise errors. The goal? Smooth, flexible logistics operations capable of adapting to changes yet to come.
Want to ensure your logistics operations are efficient and updated with the latest trends? Get in touch. One of our experts will advise you so you can get the most out of your supply chain.