29 Apr 2021
How many miles do operators travel during their working day? Motorised roller conveyors are the perfect solution for minimising those movements made primarily during picking, the activity that takes workers the most time to complete. The use of motorised conveyors can quadruple the number of orders prepared, accounting for a substantial improvement in warehouse productivity.
In this post, we'll examine when it's suitable to install motorised roller conveyors for boxes or for pallets. We'll also set out and analyze the operation of motorised roller conveyors, the various types available on the market, and their applications.
What are motorised roller conveyors?
As a whole, motorised roller conveyors constitute a piece of automatic handling equipment charged with moving, accumulating, and/or distributing goods from one location to another. They can connect two installations, a warehouse and a production plant, or two areas in a single building.
The main job of motorised roller conveyors is to streamline product transportation, saving time and gaining in efficiency. This is especially the case when it comes to longer distances to be traveled and heavier goods to be moved. It's a very versatile transportation system, as multiple circuits can be configured in line with each installation's needs.
As opposed to traditional conveyors, these are equipped with electric motors that move the unit loads (pallets or boxes) in a controlled way. Motorised roller conveyors are made up of a series of rollers that support the load and propel it along a circuit.
Operation of motorised roller conveyors
The way in which motorised roller conveyors run is closely linked to the type of circuit set up and the connection needs they fulfill. Generally speaking, motorised roller conveyors require a control system (WCS – Warehouse Control System). Plug-and-play conveyors for pallets are the exception; these don't call for a WCS, as they are only used in simple circuits (with a single indeed end and destination end or various infeed points and a single discharge end). The current that drives plug-and-play conveyor motors is transmitted by connecting one conveyor to another.
In the case of medium- to high-complexity circuits, which have various infeed and discharge points, WCS software is responsible for executing the movements and coordinating them with the rest of the automated elements. So how is this done? Conveyors have photocells that continuously register the location of the goods. In this way, the control system can transmit orders to the other systems at the right time, ensuring that the product continues on its path.
More complex circuits have very different infeed and discharge points, and the conveyors interact with other automatic components such as lifts and transfer cars. In addition to a control system, these circuits require a warehouse management system, which acts as the brain of the installation. This software not only coordinates the movements of all the automated elements, but also optimises goods flows and controls the stock for each SKU in real time.
Additionally, motorised roller conveyors incorporate protection systems, for example, safety enclosures, pedestrian crossings, and access control doors. All of this is aimed at guaranteeing the utmost safety of the operators and the merchandise. Likewise, motorised roller conveyors can include other elements, such as stretch wrappers, strapping machines, scales, automatic doors, etc. It's also common to install a checkpoint to verify that the condition, weight, and measurements of the unit load correspond to the requirements of the warehouse.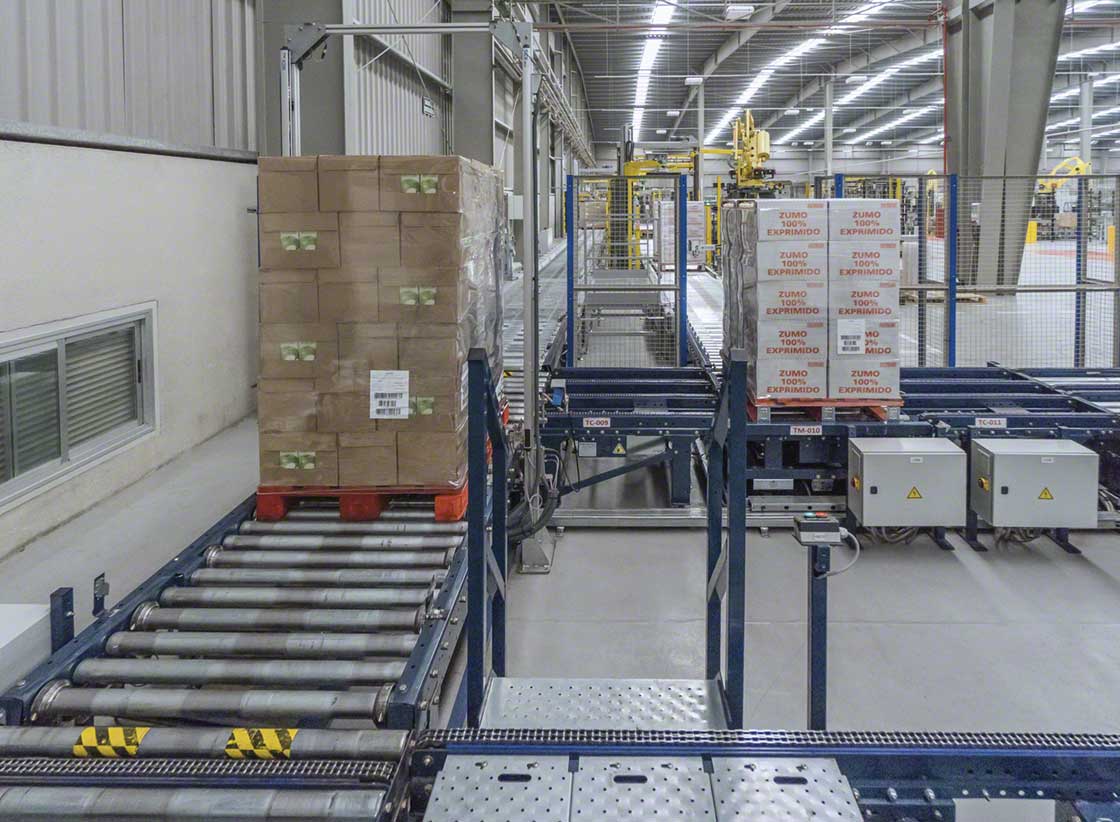 Conveyor types
Each conveyor circuit is formed by one or more conveyors to ensure smooth, unlimited and safe goods movements. The type of conveyor varies depending on whether it is used for pallets or boxes.
Below are motorised roller conveyors for pallets, which support unit loads of 48" x 40" (or 32" x 40" x 48" for Euro pallets) and a maximum unit weight of 1.65 tons:
Roller conveyor: this is the most common variety used in the majority of warehouses. It transports goods lengthwise, covering long distances between two points of the installation at low cost. The distance between pallets is controlled by photocells, which maintain the appropriate separation between the pallets. The travel speed consists of 35' to 65' per minute.
Mixed transfer with rollers and chains: as this is made up of both rollers and chains, it allows you to change the direction and orientation of the pallet.
Turntable conveyor with rollers: this changes the pallet's direction of travel while maintaining its orientation. It can position the pallet at any angle with respect to the inflow direction.
Accumulation conveyor: this type is used to line up pallets one after the other, maintaining a small separation between them. It's ideal for a temporary buffer zone. Once a pallet moves forward from its position, the movement of the rollers resumes so that the pallet behind it moves into that position.
Roller conveyor with entry/exit guide rails: this is used to insert or dispatch pallets to/from the conveyor circuit by means of a pallet truck, doing away with the need for forklifts.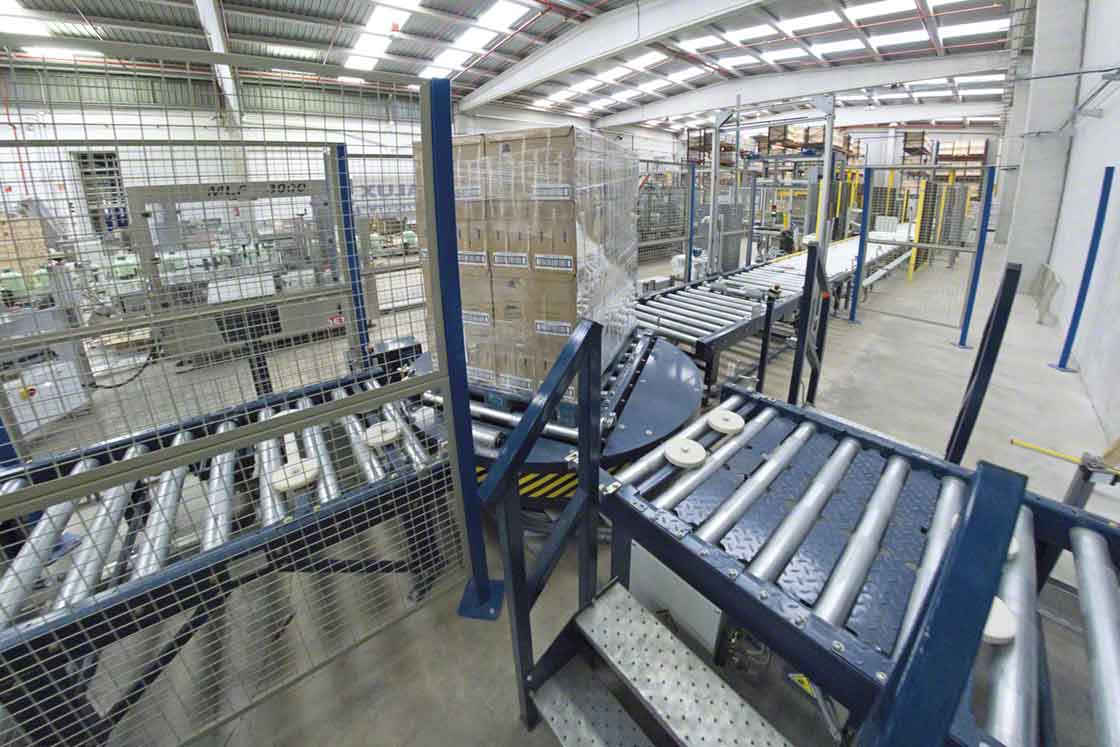 The following are the most common kinds of motorised roller conveyors for boxes:
Roller conveyor: this moves the boxes in a straight line, preventing contact between them and allowing them to accumulate one after the other at a certain distance.
Live/continuous roller conveyor: this variety is ideal for long distances and high flows. In contrast with the above type, live roller conveyors do enable boxes to accumulate and come into contact with each other.
Curved accumulation roller conveyor: this incorporates a curve into the circuit. The angle of the curve is configurable.
Combined roller-and-belt conveyor: this makes it possible to change the direction of the box by 90°. It's equipped with a hinged stop that ensures it remains linear during crossings and intersections.
Roller conveyor with lift: this is used to pick up or deliver the box from/to the stacker crane during inbound and outbound goods operations in automated warehouses.
Picking conveyor: its ergonomic design allows for it to be used as a pick table.
The list of different kinds of conveyors is quite extensive, so it's essential to analyze an installation's requirements in detail to implement the most appropriate conveyors.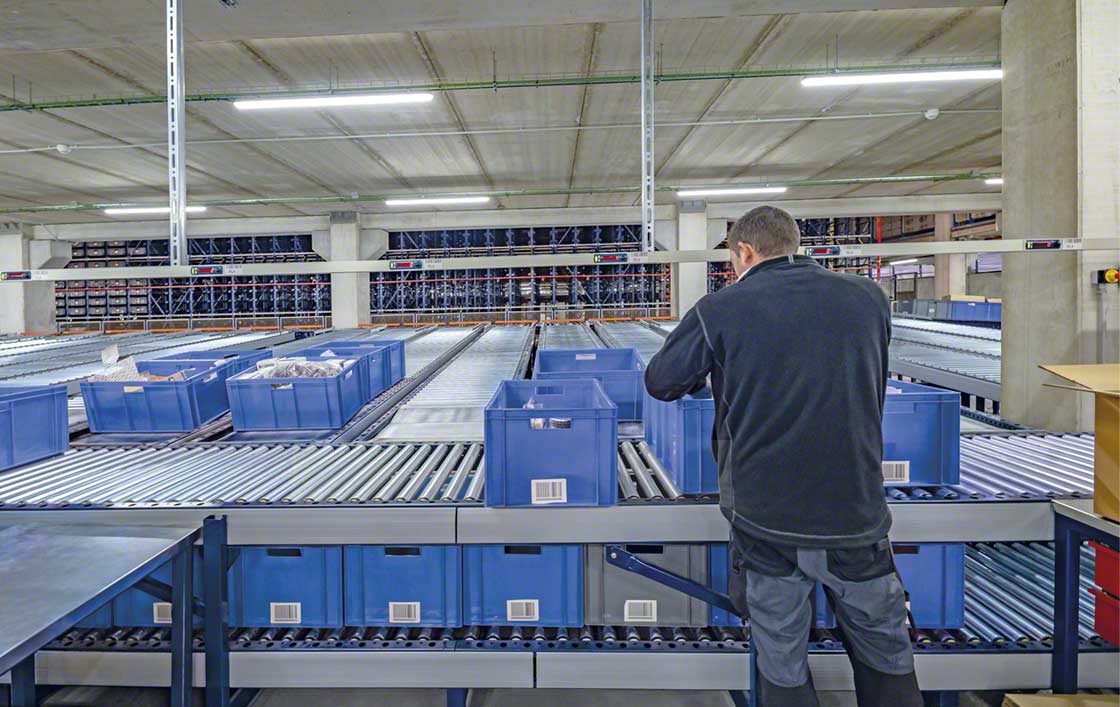 Applications of automatic conveyors
Motorised roller conveyors offer great versatility when it comes to designing circuits, with solutions devised for practically any situation. These are some of their main applications and functions:
Connect various areas in the warehouse. This is probably the most widespread type of implementation. Conveyors can connect multiple zones, but they usually link two separate warehouses or an installation with its production area. For example, Cistér's warehouse in Portugal employs motorised roller conveyors to move the 600 pallets that leave production every day to the storage area. Conveyors also join the front of automated installations with the pick stations, as in the case of the warehouse of multinational HAVI, which has three order prep stations.
Goods receipt, distribution, and dispatch. Motorised roller conveyors are a popular option for completing operations in the docking area. For example, in the installation of ceramics manufacturer Ceramika Paradyż, they act as preload channels, with each channel classified by route or destination. Thus, the pallets accumulate, waiting to be loaded into the trucks. For automatic truck loading and unloading, also known as ATLS (automatic truck loading systems), motorised roller conveyors are installed to improve agility and safety in goods receipt and dispatch activities. An example of this can be seen in the installation of food company Grupo Siro in Spain.
Motorised roller conveyor circuits are tasked with automatically connecting different areas and operations, eliminating operator travel, preventing interference, and speeding up internal transportation.
Advantages of motorised roller conveyors
The benefits of motorised roller conveyors can be summed up as follows:
Increased productivity. Automatic roller conveyors optimise movements, ensure continuous 24/7 flows, and slash loading, unloading, and transportation times.
Cost savings. These conveyors offer a fast return on investment (ROI) by doing away with repetitive movements, boosting throughput, and making it possible to reassign employees dedicated to internal transportation to other operations. At the same time, these structures are extremely strong and durable.
Maximum safety. Operators don't handle the loads manually, and the use of fork trucks is reduced; this prevents injury and minimises the risk of accidents. In addition, conveyors incorporate numerous mechanisms designed to guarantee the safety of the goods and of the operators themselves.
Versatility. These conveyors comprise completely customisable handling equipment, thanks to the wide range of elements they support. Different types of circuits can be configured and later changed and expanded to adapt to the company's development.
In short, automatic roller conveyors constitute an internal transportation system that multiplies productivity in the installation and lowers logistics costs.
The solution for any facility
Motorised roller conveyors are usually associated with automated (AS/RS) warehouses, as this equipment is vital in these types of centers. However, more and more businesses with traditional warehouses are also choosing to install conveyors to raise throughput and gain in safety.
At Mecalux, we have decades of expertise setting up conveyors in all kinds of facilities. Their versatility makes it possible to build countless circuits tailored to the particular characteristics of each installation and customer. If you think the time has come to speed up your internal warehouse transportation operations, don't hesitate to contact Mecalux. We'll advise you and help you to find the best solution for your needs.