03 Jun 2021
Multi-tier shelving constitutes an ideal solution for making the most of a facility's height and improving picking throughput without having to automate this operation.
In this post, we'll explain the ins and outs of these storage systems and highlight their main advantages. In addition, we'll analyse why it's increasingly common to implement solutions that make use of the height of an installation to increase storage space.
What's multi-tier shelving?
Multi-tier shelving comprises manual storage systems that make use of vertical space. For example, picking shelves can be made up of various levels of aisles at different heights. This makes it possible to expand the storage capacity of the warehouse while still providing operators with direct access to all the SKUs.
Multi-tier shelving can be installed in any type of picking facility. In the case of Mecalux, we frequently set up configurations with metal point shelving boltless system or with longspan shelving.
When to install multi-tier shelving
This type of storage solution is implemented in companies that prepare orders with small items, for example, spare parts and components companies, pharmaceutical warehouses, and logistics centres with documentary archives.
For multi-tier shelving with many locations, devices such as voice picking or pick-to-light are frequently employed in order to facilitate the work of the operators. In these installations, a warehouse management system guides operators by means of a headset, radiofrequency terminals, or pick/put-to-light devices, thus optimising picking routes.
The design of these storage systems does away with the need for handling equipment such as counterbalanced forklifts for operating inside aisles. It is usual, though, for workers to rely on pallet trucks to streamline picking. Therefore, it's essential to adapt the walkways so that they are able to support the weight of the machine.
Raised aisles and safety
To improve the safety of both the operators and the goods, this system includes:
Security gates, whether hinged, sliding, or up-and-over.
Fall-prevention mesh to ensure the integrity of the operators on the lower levels.
Floor adapted to the type of load, which can be made of wood or sheet metal, grooved, perforated, ribbed or a combination of the these.
We should note that to guarantee the stability of multi-tier shelving, at Mecalux, we use software to calculate the transit volume of the goods and of the workers in compliance with several standards such as the 2012 edition of the "Specification for the Design, Testing and Utilisation of Industrial Steel Storage Rack" published by the Rack Manufacturers Institute (RMI), among others.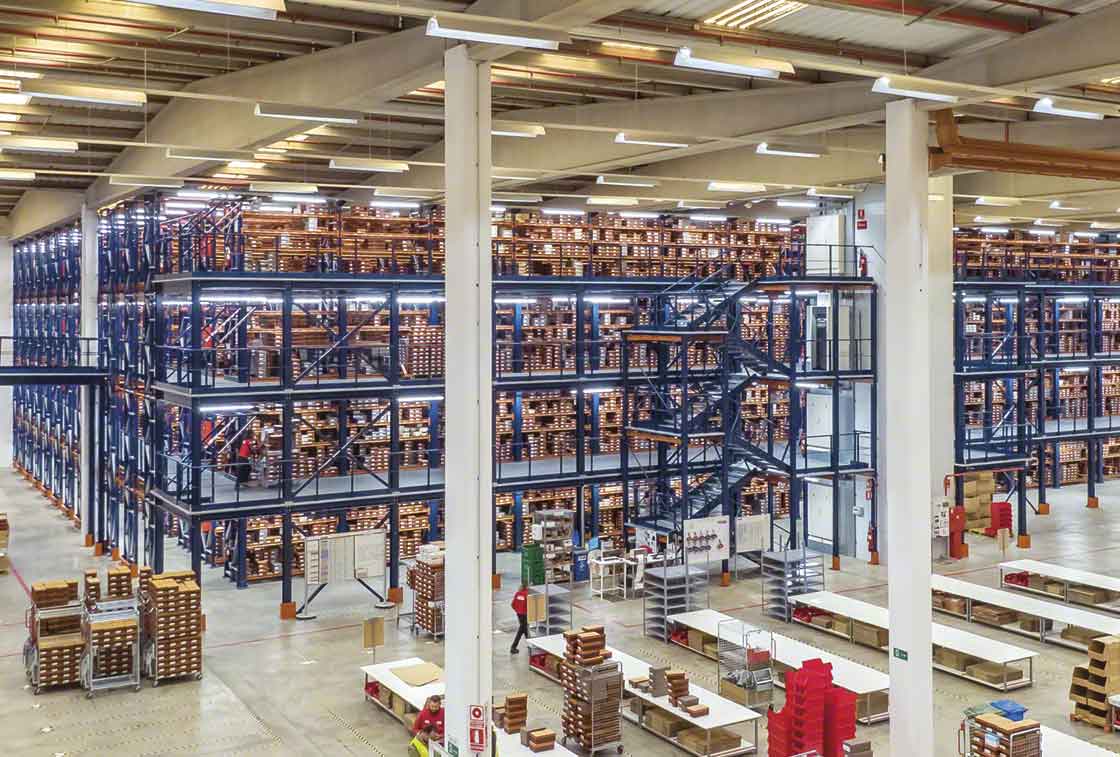 Advantages of industrial shelving on various levels
By installing raised aisles on picking shelves, you can double or triple the storage space in your facility at a lower cost. Plus, assembly is easy and safe.
These are the main characteristics of multi-tier shelving:
Direct access to all unit loads (which isn't possible with traditional high-density systems).
Maximum use of warehouse height.
Flexibility and ability to adapt to all types of goods.
Agility and efficiency in picking.
With these walkways, every floor of shelving becomes an independent area. To prioritise movements around a specific shelving unit, the SKUs need to be grouped so as to minimise operator travel between the various levels during picking.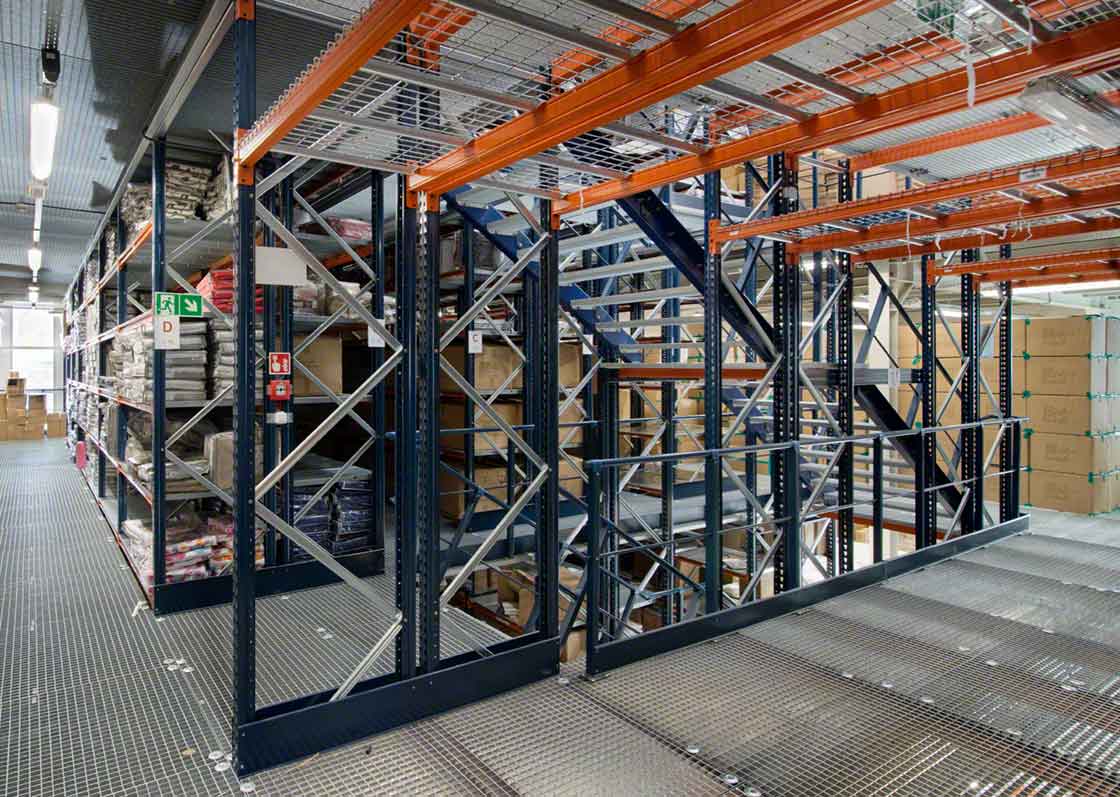 Multi-tier shelving: examples
Multi-tier shelving can be installed as stand-alone storage systems or as part of a structural system with automatic elements such as box conveyors. These run along the various levels of the warehouse and end on the lower level at the consolidation and dispatch area.
Essentially, this solution is used when a company needs to multiply its warehouse's useful storage capacity without expanding its surface area and while maintaining direct access to all SKUs. But what kind of facilities would implement this solution?
Below is a snapshot of some of the companies that have relied on us to install multi-tier shelving to improve throughput in their logistics centres:
Eralogistics (Spain): this Spanish logistics provider combines selective pallet racking with shelving with walkways to optimise picking at its installations. A goods lift connects the three floors to cut down on operator travel and streamline picking and replenishment.
Iron Mountain (Chile): our multi-tier shelving in Iron Mountain's warehouse in Chile was the only structure that withstood the earthquake that occurred in 2010 in the Maule and Biobío regions. This solution provides operators with direct access to all the documentary records stored in the installation.
TopTex (Belgium and France): e-commerce retailers require agile, error-free picking to satisfy demanding market expectations. With this in mind, we implemented a multi-tier shelving system in the two facilities of fashion retailer TopTex in Belgium and France, respectively, where a combined total of 2,500 daily orders are managed.
Leveraging warehouse height without the need to automate
Multi-tier shelving is, ultimately, an ideal solution for taking advantage of a facility's height without having to automate it.
The complexity of last-mile delivery, coupled with unabated population growth in urban areas, has led to an increase in logistics real estate prices. For that reason, faced with the enormous cost of acquiring more logistics floor space, companies are choosing to make the most of the height of their installations.
By setting up mezzanine floors or multi-tier shelving, you can maximise your warehouse space, streamline order prep, and make it easy for operators to have access to all SKUs. For more information on our multi-level shelving, don't hesitate to contact us. One of our expert consultants will advise you on the best solution for your business.