22 Feb 2022
Every satisfactory omnichannel experience begins with proper management and coordination of logistics processes in the warehouse. Logistics makes it possible for the simultaneous interaction with customers via multiple means ― i.e., omnichannel shopping ― to culminate in a successful purchasing process and delivery in line with the agreed-upon terms and deadline.
In an omnichannel context, the warehouse is the nerve centre for logistics: this is where the orders sent by the multiple sales channels made available by the company are managed. The complexity of these operations has led businesses to consider automating their warehouse management to ensure that the customer has an agile, efficient, and error-free omnichannel experience.
What is an omnichannel experience?
The omnichannel experience is a company's ability to market to and serve all customers to provide them with an integrated and cohesive shopping experience, regardless of the communication channels used. In other words, an omnichannel organization is one that puts the customer at the centre of the commercial strategy, integrating all the available channels to guarantee a seamless purchasing experience. The challenge lies in establishing an omnichannel experience that's optimal for customers, whether they buy the product via their smartphones, receive it at their homes, or return it at a store.
A good omnichannel experience facilitates the connection of customers to the brand, thus gaining their loyalty. To this end, it's essential to ensure excellent customer care across all points of customer contact with the company's products and services. A seamless, end-to-end experience is based on the user not having to re-initiate contact with the brand each time they change interaction channels during the omnichannel shopping process.
Therefore, the omnichannel experience is a challenge for companies, particularly in terms of logistics: it involves maximum efficiency in inventory management as well as in the transportation of stock between the warehouse, the distribution centre (DC), and the multiple brick-and-mortar stores. As Copenhagen Business School Department of Digitalization professor Christiane Lehrer points out in her study Omnichannel Business, "omnichannel business requires an integrated logistics infrastructure that can effectively accommodate each channel. In many cases, this involves the redesign of existing distribution systems and the implementation of technologies facilitating real-time inventory management across channels."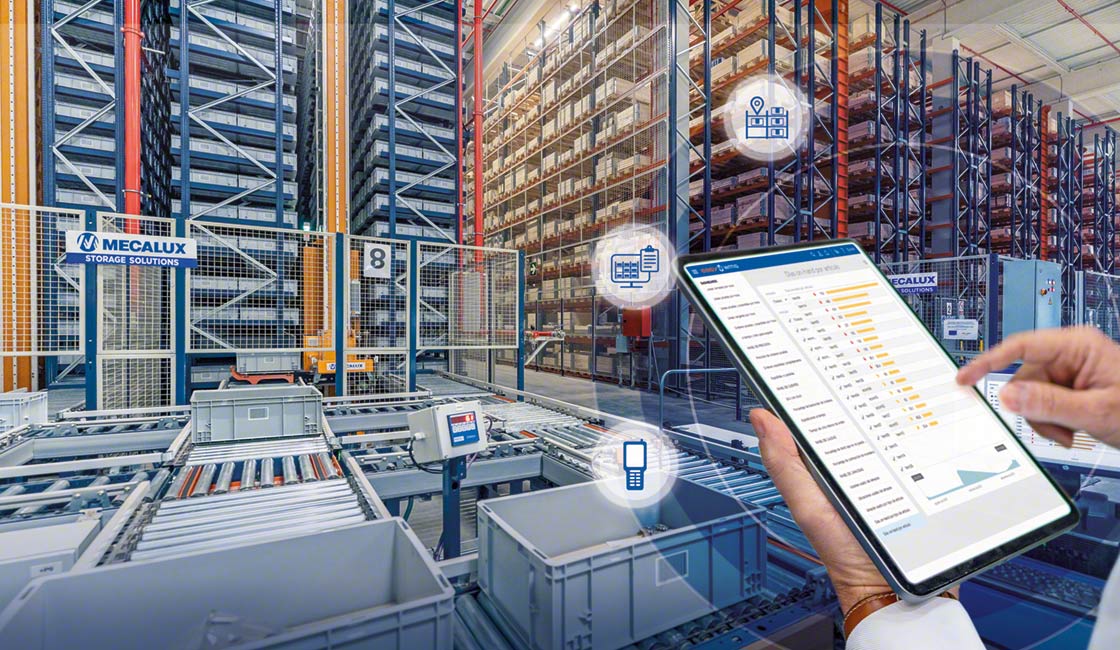 Omnichannel experience: considerations for the warehouse
The omnichannel experience calls for error-free logistics processes, in both the storage and management of products and their subsequent dispatch, distribution, and delivery to the end customer. Omnichannel logistics requires seamless communication between the DCs, the physical stores, and the warehouses to ensure the agile and efficient resupply of stock in all facilities without generating logistics cost overruns.
In this context, it's crucial to adapt the warehouse ― and other logistics facilities such as micro-fulfilment centres and dark stores ― to take on omnichannel order management. Compared to traditional facilities, omnichannel warehouses are characterized by managing more daily orders that are small in size and individualized. This change in trend, coupled with shorter delivery times, has led companies to invest in automated inventory management and goods handling solutions to speed up operations, minimize errors, and optimise travel.
"The development of online sales with more transactions and its increased requirements on shorter lead times and wider assortments (often leading to more variation in good sizes), however, puts increasing stress on omnichannel warehousing," says Joakim Kembro, professor at Lund University, Sweden, in his study Which Future Path to Pick? A Contingency Approach to Omnichannel Warehouse Configuration. Kembro also says that integrated storage, i.e., the combination of replenishment and the preparation of online orders, "may also lead to a mix of picking methods (e.g., single vs. batch picking), which is often coupled with the implementation of more advanced WMS and automation."
Warehouse digitization for the full omnichannel experience
Offering users the best omnichannel experience presents a major logistics challenge for businesses in all areas of management ― sales, finance, and marketing, among others ― notably in logistics.
Implementing a software program that coordinates operations inside and outside the warehouse is an effective solution for bringing errors in omnichannel order management down to the minimum. A warehouse management system such as Easy WMS from Mecalux ensures real-time control of inventory in both the logistics facility and the physical stores, avoiding stockouts.
Productivity and efficiency in stock control were two reasons why French ecommerce retailer Espace des Marques installed Easy WMS software in its facility: "We have a master plan for 2024: we aim to open about 20 stores in France and bring in a turnover of more than 12 million dollars from the website. The next step would be international expansion, so we need to analyze how to ship orders to other countries, such as Germany. We also expect to distribute up to 4,000 items a day in August, our busiest month," says Johan Legrand, Founder and CEO of Espace des Marques.
Easy WMS has multiple advanced functionalities to facilitate the transformation of a conventional warehouse into a facility that's not only adapted to omnichannel operations but that leverages the opportunities of this logistics and sales strategy. In this vein, the Store Fulfillment module syncs inventory in the warehouse with that of the different brick-and-mortar stores, setting up automatic stock replenishment in stores and transfers of items between stores or between the logistics facility and points of sale.
To provide a comprehensive omnichannel experience, Store Fulfillment can be supplemented with the Marketplaces & Ecommerce Platforms Integration module, which automates stock management in the different online sales channels. Ecommerce action figure retailer Global Freaks implemented this software in its warehouse. Manager Daniel Vizcarra says: "The Marketplaces & Ecommerce Platforms Integration module connects the WMS to Amazon, eBay, and PrestaShop. The inventory on these platforms is regularly updated with the stock available in the warehouse, and Easy WMS knows which orders have been placed and arranges for them to be prepared immediately."
The warehouse: cornerstone of the omnichannel experience
Having an efficient logistics infrastructure is a must for guaranteeing a seamless, complete omnichannel experience for end customers. Order fulfillment and product handling are operations that are difficult to manage manually, even more so in an omnichannel environment.
This is why more and more businesses are relying on a WMS to organize the logistics processes performed in the warehouse. A program such as Easy WMS ensures full product traceability, automates replenishments, and coordinates order processing with a view to eliminating errors. Interested in finding out how your warehouse can benefit from the implementation of Easy WMS warehouse management software? Don't hesitate to contact us. One of our expert consultants will advise you on the best solution for your company.