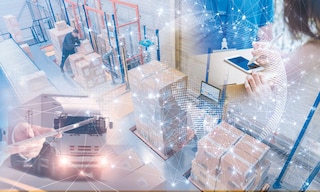 Order management and how to optimise it
25 Jul 2023
Order management is a key warehousing process for many companies — and one with the greatest impact on customer satisfaction.
With the rise of e-commerce and online sales, businesses are seeking to maximise their order management throughput. The goal? To fulfil, ship and deliver their customers' goods error-free and in the shortest possible time.
What is order management?
Order management encompasses the set of activities that take place from the time customers place an order until they receive the product. This process includes the planning, organisation, execution and control of all operations relating to orders and their subsequent distribution.
For successful order management, you need to have the required merchandise in the right place, at the right time and in the right quantity. How do you achieve this? Through seamless coordination of all supply chain processes: from the selection of effective suppliers and carriers to comprehensive inventory control.
Order management is directly linked to inventory management. Companies organise their resources based on future needs and orders to be filled. For example, they maintain an appropriate amount of merchandise to avoid stockouts, which could cause delivery delays.
Likewise, order management has a direct effect on picking. So, how do you make this operation faster and more efficient? By investing in technology and digitalisation, which minimises errors and enables you to distribute more orders in less time.
For instance, with solutions such as the Shuttle System and mini-load systems (AS/RS for boxes), operators can prepare orders according to the goods-to-person method. This technique speeds up picking tasks by cutting down on operator travel in the facility. Likewise, you'll be able to control order-picking processes, resources and documents much more expeditiously with a warehouse management system like Mecalux's Easy WMS.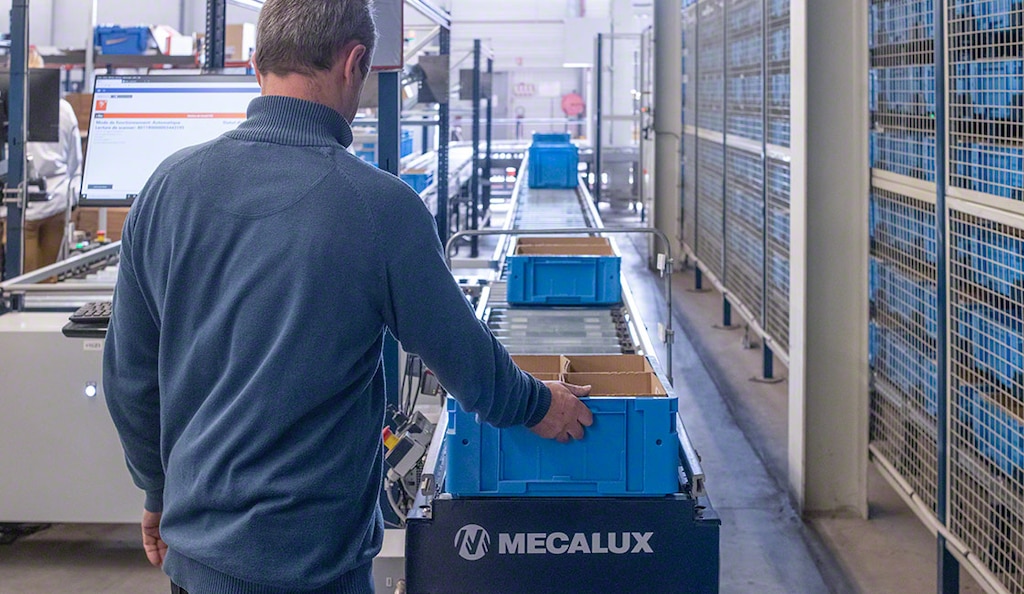 How does an order management system work?
Order management includes several stages, from the time customers purchase a product until they receive it in the stipulated conditions.
The first phase is the purchase of the item by the customer. To this end, your physical points of sale have to be stocked with enough merchandise to cover demand. In online stores, in addition to inventory availability, payment methods and shipping conditions should be clear and easy to find.
The next stage takes place in the warehouse. Before being able to manage orders in your logistics facility, you need to receive a prior notification of the sale. When customers buy a product, the enterprise resource planning (ERP) system must notify the warehouse management software of the items requested. From there, the WMS orchestrates the operation, sending exact instructions on fulfilling the order.
Picking can be organised in line with the goods-to-person method (automatic handling equipment such as conveyors for boxes moves the merchandise to the operators at their pick stations). Alternatively, you can use the person-to-goods approach (operators walk around the facility locating the stock they need and then bring it to the consolidation area). A third technique is automated picking, performed with machines such as industrial robotic arms that move materials autonomously.
The next phase consists of packaging and packing the product to be distributed so that carriers can pick it up and deliver it to customers.
Lastly, order management includes dealing with possible returns (i.e., reverse logistics). Once the merchandise is brought back to the warehouse, operators examine its condition and, following the returns policy, decide whether to sell the item again (repairing it first, if necessary) or recondition it.
Order management calls for coordination between your company's different departments and stakeholders. Far from being an isolated operation, it's an interconnected, integrated process whose goal is for customers to receive their orders. Everyone has a role to play, from purchasing — which has to procure the goods to fulfil the order — to the logistics facility, suppliers and transport agencies.
What is important in order management?
Order management conditions all processes that make up the supply chain. It's critical for the success of any business.
Properly organising order fulfilment is essential for many enterprises, especially nowadays, with the expansion of omnichannel. Customers expect to have a satisfactory experience and to receive their purchases as soon as possible, regardless of the purchasing channel used.
To improve brand perception, companies must ensure good logistics service and optimal order management. Your priority is to guarantee that your products reach customers at the agreed time and place, thus meeting their expectations. All of this leads to strengthening the commercial relationship.
Streamlined order management also allows you to make the most of your resources. Efficiently coordinating all logistics operations — from receiving and storage to delivery — helps you reduce costs and avoid issues such as stock shortages or excess.
Order management is also important because it impacts business planning. By logically distributing merchandise in the warehouse, you'll organise your material supply more rationally and can schedule order shipments in advance. With sound forecasting, you'll be able to respond to market demands more quickly.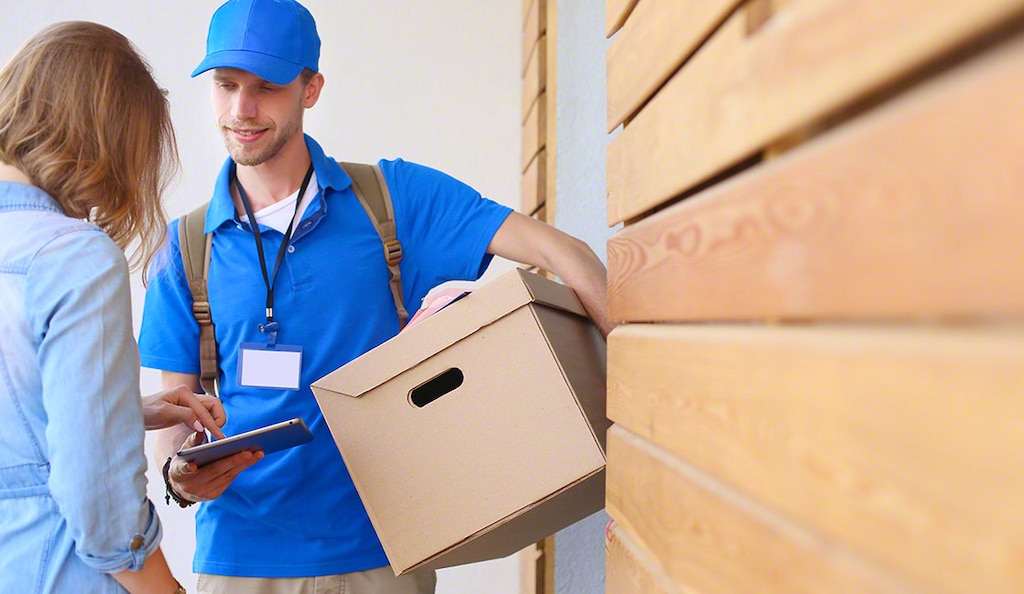 How do you improve order management?
To scale up order management, there are several strategies and practices you can implement:
Automate and digitalise. Technology increases efficiency and limits the possibility of error. WMS software, for example, rigorously monitors the entire order fulfilment process in real time.
Control inventory. By having the right merchandise on hand, customers will receive their purchases within the agreed time frame. The amount of stock you'll need in the warehouse is calculated through demand planning, which comprises forecasting your company's sales.
Optimise operations. You can do this in several ways, from minimising operator pick paths to automating label creation. These measures will accelerate order picking and distribution.
Improve communication. Successful order management entails perfect coordination between all supply chain players. Your warehouse management software has to be integrated with your ERP system to organise picking and replenishment tasks. Additionally, the WMS has to interface with the software of your transport agencies to facilitate and expedite order distribution.
Assess your suppliers. Working with competent, trustworthy providers is fundamental for effective order management. It's crucial to establish solid relationships with suppliers and carriers that guarantee on-time deliveries and a continuous flow of products.
Order management: a customer-first approach
Prioritising the specific needs of your customers will improve order management in the long term, enhancing your company's overall efficiency. Putting the customer at the centre of decision-making will enable you to organise the order management process more optimally.
And digitisation gives you stricter control over all order fulfilment operations. By detecting inefficiencies, you'll be able to introduce changes to drive productivity in order picking and distribution.
At Mecalux, we develop software that boosts the supply chain of all types of businesses. Easy WMS empowers companies to streamline order management and speed up picking and distribution operations. Get in touch and we'll show you how you can benefit from our software, adaptable to any logistics requirement.