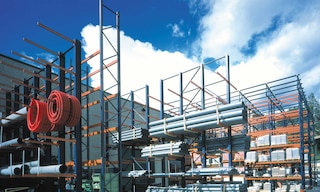 Outdoor pallet racking for industrial warehouses
05 Jan 2023
Outdoor pallet racking is an industrial storage system installed in outdoor warehouses. There are multiple reasons for storing loads outdoors. For instance, you might want to free up space inside your facility or to zone your warehouse based on product turnover.
Whatever the reason, it's important to note that not all goods can be housed outside the building: weather factors such as wind, rain and high temps could damage them. With outdoor industrial warehousing, you need to take into account, on the one hand, which products can be stored outside. On the other, it's essential to adapt your industrial racking to make them resistant to inclement weather.
Outdoor pallet racking: when to store goods outside the warehouse
Companies tend to house their products in covered facilities before using them on the production lines or shipping them to customers. Nevertheless, certain materials can be deposited outdoors without affecting their proper preservation. A warehouse can have both roofed and uncovered areas, i.e., partially outdoor or can be fully open-air.
Businesses that choose to store their goods out in the open should employ racking specifically designed for the outdoors. Outdoor pallet racking is very common in industries such as construction and steel, which use materials resistant to inclement weather such as wind, rain and snow. Although these materials are unaffected by these atmospheric phenomena, loads are normally protected with tarps — especially when stored outdoors for a long period of time.
Warehousing with outdoor pallet racking
Outdoor pallet racking is a type of storage system that's impervious to adverse weather conditions. When designing and outfitting an open-air warehouse, the storage system provider should analyse the environmental conditions of the site previously, taking into account temperature highs and lows as well as seismic risks.
With a detailed analysis of the product types and climate characteristics, suppliers can design racking that safeguard goods stored outdoors. How? The storage system supplier uses warehouse simulation software, entering real data to create a virtual representation of the facility. Using the data collected during the simulation, the supplier configures the structure of the racking and their finishes. The aim is to boost their resistance to corrosion and to the more extreme weather conditions outside the building.
The design of the outdoor warehouse should also include visible signage elements to facilitate product loading and unloading. It's vital to plan the storage space beforehand to ensure safe movements of materials.
One of the key factors of a properly functioning outdoor warehouse is the type of industrial racking you choose. The most popular storage systems in open-air warehouses are cantilever racking for long loads. These structures have cantilevered (protruding) arms to hold bulky products like tubes and aluminium profiles. Pallet racking are also often set up near the loading docks to house goods temporarily until the lorries are loaded.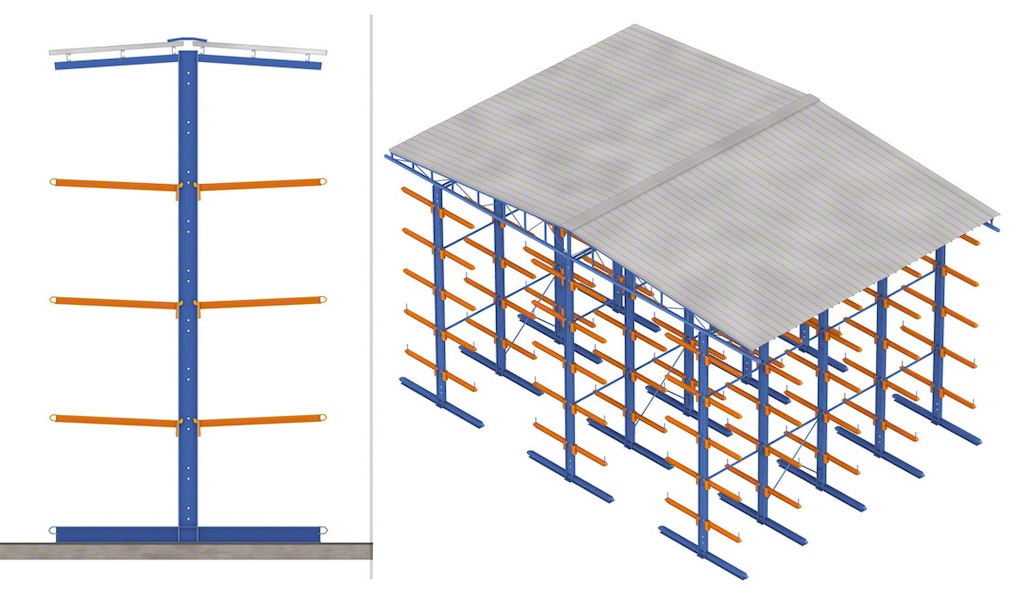 Outdoor cantilever racking: storage of long loads
Cantilever racking for long loads are storage systems for heavy or bulky materials. Loads are deposited horizontally on their cantilevered arms. Due to their design, these racking are ideal for storing any kind of irregular goods (e.g., aluminium profiles) or stock that's difficult to palletise (e.g., aluminium boards or sheets).
This storage system for long loads stands out for its versatility: with its multiple accessories, it can be adapted to each customer's requirements. For example, cantilever racking can be designed with mobile bases to compact the storage of long materials. The racking is installed on structures with wheels, which move along rails. Another accessory for outdoor cantilever racking is their covering. This consists of a sheet metal roof that shelters the goods, preventing the load and racking components from deteriorating due to inclement weather.
Outdoor pallet racking: storage of palletised loads
Pallet racking are suitable for placement in an outdoor warehouse. However, for the most part, they have a covering to protect both the racking components and the pallets stored.
The same can be said for drive-in pallet racking. This racking system, which provides a high storage capacity, can also be installed in open-air facilities.
Outdoor pallet racking for outdoor warehouses
Businesses try to maximise their storage space to optimise their logistics operations. Outdoor warehouses are a valid solution for companies with materials that are resistant to inclement weather. In these cases, it's important to rely on an intralogistics solutions provider — e.g., Mecalux — that can ensure the integrity of the goods and the racking.
We analyse each customer's situation and adapt the racking manufacturing processes to increase their resistance to and preserve them against bad weather — even earthquakes. Interested in boosting productivity in your outdoor warehouse? Don't hesitate to get in touch. One of our expert consultants will offer you the best logistics solution for your company.