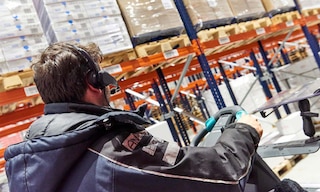 Pick by voice technology is on trend once again
23 Dec 2021
Pick by voice (also commonly known as voice picking and pick to voice) is making a comeback in more and more warehouses. The consolidation of warehouse management software and the resurgence of all types of voice assistant systems make this order picking method a viable response for tackling present-day logistics challenges.
Pick by voice is a semi-automated order preparation technology that uses one or more wireless devices connected to a warehouse management system (WMS). The design of this solution frees the hands of the order picker, allowing them to greatly boost their picking throughput.
What's pick by voice and what advantages does it bring?
Voice picking, i.e., pick by voice, is a semi-automated order prep solution whereby the operator receives instructions via their headset on which items to retrieve; they then confirm that they have completed each task using a microphone. As everything is done by voice, operators don't need to consult pick lists, and their hands are free to efficiently move the goods or drive a forklift. The entire operation is coordinated by the warehouse management system (WMS), which indicates the pick path, the order in which the products should be pulled, and the quantity of items for each SKU, among other information.
This picking assistance method is common in facilities with a high pick density. This is because the implementation of this technology reduces operator errors stemming from increased order numbers. Likewise, pick by voice shortens the time dedicated to training, that is, making sure operators know the ins and outs of both the warehouse (layout, storage systems, etc.) and the loads (turnover, slotting criteria, etc.).
With pick by voice, the software is charged with detailing operator tasks step by step, telling them the next job to be done at every turn. The system not only shows the actions to be carried out, but also validates that they've been performed correctly: the operator confirms the execution of the task by voice command.
This order picking technology is employed in environments in which operators use both hands to carry out picking, making it a good replacement for RF scanners. Pick by voice is also implemented in environmental conditions that prevent operators from handling these devices with the necessary accuracy. This would be the case of cold storage facilities, where protective equipment such as gloves makes it difficult to use RF scanners.
Ultimately, pick by voice paves the way to automated order preparation. The application of this technology leads to faster picking and a significant decrease in errors in this operation. This is illustrated in the academic paper A comparison of order picking methods augmented with weight checking error detection, which indicates that the combination of pick-to-light (order preparation method consisting of a system of lights installed on the shelving) and voice picking devices speeds up this process by 19%, in addition to reducing mistakes by 67%.
Evolution of pick by voice
Current pick by voice devices are nothing like the costly, heavy tools that were popular at the end of the 1990s. The progress they've made goes hand in hand with improvements in voice recognition technology.
Nowadays, order picking technology using voice commands makes it possible to use smart barcode scanners. This way, data can be collected simply by issuing a voice command, without the need for a barcode scanner.
One drawback of the early systems is that each operator had to do voice identification training for the first few weeks. Nowadays, pick by voice technology has evolved to the point where the speech recognition systems require no previous training.
Moreover, the modernization of warehouse management software has improved the effectiveness of pick by voice technology. Now, it's no longer necessary for all orders to be imported from the WMS, translated onto a voice server, and retransmitted throughout the network: orders are sent directly from the software to the handheld device, streamlining instructions for the order picker.
The adaptability of warehouse management software has made it possible to expand pick by voice technology. Now, it's no longer necessary to have multiple software applications in a logistics facility: the WMS integrates this technology's devices and control mechanisms to ensure efficiency in the order picking process. As a result, order preparation by voice command can be carried out with any application or device connected directly to the WMS, whether on-premise or in SaaS (software as a service) mode.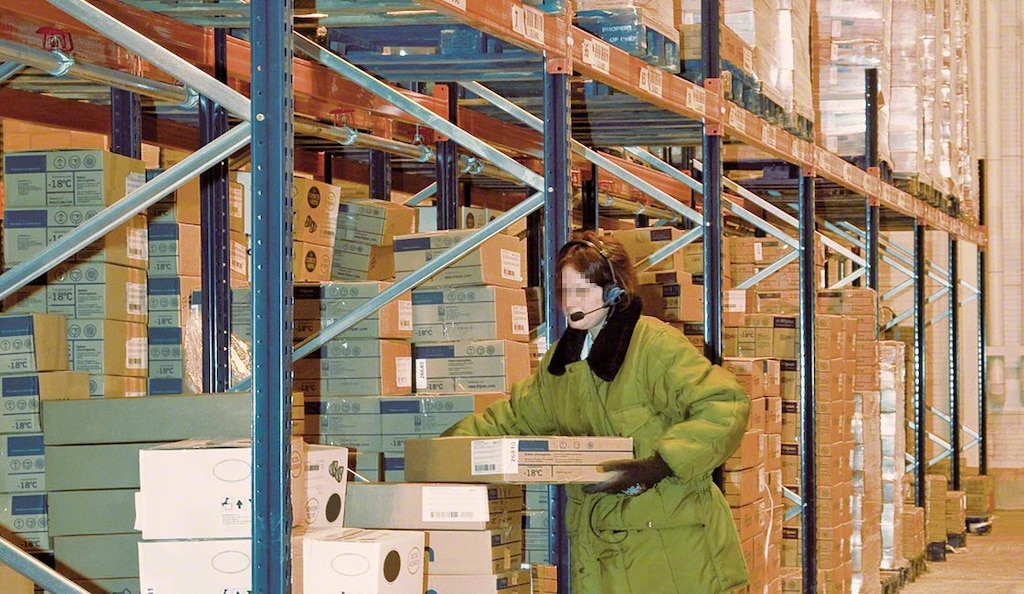 Pick by voice gains new momentum
Increased efficiency in picking and its easy implementation in the warehouse make pick by voice an option considered by more and more companies. A study by consulting firm Grand View Research finds that this technology is set to grow at a rate of 14.7% annually, with the market reaching a turnover of over $3 billion in 2025.
The reason for this? Pick by voice boosts efficiency in processes such as order picking and packing thanks to voice commands, freeing operators' hands as well as their eyes. This entire operation is possible due to improvements in speech recognition technology and the integration of devices external to the WMS, which guarantee increased accuracy in picking.
Pick by voice facilitates the implementation of the ideal order preparation models to ensure efficiency. And this is of paramount importance in an era characterized by omnichannel and short delivery windows, which force businesses to take on more SKUs to satisfy consumer demand. With such a wide variety of goods in the warehouse ― in terms of both the number of SKUs and orders containing multiple SKUs ― companies require technologies that minimize errors and speed up operator movements in order picking.
Not only is this technology more efficient, but it fosters a safer work environment, especially in the throes of the coronavirus pandemic. Pick by voice and other guided picking technology ensure that safe distances are respected. The software establishes routes that prevent operators from crossing each other's paths.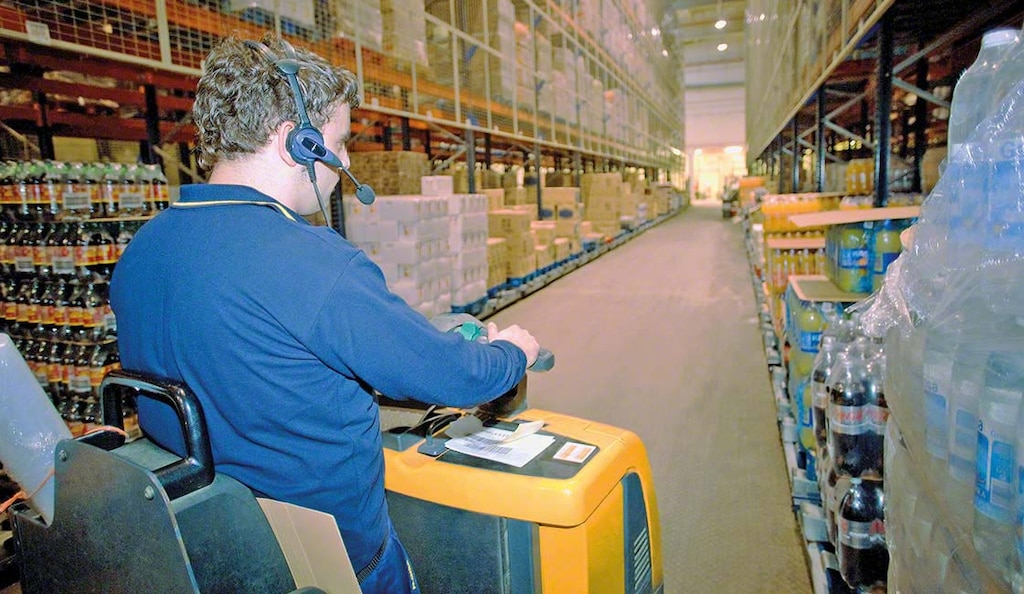 Installing a pick by voice system in the warehouse
The road to implementing pick by voice technology in a logistics facility starts with warehouse management software. A WMS such as Easy WMS from Mecalux integrates pick by voice devices to implement semi-automated order picking that works via speech recognition. The WMS is charged with coordinating the order picking phase: it sequences the tasks of the operators and guides them as they move throughout the facility, telling them which SKUs to pick and how many to pull from each location.
Once the software is deployed and correctly parameterized according to the characteristics of the facility, the logistics manager equips the operators with the devices they need to pick by voice. Typically, these comprise a microphone and a headset, which operators use to receive instructions and communicate with the software via voice commands.
An example of pick by voice can be seen in the warehouse of Boland, a Dutch company specializing in costumes and party accessories. This business equipped its facility with a pick by voice technology solution together with pallet racks and the Easy WMS warehouse management system. "We're really happy with how order picking turned out because the racks make the work of the operators much easier. With pick by voice, our operators work 10% faster," says Niels Balvert, Logistics Manager at Boland.
The return of pick by voice
The uptake of warehouse management software and modernization of voice assistants have driven pick by voice technology. In an environment in which being efficient calls for reducing errors in order picking, pick by voice technology could be the ticket to productivity.
Nevertheless, to adapt processes to this technology, you have to invest in a warehouse management system such as Easy WMS from Mecalux. This program coordinates operations performed in the facility to get the most out of each logistics phase. Interested in reducing errors and speeding up your warehouse processes? Don't hesitate to contact us. One of our expert consultants will work with you to come up with the best Easy WMS solution for your facility.