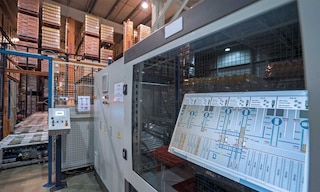 PLC automation: what is it and what is its role?
28 Feb 2023
PLC and automation are two concepts that go hand in hand. PLCs (programmable logic controllers) have become essential for the industrial and technological development of any company.
More and more businesses are turning to logistics automation to boost their warehouse throughput. In a market constantly in flux — with same-day deliveries and changing consumer habits — automation delivers speed and reliability in moving large volumes of goods.
What's a PLC?
A PLC is an industrial computer that serves a basic function: to manage the movements of the automated handling equipment operating in a facility, e.g., stacker cranes and conveyors. To do this, the PLC activates and deactivates electrical devices on each machine, such as signal beacons, relays and motors.
One characteristic of PLCs is that they operate in real time. That is, they can react and activate the movements of the machinery in a matter of milliseconds.
PLCs are made up of several components. One is the central processing unit (CPU), which processes the PLC program and stores all related data. PLCs also have modules to enable the physical connection between the industrial computer and the automated systems to be moved. Likewise, PLCs need hardware and software to interpret the instructions and functions each machine needs to follow and perform.
Through the information received by the sensors and input devices connected to each machine, the PLC processes the data and sends orders to the handling equipment. For example, imagine a conveyor automatically transporting a pallet to a lift. When the sensor detects the unit load, the PLC will order the pallet to be transferred to the lift and then moved to the corresponding level.
By digitising and automating all product movements, the PLC can also monitor and record real-time data, such as operating temperature or machine performance.
How does a PLC work?
A PLC typically uses a fieldbus, i.e., an industrial communication network that connects the system with the various components in an automated warehouse. These include sensors, electric motors, valves and switches, among others. PLCs can also be outfitted with safety devices to ensure reliable machine operation and minimise any possibility of error.
A PLC usually works in conjunction with a supervisory control and data acquisition (SCADA) system. This tool facilitates decision-making in the warehouse: it allows users to know the status of a machine or the current location and eventual destination of a moving pallet. By means of a human–machine interface (HMI), logistics managers can visualise and order specific movements or activate different machines in the same working area simultaneously.
In a logistics centre, a single PLC can direct the movements of several automated systems. Some machines, like Mecalux's stacker cranes, have their own onboard PLCs. This state-of-the-art automated equipment has its own PLC to control its positioning, speed and acceleration. The result? A faster pace of work. The stacker cranes can be tailored to the needs of each facility in terms of load capacity, product sizes, structural height and required storage/retrieval cycles.
PLC, WCS and WMS: differences and functions
An automated warehouse involves various types of software and hardware elements:
Programmable logic controller (PLC). This hardware interprets the information of the higher-level software to execute the movements of the automated systems.
Warehouse control software (WCS). This application lets users develop and simulate the PLC program that controls and coordinates the movements of the automatic elements in a facility.
Warehouse management system (WMS). This software organises goods-in/goods-out and syncs the operations of the automated facility with operator movements.
The coordination between these three systems facilitates the performance of operations and the required number of cycles.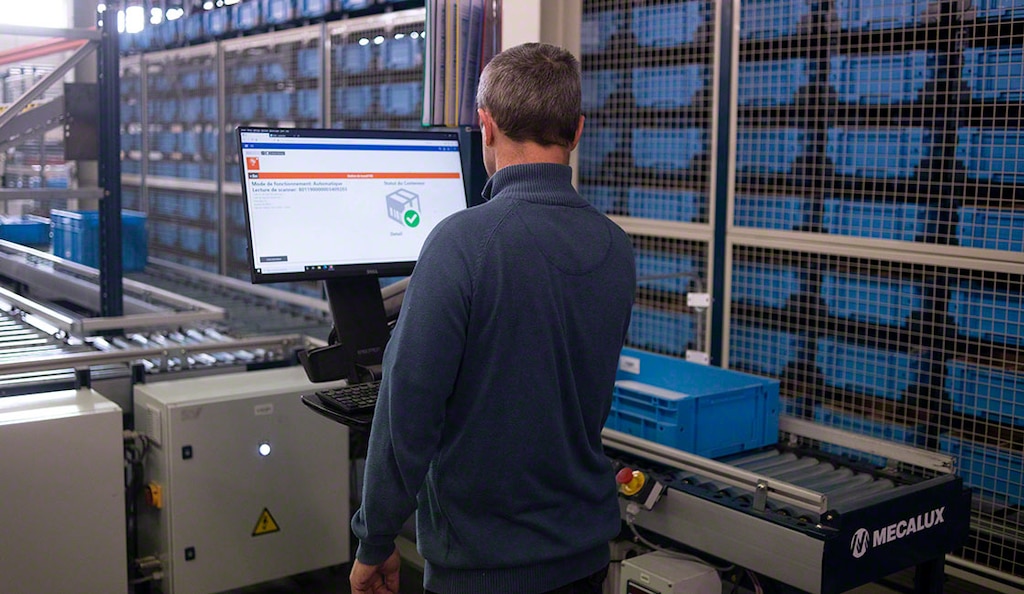 PLC automation and Mecalux's WCS software
Automatic handling equipment can operate following the instructions of a PLC or an industrial PC equipped with Easy WCS, the warehouse control software from Mecalux.
Easy WCS is designed to compile and execute structured text language instructions. The software is compatible with the IEC standard for PLCs in order to direct the movement of goods and manage locations in an automated facility.
The program's internal library incorporates all the information of each machine on three levels:
Mechanical. The software stores the technical data of each machine and can create 3D animations of each element.
Electrical. Easy WMS also records which electrical components each machine incorporates and how it's controlled.
Software. The system contains instructions that ensure the operation of each machine and the movements to be executed.
Working with Easy WCS has several advantages, e.g., its capacity to run simulations of the automated warehouse. The software of each machine can be modified and adapted in line with the particular features of each facility.
By controlling all the elements in the automated warehouse, Easy WCS can create a virtual representation of all the elements in the centre. This goes for the goods, the storage systems and the handling equipment. Simulation lets you visualise processes in a virtual environment to improve decision-making and introduce changes without interrupting operations.
PLC and automation: strategic alliance
PLCs are a fundamental tool in automated facilities. They're used to guarantee that automated handling equipment performs the expected cycles and manages goods in an organised way.
In an increasingly demanding logistics environment, companies seek solutions that will allow them to provide customers with effective service while keeping costs down. One of the most viable options for this is automation. Optimised by PLCs, automation can be a strategic tool for driving business forward and satisfying changing consumer demands.
At Mecalux, we have extensive experience designing and developing automated warehouses for all kinds of organisations. Looking to automate your supply chain? Get in touch. We'll find a solution that meets the needs of your business.