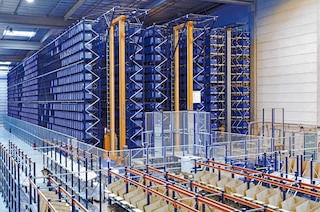 Types of automated storage and retrieval systems: characteristics and advantages
10 Jun 2021
Nowadays, there are various types of automated storage and retrieval systems (AS/RS) specifically designed to meet any logistics need and streamline storage, order prep, and goods dispatch processes.
Automated storage and retrieval systems have become a strategic element in the supply chain and, thus, for creating value in companies. Up against an enormously competitive market and with increasingly tighter lead times, businesses are turning to automation as a formula for boosting productivity and providing more agile and efficient service.
In this post, we examine the most common types of automated storage and retrieval systems on the market and their particular features, benefits, and applications.
AS/RS defined
Automated storage and retrieval systems (AS/RS) comprise automated machines and systems implemented in logistics installations to perform operations such as goods receipt, storage, order processing, and goods dispatch in a safe, agile way.
AS/RS consist of racks that store the products, and automated handling equipment: primarily stacker cranes, charged with depositing and extracting unit loads on and from the racks, and conveyors that connect entries and exits with each aisle of racking.
Additionally, with any type of automated storage and retrieval system, whether for pallets or for boxes, it's vital to have a warehouse management system (WMS) that manages and orchestrates all operations. This software plans movements and organises goods in a logical manner with the aim of increasing throughput.
Types of automated storage and retrieval systems
Automating goods movements is a decisive factor for many facilities, especially those that move a large volume of products or that need to continuously supply the production or picking areas.
Below, we'll examine the various types of automated storage and retrieval systems on the market based on eight criteria:
AS/RS, by building construction
AS/RS can be installed in a traditional warehouse or can constitute part of the building structure itself, as in the case of clad-rack buildings:
A standard warehouse equipped with AS/RS is a building that generally stands 40' to 50' tall. Whether newly constructed or existing structures, these buildings house racks specifically calculated to support the stress of the stacker cranes. On the upper part of the storage aisles, additional structures are installed to secure the upper guide rail of the stacker cranes.
Clad-rack buildings, on the other hand, are composed of the racks themselves, to which the roof and side enclosures are attached. When building them, a number of factors should be considered, such as the weight of the goods, the stress caused by the handling equipment, the wind speed, and the seismic coefficient corresponding to the location of the structure. Clad-rack warehouses are taller than conventional installations (they can stand over 131' tall). Their height is limited only by local laws and the lifting height of the forklifts and stacker cranes.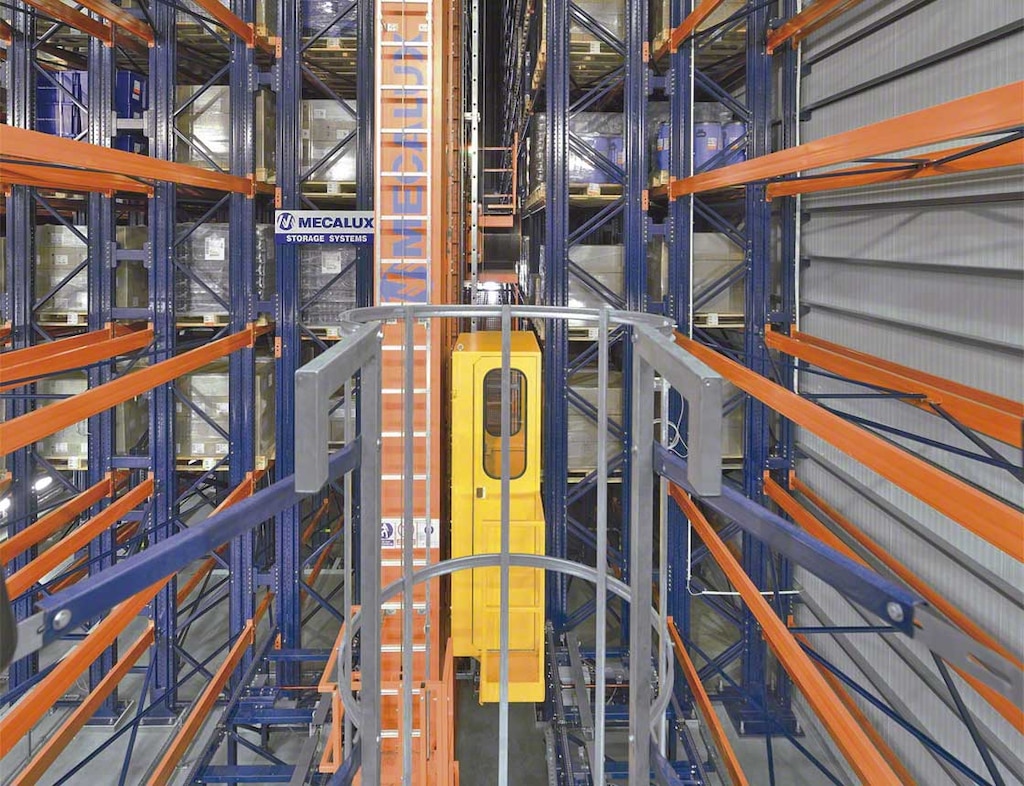 AS/RS, by goods type
Automated storage and retrieval systems can be used for any type of product (from tires to profiles), although the most frequent are pallets and boxes.
Pallets are the most typical unit load in the industrial sector, as they are used to move all kinds of items. AS/RS for pallets consist of racks sized to accommodate palletised products and several types of stacker cranes for entry, storage, and exit operations.
AS/RS for boxes have characteristics similar to those used with pallets but are specially designed to facilitate the management of these types of units. The racks have an adjustable height of 6.5' to 50'. The aisles are relatively narrow, and the separation between levels is essential yet as small as possible to allow the forks of the miniload stacker cranes to enter. This results in ample storage capacity in a small space.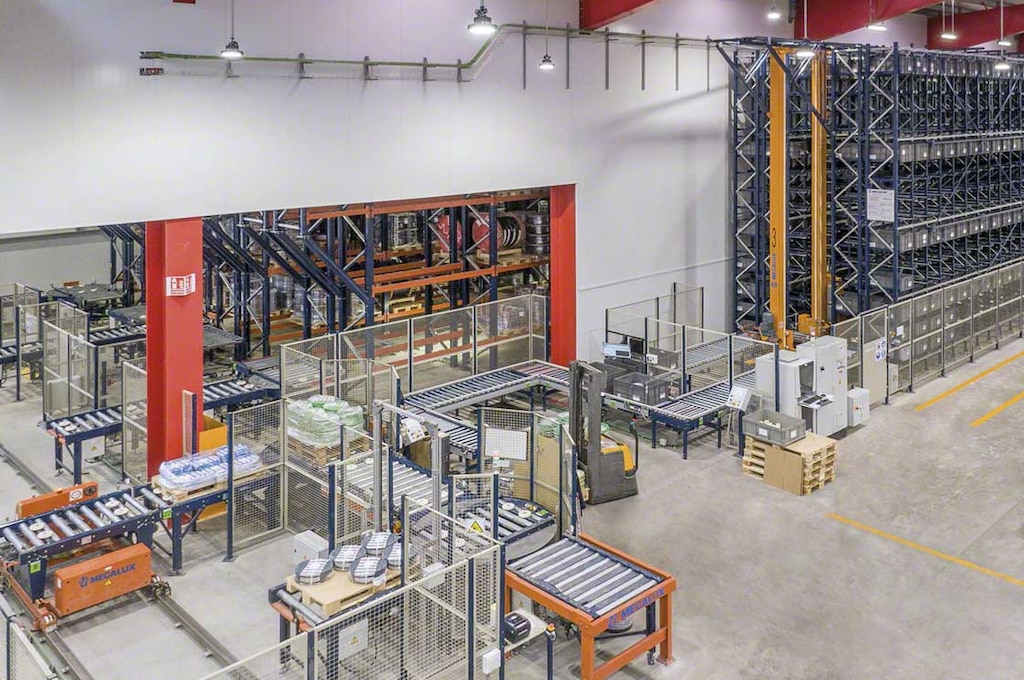 AS/RS, by storage density
Depending on the number of products to be stored, the number of SKUs, and the available space, two solutions are implemented: AS/RS with direct access or with compact storage systems.
AS/RS with racks offering direct access are usually implemented in companies that manage multiple SKUs with few pallets each. This solution has two options:
Single-deep. The stacker crane directly accesses each and every one of the pallets in the aisle in which it operates.
Double-deep. Two pallets are placed in each location, one behind the other. To reach those in the second position, the pallets in the first position need to be moved. The storage capacity is greater compared to single-deep racks, and fewer stacker cranes are used.
AS/RS with compact storage systems, capable of placing pallets in channels up to 131' deep, considerably ramp up storage capacity with respect to AS/RS with racks providing direct access because they reduce the number of aisles to a minimum. This type of high-density storage system is recommended for businesses that manage few SKUs with many pallets per SKU. They're ideal for mass-consumption products or as a storage buffer.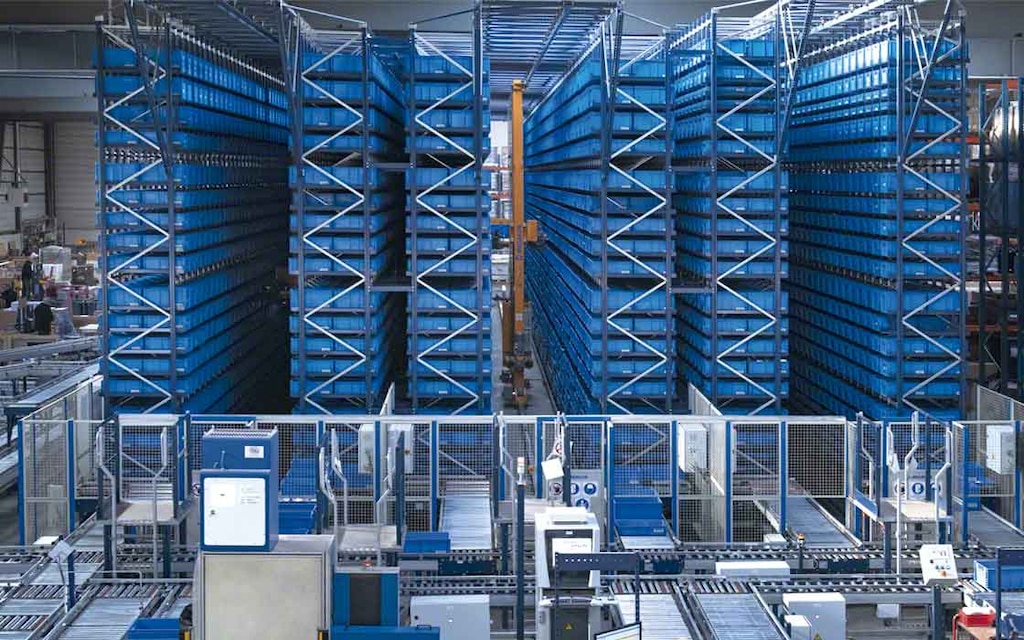 AS/RS, by Pallet Shuttle type
Within the range of compact storage systems, the automated Pallet Shuttle ensures greater storage volume and leveraging of space. It's often employed in installations with a high product turnover and where the available space needs to be maximised. The motorised shuttles can be moved to the corresponding storage channels in two ways:
With stacker cranes. The stacker crane transports the pallets to any storage channel. Once there, a motorised shuttle moves them inside the channel.
With transfer cars. A structure is installed to serve as a walkway, enabling a transfer car to operate on each level. This way, the number of movements or cycles/hour is multiplied by the number of levels in the warehouse.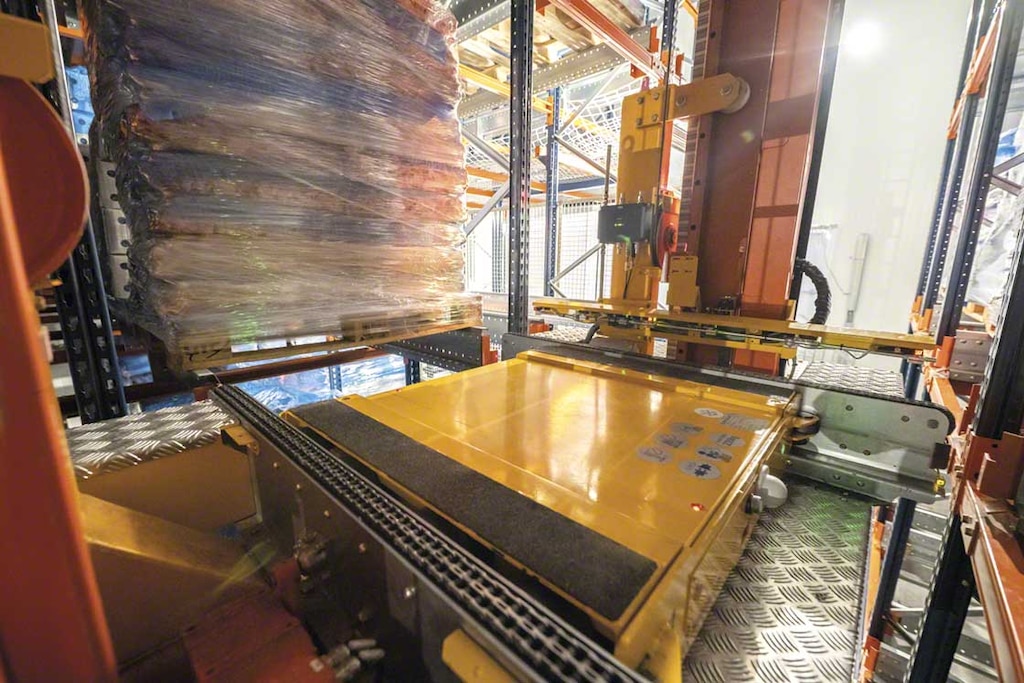 AS/RS, by degree of automation
There are different levels of automation, when it comes to AS/RS systems, from low levels to fully automated operations. Let's take a look at the degrees of automation in logistics installations:
Semi-automated warehouse. This would be the case of the semi-automated Pallet Shuttle. A motorised shuttle moves the goods in the storage channels in a completely independent way, although an operator is needed to deposit or extract the unit load in each location and to place the shuttle in another channel when required.
Automation of decision-making. Warehouses are home to increasingly complex operations. Installing a warehouse management system (WMS) such as Easy WMS from Mecalux helps to supervise and optimise processes, telling operators which steps they need to follow. Likewise, voice picking and pick-to-light devices can be implemented to boost picking.
Fully automated warehouse. These comprise installations that have delegated the transportation and storage of their goods to high-tech handling systems. Warehouse automation can be complete (stacker cranes and conveyors that govern all goods movements) or mixed (some products are deposited in automated storage and retrieval systems, but not necessarily all).
AS/RS, by robot type
The difference between traditional installations and automated warehouses is that the latter are outfitted with automatic handling equipment tasked with managing the goods with minimal operator intervention.
Warehouse robotics incorporates three types of machines with the following functions:
Goods handling. Stacker cranes and Pallet Shuttles place and remove goods in/from their corresponding locations.
Transportation. Conveyors, electrified monorails, and automated guided vehicles (AGVs) move the goods from one point to another (whether within the same building or by connecting the warehouse with production areas).
Order preparation. Anthropomorphic robots or auxiliary robots (cobots) perform the entire picking process automatically and help operators to carry out their tasks faster and more precisely.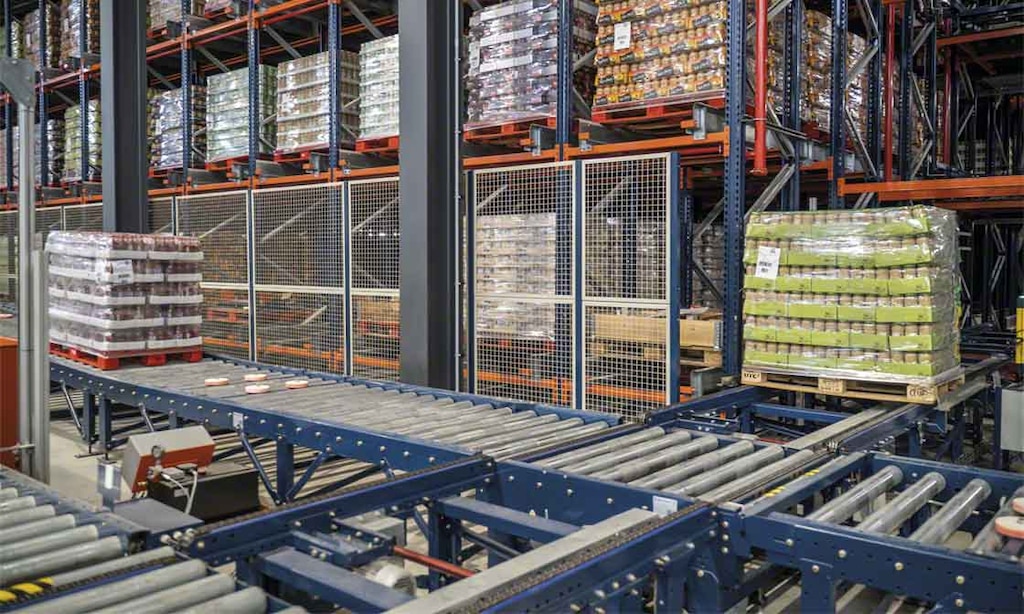 AS/RS, by number of stacker cranes per aisle
Having a single stacker crane operating in each aisle — regardless of whether the racks are single-or double-deep — means achieving a greater number of cycles, even though it requires a higher initial investment.
When product turnover isn't very high, but the storage volume is, it's possible to have one or several stacker cranes operating in more than one aisle. This calls for a system that moves the stacker crane from one aisle to another by means of:
Curved tracks. Mechanical drive that manoeuvres the stacker crane from one aisle to another.
Transfer bridge. The stacker crane is placed on a platform that moves it from one aisle to another.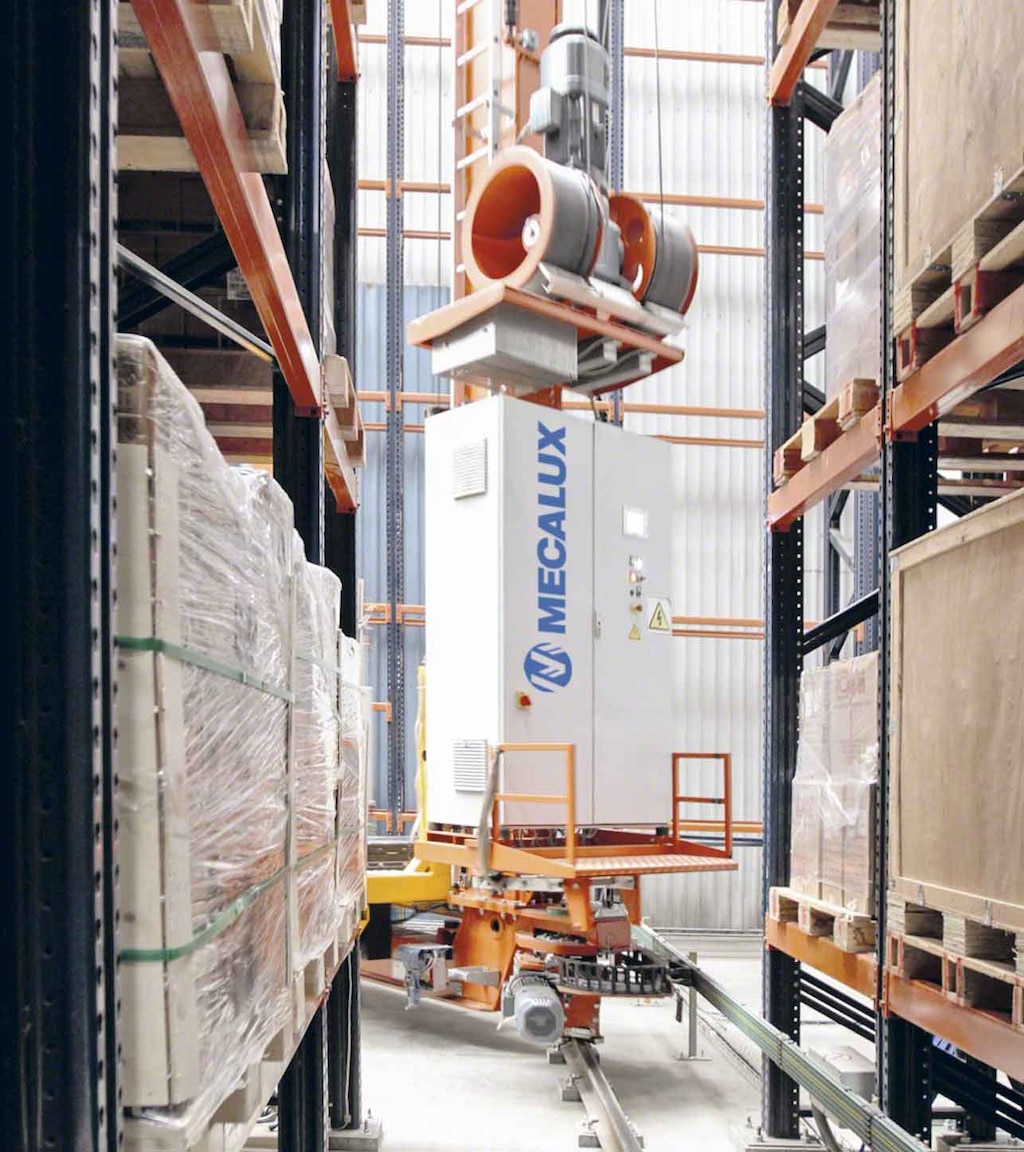 AS/RS, by operating temperature
Automated storage and retrieval systems for both pallets and boxes can run at ambient or controlled temperatures. In fact, cold stores and AS/RS are the perfect combination for various reasons, as they:
Prevent people from having to work in extreme environments.
Minimise cold air leaks, thereby saving energy.
Make the most of the entire surface area.
Control the available stock at all times, thanks to the WMS.
Automated cold storage warehouses usually implement storage systems that take advantage of the space and facilitate goods inflows and outflows. Thus, double-deep racks are often installed because of the good balance they achieve between storage capacity, machine throughput (number of cycles), and proper air distribution among pallets.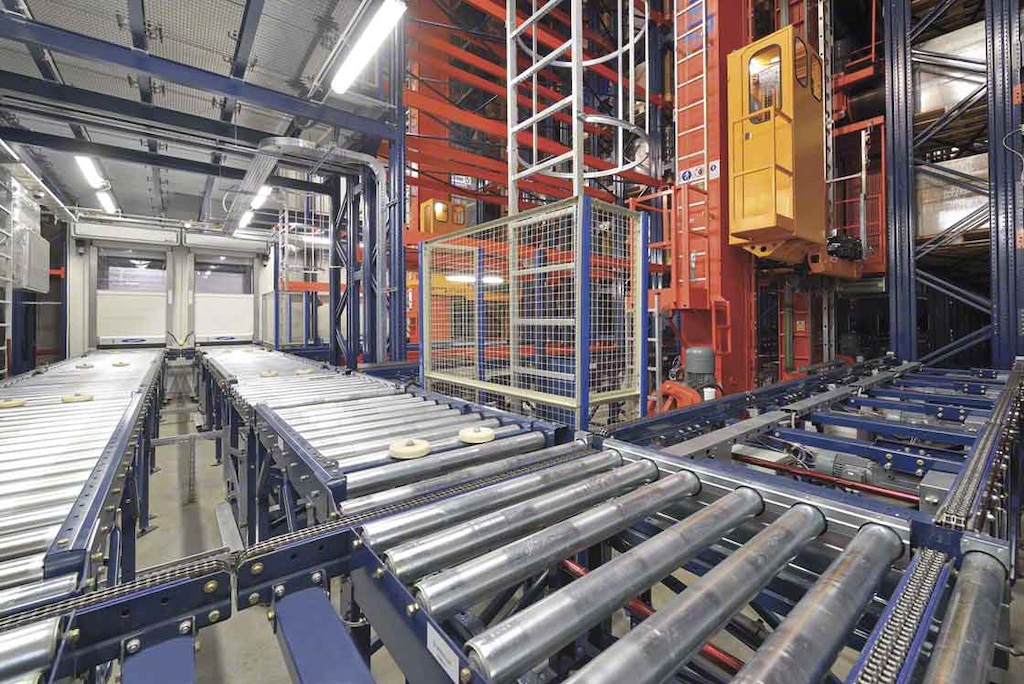 Automation, the key to productivity
AS/RS technology is the ideal solution for ensuring smooth, safe, and agile goods movements. Plus, they eliminate errors, leverage all the available surface area, and control inventory in real time.
There are various types of automated storage and retrieval systems on the market, with diverse features and characteristics. Choosing the right option for each installation will depend on factors such as the product to be handled, the available space, the number of SKUs to manage, and the required flows.
At Mecalux, we're experts in the installation and start-up of warehouses with AS/RS technology. Be sure to get in touch. We'll help you find the best solution for your logistics needs and show you how automatic handling equipment will boost your supply chain.