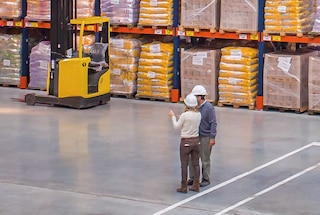 Warehouse manager: profile of a key role
22 Mar 2021
Warehouse manager is one of the most in-demand profiles in logistics, given how important it's become in the sector in recent years. Nowadays, during their shopping experiences, users interact with companies via multiple sales channels. For this reason, logistics has had to adapt and become the driving force behind multiple initiatives to address new consumer habits.
Against this backdrop, the logistics or warehouse manager has emerged as one of the positions with the most responsibility within a company's organisational chart. This professional profile needs to have leadership skills and work alongside the production manager — and other departments — to face the new scenarios unfolding in the market.
In this post, we'll break down the functions performed by warehouse managers, the training and capacities required to perform the job, and the way in which a WMS can help them to better manage all the resources in the facility and make smarter decisions for the business.
What's a warehouse manager?
The warehouse manager is the person in charge of supervising everything that occurs in a warehouse. This person's mission is to plan, manage, and coordinate the supply, replenishment, storage and distribution of the company's materials and products. One of his/her primary objectives is to optimise both space in the facility and the tasks that take place in it.
It's a position of high responsibility, as its role is closely related to the sustainability and performance of the entire business. Productive facilities help companies obtain good results, since they improve service quality and, consequently, customer satisfaction.
The warehouse is one of the main links in the supply chain. Therefore, the warehouse manager works directly with the head of production and must, likewise, participate in the goods production phases, from their design and manufacturing to their distribution and delivery to points of sale. These two roles must remain in continuous communication and coordination to ensure that products are properly manufactured and efficiently delivered to end customers.
Take, for example, the case of a company planning to launch a new product on the market. To do this, the production and warehouse managers need to put numerous issues on the table and define them, including: what raw materials and resources are needed to to manufacture the item (bill of materials or BOM), when to send the raw materials to the production lines and in what conditions to store the finished products.
Warehouse manager duties
Warehouse managers ensure that all operations are seamless and have the highest safety assurances. Let's examine their specific tasks and roles:
Manage the team. They must supervise, guide and assign responsibilities to professionals working in the facility (storage tasks, order prep, cleaning, etc.). They also have to assess each employee's performance and make sure that workers do their jobs properly.
Prioritise safety. One of the main duties of a warehouse manager is to devise a risk prevention plan in line with the tasks and nature of the facility. This plan includes the conducting of a mandatory annual technical inspection of the condition of the racks (laid down in Section 4.43.1 of the Occupational Health and Safety Regulation). In addition to the state of the racks, this inspection assesses the condition of the pallets, the appropriateness of the forklifts and racking unit loads and correct maneuvering on the part of operators.
Oversee goods receipt and dispatch. Warehouse managers need to plan what steps to take and to ensure they are followed. They will also make decisions in the event of unforeseen situations.
Inventory control. This involves monitoring the goods, including both finished products and raw materials. There's no doubt that the basic principle of logistics consists of always having goods on hand when needed. Stockouts have an extremely negative effect on business (order delivery delays, poor corporate image, etc.), which should be avoided at all costs.
Optimise the space. Lack of space is a major concern when managing a warehouse. That's why one of the functions of warehouse managers is to distribute space (warehouse layout) logically and efficiently. For example, in large facilities, goods can be distributed among different zones. Proper organisation of space results in greater throughput and in operators locating SKUs more quickly.
Plan the logistics strategy. The aim is to ensure the proper functioning of all warehouse activities. This includes:
1. Drawing up the procurement, storage and production supply policy (i.e., the company's intralogistics processes).
2. Decide on and organise the processes for distributing and delivering each product.
3. Supervise picking.
4. Ensure the continuous flow of goods and analyse how to improve and perfect those processes.
5. Optimise transport: reduce delivery costs, times and routes.
6. Prevent incidents and warehouse deterioration by implementing safety measures and maintenance.
Professional profile of a warehouse manager
Training is indispensable when filling a position as demanding as this. More often than not, a company's warehouse manager is a person with higher education — typically with a university degree (generally in economics, business, or engineering) — and who also has logistics expertise.
However, many of the skills and capabilities needed are acquired and honed through experience, including learning to lead a team and dealing with customers and suppliers.
On the other hand, given that warehouse managers have to interact with all kinds of suppliers, customers and employees, they need to be proficient in foreign languages, have emotional intelligence skills, such as empathy and know how to listen and negotiate.
Lastly, warehouse managers wouldn't be able to do their jobs without other more technical capabilities. They need to have computer skills, be technology savvy and demonstrate analytical capability.
Over the years, technology has completely transformed logistics to the point of turning it into one of the cornerstones for greater business competitiveness. Modern companies can't do without it if they aim to achieve greater visibility of all the processes taking place in their facility.
Thus, in their daily activities, warehouse managers need to not only feel comfortable with the latest technologies, but also understand how to exploit them, familiarising themselves with all the ins and outs of the facility and making the most of it in terms of profitability. At the same time, warehouse managers need to be able to convert data provided by the warehouse management system (WMS) into applicable information to make improvements.
Software for warehouse managers
With the help of a WMS such as Mecalux's Easy WMS, warehouse managers can control and optimise everything that occurs in the facility: inventory, flows, goods handling, product storage methods, replenishment procedures and order prep, among other tasks.
Apart from a WMS, warehouse managers also require certain data analysis and activity monitoring tools:
1. Supply Chain Analytics. This software makes it possible to check various warehouse status indicators, gain in-depth knowledge of the state of the business and measure the throughput of all processes. It incorporates control screens that include the majority of the logistics tasks to keep in mind: entries, exits, picking accuracy, customers, quality, capacity and use. These screens display useful data on all activities in the facility. With this information, warehouse managers can perform detailed operation analyses, plan resources, measure business performance and make strategic decisions to boost productivity.

2. Labor Management System. With the aim of enhancing warehouse operations, this software is used to monitor workers' activities to maximise their efficiency. Its role is very clear: it's charged with recording the actual time spent carrying out tasks and comparing them with estimated standard times for each one. This way, warehouse managers can measure employee performance and easily identify points for improvement.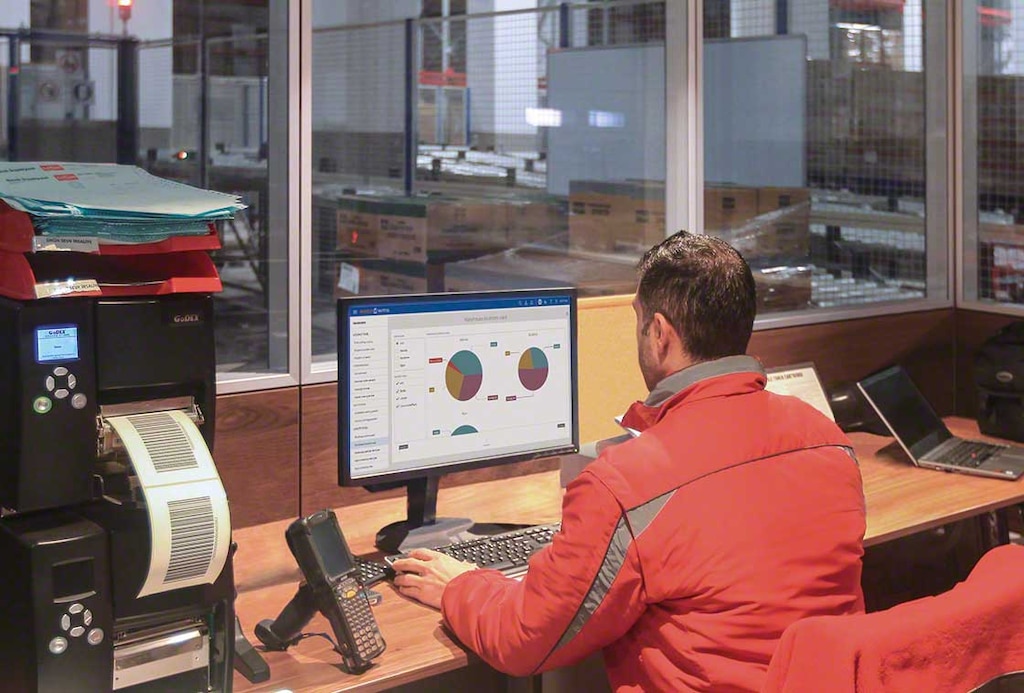 An indispensable member of the supply chain
The warehouse manager is, without a doubt, a central figure for ensuring that the activities of any company are performed effectively. Without this person, chaos would run rampant in the facility.
Taking into account that the logistics sector is constantly expanding and changing, warehouse managers must also update their skills to deftly take on the new challenges they face. To fulfil their obligations successfully, their resumes must include optimal training, foreign language proficiency, empathy and expert data analysis.
Likewise, warehouse managers have to be informed of all movements of the supply chain in which their company participates in order to sift that information through data analysis, subsequently correcting inefficient processes. These computerised tools enable these managers to have full control over their operations. It will mark the difference between a profitable facility and one rife with inefficiencies.
At Mecalux, we have software solutions that will bring your company to the forefront of your sector, helping your warehouse manager make sound decisions and achieve targets set. Get in touch to find all about how Easy WMS and the Supply Chain Analytics module can effectively enhance your business.