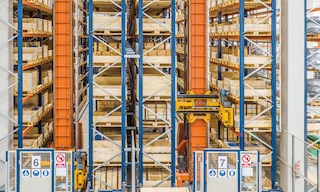 Automate your warehouse: a step-by-step guide
07 Oct 2021
Automating a warehouse is a solution recommended for businesses looking to boost their productivity in logistics, make the most of their storage space, and improve the safety of their operators, goods, and storage systems. But, how exactly do you automate a warehouse? What steps should you follow?
In this post, we delve into the process of automating a warehouse, providing you with a step-by-step guide for replacing manual management with automated solutions that optimise resources in the facility and increase efficiency in logistics operations.
When to automate your warehouse
Manual management of a warehouse — including both manual stock control (with pen and paper) and goods movement by means of handling equipment such as pallet trucks — entails operations with a high risk of error. To limit operating costs and ensure effective logistics service, it's essential for the logistics manager to monitor the throughput of the operations to analyze their efficiency. In contexts with frequent stock losses or a high rate of wrong orders, it's necessary to automate part or all of the warehouse.
Facilities with a high number of daily orders to fulfill need to complement warehouse digitisation with automated storage and transportation systems that guarantee 24/7 workflows. For this reason, the automation of transportation and storage systems is the order of the day: by 2026, the warehouse automation market is slated to exceed $30 billion, growing at an annual rate of over 14%, according to a study by consulting firm LogisticsIQ.
Automation fosters productivity, efficiency, and safety in the warehouse. Implementing automated solutions also prevents operators and forklifts from interacting in the aisles, reducing the risk of accidents.
Step 1: feasibility assessment. Which operations can be automated?
Many companies are loathe to implement automated storage solutions in their facilities because they understand automation to be all or nothing. However, this idea couldn't be farther from the truth: partial warehouse automation is standard practice for operations or workstations where the logistics manager feels that productivity could be raised and the number of errors reduced.
When evaluating which operations to automate, keep in mind that automation is a common solution for continuous, repetitive movements. It is also implemented in logistics environments in which warehousing conditions could affect operator productivity, as in facilities for cold storage or with less oxygen; here, only automated solutions can ensure continuous workflows.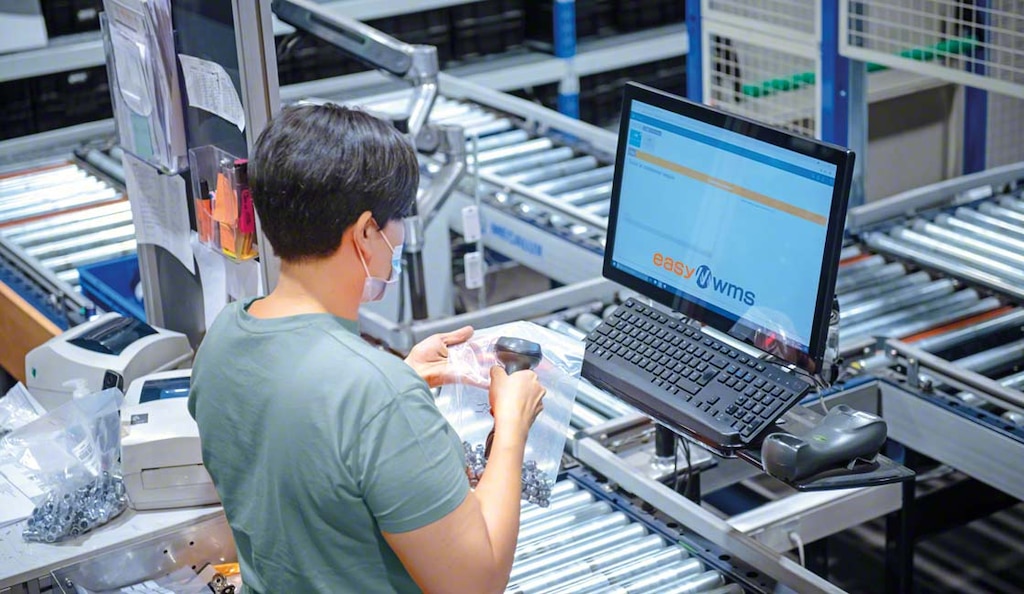 Operations most likely to be automated are those most prone to errors arising from manual management, such as load handling, order processing, goods movements, and product storage and retrieval from the racks.
To guarantee proper implementation and a proposal in line with the customer's needs, the logistics provider prepares a feasibility assessment detailing the types of unit loads, the current warehouse layout, the SKUs and their turnover, and the work cycles of the operators.
Using this document, the provider draws up a proposal specifying the automated solutions that will increase productivity, safety, and efficiency in the facility. Likewise, the automated solution submitted by the provider must take into account variables such as profitability and the customer's ROI (return on investment), offering them a solution adapted to their demands and means.
Step 2: implement a WMS
Automating your warehouse calls for the deployment of a warehouse management system (WMS) that coordinates everything that happens in the facility: machinery movements, instructions for operators, dumps of information relating to goods receipts and dispatches, and so on.
Therefore, to eliminate errors stemming from manual warehouse management, digitisation is a must. This software acts as the brain of the facility, assigning all the products a location based on rules and criteria established in advance by the logistics manager. Digital control of the warehouse also enables traceability in all operations: the WMS monitors each product's journey through the different areas, facilitating compliance with quality standards inside the building.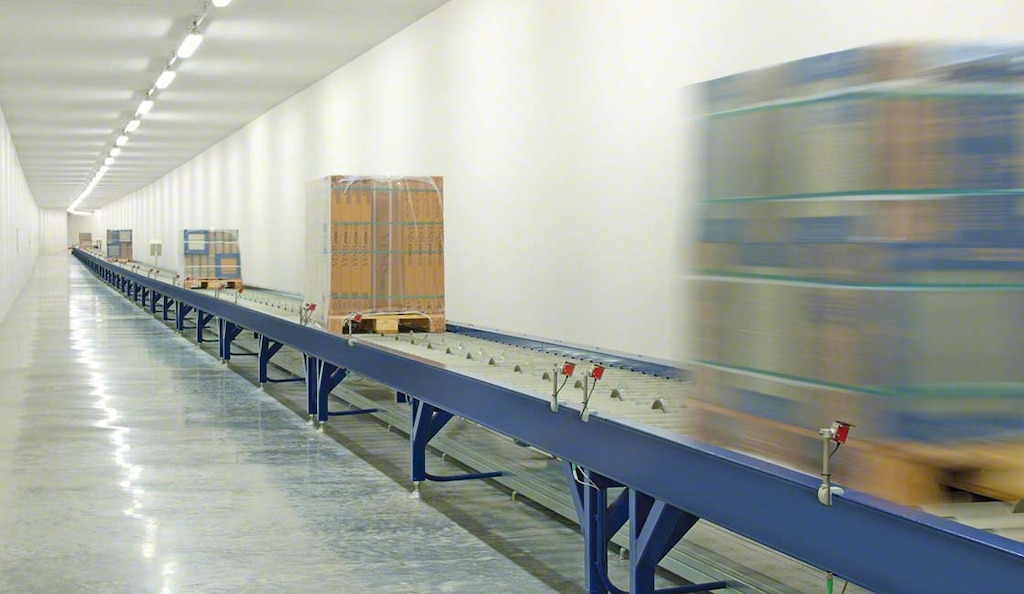 A WMS not only improves location management, but is also the ideal solution for obtaining maximum throughput in the order picking phase. The program syncs the picking assistance devices — voice picking and/or pick-to-light — and the RF scanners, providing detailed instructions for operators on their tasks. This simplifies their work and prevents them from making mistakes in the costliest operation in the warehouse.
In addition to automating decisions and coordinating operations, the WMS is an indispensable tool when it comes to integrating automated storage and transportation systems in the facility. By means of a warehouse control system (WCS), the WMS syncs the movements of all the automated elements, from motorised solutions such as the Pallet Shuttle to more complex machinery, for example, conveyors and stacker cranes.
Step 3: install storage systems to automate the warehouse
People often mistakenly think that the warehouse automation process involves replacing all management and execution of manual operations with automated systems. This is why the advice of a provider such as Mecalux is critical. We have a wide range of solutions with different degrees of automation that we adapt to the particular needs and procedures of each warehouse.
The market features a variety of automated storage solutions with differing levels of complexity and that can be tailored to customer demands. Many businesses begin their journey towards automation by complementing warehouse digitisation with a semi-automated storage and retrieval system (AS/RS) such as the Pallet Shuttle. This motor-driven shuttle is placed into the storage channels by a forklift to organise the goods in the racking. An example of the application of this solution is the case of multinational chemical company WISAG. With the help of the Mecalux Group, it optimised the storage capacity of its facility Krefeld, Germany. The operators use tablets connected to Easy WMS, the WMS from the Mecalux Group, which facilitates coordination between all the shuttles operating in the warehouse.
Logistics facilities that manage goods on a larger scale can directly automate the storage and removal of products, swapping forklifts and pallet jacks for AS/RS trilateral stacker cranes. As opposed to conventional stacker cranes, these storage robots don't require an upper guide rail, making them easy to install in any warehouse. Yamazaki Mazak, a Japanese industrial machinery manufacturer, relied on the Mecalux Group to implement this solution in its centre in Worcester, UK.
For warehouses with continuous, repetitive flows of goods, another popular automation option is to implement conveyors or other automated transportation systems (such as pallet lifts, electrified monorails, etc.), for both pallets and boxes, in place of manual handling equipment. These automated systems ramp up productivity in the warehouse by moving the goods more quickly. They also improve safety, limiting interaction between the operators, loads, and storage systems. This solution was implemented in the Porcelanosa logistics centre in Vila-real, Spain. There, a conveyor system connects the production centre and AS/RS, doing away with constant forklift travel and speeding up the flow of goods.
When automation covers all intralogistics stages, (internal transportation, pallet storage/extraction, and decision-making via software), we're talking about a fully automated warehouse. An extreme case is dark warehouses, which operate nonstop in a lights-out setting due to the total absence of operators inside.
Automate your warehouse — customise the process
Automating a warehouse is a step-by-step procedure that calls for solutions tailored to each company's logistics operations, characteristics, processes, and way of working.
Thus, it's vital to have an all-in-one intralogistics provider with a wide array of solutions for all levels of automation: from the implementation of a WMS in a manually run facility to the automation of all goods movements in the building.
Mecalux has a proven track record in installing conventional, automated, and software storage solutions adaptable to any level of automation the customer requires. Don't hesitate to contact us. One of our experts will advise you on the ideal automated solution to boost productivity and efficiency in your warehouse.