09 Sep 2021
A buffer warehouse is a logistics facility set up near the production lines that serves to temporarily store finished products. These goods will soon be dispatched to different distribution centres or directly to end customers.
In this post, we analyse buffer warehouses, their role in logistics, and how to optimise operations that take place inside and outside their walls.
Buffer warehouse definition
A buffer warehouse is a logistics centre — usually located near the business's production plant — tasked with absorbing outflows of products finished in the production centre. It temporarily stores these items, eventually shipping them in order to supply other company warehouses, distributors, or even large end customers.
Organisations often resort to this solution when faced with very high production scenarios in which the stock to be stored exceeds the available space in the manufacturing plant. Buffer warehouses sometimes constitute the biggest storage centre in the entire company. They house items waiting to be distributed to other facilities in line with logistics planning and according to the specific demands of the business. More often than not, they house high-turnover products (A and B, based on the ABC analysis), avoiding — with a few exceptions — the storage of low-demand SKUs.
These types of warehouses also tend to be implemented in companies with seasonal stock. In these organisations, the production lines are characterised by irregular activity, and there's normally a high volume of goods that need to be stored outside the main facility until demand for them is generated. This constitutes a standard service offered by the major logistics providers: customers contract a warehouse to store their stock temporarily until it is requested by the various regional facilities.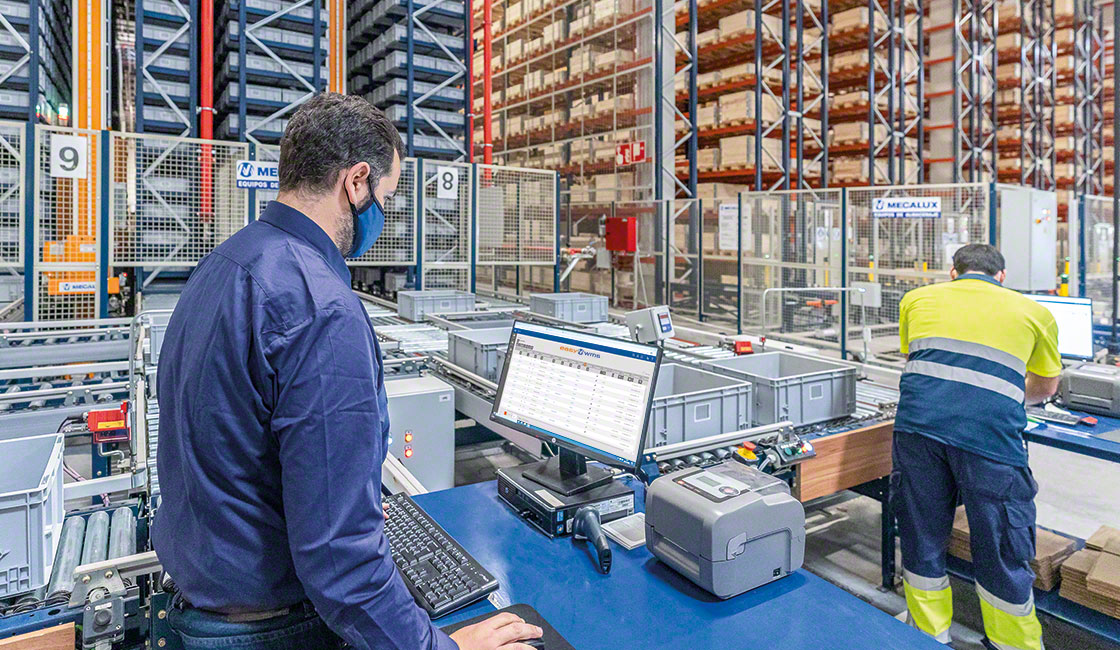 Buffer warehouse advantages
A buffer warehouse is an extremely useful logistics tool for companies that manufacture, move, and distribute large production volumes. These are some of their main plus points:
Centralised stock: concentrating inventory in this type of facility allows organisations to have comprehensive control over their goods and minimise investment in inventory management.
Increased logistics flexibility: buffer warehouses enable the company to adapt better to changes in demand, as they store all sorts of merchandise temporarily.
Limited investment: they do away with the need to purchase logistics floorspace near big cities, where the cost of storage space is most expensive.
Decreased transportation costs: these warehouses are located between production centres and major cities, shortening transportation distances.
Reduced delivery times: these facilities allow for efficient flows of goods, bringing down dispatch and shipment costs as well as delivery times.
For all these reasons, a buffer warehouse is a key player in the supply chains of companies with a high demand volume or aiming to achieve sustained growth. These centres enable production plants to specialise in manufacturing processes and ensure that regional warehouses close to big cities are supplied with the goods they need at all times.
Likewise, new market trends such as omnichannel have consolidated the implementation of buffer warehouses as these help businesses to improve their shipment policies: these logistics facilities supply various warehouses and production centres located near large urban areas, acting as internal stock suppliers.
How to manage a buffer warehouse
A buffer warehouse has to be synced with the firm's production plants, with the facilities that temporarily store the raw materials, and, of course, with the logistics provider or end customer. Therefore, it's becoming increasingly common for companies to automate their supply chains with a warehouse management system (WMS). This program facilitates data exchange in real time with all stakeholders in the supply chain. It also coordinates a single company's various logistics facilities. In a multi-location inventory management structure, in which a business's stock is spread out across multiple locations, digitising logistics processes is vital for tight stock control.
Buffer warehouses accommodate and ship a high number of SKUs from the production plant, acting as internal intermediaries between the manufacturing and distribution processes. For companies with these types of facilities, a WMS is an invaluable partner, as it ensures that the buffer warehouse coordinates the internal purchase orders it receives from the firm's regional warehouse.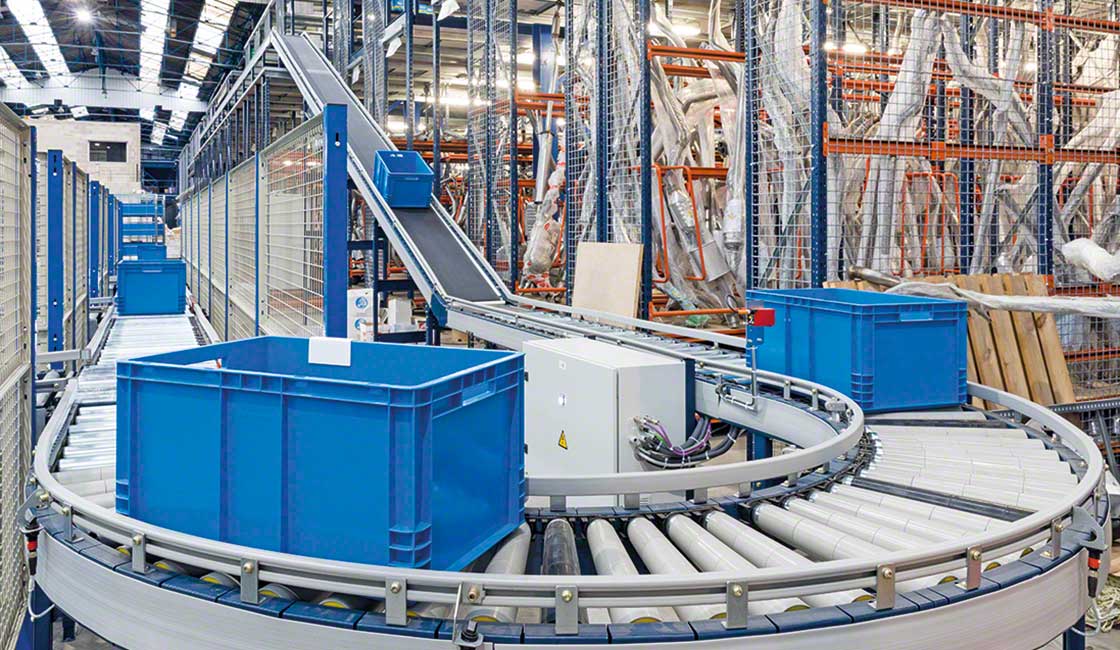 How to automate a buffer warehouse
Buffer warehouses call for logistics solutions that optimise storage space, since they house all the products that come off the production lines. Thus, many businesses replace their manual handling equipment with stacker cranes (AS/RS for pallets). These automated storage and retrieval systems (AS/RS) speed up the placement and removal of goods on and from the racks. This solution makes the most of the storage space and ensures that the pick stations — and even the loading docks — are supplied with products ready for dispatch.
A buffer warehouse also requires speed in moving large volumes of merchandise to quickly supply the company's regional facilities or distribution centres. For this reason, businesses install pallet conveyor systems, automated transportation systems that streamline the flow of goods between the production plant and the warehouse or even between various storage zones. This solution speeds up the flow of products to the dispatch area.
Apart from conveyors, buffer warehouses typically incorporate smart solutions that boost efficiency in the movement of goods. This is the case of sorters: connected to the WMS, they directly sort the products according to the regional warehouse or distribution centre to which they will be sent.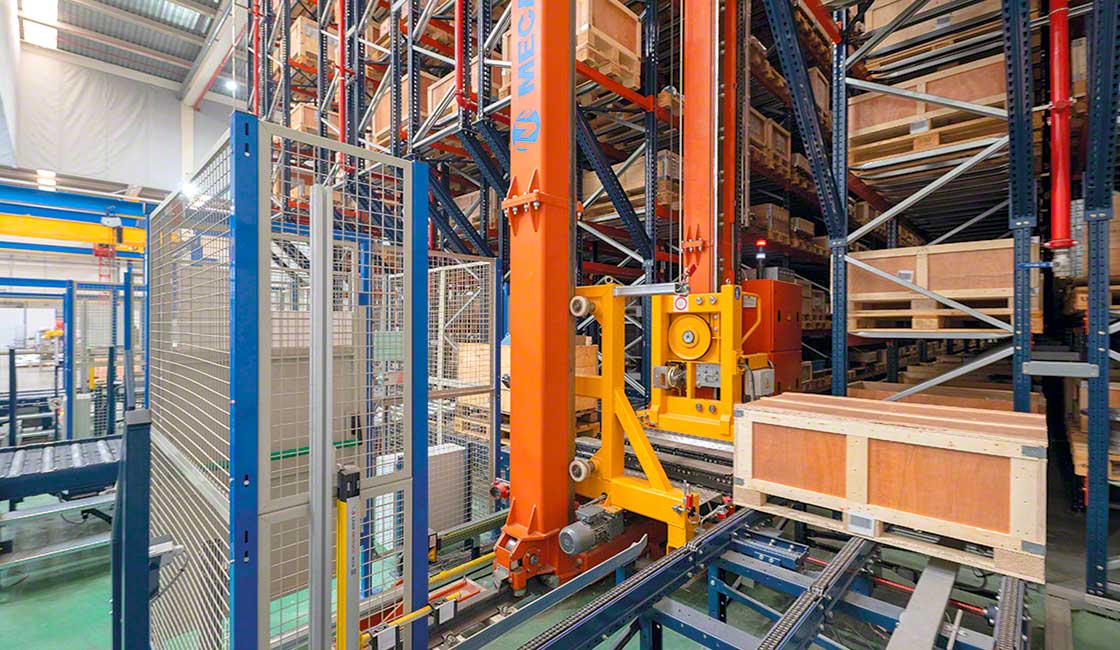 Buffer warehouse: large-scale production
A buffer warehouse is an ideal solution for companies with a high production demand. Many times, they become a strategic centre used to house all finished product waiting to be dispatched to the distribution centre or the different regional storage facilities.
Nevertheless, buffer warehouses require strict inventory control to avoid running into stockouts or, just the opposite, creating overstock that drives up storage costs. As a result, many companies combine automated storage systems with a WMS that syncs all operations taking place in the facility.
At Mecalux, as your one-stop intralogistics provider, we offer an extensive range of solutions to boost the throughput of your buffer warehouse. Don't hesitate to contact us; one of our expert consultants will come up with the best solution for your company.