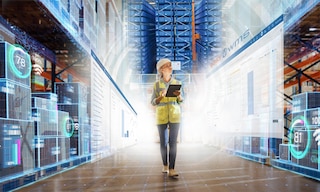 Digital warehousing: technology optimises logistics
29 Nov 2021
Digital warehousing refers to logistics facilities that use technology to optimise processes and flows and achieve full product traceability.
In traditional warehousing, both inventory control and operator task organisation is done manually, so the risk of errors and delays is high. Digitisation, on the other hand, increases speed and accuracy in the various tasks, making it possible to control stock in real time and shorten delivery times, among other advantages.
The rise of digital warehousing
Consulting firm McKinsey notes that warehouse operations are becoming increasingly complex: "The growth of ecommerce has led to a proliferation of SKUs, and there's an ever-growing need to delight customers by offering super-fast fulfillment." To maintain an efficient pace of work, companies turn to technological solutions such as digital twins and warehouse management software (WMS). According to McKinsey, with the help of digital twins, digital warehouse designs can boost efficiency by 20% to 25%.
A study by consulting company Markets and Markets forecasts that the global digital transformation market will grow from $521.5 billion in 2021 to over $1.24 trillion in 2026. The main drivers of this development will be the expansion of mobile devices and the adoption of cloud services.
Businesses that invest in digitisation have begun incorporating big data and the Industrial IoT (Internet of Things) in their production and logistics processes to obtain information on their supply chains in real time, understand customer needs, and foster productivity. Among the most widespread technologies employed in digital warehousing are warehouse management systems (WMSs). This is reflected in a study by consulting firm Technavio, which anticipates that the WMS market share will rise by $1.61 billion between 2021 and 2025.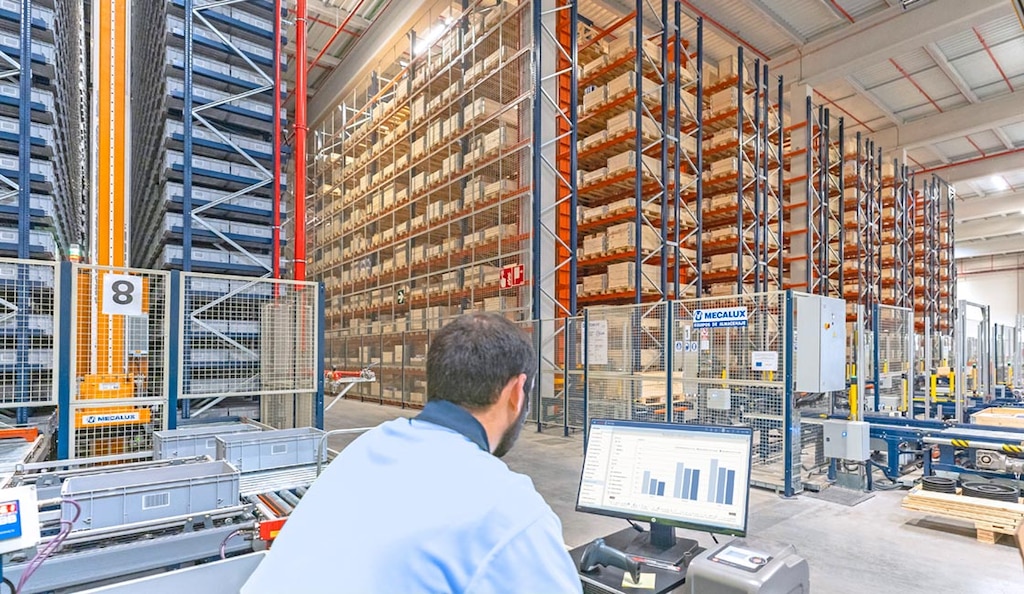 Benefits of digital warehousing
Digitisation helps to identify a facility's potential, assess the status of operations, and make improvements. Let's take a closer look at some of the advantages of digital warehousing:
Control stock in real time. A digital warehouse makes it possible to know the exact status of your inventory thanks to the WMS, which monitors goods entries and exits. To control stock in real time, proper item coding in the warehouse is a must: all goods must be explicitly identified with a code or sign.
Enhance processes. With digital warehousing, continuous improvement is the order of the day: companies apply strategies designed to optimise procedures and services. The WMS gives organisations the flexibility to adapt to business changes, e.g., the incorporation of new operations.
Fine-tune order picking. This is an operation that can be greatly improved through digitisation. With a WMS and the use of picking assistance systems — pick-to-light, put-to-light, and voice picking — operators can prepare orders faster and more accurately.
Cut costs. Digital warehousing enhances product organisation as well as the movements of operators; these workers travel shorter distances when storing goods or putting together orders, completing their tasks more quickly. Digitisation helps to bring down product handling and management costs.
Boost ecommerce. Adapting your warehouse to the digital world is vital for omnichannel logistics and managing online product sales. With warehouse management software, a company's logistics facility can connect to its online stores to prepare and dispatch orders, adjusting delivery times to ecommerce demands.
Transition to digital warehousing
The process of switching to digital warehousing requires seamless coordination between the logistics managers, who know the day-to-day of the logistics facility, and the technical team of the digital solutions provider.
When equipping a facility with Easy WMS — the WMS from Mecalux — the first step is to analyse the needs and operations of the logistics facility. This way, the Mecalux Software Solutions technical team can design and develop the most appropriate solution, taking into account factors such as flows, operations, and product types.
When installing Easy WMS, other processes are carried out as well, including rack and goods labelling and operator training. Lastly, when Easy WMS is deployed, our technical team is present on site and then remotely throughout the process.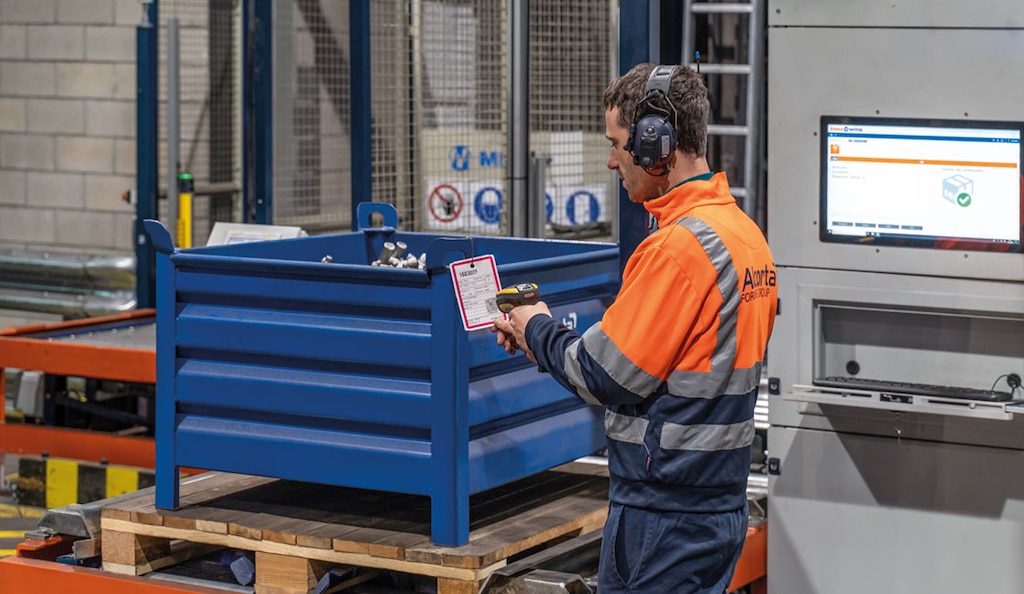 Digital warehousing examples
Our company has digitised warehouses for organisations in all sectors. With our Easy WMS warehouse management software, businesses around the globe have transformed their supply chains, ramping up productivity and providing better customer service. These are a few notable examples:
Yamazen (US)
Multinational machine tool distributor Yamazen swapped inventory management with Excel for Easy WMS. "With this system, we know the availability of the SKUs and can take inventory in real time," says James Hansen, Executive Vice President at Yamazen.
Easy WMS identifies the items the minute they arrive at the warehouse and assigns them a location according to product type, characteristics, and demand level. For Yamazen, the advantages of digital warehousing are evident: speedier storage tasks, exhaustive goods control, and optimisation of operations.
Danone (Spain)
Food giant Danone (known as Dannon in the US) has an omnichannel warehouse in Spain that supplies specialised children's and medical nutrition products to wholesalers, retailers, and ecommerce customers.
The company turned to digitisation with Easy WMS to maximise its facility's throughput and offer more efficient customer service. In the past, each operator prepared orders following their own criteria; now, Easy WMS organises and optimises this process. As a result, operators are much more productive, and the centre ships between 500 and 700 orders a day.
Espace des Marques (France)
French fashion retailer Espace des Marques implemented two digital warehouses run with Easy WMS. It chose this solution to organise, control, and enhance its products and operations and to eliminate errors.
Previously, the company depended on operators when it came to managing goods, entailing a high risk of mistakes. Through digitisation, Espace des Marques's products are better organised, resulting in more effective picking. "Thanks to the automation and digitisation Easy WMS has given us, we can ship three times as many orders as before using the same number of operators," says Development Manager Vincent Beaufreton.
BASF (Brazil)
In Brazil, multinational company BASF digitised its warehouse with Easy WMS to control the traceability of its 1,800 SKUs in real time and ensure that the production lines were supplied with all the goods they required to be able to manufacture without interruption.
The WMS was integrated with the production software to know what items would be needed for production. Consequently, the production supply process is much faster: following instructions from Easy WMS, operators locate the products requested and bring them to the corresponding production line. "With Easy WMS, we've digitised and perfected all processes in our facility. We're sure that, with the help of Mecalux software, we'll continue to make the most of all our operations," says Márcio de Almeida Soares, Logistics Coordinator at BASF.
Digital warehousing: within every company's reach
Digital management of goods improves safety and speed in storage and order picking tasks. Therefore, digital warehousing is being adopted by more and more businesses that need to address business changes, such as the unstoppable rise of ecommerce.
At Mecalux, we're a provider of high-tech warehousing and management solutions. Easy WMS software is implemented in more than 1,000 logistics facilities in 36 countries. Need to digitise your warehouse to optimise processes? Get in touch so one of our experts can give you advice you can count on.