01 Jun 2022
At some point, you may have asked yourself: Should I install an ERP system in my warehouse? Or would a WMS be better? Perhaps both? Warehouses handle a large amount of stock and, as a result of omnichannel logistics, have hectic operations with more and more orders being delivered in a shorter time. This level of demand requires strict monitoring of the facility, and for this, it's essential to be equipped with a digital tool that optimises management of the warehouse.
In this post, we answer the questions above, analyzing the differences between a WMS and an ERP (enterprise resource planning) system. We'll also help you to decide which software (or combination of programs) is most appropriate for implementing advanced management of a facility.
Why install an ERP system in my warehouse?
Employing an ERP system in a facility is a step towards the digital transformation of logistics. Companies need to have objective data on everything that occurs in their warehouses to make strategic business decisions.
An ERP system is software designed to streamline information flows between a company's processes with the aim of avoiding repetitions, imbalances, and discrepancies between the various departments. Any ERP system on the market will incorporate a series of modules for each department (logistics, finance, purchasing, production, etc.).
With a logistics module, the ERP system has relevant information on the goods (which products have arrived, which customer orders have been placed and dispatched, etc.). With these data, both the logistics manager and operators know the sales levels and availability of the items.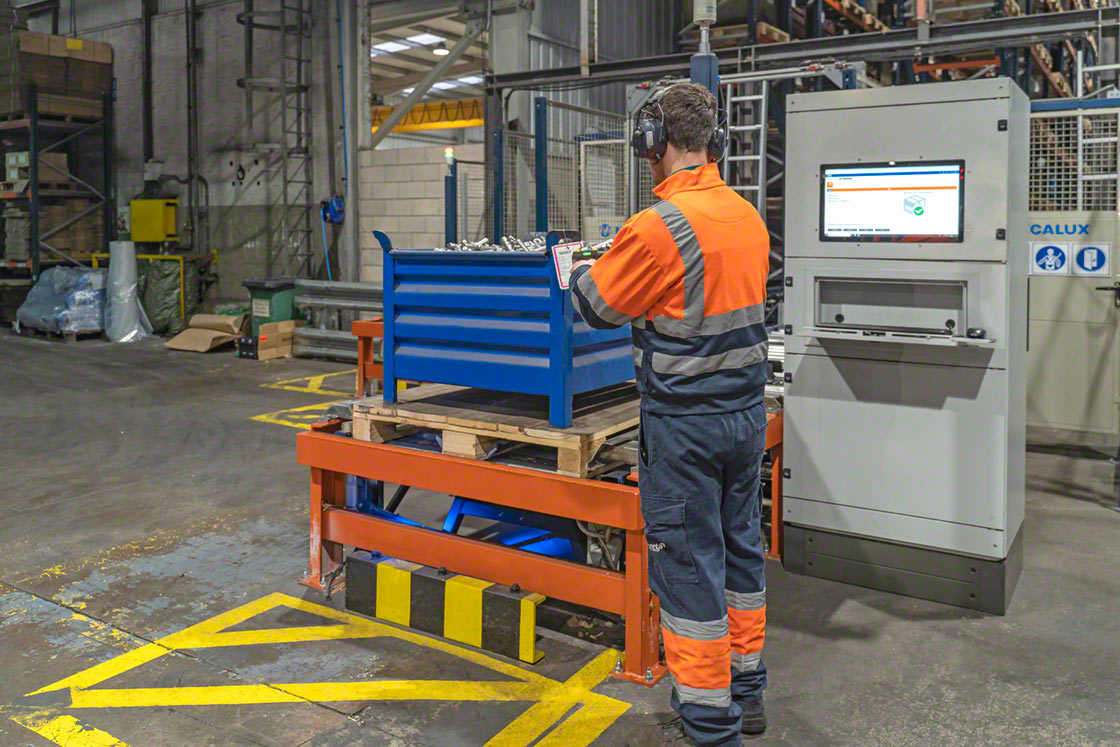 With an ERP system, you can also organise warehouse stock in a rudimentary way, setting alerts for low stock levels to ensure proper procurement. Consequently, you'll leverage your useful space much better and can prevent mistakes and delays in operations, including order processing. Nevertheless, these functionalities are covered only basically, so to really optimise management, the ERP system should be complemented by software specialised in warehouses, i.e., a WMS.
Should I implement an ERP system or a WMS in my facility?
Normally, businesses work with both software programs: an ERP system and a WMS. Having only an ERP system will limit the growth of the warehouse and, thus, of the business. And a WMS alone won't be very viable in organisations with multiple departments that need to seamlessly share information with each other. So, there's no question: companies looking to increase operational productivity in their facilities need a WMS that enhances the functions of the ERP system.
Let's take a look at the case of IXOS cealco, a customer of our company that, previously, used only its ERP system to control all the goods and operations in its warehouse. As orders began to increase, however, the company was forced to change its processes. "It was then that we seriously considered implementing a warehouse management system with certain guarantees and market recognition," says Manuel Hervás, the firm's Logistics Manager. IXOS cealco realised that, with a tool like this, it could optimise the work of the operators and streamline communication flows to be more efficient.
There are many reasons for installing a warehouse management system, such as Easy WMS from Mecalux, in a facility that already has an ERP system. Let's get down to the nitty gritty:
Specialised software: a WMS is a program specifically designed to manage a warehouse, as opposed to an ERP system, which is generic software much less specific to this area.
Standard operations: a warehouse management system such as Easy WMS from Mecalux boasts a range of over 70 functionalities that have been added to the standard product based on customers' requirements. This does away with the need for customised developments that drive up the cost of deployment and complicate the subsequent maintenance.
Advanced functionalities: in addition to standard operations, our WMS has additional modules to boost the facility's efficiency in complex tasks such as order labelling and packaging (Multi Carrier Shipping Software) and ship from store (Store Fulfillment).
Modularity and updating: a competitive WMS is usually updated annually with new warehouse-specific functionalities.
Communication with the ERP: it's very common to integrate a WMS with an ERP system. Therefore, most ERP systems on the market already incorporate standard, certified communication interfaces to facilitate communication between the two systems.
Integration with other warehouse elements: a WMS adapts very well to the complexity of any facility, integrating with automatic items such as stacker cranes, miniload systems, and conveyors, as well as with other technological solutions such as voice picking and pick-to-light and put-to-light devices. Additionally, WMSs can be integrated with warehouse control systems (WCSs).
Strategies and rules for defining the operation of the facility: a WMS includes a multitude of options for defining the logic of each warehouse operation. For example, it incorporates logistics attributes for each product that allow it to create rules on where to slot the goods more efficiently: batch, expiration date, best-by date, manufacture date, size, colour, series number, origin, useful life, version, etc.
Total cost of ownership (TCO): companies sometimes decide to continue using just their ERP systems because they supposedly entail a lower cost. However, a WMS usually involves a smaller investment taking into account licenses, implementation, customisations, interfaces with automated elements, training, technical support, updates, and improvements. That is, the ROI of a WMS clearly justifies the adoption of this software.
Implementing a warehouse management system is the most effective solution for rigorously monitoring everything that happens across the supply chain. An ERP system does incorporate functionalities for managing the facility. But to achieve maximum competitiveness, a WMS is your sure-fire tool.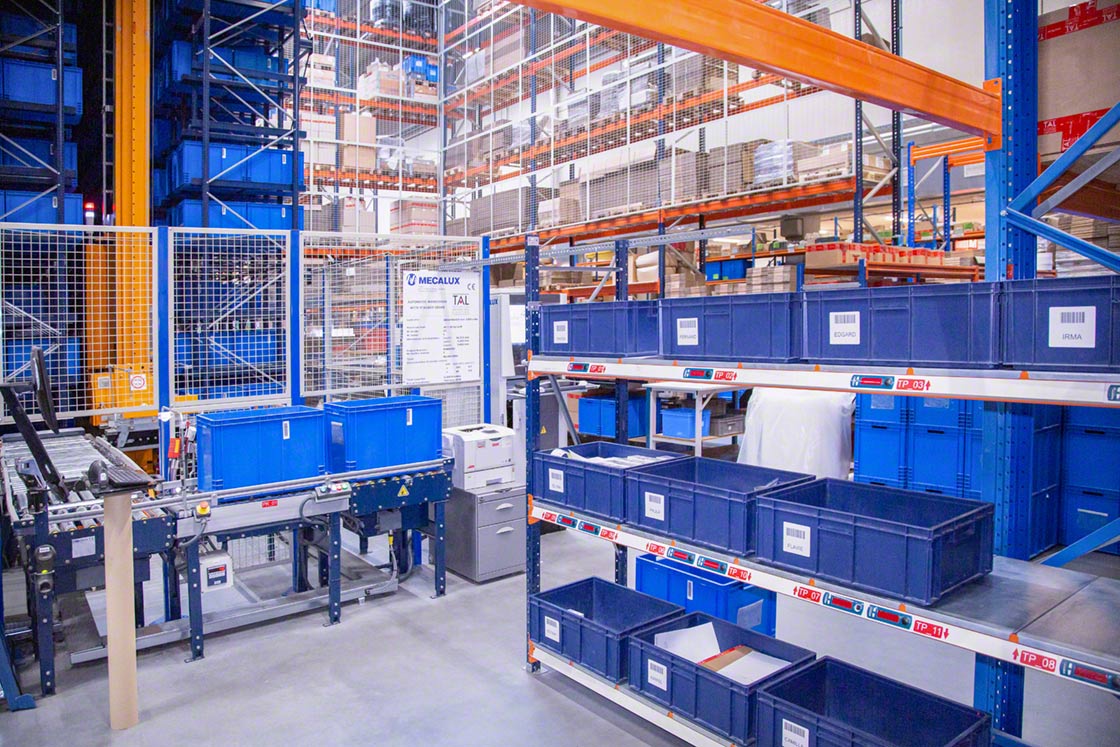 Can I manage my warehouse with a WMS alone, without an ERP system?
Yes, your facility can be managed without an ERP system. Monitoring of the products and operations, hence, can be carried out with the help of a WMS. This is only viable, though, in small and medium-sized businesses, generally e-commerce-type companies, since the sales platform (PrestaShop, Magento, Shopify, etc.) performs some ERP functions.
This is the case of Global Freaks, the Spanish e-commerce retailer specialising in action figures. This firm sells its figurines on eBay, Amazon, and directly through its own website via PrestaShop. Easy WMS communicates directly with these platforms, organising all operations (goods receipt, storage, order preparation, and dispatches) without the need for an ERP system. According to Daniel Vizcarra, Manager at Global Freaks, "Our entire catalogue is on the Global Freaks webpage; from there, we share it with eBay and Amazon via Easy WMS."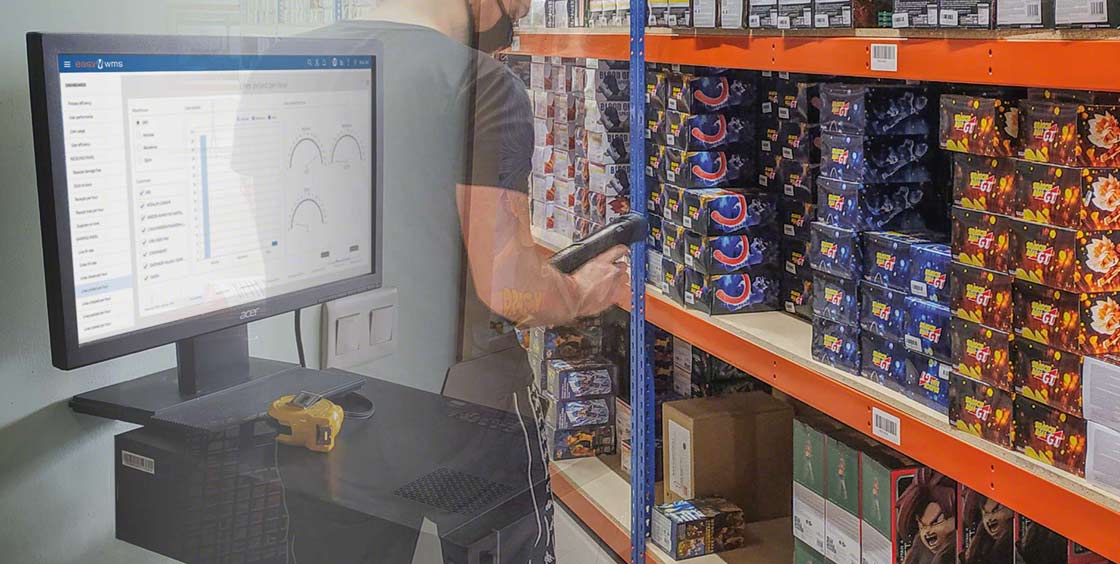 WMS vs. ERP: logistics as a competitive advantage
An ERP system facilitates information flows between all business areas, including the warehouse, so that departments can organise and coordinate their resources. A WMS, on the other hand, is focused on the thorough management of a logistics centre. Not only is it geared towards warehouse operations, but it's also capable of optimising movements and processes. To sum up, let's break down the differences between these two types of software:
| | | |
| --- | --- | --- |
| | ERP system | WMS |
| Specialisation | Management of all a company's resources (purchasing, operations, finance, logistics, etc.). | Management of logic and operations in the facility. |
| Warehouse operations managed | Goods receipt, organisation of stock, and monitoring of customer orders and dispatched products. | Goods receipt, storage, organisation of stock, order prep, dispatch, returns, etc. |
| Modularity and advanced warehouse functionalities | Incorporates some specialised modules for various working areas in the organisation, including logistics. | Incorporates complementary modules that add specific functions to serve the needs of any facility. Among others, these include simultaneously controlling inventory in the warehouse and physical stores, ensuring the supply of the production lines, and coordinating the stock in the various marketplaces. |
| Optimisation of warehouse operations | No. | Greatly optimises and simplifies operations through rules for product distribution, thus, minimising operator travel. |
| Errors and productivity | Limited to organising stock properly. | Sends detailed instructions to workers on how to perform operations, preventing mistakes and raising productivity. |
Having an efficient logistics system has become a critical point for any organisation, with how to achieve this a fundamental question. So, should you install an ERP system, a WMS, or both?
Without a doubt, a WMS is your best bet when it comes to success, as it's specifically designed to adapt to the particular characteristics of a facility and boost warehouse productivity. A WMS can be tailored to the idiosyncrasies of any business and implemented in all kinds of facilities, whether managed by an ERP system or manually.
Mecalux features Easy WMS, a warehouse management system present in numerous logistics facilities. Companies in all sectors use it on a daily basis to organise their supply chains, optimise their warehouse resources, and provide agile, effective customer service. Contact us to see how to modernise your logistics systems with the help of our WMS.