02 Aug 2021
Being equipped with inventory software that allows you to manage stock effectively can mean the difference between making a sale or losing it to your competition.
Some companies still record their assets manually, using pencil and paper, while others manage their inventory with Excel. Not only are these two methods unreliable due to possible human error — they're also more costly. Why? They require a huge amount of time and resources that could be devoted to other activities.
In this article, we delve into inventory software, its benefits, and, primarily, how it works. To illustrate this, we'll use the Easy WMS warehouse management system from Mecalux.
What is inventory software?
This type of software consists of a computer program created to facilitate an organisation's inventory management. It does this by counting the tangible assets used by a company to manufacture products or satisfy customer demand. For this purpose, the program takes into account product entries and exits that take place in the various facilities, points of sale, centres, etc.
Thus inventory software makes it possible to control stock efficiently and in real time. The aim is to optimise the status of the different types of stock, keeping inventory continuously up to date and knowing which orders have to be prepared at any given time.
Benefits of inventory software
The implementation of inventory software in a business provides the following logistics advantages:
Stock control. Knowing exactly what stock is in the facility (which and how many products there are) prevents you from making unnecessary purchases and enables you to have safety stock on hand to avoid stockouts.
Increased sales. Inventory software lowers the risk of not being able to fulfil certain orders, resulting in an upturn in sales in the short and medium term.
Customer satisfaction and loyalty. Efficient inventory management is fundamental for meeting delivery times, making sure your customers remain happy.
Time optimisation. Why allocate time to inventory management when it can be automated? That way, resources can be redirected to more productive and necessary activities.
Cost reductions. Setting maximum and minimum stock levels helps to bring down logistics costs. At the same time, inventory software makes it possible to lower stock volumes and, thus, save on storage costs.
Business scalability. Inventory management becomes more complicated as an organisation's size and activity grows. With inventory software, it's easier to adapt to changes in demand while simultaneously carving out a strategy for the future.
All of this contributes towards better logistics planning, boosting productivity, and reducing errors, helping to ensure customers are happy.
How does inventory software work?
The way in which inventory software is run can vary from one program to another, but in general, there's a set of steps to follow. We'll use Easy WMS, the warehouse management system developed by Mecalux, to explain how these systems are operated.
Entry of item master information
First, all the information relating to the products with which a company works needs to be entered into the Easy WMS software database: description, unit of measure, attributes, image, weight etc. It's important to note the difference between an item master and stock. An item master is a general list of product characteristics (size, weight, characteristics, etc.), while stock consists of the units physically present in the facility, store, or production centre.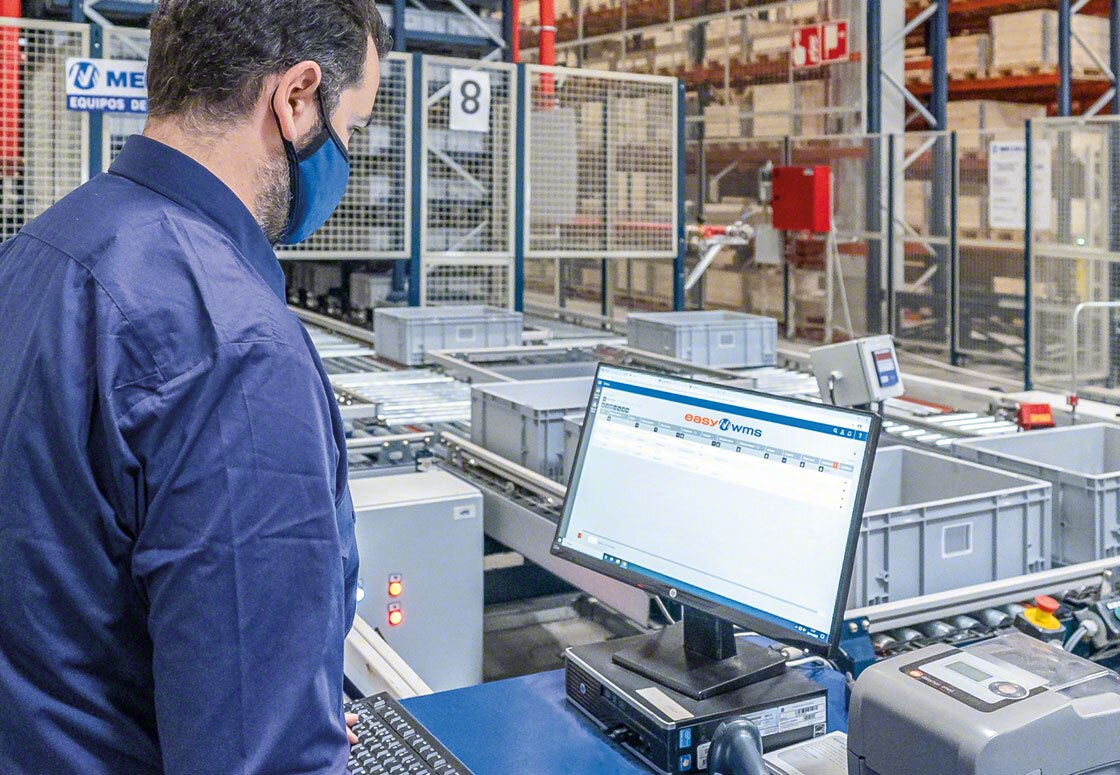 Product label creation
Based on the information included in the database, Easy WMS generates a label for each good. By default, the label contains at least an item code. Optionally, it can incorporate a brief description. Item labels can be printed via a computer or an RF scanner, then affixed to the stock in question.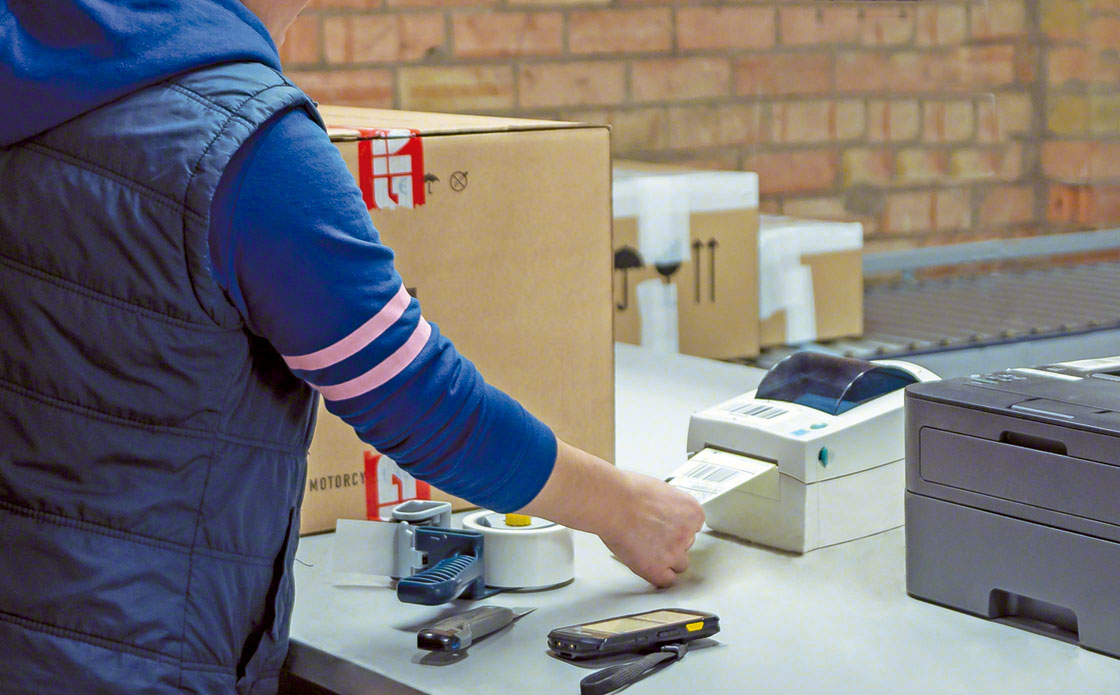 Stock entry
It's necessary to enter into the system all the stock with which the warehouse works. Besides the logistics attributes and status of each item, inventory software such as Easy WMS lets you carry out a wide variety of actions relating to the stock stored. These include the following:
Stock registration and de-registration: it's very easy to create or eliminate stock when a discrepancy is detected.
Stock inquiry: all information on stock present in the facility can be consulted.
Stock adjustment: it's possible to rectify any datum related to the stock.
Change of location or container: stock locations can be modified.
Label printing: this action creates the label to be placed on the stock.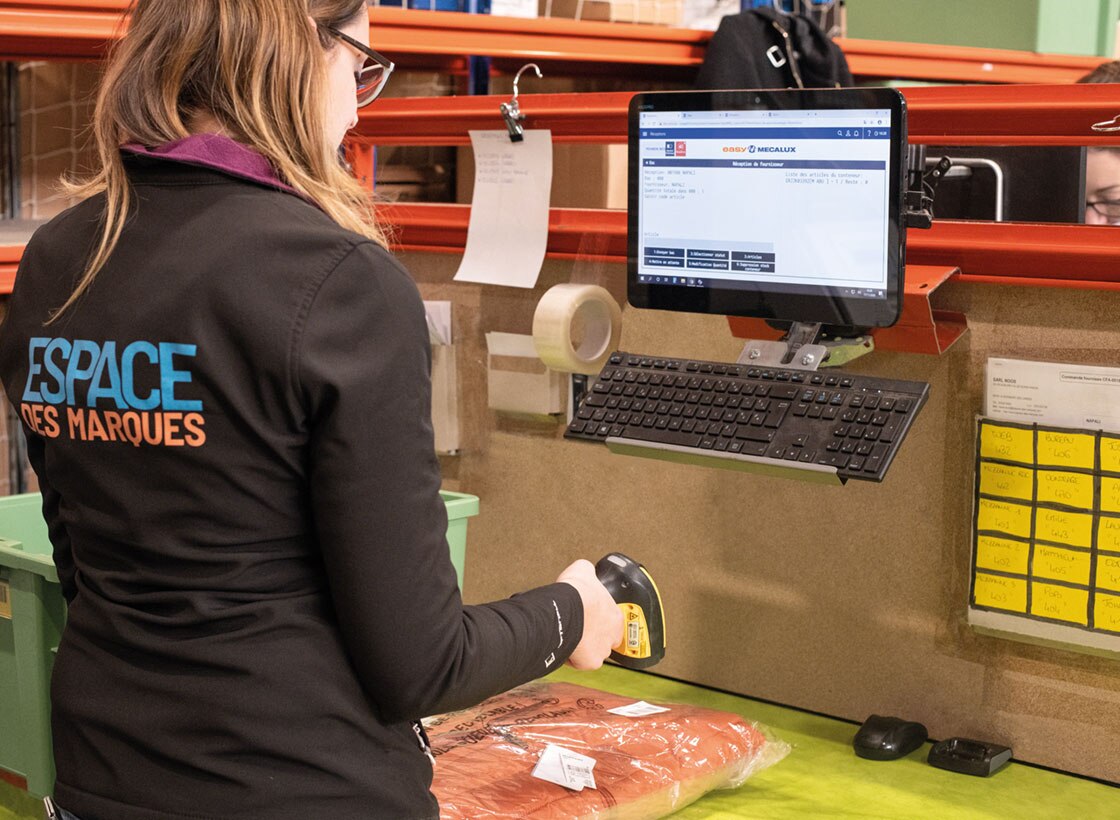 Receipt of stock
Each time goods are received in-warehouse, the respective entry of the quantities received must be made in order to maintain a perpetual inventory system. These are the various functions that can be executed:
Supplier receipts. This is a standard process applied to any kind of goods inflow.
Full container receipts. This refers to goods arriving at the facility on pallets with a single SKU. Its process is more agile, since the WMS registers the stock in blocks.
Multi-SKU goods receipts. This involves management of pallets containing various SKUs whereby each SKU is recorded separately.
Goods pending delivery. Also known as ASN (advanced shipping notice), the system knows in advance which products will arrive, as it is previously notified by the ERP system.
Blind receipts. Using an RF scanner, an operator opens a stock receipt order without this being planned ahead of time in the system.
After having properly registered receipt of the goods, the WMS indicates the next steps to follow, telling the employee (or machine, in the case of automated storage and retrieval systems) where to put the products.
Container management
A container is a box or pallet identified by a code and normally labelled. Easy WMS provides useful information for warehouse inventory regarding containers. The relocation function comes especially in handy when you want to change the physical location of a container. There are various options available:
Automatic: the system looks for a new location for the container in the warehouse, applying slotting strategies.
By aisle: the system looks for a new location for the container in the aisle of your choice, applying slotting strategies.
By location: the system reassigns the container to a specific location. Only locations in which the container physically fits (by type, height, weight, etc.) are considered valid.
Slotting management
Easy WMS offers total visibility of warehouse locations and their main attributes, as well as the ability to perform administrative tasks related to slotting. Using the data entered in the system, Easy WMS classifies the product and applies slotting rules, which are preset by the logistics manager. The software then devises an optimal, error-free location strategy geared towards efficient slotting.
Counts
Easy WMS is capable of automatically monitoring product entries and exits in the facility. Likewise, it's advisable to conduct counts from time to time to make sure there are no discrepancies in the system (due to oversight, theft, etc.). Inventory software such as Easy WMS allows you to:
Organise unplanned counts. It's possible to do counts of containers (pallets, boxes, etc.) or of specific items at any time.
Count by location. This means you can designate the area in the facility for conducting the count (in the case of inventory cycle counts, for example).
Determine priority rules. These can include turnover rate, unit cost, expiration date, batch number, etc. The purpose is to start taking the inventory with the products that are most relevant for the company.
Integrate all types of scanning devices. RF scanners and voice-picking technologies, among others, can be easily integrated with Easy WMS.
Thus, the inventory is linked to sales records in that each time a product is sold, the system deducts it from the stock, entering the value of the sale. This allows you to keep a continuous record of each item, which lets you know which merchandise is available and which products are close to being sold out. All these data can be converted into useful information through the Supply Chain Analytics module from Easy WMS, charged with segmenting and structuring the large amount of data produced in the warehouse every day.
Connection with other facilities and stores
It's possible to connect the inventories of different warehouses and physical stores belonging to the business with the aim of centralising management of all the company's stock. To do so, Mecalux features the Store Fulfillment module, responsible for integrating the facility's WMS with the point-of-sale terminals. This software syncs tasks in the warehouse and the stores, improving picking, replenishment, and goods transfers between establishments (products are automatically sent to stores so as to maintain a certain level of stock).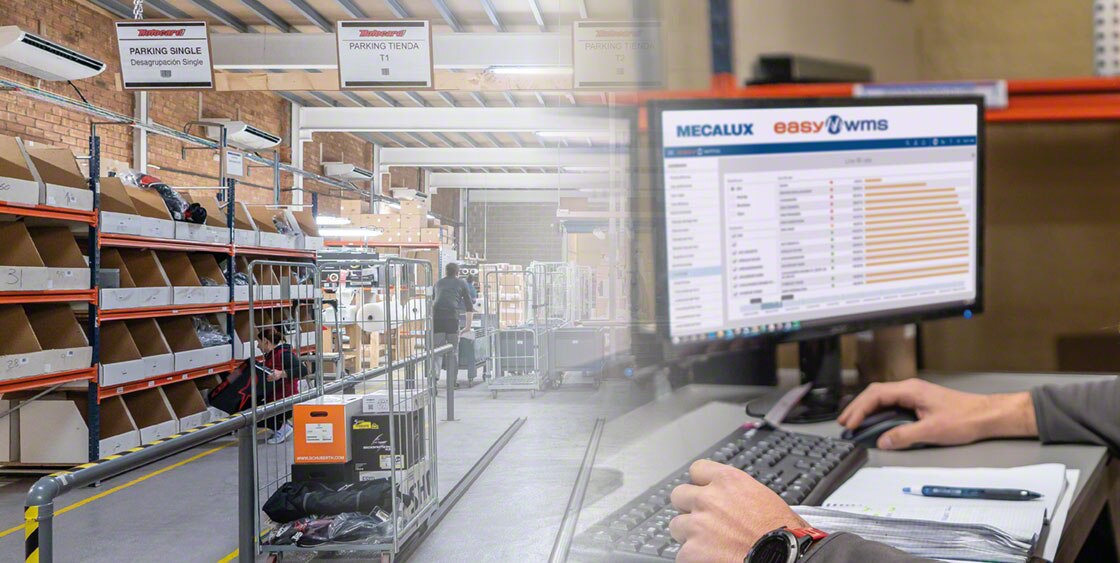 Inventory software, an essential tool for business competitiveness
Inventory software ensures efficient logistics operations, enabling you to offer good service. It's a long-term investment that brings major benefits. With this software, any organisation will be able to control the resources available in its facilities, know the exact location of each item, supervise product inflows and outflows, and anticipate exactly when to replenish merchandise before it runs out.
The Easy WMS warehouse management system is designed for all companies, regardless of size or sector. If you think the time has come to improve your inventory management or you want to know more about Mecalux software solutions, get in touch. We'd be happy to help you to manage your inventory effectively and boost your business.