07 Feb 2022
Milk run logistics is a goods delivery method used to transport stock from different suppliers to a single final destination. Instead of each supplier sending goods separately, transportation is planned with fixed supply routes in order for a vehicle to pick up different loads and deposit them at a warehouse, production facility, or distribution centre.
This logistics term got its name from the milk delivery process employed at the beginning of the 20th century to save on travel costs: milkmen would drive along a preset route, delivering milk to homes and collecting empty bottles. The number of bottles would indicate to the seller the milk demand for the following day. Similarly, one vehicle or train would collect milk from several dairy farms and then deliver the loads to a processing facility.
Milk run concept in logistics
Milk run logistics is a method for delivering goods whereby a vehicle picks up loads from several suppliers to group and transport them in a single shipment. This procedure entails the implementation of a transportation network in which movements of stock are carried out by the same vehicle, which makes multiple stops to load or unload products at the different facilities it visits.
The milk run method is based on the premise that only material that has been consumed should be replenished. Therefore, it's common to implement this type of strategy in warehouses or production centres that use stock management techniques such as just-in-time, which only replenishes only the amount of goods necessary at the right time.
In the report Supply Chain System Model of Components for Assembly Lines Based on Kanban and Milk Run Methodologies, published in the European Journal of Engineering and Technology Research, the authors define the term milk run "as a way of collection that defines a good route that aims to reduce the lead time of delivery and collecting of materials." Thus, the main objective of milk run logistics is to lower travel time and costs in the procurement of raw materials or semi-finished products to be supplied to production centres. Nevertheless, this method calls for routes and delivery dates to be planned in advance and without errors.
Milk run transportation routes can be internal, whereby a vehicle travels to different zones in a single facility to supply the various workstations. They can also be external, in which case the vehicle makes stops at the warehouses of suppliers or of the company itself to supply raw materials or semi-finished products to the production plant.
Stock deliveries are usually made in areas of the logistics facility or production centre requiring continuous product replenishments, i.e., the assembly lines of a manufacturing company. The automotive industry is another example of a sector that could benefit from a milk run replenishment strategy, as this facilitates the implementation of cost-reduction techniques in stock management, e.g., just-in-time.
Let's illustrate this with an example from the automotive industry: a tire manufacturer has a production plant in Brazil, near the rubber tree fields where latex is collected for tire production. In a non-milk-run supply strategy, each rubber tapper would send their harvested latex to the production plant. Milk run logistics, on the other hand, enables the tire manufacturer to charter a vehicle to stop off at the different rubber farms to pick up raw materials from each tapper, resulting in full truckloads.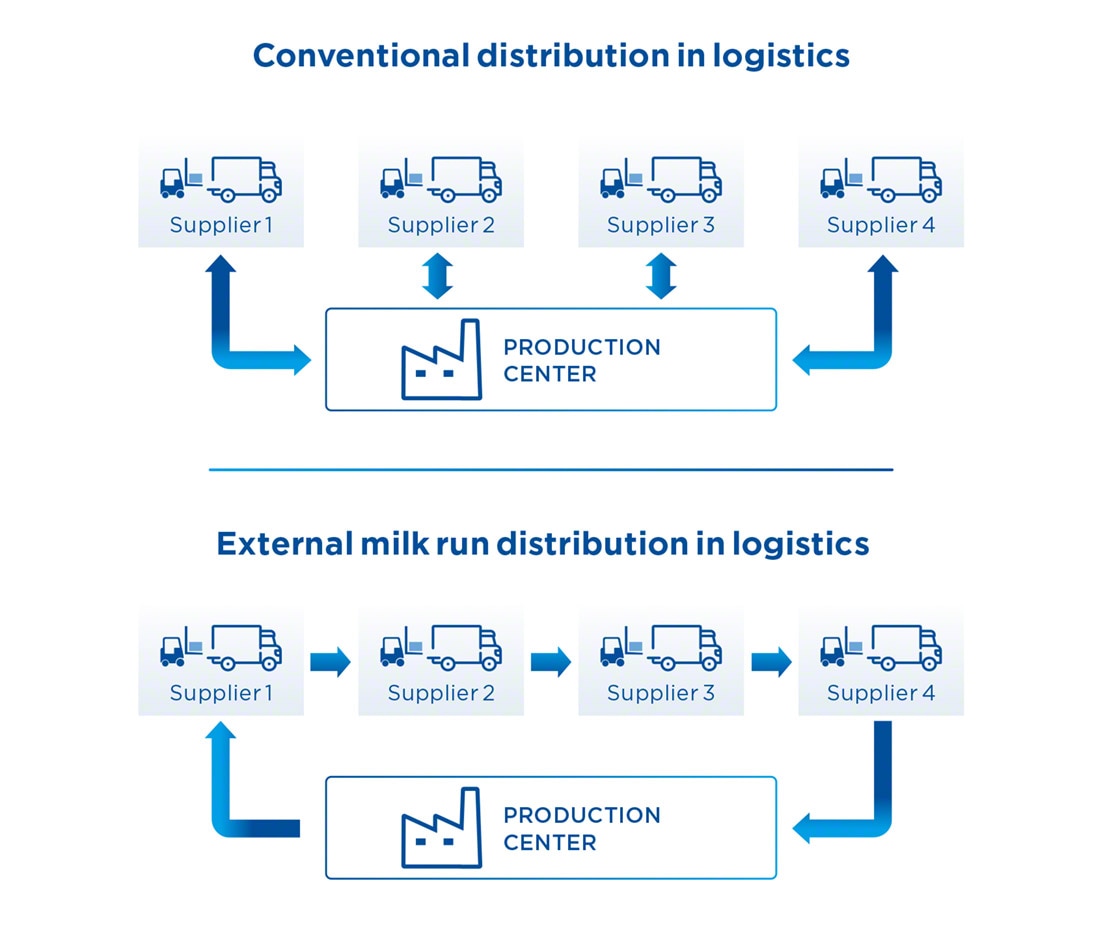 Advantages (and disadvantages) of milk run logistics
Milk run logistics is a stock distribution method often implemented in mass production lines. Let's take a look at its main benefits:
Transportation cost reduction. This supply method eliminates partial truckloads: picking up raw materials from the different suppliers minimizes both time and travel.
Agile operations. Milk run logistics ensures uninterrupted inventory replenishment when it comes to the supply of raw materials and semi-finished products to production lines.
Limited environmental impact. This distribution technique reduces vehicle travel in the transportation of goods, between different logistics facilities as well as between different areas in the warehouse or production centre. This reduced travel makes for cleaner, more sustainable logistics.
Efficient production strategy: adopting milk run logistics fosters more accurate just-in-time goods deliveries. This distribution strategy avoids bottlenecks in the storage buffers (which temporarily store goods to be sent to the adjacent production lines) by sending only items that will be required.
Milk run logistics does, however, have its drawbacks: it calls for the complete synchronization of all supply chain stakeholders or of the different zones of a warehouse or production centre. Any mistake made while transporting the goods could disrupt the supply of raw materials to the production line and bring it to a partial or total halt.
Moreover, this stock distribution method is efficient in mass production contexts. If the assembly line requires very varied products, the complexity of the milk run transportation routes — whether internal or external — could lead to stock management errors.
Implementation of the milk run concept in supply chain management
Milk run distribution breaks with the traditional idea of delivering goods when needs arise. Generally related to just-in-time, milk run logistics calls for planning that takes into account the stock loading and unloading route and the various intermediate stops. In other words, the logistics manager has to designate the goods loading and unloading points to decide on the most efficient route, the frequency of the trips, and the number of vehicles to be assigned to the task.
Milk run logistics works as follows: the vehicle, which must run on schedule, travels to the different workstations (internal milk run) or suppliers' warehouses (external milk run), picking up partial loads of the raw materials or semi-finished product that will be needed on the production lines. It then transports these items to the designated manufacturing area.
But milk run logistics isn't just apt for supplying raw materials from several suppliers — it can also be employed to move goods inside a warehouse or production plant. Tugger trains tend to be used for this operation. This system of tow tractors travels around the facility, picking up stock from each area and transporting it to the assigned production line. In production centres or warehouses with a higher demand density, it's possible to install pallet conveyor systems ― for both pallets and boxes ― and electrified monorails to ensure nonstop flows of goods to the production zone.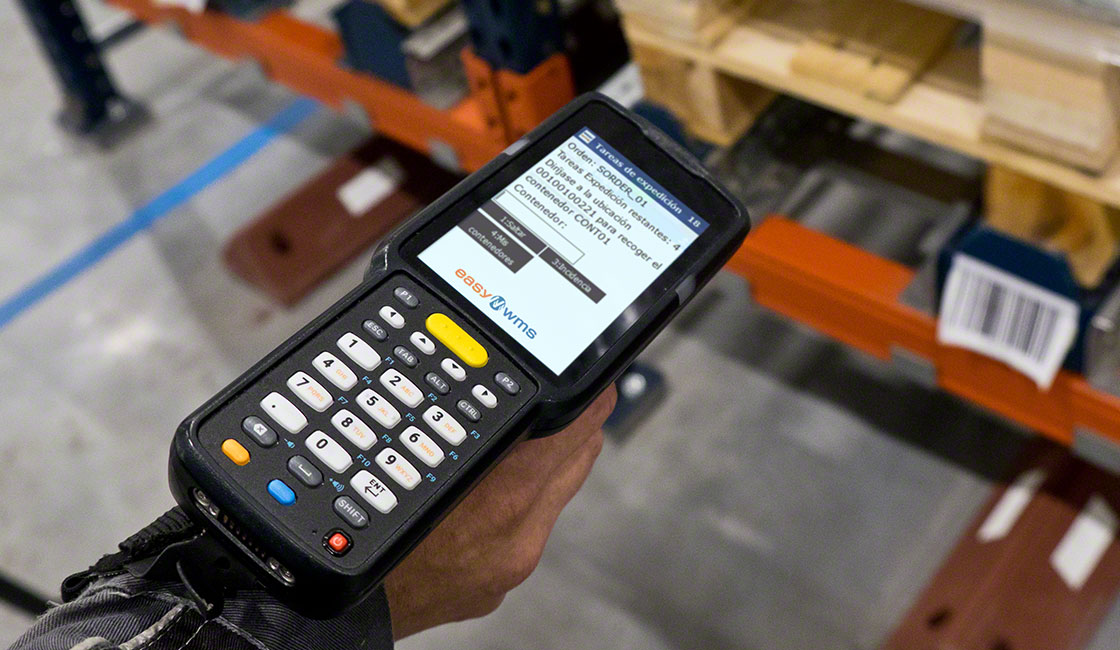 Software for the milk run system in logistics
It's virtually impossible to carry out the milk run supply process manually, without the help of a specific program such as warehouse management software. This logistics technique demands coordination with multiple suppliers in the supply strategy.
One way to eliminate the possibility of error is to implement software that automates task management. According to the publication Milk Run Design by Anne Meyer, an Information Process Engineer at TU Dortmund University, Germany, "The complexity of the tactical planning task for such a mixed network — selecting an appropriate transport concept for each supplier, assigning a frequency to each supplier and designing the milk run routes — makes an IT based decision support necessary."
Logistics software establishes the most efficient supply route. To boost efficiency in this logistics phase, logistics facilities can combine a warehouse management system with RFID technology. The study Digitalized milk-run system for a learning factory assembly line, coordinated by the Graz University of Technology, Austria, analyzes how to put milk run logistics into practice using RFID technology. A digitalized system makes it "possible to calculate the shortest routes for the milk-run and therefore also to reduce both transport times and transport costs." The study, conducted at the LEAD Factory, a testing arena within the university, shows how the implementation of digital systems enhances agility in stock distribution strategies in milk run warehouses. The study indicates that the deployment of digital systems decreases movements of goods in line with milk run logistics by over 50%: "For the non-digitalized process in which the milk-run starts at the warehouse, [the entire supply process] took an average of 66.6 seconds. On introduction of the digitalized milk-run system, the total time for delivering spare parts took 30.2 seconds," according to the authors.
Milk run logistics: optimal, uninterrupted stock distribution strategy
The milk run goods distribution strategy is an effective method for continuously replenishing goods to the different logistics and production areas, i.e., manufacturing lines, kitting stations, etc. Milk run logistics allows companies to shorten travel along transportation routes, promoting more sustainable logistics.
This strategy demands strict synchronization between suppliers and production managers to ensure constant flows of goods. Warehouse management software such as Easy WMS from Mecalux is the ideal tool for coordinating movements of goods, optimising time and costs for companies. If you're interested in ramping up throughput in your logistics processes, don't hesitate to contact us. One of our expert consultants will advise you on the best digital solution for your organization.