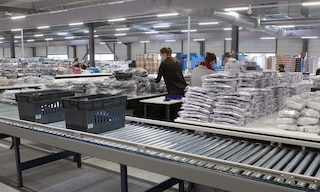 3 examples of efficient order processing
22 Dec 2022
Examples of order processing in warehousing reveal how important picking is for a company's logistics performance. Order processing consists of preparing products ordered for their shipment to end customers, manufacturing centres, other warehouses, or physical stores.
There are several levels of automation in order processing. For instance, the operation can be carried out manually, with the help of a warehouse management system (WMS). Alternatively, it can be completely robotic by employing an automated storage and retrieval system (AS/RS).
Manual order processing uses conventional storage systems and is done without digital support. Incorporating software in this phase speeds it up and minimises errors. With picking assistance solutions — e.g., RF scanners or put-to-light systems, operators fill orders quickly and without making mistakes.
Automated order processing, on the other hand, makes use of robotic storage and conveying solutions and software to control the entire operation. The WMS eliminates any risk of error in order picking and fosters maximum throughput in the facility. Automated solutions facilitate goods-to-person order fulfilment, reducing operator movements and ensuring significantly high productivity in picking.
Order processing example: Decathlon (UK)
Decathlon, a renowned multinational retailer and distributor of sporting goods, equipped its warehouses in Italy, Poland, France, Germany and the UK with picking shelves from the Mecalux Group. In its facilities, Decathlon prepares orders for its brick-and-mortar stores and online customers manually. "The shelving's high quality and distribution have meant a serious increase in our picking productivity. Now, we can cater to online shoppers and all the Decathlon retail shops in the UK more rapidly," says Zsolt Kabai, Project Manager at Decathlon UK.
Decathlon's Northampton logistics centre processes 3,000 online orders a day and supplies the company's UK stores. The company's catalogue includes the most well-known brands on the market as well as over 20 brands of its own. Thus, effective order processing is critical for Decathlon to be able to deliver all its products to its clientele.
The Northampton warehouse is composed of a three-story metal mezzanine where the Mecalux Group installed 1,939 shelving units. The solution is designed to hold multiple small products of different turnovers: sneakers, swim caps, clothing and so on. The direct access offered by the shelving allows for easy merchandise handling and hence faster order fulfilment.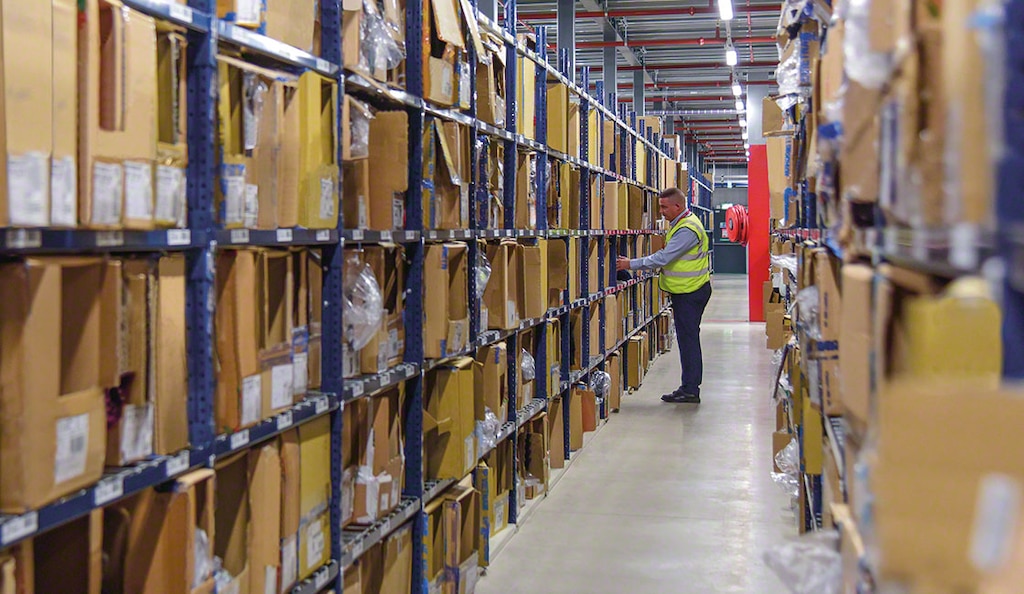 Order processing example: Motocard (Spain)
Motocard, a leading European chain specialising in motorcycle gear and accessories, completely revamped its supply chain. The company overhauled its order fulfilment strategy to cope with a rise in online sales experienced in recent years.
"We had the capacity to process a limited number of orders. When they started to grow, we were forced to take on more staff and modify some of our operations. What we were really looking to do, though, was improve the efficiency of our entire supply chain. It was then that we seriously thought about implementing a WMS," says Jordi Colilles, Digital Director of Motocard.
The company decided on Easy WMS, the Mecalux Group's software, together with two modules that would enable it to take on the challenges of omnichannel retail: WMS for Ecommerce and Multi Carrier Shipping Software. Motocard also set up an ample storage area with picking shelves with walkways from the Mecalux Group. There, it houses around 15,000 items with their corresponding sizes.
The Motocard facility manages two types of orders depending on their destination: stores and online customers. Orders for customers can be single- or multi-unit. Every day, Motocard fills 900 orders: 40% from online sales and 60% bound for brick-and-mortar stores. Half of the orders are shipped abroad. "Before, it was impossible for us to deliver orders the same day the customers placed them. This was beginning to hinder our business. With Easy WMS, we've streamlined all our processes. Consequently, 90% of items ordered before noon are dispatched that same day," says Colilles.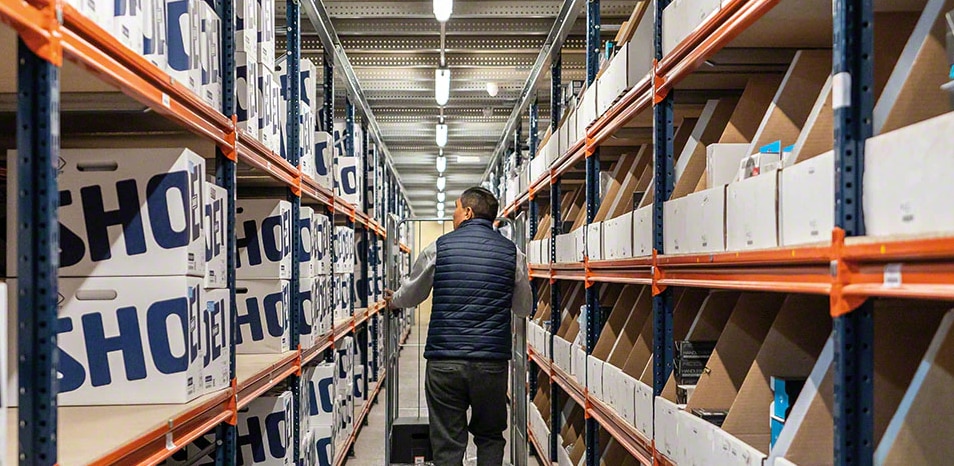 Order processing example: SAM Outillage (France)
Tool manufacturer SAM Outillage automated order management and fulfilment in its centre in Saint-Étienne, France. It deployed an all-in-one, fully automated logistics solution comprised of a mini-load system (stacker crane for boxes) and Easy WMS warehouse management software from the Mecalux Group.
"By modernising our facility, we've restructured all our logistics operations. We've streamlined the flow of goods, so order deliveries are much quicker. Now, we can ensure that our products will be delivered within 24 hours, especially orders received before 4:00 p.m. that require next-day delivery," says Didier Denizot, Logistics Director at SAM Outillage. "The automated warehouse from Mecalux has helped raise our productivity by 25%," adds Candice Aubert, Logistics Manager at SAM Outillage.
Multiple operations take place in the AS/RS for boxes: product receipt and monitoring, tool personalisation via laser engraving, kitting and order picking and dispatch. Through automation, all these operations are performed in line with the goods-to-person method. Aubert says, "Before renovating our centre, operators would walk around the warehouse for six or seven miles a day to locate the products they needed. With the mini-load system, goods are moved to the pick stations automatically."
Each operator can prepare up to nine orders simultaneously: four in boxes, four in envelopes and one on a pallet. These workers remove the units from the boxes they've received automatically from the AS/RS and deposit them in the corresponding order. Once all the orders are complete, they're transferred to an area where they're consolidated with bulky products from the pallet racks. The orders are then packed, strapped and labelled and the documentation required for their dispatch is issued.
Aubert also highlights the management and monitoring provided by Easy WMS: "This system orchestrates the movements of the stacker cranes and, in addition, provides continuous inventory control." Knowing the status of the goods is vital for preventing stockouts and always ensuring the quality service customers expect.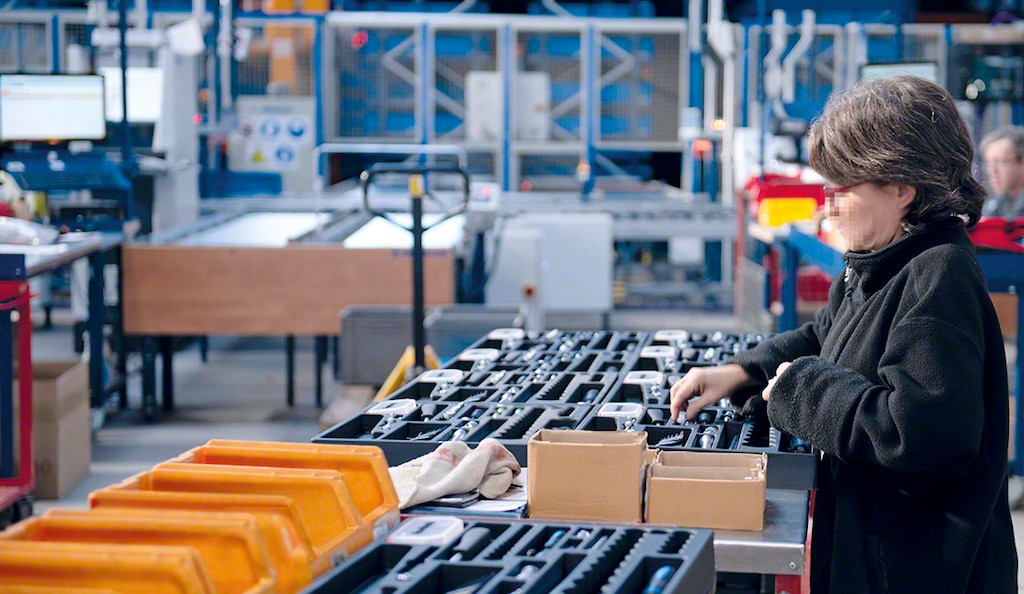 Order processing: which strategy should you choose?
To expedite order fulfilment, it's essential to identify the order picking method and the strategy that best suits the specifics of your facility. The ideal solution for each company is determined by analysing several factors, e.g., product type(s), available surface area, warehouse systems installed, aisle width(s) and rack height(s).
Logistics managers must look for ways to optimise operator pick paths, shorten picking times and minimise the percentage of order processing errors, among other considerations. Thinking about revamping your order processing operations to rise to the challenge of omnichannel? Maybe you simply want to streamline picking. Either way, be sure to contact Mecalux. We'll help you come up with the best solution for your logistics needs.