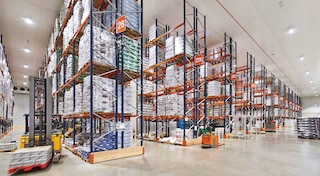 Cold store racking: all you need to know
08 Jun 2021
Cold storage racks are logistics solutions that facilitate the storage of products such as food and medicines at a controlled temperature in order to guarantee the conservation of their properties.
These racks, usually made of stainless steel, are strong enough to function in cold and freezing environments. Additionally, they are tasked with maximizing warehouse space with two goals: on the one hand, to provide a high storage capacity, and on the other, to ensure energy efficiency, thanks to the proper distribution of cold among an increased number of pallets.
Below, we'll analyse which storage systems are most appropriate for cold storage facilities and their particular features.
Advantages of cold storage racks
The cold chain is a very complex logistics process with the aim of keeping goods at a low temperature until they are delivered to end customers. The purpose of cold stores is to ensure this principle in the storage phase.
Breaking the cold chain could lead to serious problems, such as the premature deterioration of the product, the loss of its properties, and/or the growth of bacteria and microorganisms harmful to humans. At times, this interruption is easily recognizable (crystallization of the goods, unattractive appearance, spoilage, or poor condition). Nevertheless, in other cases, as in that of certain drugs, it's not so simple.
To avoid this, it's essential to pay special attention to all the operations that come into play in this type of supply chain: from the transportation and storage of the goods to their eventual loading and unloading.
Storing products on racks is the best solution for getting the most throughput out of the locations in cold stores. The reason? They optimise storage space by providing the greatest possible capacity. At the same time, they maximize the installation's throughput, given they speed up goods handling.
In cold stores, you can install storage systems with direct access, i.e., standard pallet racks (these allow operators to access all the SKUs directly, although they don't make the absolute most of the surface area). You can also employ high-density racking systems (these make better use of the storage area, boosting storage capacity, but they don't offer direct access to all the goods).
How to choose the right cold store racking
When designing a cold storage warehouse you should look for the most suitable system, that is, one that maximizes the storage capacity, streamlines access to the goods, minimizes the presence of staff in the area, and facilitates strict control of the products stored. Nevertheless, this isn't as easy as it seems.
To decide on which storage system to install, you should take into account these parameters:
Quantity of goods to be stored.
Size of the cold store.
Space needed to install the cold generators.
Goods inflows and outflows.
Seasonality of the products.
Water drainage system and slopes in the pavement (to drain water produced from condensation).
At this point, you should assess the pros and cons of each storage system.
Many companies choose to equip their cold stores with non-automated storage systems, as they're the simplest and most cost-effective solution in the short term. The downside to these types of solutions is that they expose operators to extreme temperatures for prolonged periods of time, which, in the long run, could harm their health. Likewise, manual management entails the risk of error in certain operations, such as replenishment and order picking.
Therefore, although their initial investment cost is higher, it's preferable to go with automated cold-storage warehouses. Automation brings major benefits: it doesn't require the presence of staff (or reduces it to a bare minimum), and it leverages the space and height much better. Moreover, it controls traceability much more accurately and improves productivity.
Most common cold store racking
Below are the most often used cold storage racks and their advantages:
Pallet racks
In cold stores, you can install any kind of pallet racking storage system, including standard pallet, drive-in/drive-thru, flow, and push-back racks. Each type serves specific logistics needs.
For example, if you want to maximize storage capacity, your best bet is to implement drive-in pallet racks. If, beyond capacity, you're looking for agile operations, you can install live pallet racks or push-back racks; these save time when removing pallets and manoeuvering forklifts.
Meanwhile, conventional pallet racks, with direct access to the goods, are extremely useful for storing products of varying sizes and characteristics, in addition to facilitating picking.
Several different storage systems can be combined in a single cold storage facility, especially in medium-sized and large installations, assigning each solution to a specific type of product and operation.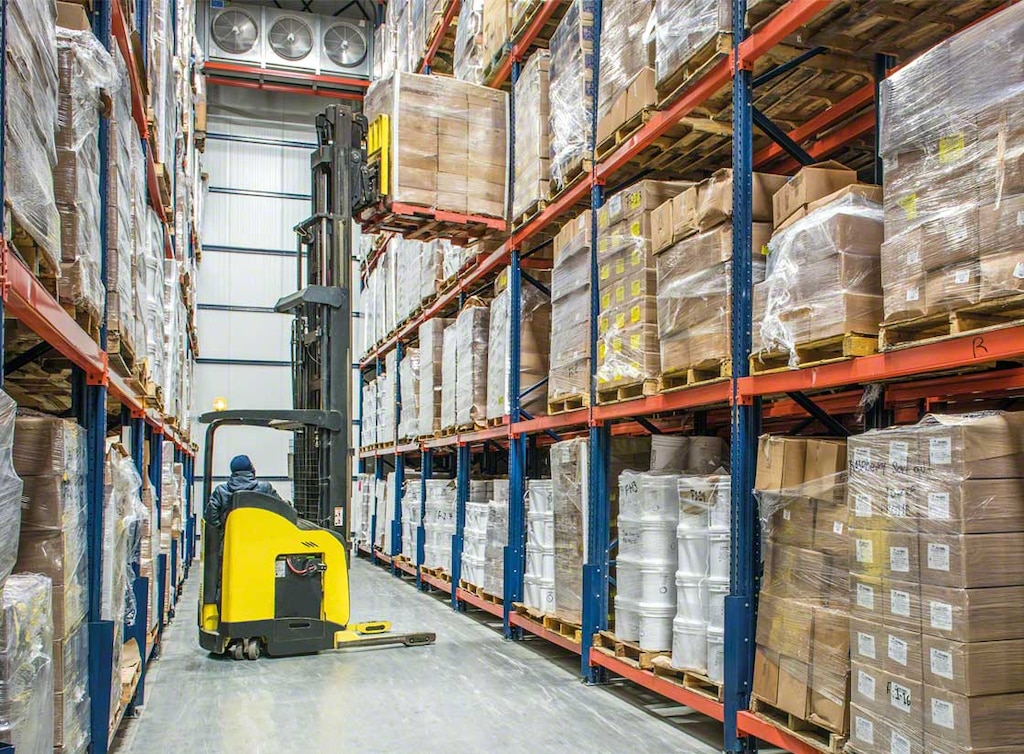 Racks on mobile bases
Mobile pallet racking systems are installed on mobile bases that slide laterally. This is the only compact storage system that offers direct access to all the SKUs: when a working aisle is opened, all the SKUs stored in it are directly accessible.
This solution is especially appropriate for cold and freezer stores due to their optimal distribution of cold air among a larger number of pallets stored, thus reducing the cost per pallet.
These racks also ensure better air circulation during downtime by means of the parking option, constituting a forced separation between all the racks, with aisles spaced equidistantly.
Pallet Shuttle system
With this high-density storage solution, a shuttle carries out movements inside the racking automatically. It has two modes:
Semi-automated Pallet Shuttle: an operator places the load on the rails, and the Pallet Shuttle moves it to a location in one of the high-density racks. This solution is mainly used in cold stores with many pallets per SKU.
Automated Pallet Shuttle: stacker cranes or transfer cars are used at each level to move the goods to the corresponding channel. Once there, the motorized shuttle inserts them into the storage channels. These racks can measure up to 40 metres tall, so they're perfect for medium- and high-rise warehouses with very diverse SKUs.
Racks on mobile bases and the Pallet Shuttle system are two compact systems that provide increased storage capacity. The difference lies in agility, as the Pallet Shuttle system guarantees much speedier pallet entries and exits.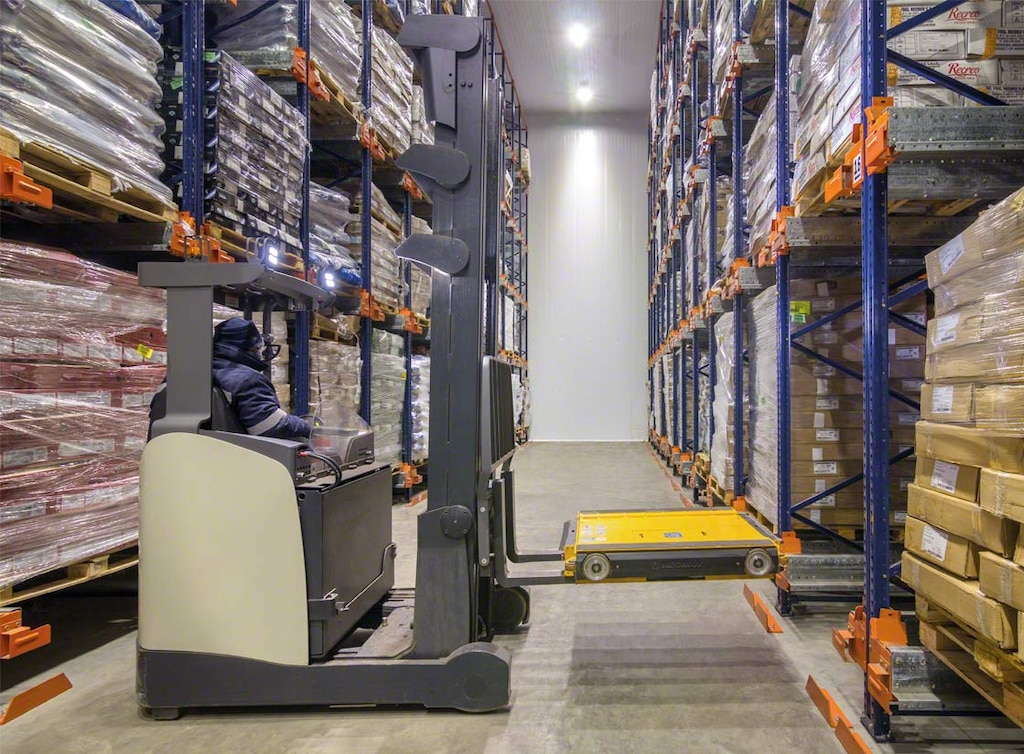 Automated storage and retrieval systems (AS/RS) for pallets
These comprise standard single- or double-deep racks where a stacker crane is charged with carrying out the goods movements, from warehouse inflows and outflows to slotting.
AS/RS accommodate larger quantities of products, and thanks to the fast movements of the stacker cranes — both horizontally and vertically — they multiply the capacity to insert and remove pallets.
Automated warehouses clearly reduce the space to be cooled, resulting in considerable energy cost savings. Plus, they systematically control the product stored, ensuring real-time (perpetual) inventory while complying with the most demanding turnover and traceability parameters.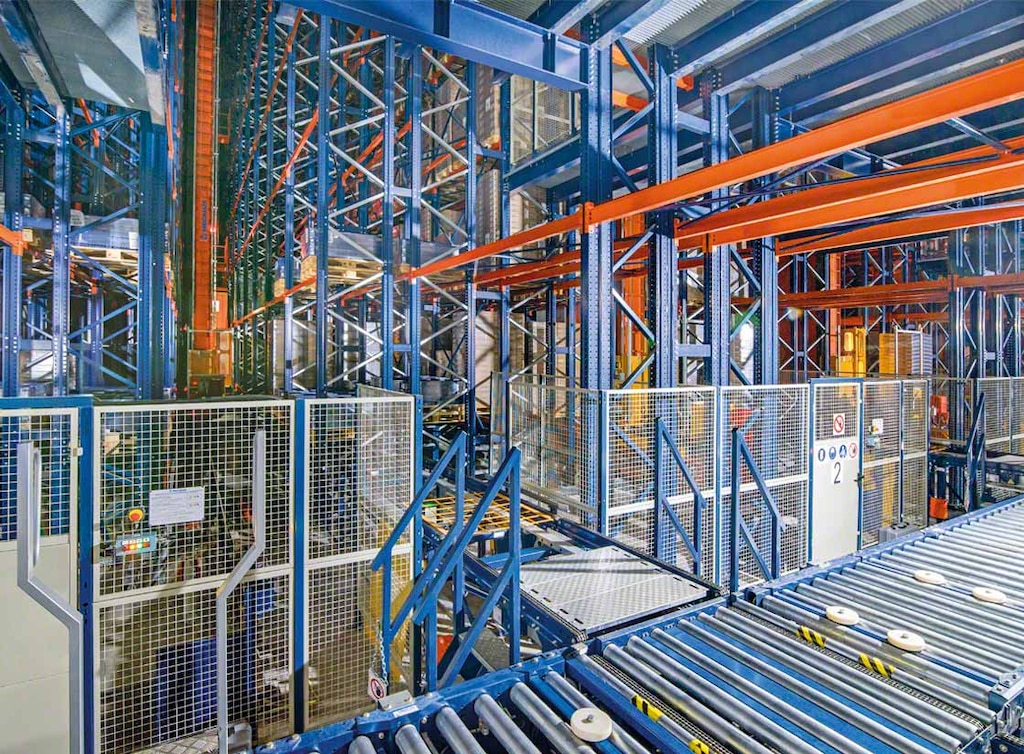 Automated miniload warehouse for boxes
Boxes can also be managed in cold stores, with the help of AS/RS for boxes. Just like automated warehouses for pallets, these are composed of racks that store boxes and of miniload stacker cranes that handle the goods automatically.
This type of solution makes optimal use of space and offers excellent access to the goods. As in the case of their equivalent for pallets, automation raises productivity and ensures that the products are completely secure and protected.
Cold stores of the future
Racks are indispensable structures for efficiently managing merchandise in cold storage warehouses. They should be designed to optimize space, providing the maximum possible storage capacity and facilitating goods handling.
At Mecalux, we have extensive experience designing and installing cold store racks in a broad range of facilities. On the one hand, we've outfitted manually-run facilities (for instance, the cold and freezer stores at JAS-FBG's distribution centre in Poland, equipped with pallet and Movirack mobile racks). On the other, we've installed solutions for fully automated facilities (for example, the cold storage warehouse of Argentinian company La Anónima, with automatic trilateral stacker cranes).
All our racks have finishes that protect them from the effects of corrosion and rust, such as a hot-dip galvanizing and a double layer of paint that acts as a physical barrier in harsh outdoor environments prone to oxidation. These procedures guarantee maximum protection and a long useful life without the need for maintenance. Feel free to get in touch; we'll find the storage system that will help you enhance your cold chain logistics.