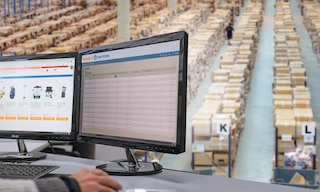 Ecommerce fulfilment software: how does it work?
08 Dec 2022
Ecommerce fulfilment software is a logistics program that digitizes order processing management in warehouses dedicated to the sale of merchandise online.
The consolidation of ecommerce is making companies' logistics operations more complex: it greatly increases last-mile shipping costs and makes it necessary to manage reverse logistics. In the face of rising logistics complications, businesses tend to invest in digital solutions that limit the risk of error and foster productivity in and out of their storage facilities.
What is ecommerce order fulfilment?
Order fulfilment is a key phase in an ecommerce warehouse. Its overall aim is to pick the products that make up an order in the shortest time possible and without making mistakes. However, ecommerce has complicated order fulfilment with its characteristic multi-unit orders.
Ecommerce calls for efficient logistics operations to effectively carry out policies such as free returns, personalized shipments and reduced delivery times. A report from consulting firm McKinsey indicates that "ecommerce fulfilment is much more complex than traditional brick-and-mortar or wholesaler fulfilment. When customers can order 24/7, demand is less predictable and more difficult to shape. Order sizes are significantly lower and the number of products offered continuously rises."
Same-day deliveries are driving ecommerce retailers to speed up their picking methods to remain competitive. Against this backdrop, optimising operator tasks is a must for boosting warehouse performance. Professors Boysen, de Koster and Weidinger explain this in the research article Warehousing in the e-commerce era: "The main decision problems to be solved during order picking are the prioritisation of orders, their assignment to pickers and picker routing."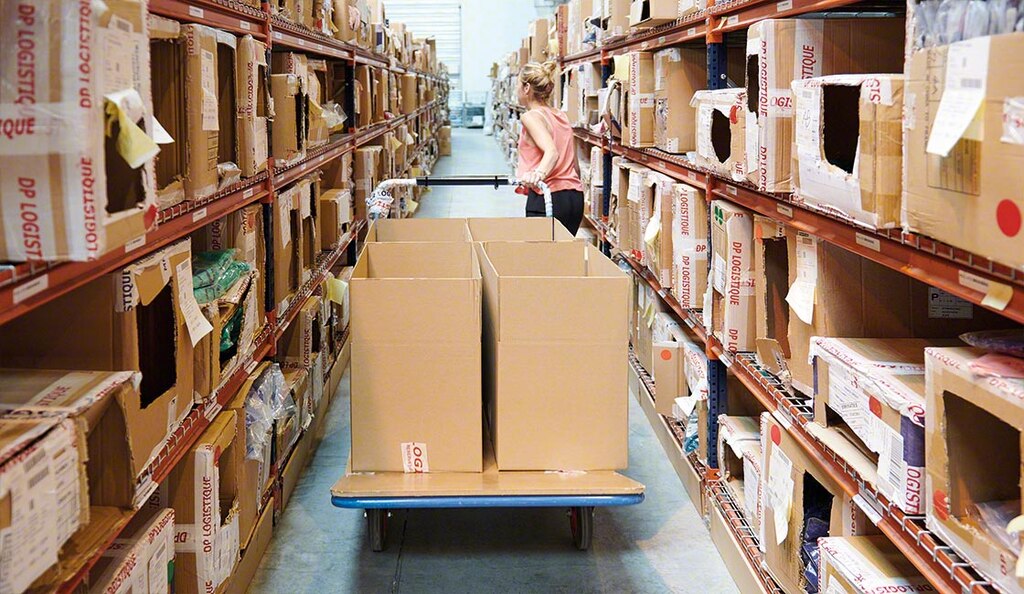 Ecommerce has made order fulfilment more complex
How does ecommerce fulfilment software work?
Process digitisation helps ecommerce companies to eliminate the margin of error in picking and scale up operator productivity. Ecommerce order fulfilment software is a digital tool that streamlines picking, cuts response times in reverse logistics and simplifies warehouse picker tasks in storage facilities. Its main features include:
Automatic processing of incoming orders: the software enters and automatically updates order data, minimising the risk of error in operations.
Real-time inventory management: the program records stock in the different areas of the warehouse, avoiding loss of merchandise. The most advanced applications also allow for smart slotting.
Syncing of inventory levels between warehouses and points of sale: the software automates the recording of goods entries and exits so that the product catalogue matches the items available in the logistics facilities and the different points of sale.
Organisation of operator tasks and automatic equipment: the program coordinates the work of the pickers, guiding them via RF scanners as they do their job. Likewise, the software facilitates the implementation of order fulfilment strategies such as batch picking, wave picking and zone picking, among others.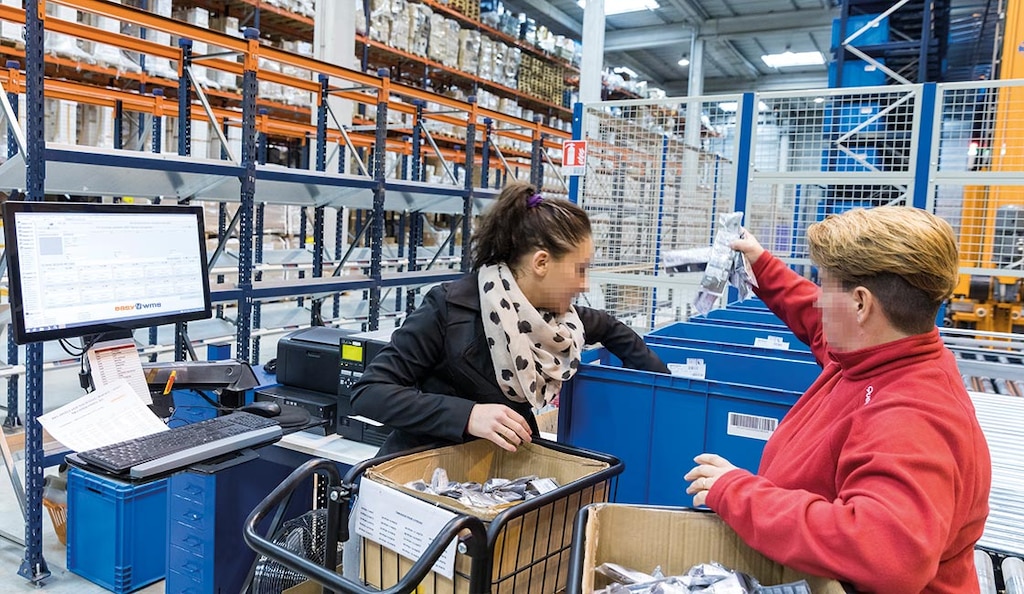 Benefits of ecommerce fulfilment software
Implementing specialised order fulfilment software in an ecommerce warehouse provides retailers with the following:
Visibility of inventory levels: managing stock digitally in an ecommerce centre means that logistics managers are always informed about the status of their products. That is, the software controls the goods stored in real time.
Increased operator throughput: an ecommerce fulfilment system coordinates the tasks of operators to ramp up their productivity, assisting them as they work.
Warehouse organisation: the program automates the assignment of storage locations based on a set of rules and criteria predefined by the logistics manager. Ecommerce facilities typically store a wide range of SKUs. Therefore, digital management considerably lowers the risk of error.
Being equipped with ecommerce fulfilment software not only enhances warehouse performance — it also improves the quality of logistics services. Digital management gives customers product traceability. They can track the status of the merchandise they've ordered in real time.
Order fulfilment software for ecommerce
Ecommerce fulfilment software includes logistics programs designed to digitise picking operations in ecommerce facilities. Depending on its technical characteristics, this type of application can take the form of a distributed order management (DOM) or warehouse management system (WMS).
For instance, Easy WMS — the WMS from Mecalux — coordinates and facilitates order fulfilment in many ecommerce centres. One such case is French fashion jewelry company Hipanema, which implemented Easy WMS to improve order picking: "Today, thanks to the communication between the WMS and our ERP (enterprise resource planning) system, customer orders are prepared immediately. And the sales department has access to the status of the stock in real time, giving us better visibility of delivery times," says Jenny Collinet, Managing Partner at Hipanema.
To meet the specific challenges of ecommerce logistics, Easy WMS also offers advanced functionalities such as Marketplaces & Ecommerce Platforms Integration. This module syncs warehouse stock with product catalogues on portals such as Amazon or online stores designed with the PrestaShop platform. Another example is the WMS for Ecommerce module, which optimises order processing times. Motocard, a retail chain specialising in equipment and accessories for motorcyclists, equipped its centre with WMS for Ecommerce to facilitate the preparation of orders for its physical stores and online customers. "With Easy WMS, we've streamlined all our processes. Consequently, 90% of the goods ordered before noon are dispatched that same day," says Jordi Colilles, Digital Director of Motocard.
Software for efficient ecommerce order fulfilment and management
Ecommerce logistics increases the difficulty of operations such as order picking and dispatch. Implementing WMS and ecommerce fulfilment software is an ideal solution for eliminating the risk of error due to manual data management and maximising operator productivity in the warehouse.
At Mecalux, we have extensive experience developing digital solutions for all types of facilities: the Mecalux Group has deployed Easy WMS software in over 1,000 warehouses in 36 countries. Interested in boosting your efficiency in ecommerce order fulfilment? Don't hesitate to get in touch. One of our expert consultants will advise you on the best solution for your company.