26 Jan 2022
Can food warehouse automation meet the demands of the food industry? Nowadays, food logistics faces challenges such as managing product traceability, warehousing goods in the proper conditions, and limiting the costs of storing items at controlled temperatures.
The idiosyncrasies of cold chain logistics have led many food industry companies to invest in automation to boost their operations, carry out strict stock control, and prevent product handling errors.
Characteristics of a food warehouse
Food logistics is charged with moving, storing, and dispatching perishable products, i.e., those that because of their attributes and composition could deteriorate and should be consumed before a specific date. To ensure that the original properties of these goods remain intact, the warehouses of businesses in this sector need to be configured to meet quality and hygiene standards. At the same time, they have to keep the food at a controlled temperature to avoid spoilage.
Another common characteristic of the food sector is the large number of SKUs in the warehouse. Additionally, as these products are consumed on a massive scale, they tend to have high turnover rates. Although there are exceptions, such as alcoholic drinks and vacuum-packed goods, it's essential to employ an optimal product slotting and removal strategy in line with the particular attributes of each perishable item.
One of the most popular goods management techniques in food warehouses is the FIFO (first in, first out) method, where the first unit load stored on the rack is the first to leave. This goods slotting and retrieval method is fundamental in food logistics, as it ensures that perishable products with the earliest expiration date can be dispatched as soon as possible.
Storage rooms kept at a controlled temperature are usually equipped with compact storage systems that leverage the available space to accommodate the highest number of products possible. One go-to solution is mobile pallet racking Movirack: while optimising the surface area, they offer direct access to the goods.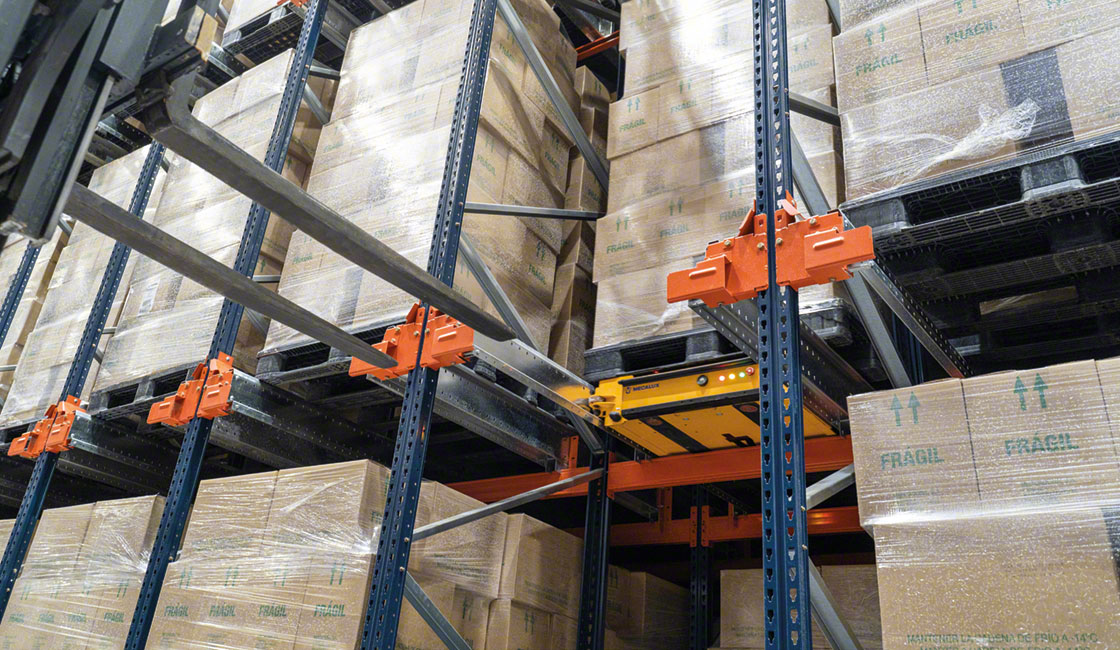 Food warehouse automation: benefits
The need to manage more and more perishable, high-turnover stock in cold stores and freezer warehouses has driven businesses to turn to automated solutions that optimise resources and minimize the time dedicated to storing the merchandise.
These are some of the main advantages of investing in automated storage and conveyance solutions:
Accuracy in inventory management. In coordination with warehouse management software, automated storage and conveying systems prevent goods handling errors, ensure full product traceability, and expedite companies' response times.
Agility in the movement of goods. Automated storage and conveying solutions enable uninterrupted flows of materials between the different areas of the warehouse. For example, a box or pallet conveyor system can continuously supply the workstations or production lines.
Storage space optimisation. Automated solutions such as stacker cranes (AS/RS for pallets) reduce the space allocated to the storage and extraction of goods and ensure nonstop combined cycles. Compacting space is a priority in the food industry; storing more goods in the smallest possible space improves energy efficiency in the facility (the energy cost per unit is lower).
Warehouse safety. To guarantee safe processes, operators' exposure to the cold has to be minimized. Plus, by implementing automated systems, operators can be reassigned to higher value-added tasks.
Software for digitizing a food warehouse
There's an increasing demand for full product traceability from both suppliers and customers. And process digitization is one way to fulfill this logistics need and achieve rigorous and efficient stock management.
Warehouse management systems (WMS) coordinate everything that happens in a logistics facility, including goods receipt, location management, and the movements made by operators during the picking and order dispatch processes. Warehouse digitization is key in food logistics, as it maximizes operator productivity in unfavorable environmental conditions (e.g., in a cold storage facility). A WMS reduces operator travel while assisting these workers in complex tasks such as order picking.
In food warehouses, companies make use of picking assistance devices, namely pick-to-light and pick by voice, to ramp up throughput. With the help of these devices, the WMS organizes the work of the operators, limiting their movements and minimizing the risk of them making mistakes. In a temperature controlled facility, voice picking enhances operator safety: it frees up their hands so that they can prepare orders more quickly, thus, limiting their exposure to the cold.
Warehouse management software also syncs all the automated systems run in the facility. For example, bakery goods and pastry producer Nicopan equipped its warehouse in Granada, Spain, with the Pallet Shuttle system and Easy WMS warehouse management software from the Mecalux Group to control its inventory in real time. The WMS lets Nicopan know what stock is available at any given time and coordinates the Pallet Shuttle tasks: "We're thrilled with the system from the Mecalux Group because it's enabled us to cope with our business's high rate of activity. Easy WMS has helped us to control all our supply chain processes," says Nicopan CEO Nicolás Espigares.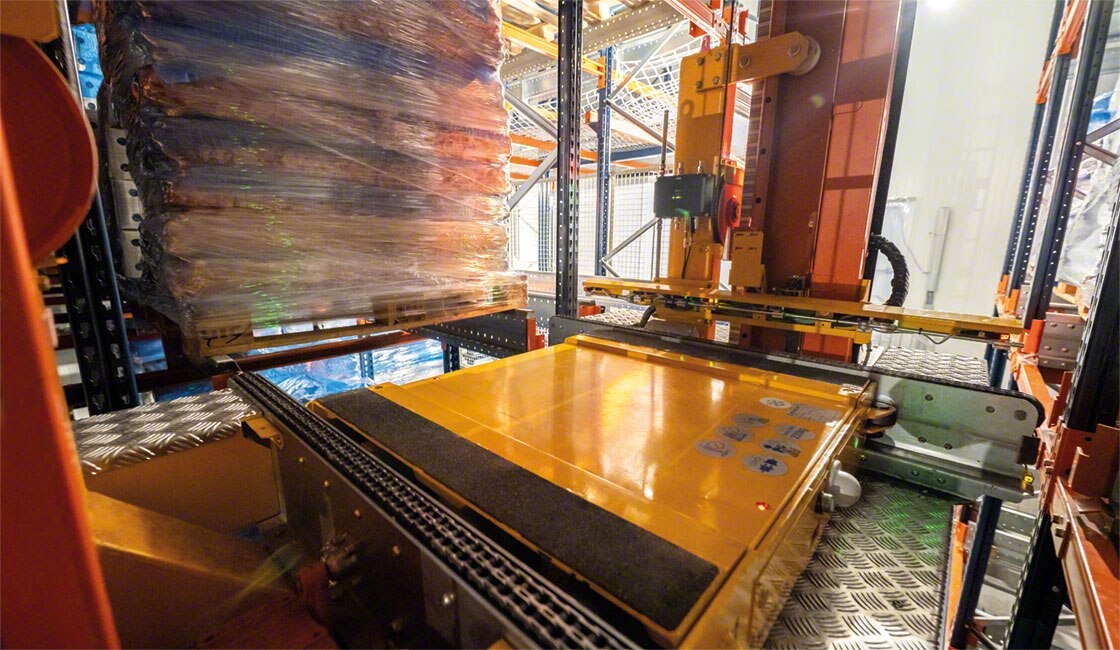 Food warehouse automation
Logistics process optimisation is a crucial issue in any sector, but this is especially critical in the food industry. Any error could break the product cold chain, with all the risks and public health problems that would entail.
In food warehouses, automated storage and conveying systems prevent errors arising from manual management and reduce the energy expenditure per pallet or box. Solutions such as stacker cranes eliminate aisles, optimise storage space, and ensure uninterrupted combined cycles.
But goods storage and retrieval aren't the only processes that can be automated in a food warehouse. If workflows are constant and repetitive, forklifts can be swapped for roller conveyors for boxes, totes, and bins that automatically distribute stock between the different zones in the warehouse.
Conveyors are also employed in the picking phase to facilitate the goods-to-person method, whereby the goods are brought directly to the operator via automated solutions. Supplying a pick station by means of automated storage or conveying systems curbs unnecessary operator travel and ensures efficient, safe, order processing.
An example of successful food warehouse automation is the facility of La Piamontesa in Brinkmann, Argentina. The Mecalux Group built this company an automated clad-rack cold store near its production plant to house all its finished products.
The warehouse, managed by our company's warehouse management software, was outfitted with the automated Pallet Shuttle. This system comprises a set of stacker cranes for pallets with an electric shuttle designed to speed up the storage and retrieval of products from the racks. This solution has provided La Piamontesa with storage capacity for 2,415 pallets in just 700 m2.
"Traceability is one of the greatest advantages that technology — particularly, Easy WMS from the Mecalux Group — has given us. We now know the specifics regarding the products we receive, such as where they're located and what processes they've gone through. This control is vital to our business, as we manage perishable goods with expiration dates," says Diego Ghersi, Head of Engineering and Projects at La Piamontesa.
Food warehouse automation: traceability, efficiency, and safety
The food industry demands safe, effective operations that ensure that products are in good condition when they reach end customers. Food warehouse automation ensures efficient, error-free management and handling of goods as well as strict stock control at all times.
The food supply chain poses challenges such as cold chain management and products with expiration dates. But these can be overcome with digitized and automated logistics processes. Interested in intralogistics solutions that maximize warehouse productivity and efficiency? Don't hesitate to contact us. One of our expert consultants will advise you on the best solution for your company.