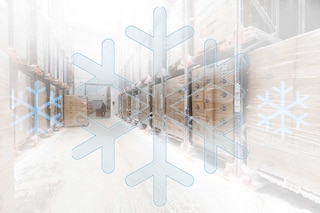 Freezer warehouses for industrial frozen storage
30 Jun 2021
A freezer warehouse is a facility where goods are stored at a temperature below 0 °C and in which various processes aimed at maintaining the quality of the food, healthcare, or pharmaceutical products can be carried out.
Companies that work in the cold chain are up against not only a supply chain undergoing major transformation and digitisation in the face of an expanding Logistics 4.0, but also the complexities of the sector itself. The usual cold storage challenges include: making the most of the warehouse space, carrying out proper management of the products and their traceability, and minimising energy expenditure.
At times, the concept of an industrial freezer store can refer to a system the size of a small room, common in grocery stores, catering facilities, etc. In this post, however, we address it from a freezer warehouse perspective. It is based on the same principle as the freezer rooms in stores and restaurants but on a much larger scale. Below, we'll examine the most common freezer warehouse solutions, their design, and how to improve the safety of the personnel working inside them.
Freezer warehouses defined
A freezer warehouse is a space where goods are stored below 0 °F. At this temperature, the products freeze and preserve their qualities for a long period of time, making these facilities particularly widespread in the food industry.
According to consulting firm Allied Market Research, the frozen food market registered global sales of $291.8 billion in 2019, and that figure is expected to rise to $404.8 billion in 2027. The priority of any frozen food business (mainly those that sell fruit, vegetables, meat, fish, sweets, and pastries) is to store the products in the appropriate conditions to ensure their quality and maintain their texture, nutritional value, and flavour.
The goods must be stored in optimal conditions to avoid breaking the cold chain. Exposure of the products (foodstuffs, for example) to unsuitable temperatures causes the goods to crystallise, develop an unappetising appearance, or deteriorate. In other cases, (such as medical supplies or vaccines), the consequences are less noticeable — but just as harmful.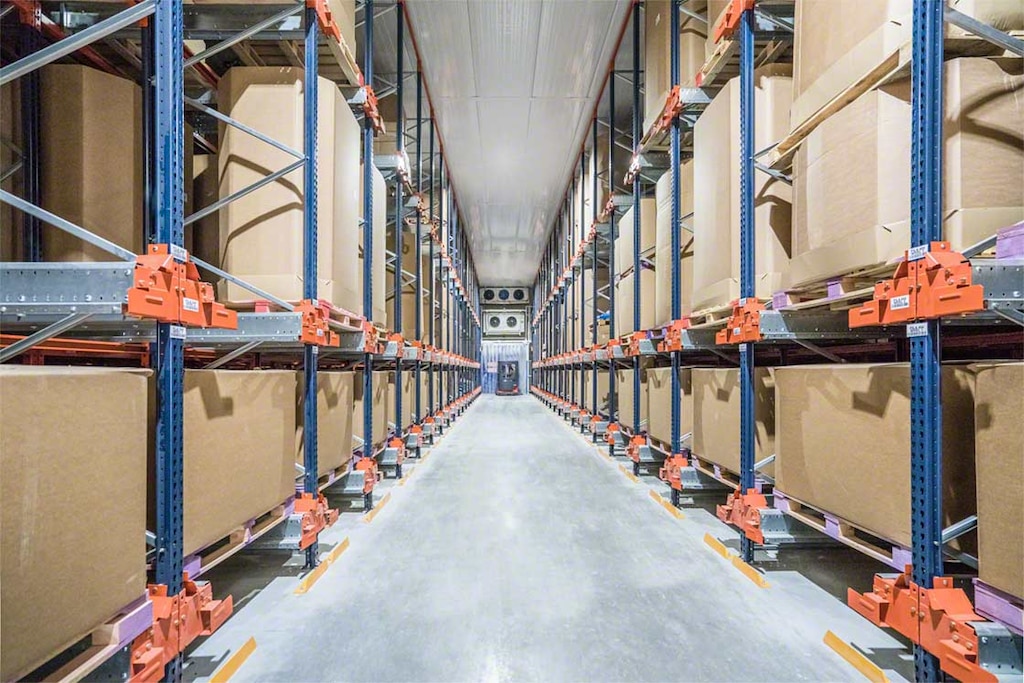 Freezer warehouse or cold storage facility?
Freezer warehouses are tasked with preserving a product for an extended period of time without any risk of alteration or damage. On the other hand, a cold storage facility or cold storage warehouse serves to maintain a product (primarily food) at an optimal temperature for its consumption and prevent it from spoiling in the short term. The choice between one type of system or another will depend on the business needs and type of product being handled.
In terms of construction, freezer and cold storage warehouses must always be built from sandwich panel, the insulating element that prevents the transfer of temperature to the outside. The only difference is in the flooring: freezer warehouse floors should be insulated to avoid condensation, while cold storage facilities don't require this.
Other essential elements in both cold storage and freezer warehouses are the cooling equipment components: compressors, evaporators, condensers, and expansion valves. Their selection and placement in the warehouse will depend on the cubic feet to be cooled, the difference in temperature between the inside and outside of the facility, and the time during which the product will be stored.
Freezer warehouses and cold storage facilities are typically equipped with the same storage systems. The choice will hinge on the storage capacity they provide and how well they facilitate goods management.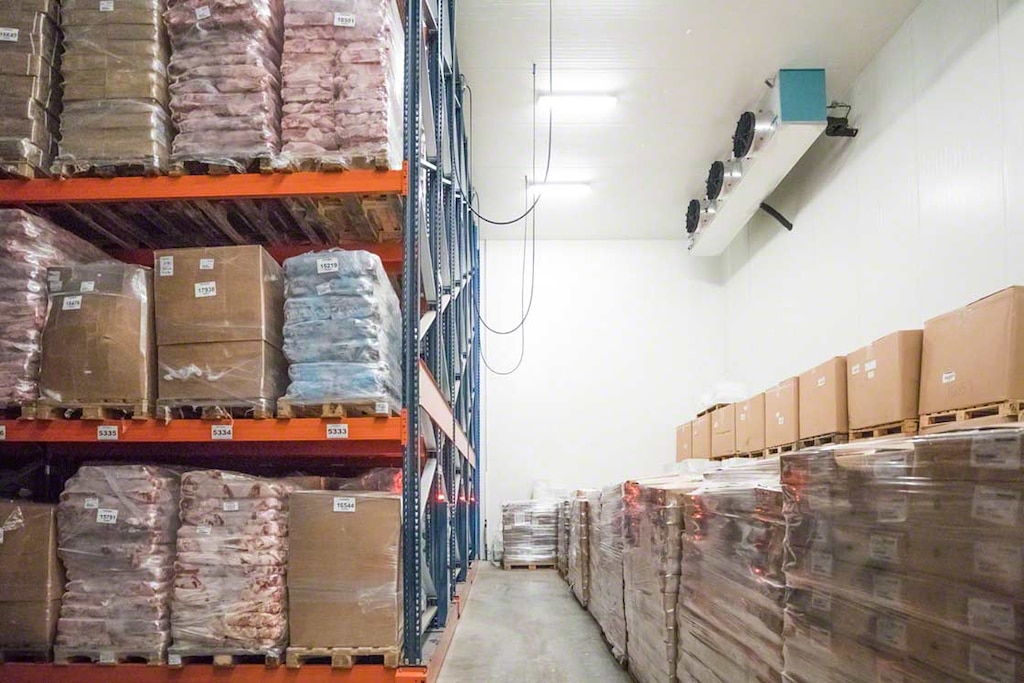 Design of an industrial freezer warehouse
Appropriate distribution of the operations in a freezer warehouse results in greater logistics efficiency. When designing such a facility, you have to make several decisions to leverage the available surface area and ensure smooth, effective processes.
First, you'll have to decide which operations will be performed (for instance, whether orders will be prepared, as this would require a specific space). Next, you'll determine how much space to allocate to each operation: goods receipt, dispatch, storage, and picking.
Entries and exits
For goods receipts and dispatch, most freezer warehouses have a room for carrying out product quality control. These rooms must be cooled, of course.
It's common for these systems to have a secure airlock system: two interlocking doors (one leading to the freezer warehouse and the other, outside) that are never open at the same time. The purpose of this room is to avoid sudden changes in temperature, loss of cold, and condensation (ice build-up).
Storage and order prep area
The storage zone should be outfitted with racks that adapt to the available space and guarantee the greatest throughput per location. Likewise, the entire space should be properly ventilated.
Another issue to consider is order processing. This operation becomes complicated when done at freezing temperatures, which is why it's necessary to look for solutions that facilitate it.
In this sense, pick stations could be set up outside the freezing area, but still at a cold temperature so as not to break the cold chain. Another option is voice picking systems, as they free up operators' hands so they can handle the goods. Remember, operator mobility in freezer warehouses is limited because they wear heavy jackets and personal protective equipment (PPE).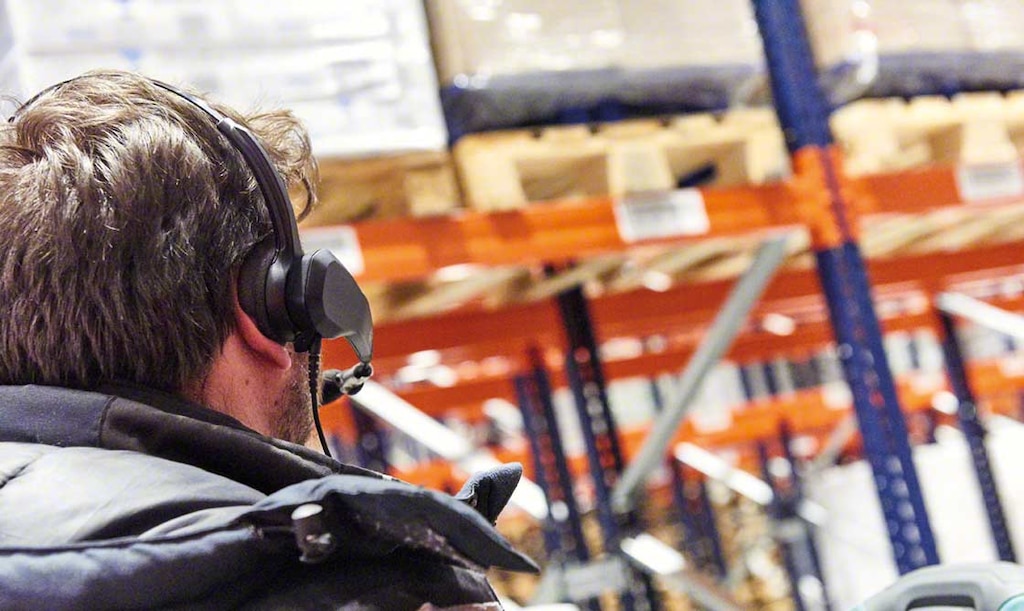 Storage equipment and systems in freezer warehouses
The following are the most popular storage systems for freezer warehouses, divided into automated and non-automated.
Non-automated systems
In a non-automated facility, operators, aided by forklifts, manually deposit and remove the goods into/from the storage systems. Freezer warehouses can accommodate any type of traditional storage system (such as pallet racking). The most widely used are compact systems (drive-in pallet racking, live pallet racking, and push-back pallet racking); they leverage space better than pallet racking.
Mobile pallet racking Movirack would also fall under this category. It comprises a high-density system that considerably reduces the energy consumption needed to maintain the warehouse at a controlled temperature, thanks to the optimal distribution of air among a larger number of pallets stored.
Some food businesses that have installed our company's Movirack pallet racks in their freezer warehouses include Sabarot (France), Cárnicas Batallé (Spain), and Comag (Italy).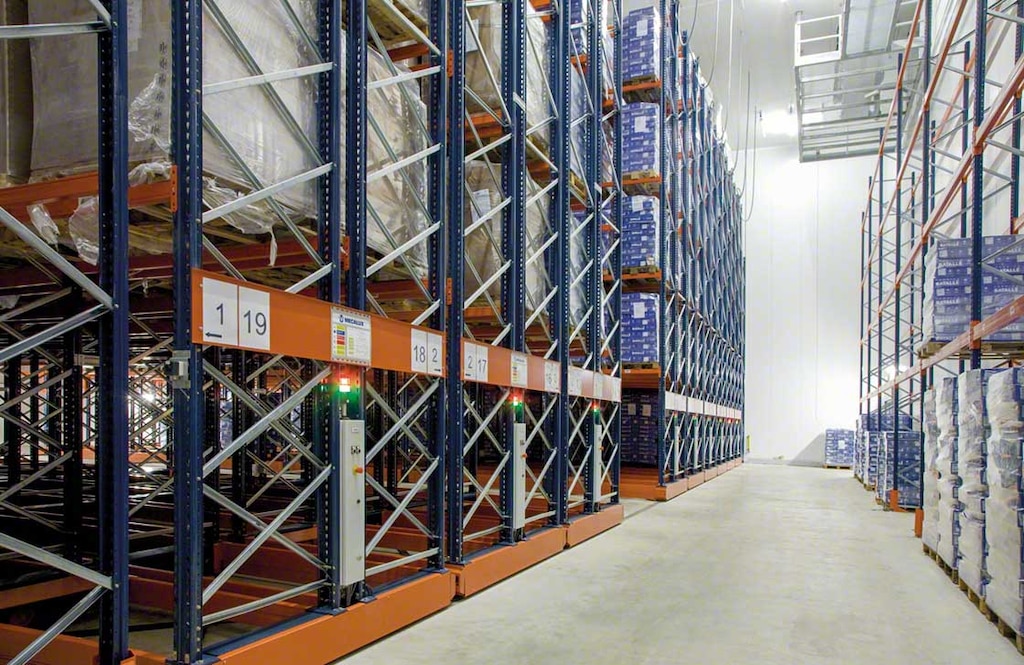 Automated systems
Operator throughput is notably hampered when working at freezing temperatures, and this can be avoided with an automated facility (without staff inside). Moreover, automated warehouses (AS/RS) are especially efficient when it comes to leveraging the available surface area and ensuring safe and controlled goods movements.
Within freezer warehouses, it's possible to install AS/RS comprising single- or double-deep pallet racking. In each of the aisles, a stacker crane deposits or extracts the goods automatically. Single-deep racks are set up in freezer warehouses when direct access to the pallets is required. Double-deep racks, on the other hand, increase the storage capacity.
If an even larger storage capacity is needed, the best option is the automated Pallet Shuttle system. This solution consists of racks with very deep channels (similar to those of the drive-in/drive-thru racks in the non-automated section) from which goods are inserted or removed with the help of a motorised shuttle. A stacker crane or transfer car is charged with moving the products and the shuttle to the corresponding location.
Companies in the food sector install the automated Pallet Shuttle in their freezer warehouses in order to expand the storage capacity and boost productivity in product inflows and outflows. This is the case with Cárnicas Chamberí, which has maximised space, streamlined goods movements, and reduced the energy used to generate cold air.
Effective logistics at a controlled temperature
A freezer warehouse is an indispensable work space for many businesses in sectors such as the food and pharmaceutical industries. To be sufficiently effective, it should provide the largest possible storage capacity while optimising energy consumption.
At Mecalux, we have extensive experience designing and outfitting freezer warehouses with all kinds of storage solutions, from conventional to automated. Feel free to get in touch. We'll come up with the most appropriate solution for your operations that helps to boost your supply chain at freezing temperatures.