07 Jan 2022
Fully automated warehouses are logistics facilities that make use of automated handling equipment and conveying systems to optimize the performance of operations, including truck loading and unloading. Automated warehouses do away with standard forklifts and minimize the presence of operators inside them.
Against a backdrop in which companies seek to raise their competitiveness, warehouse automation is a trend seen more and more in logistics nowadays. The goal is to gain in efficiency and productivity: only automated processes can ensure maximum throughput 24/7.
What's a fully automated warehouse?
A fully automated warehouse is a facility that uses automated logistics solutions to carry out all operations, from goods receiving to the processing of orders and their subsequent dispatch.
These centres are characterized by minimal operator intervention in their logistics processes. There are even facilities known as dark warehouses: as no operators work inside them, they don't need lighting.
Completely automated warehouses can be designed to handle different types of goods, making them increasingly common in sectors as varied as the ecommerce, automotive, and food industries, among others.
The healthcare situation has spurred the latest push towards process automation: in a scenario of mobility constraints and a changing workforce, automated solutions make it possible to comply with all safety measures while maintaining production levels. In an interview with Mecalux, Yossi Sheffi, Director of the MIT Centre for Transportation and Logistics, says: "COVID-19 has accelerated the implementation of new technologies in the supply chain, and one area that has seen the most growth is warehouse automation."
A study by consulting firm McKinsey foresees a highly automated future: "Many operations could be automated by 2030, as artificial intelligence (AI) takes over the many repetitive activities that logistics companies perform. We expect to see fully automated high-rack warehouses, with autonomous vehicles navigating the aisles. Managers with augmented-reality glasses will be able to "see" the entire operation, helping them coordinate both people and robots. Warehouse-management systems will keep track of inventory in real time, ensuring it is matched to the ordering system. 3D printers will crank out spare parts made to order."
Automating all warehouse operations
Industrial process automation consists of implementing automated solutions in one or more warehouse operations, e.g., goods receipt, order picking, and stock management.
The main objective of installing automated systems is to optimize movements that take place in the facility, boost productivity, and limit errors that could undermine the company's competitiveness. In a fully automated warehouse, all logistics operations have minimal human intervention. Let's see how it works in the operations below:
Automated goods receipt
In a logistics facility, the goods receiving process is key for effective stock control. In this operation, the docks can be equipped with automatic truck loading and unloading systems. This solution was implemented by the Mecalux Group in the automated warehouse of Hayat Kimya in Turkey.
To streamline movements of goods from the loading docks to the various storage and/or work zones, you can install automated conveying systems such as pallet conveyors and box conveyors systems, totes, and bins. In automated facilities, this entire operation is controlled by warehouse management software that coordinates the automatic equipment to improve efficiency.
Automated internal transportation
Fully automated warehouses replace manual handling equipment (forklifts) with automated transportation systems that continuously supply the storage, order picking, and dispatch areas.
Examples of these are pallet or box conveyors — depending on the unit load — which streamline the movement of goods to the different areas in the facility. This is the case of Zbyszko Company, a Polish drinks manufacturer. To connect the storage and production zones in its new warehouse, it has incorporated a pallet conveyor system from the Mecalux Group.
For facilities with a low product density, manual handling equipment can be swapped with automated guided vehicles. Meanwhile, warehouses requiring several areas to be connected by means of a closed circuit can install electrified monorails. These transportation systems, which can be aerial or floor-mounted, comprise self-propelled trolleys that deliver the goods to the workstations.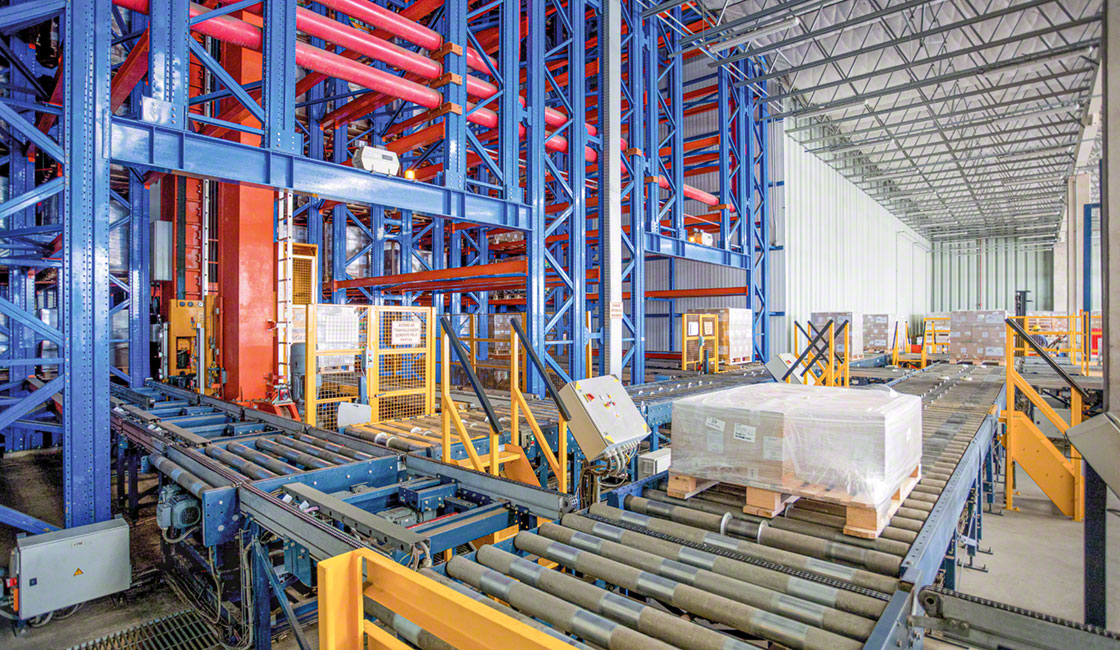 Storage of goods with stacker cranes
The extraction/depositing of products on the racks is one of the most commonly automated operations in a logistics facility. This is because automated solutions such as stacker cranes (AS/RS for pallets) and miniload systems (AS/RS for boxes) ensure productivity and accuracy under the supervision of a warehouse management system (WMS).
In fully automated warehouses, where goods are distributed via conveyors, pallet checkpoints need to be implemented. These validate the proper condition of the pallet and of the goods at the entrance to the facility.
One example of automation of product storage and retrieval from racks is BASF's clad-rack warehouse in Brazil. This 1.400 m2 facility is divided into two aisles served by twin-mast stacker cranes for pallets. Easy WMS, the warehouse management software from the Mecalux Group, acts as the brain of the facility, ensuring efficiency in the storage of the goods.
Automated order picking and dispatch
Order preparation is one of the most complex operations to automate, as processes are rarely constant or repetitive. Nevertheless, there are solutions such as industrial robotic arms (supplied by conveyors), which greatly boost picking throughput in a facility. This can be seen in the warehouse of Havi Logistics in Portugal, which uses robotic arms to handle multiple boxes simultaneously.
Order picking and dispatch can also be automated with solutions such as sorters, which divert products to the different workstations or shipping containers. Likewise, there are solutions on the market for automating value-added processes in order preparation and dispatch, such as stretch-wrapping and palletizing robots and labeling machines.
Software-automated warehouse management
A fully automated warehouse requires software that coordinates the operations of the automated handling and transportation equipment in the facility. The warehouse management system (WMS), which directs where each product should go and which operations to perform, interacts with the warehouse control system (WCS), responsible for coordinating the movements of the machines. The Mecalux Group has developed its own versions of these two software programs: Easy WMS (the management software) and Galileo (the WCS).
Thanks to this technology, all movements in the automated warehouse are optimized, and errors are prevented in processes as complex as goods receipt and multi-SKU order picking.
Streamlined storage operations are a key feature of the new AS/RS for boxes of automotive company Continental in Mexico. Easy WMS coordinates the tasks of the miniload system and of the conveyors, taking into account criteria such as product turnover and final destination.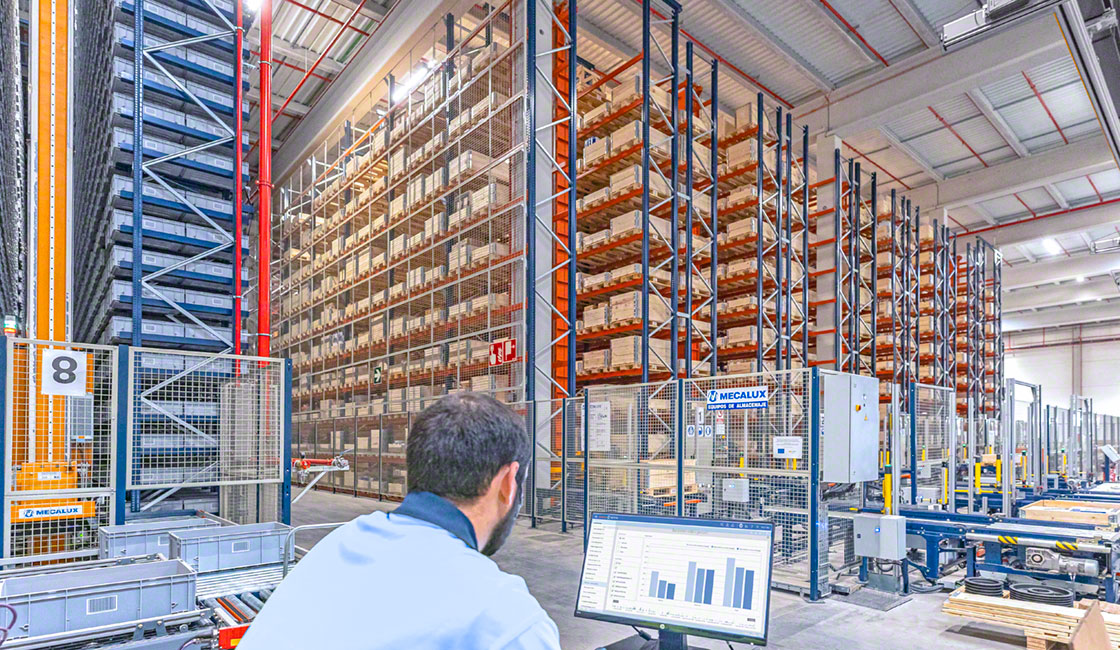 The age of the fully automated warehouse
Warehouse automation improves an organization's performance and reliability. Process automation entails enhanced safety and accuracy. But above all, it provides complete control over stock in the facility.
Interested in setting up a fully automated warehouse to maximize the efficiency of your logistics operations? Don't hesitate to contact us. One of our expert consultants will advise you on the best solution for your business.