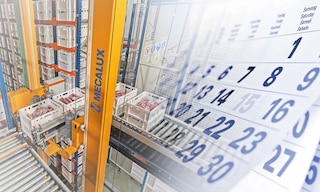 Perishable goods: storage systems and examples in logistics
20 Jul 2023
Managing perishable goods effectively is a major logistics challenge for companies that handle this type of merchandise, especially in the food industry.
Bearing in mind the nature of perishable goods, businesses must guarantee safe storage and traceability across the supply chain, from production and storage to transport and sale.
What is the meaning of perishable items?
Perishable goods are products that tend to deteriorate over time due to their characteristics. They become contaminated by living microorganisms such as fungi and bacteria and thus must be consumed before a specific date.
Although flowers and certain pharmaceutical and chemical materials are also perishable, when we talk about storing these types of goods, we're usually referring to the food industry and products like meat, milk, cheese, fruit, fish and vegetables.
The external factors with the greatest impact on the decomposition of perishable goods are the temperature, humidity, light and atmospheric pressure to which they're exposed during their transport, storage and commercialisation.
Besides perishable, products can also be semi-perishable. The main difference between the two lies in the time within which they begin to spoil: semi-perishable items take longer to deteriorate because they contain a lower percentage of water. Examples include nuts, grains, cereals, legumes, cookies and pasta. These goods will go bad sooner if they're not stored under the right conditions.
Logistics characteristics of perishable goods
When it comes to managing perishable goods, logistics operations have to be adapted to the attributes of the products to ensure that they make it to the end of the supply chain in top condition. These are the main factors to consider:
Temperature and humidity conditions: Perishable goods such as food lose their organoleptic properties (colour, taste, smell and texture) if they're not kept at a refrigerated temperature. To stave off the proliferation of bacteria, strict temperature and humidity control are a must.
Safety and hygiene: the storage space should be hygienic to prevent the creation of microorganisms that could cause the final product to deteriorate. It's crucial to apply sanitary measures in all areas of the logistics facility, from the racks, floor, walls and handling equipment to the operators that handle the products.
Traceability: companies should capture detailed information on perishable goods, including their batch number and their production, best-by and expiration dates. Traceability is becoming an increasingly essential logistics process for both suppliers and customers.
Product turnover: it's vital to guarantee optimal inventory turnover following the FIFO method (first in, first out). With this storage and picking technique, the perishable goods with the closest expiration date are shipped first.
Agile operations: as these products are mass-consumed, they generally have high turnover rates. So, processes need to be fast, error-free and as streamlined as possible.
Storage systems for perishable goods
To manage perishable merchandise efficiently, businesses should implement logistics solutions that check all the boxes in terms of turnover, strict temperature control and full product traceability:
Pallet racking
These stand out for their direct access to each unit load. They're particularly recommended for managing a wide variety of SKUs of perishable goods. This is the case of Abarrotes La Y Griega, a supplier of around 3,000 wholesale and retail customers in the Mexican states of Chiapas and Oaxaca. In its warehouse, our company's single- and double-deep earthquake-resistant pallet racking accommodate 100 categories of different products.
With the Mecalux Group's selective pallet racking, Abarrotes La Y Griega receives 320 pallets, ships 320 pallets and fulfils 250-300 orders every day. The direct access offered by the racks expedites the work of the operators who store and retrieve the perishable goods from their locations. "They cut back considerably on loading and unloading times," says Juan Manuel Álvarez Mendoza, General Manager of Abarrotes La Y Griega.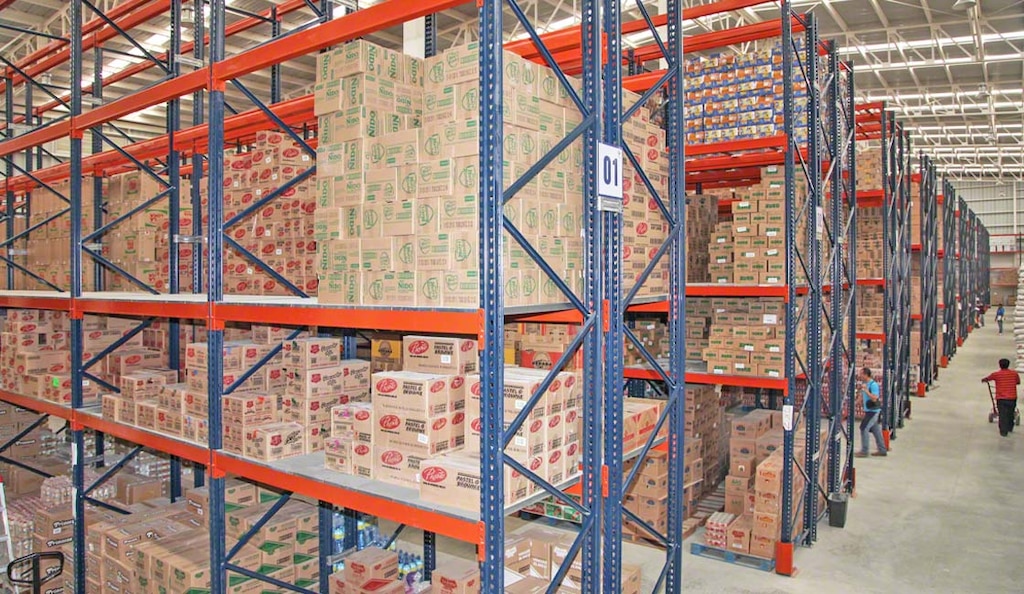 Pallet flow racking
Pallets are inserted in the highest part of the channel in pallet flow racking and then move by gravity towards the opposite end. This ensures the ideal turnover of perishable goods, meeting FIFO criteria.
Pallet flow racking are key for storing perishable products like those of Pet Supermarket. In Florida, this pet food retailer's warehouse is outfitted with pallet flow racking that have a capacity for 2,048 pallets. This solution's biggest advantage is that it enables excellent turnover of perishable goods while streamlining management of the company's 3,000 SKUs.
"I've used Mecalux racking for probably the last 20 years in just about all logistics projects I've done, so I'm a big fan of it. It's a very good quality product," says Jim Sperrazza, Logistics Manager of Pet Supermarket.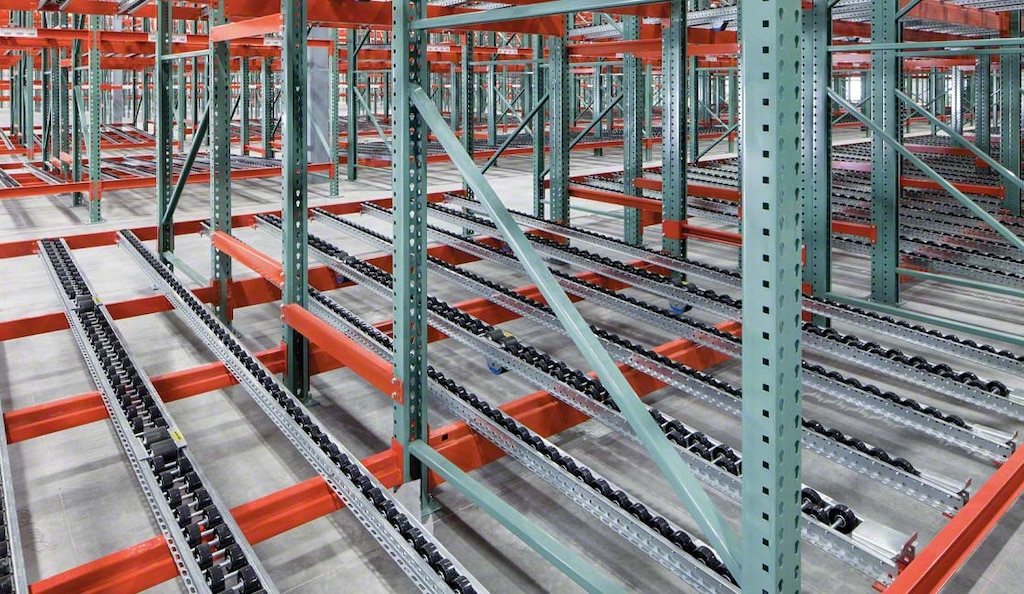 Movirack mobile pallet racking
The Movirack system is a go-to option for storing perishable goods at freezing temperatures. It's the only high-density storage solution with direct access to all stock stored. The racks ensure better space utilisation, so the volume of air to be cooled is lower, reducing energy consumption.
"Movirack mobile racking leverages the entire surface area of our warehouse and provides us with the storage capacity we need to supply our customers. Plus, the aisles are wide enough to work in and, most importantly, to pick from," says René Mooijer, General Manager of Mooijer-Volendam B.V. This Dutch wholesaler of seafood, smoked fish and frozen fruits and vegetables equipped one of its cold stores with Movirack mobile racking to store more than 4,300 pallets containing perishable goods.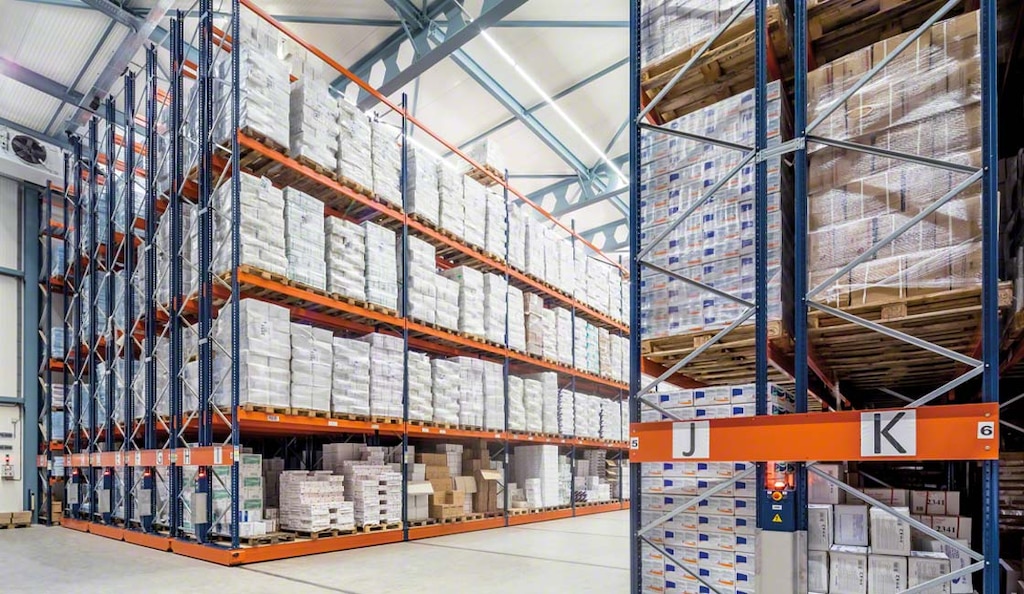 Semi-automated Pallet Shuttle system
Businesses that house their perishable items in this solution have a higher storage capacity and increased inflows and outflows. The Pallet Shuttle is a high-density, semi-automated storage system in which an electric shuttle car moves along rails inside the storage channels to load and unload pallets.
The multinational company Nestlé has a manufacturing plant in Villa Nueva, Argentina, specialising in powdered milk, chocolate milk and children's drinks. To store its finished products arriving from production, it installed the Mecalux Group's semi-automated Pallet Shuttle system.
"The new warehouse was designed to meet our needs: to expand storage capacity without having to build another facility," says Claudio Marmo, Supply Chain Development Manager at Nestlé Argentina. Besides enabling the management of perishable goods according to the FIFO strategy, this solution speeds up the entries and exits of 500 pallets a day.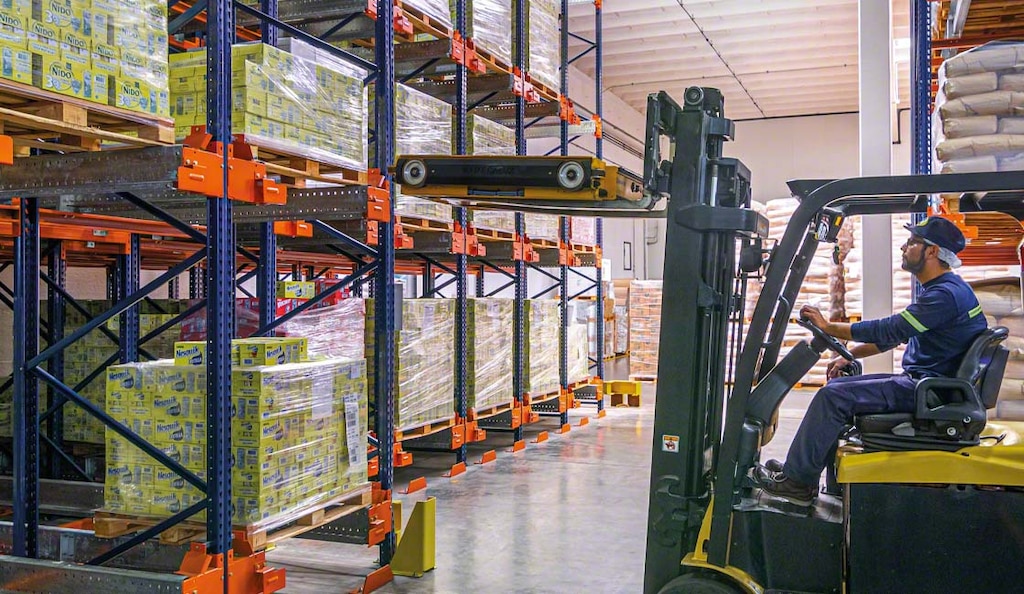 Automated storage and retrieval systems (AS/RS)
AS/RS are perfect for managing large quantities of perishable goods and ensuring high, continuous flows. Stacker cranes are an AS/RS that combines efficiency with safety.
In Spain, for instance, dairy company Esnelat (of the Iparlat Group) automated its warehousing operations to cope with increased production. The business installed 10 stacker cranes to store and dispatch 350,000 pallets annually containing perishable goods. "Automation has brought a number of benefits to our logistics processes. It gives us high reliability in producing, storing and shipping around 80 million gallons of milk and dairy products a year," says Esteban Robles, Technical Director of Esnelat (Iparlat Group).
High-density AS/RS deliver remarkable results: agility, maximum storage capacity, high throughput and proper management of perishable goods. This can be seen with Bem Brasil, a producer of frozen precooked French fries. The company incorporated the Mecalux Group's automated Pallet Shuttle system with stacker cranes in its warehouse run at -30 °C.
"This solution is compact, practical, flexible and fast. Its automated operations have helped us to cut costs in the power we use, improve our employees' quality of life and boost efficiency in handling and preserving our products," says João Emílio Rocheto, President of Bem Brasil.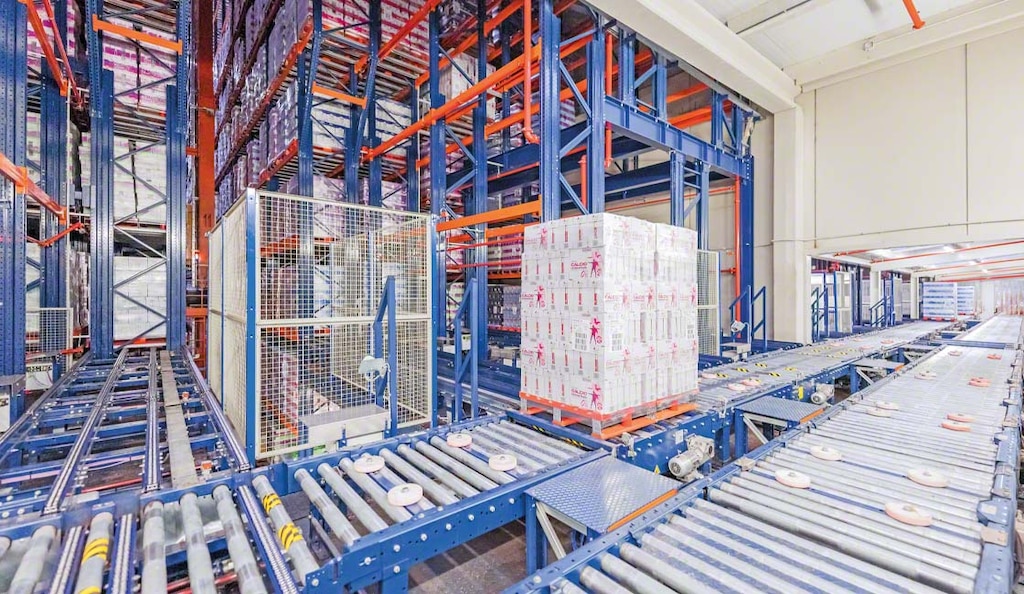 Traceability for perishable goods: examples
Tracking products in real time is a fundamental requirement when managing perishable merchandise. To meet this need — demanded by both suppliers and customers — process digitalisation is a solution that provides rigorous and efficient inventory control. Moreover, it maximises operator productivity.
Congelados de Navarra is a leading European producer and marketer of deep-frozen vegetables. With our company's Easy WMS warehouse management system, the business simultaneously and seamlessly manages four automated warehouses as if they were one. Among many other functions, the WMS tracks palletised goods arriving from production, assigns a racking location to each item, monitors stock and speeds up pallet dispatches to the mixing areas. It does all this based on a basic principle for any enterprise dealing with perishable goods: traceability.
Danone is another business that resorted to logistics digitalisation to maintain traceability of perishable products and drive its business forward. In Spain, the multinational food company has an omnichannel warehouse for its Nutricia division, which stores specialised food products (for children's and medical nutrition). To scale up the throughput of its logistics operations, Danone uses the Mecalux Group's Easy WMS to control stock and streamline picking tasks. Thanks to digitalisation, Danone has a state-of-the-art distribution centre that fills and ships up to 700 orders a day.
Perishable goods: a system for every need
Choosing a storage system to house your perishable items is critical for keeping them safe and managing them effectively. Likewise, controlling products according to their temperature, weight, type, packaging and presentation ensures the quality and optimisation of their shipment.
If you're looking to improve the management and storage of your perishable goods, get in touch. One of our expert consultants will analyse your requirements to help you optimise your logistics efficiency.