10 Jan 2022
Retail warehouse automation is a solution for vendors that want to optimize operations in their logistics facilities to improve the customer experience and, thus, increase sales.
Logistics is becoming more and more complex these days, with growing numbers of orders that need to be delivered quickly and to different destinations: from physical stores to online customer delivery points. Against this backdrop, automation is the perfect solution for businesses in the retail sector. Incorporating technology in warehouses brings instant advantages, such as higher accuracy and less time spent on storage and order picking tasks.
What's a retail warehouse and when should you automate it?
Retail businesses, which sell goods and services to end consumers, range from clothing, appliance, and technology stores to supermarkets, department stores, pharmacies, and ecommerce portals, to name a few.
Generally, the warehouses of retail companies manage a massive number of SKUs, which can be stored on pallets and/or in boxes. Therefore, all processes must be optimized to prevent errors and guarantee customers the availability of the merchandise. How is this possible? With a perpetual (real-time) inventory system that avoids disruption to order preparation and dispatch and through impeccable organization of the operations taking place in the facility.
Retail warehouses are up against an added difficulty: in addition to managing a multitude of SKUs, they also prepare and dispatch a huge number of orders a day with extremely varied destinations. In view of these constraints, automation is a winning solution for boosting productivity as well as reliability and speed in order picking.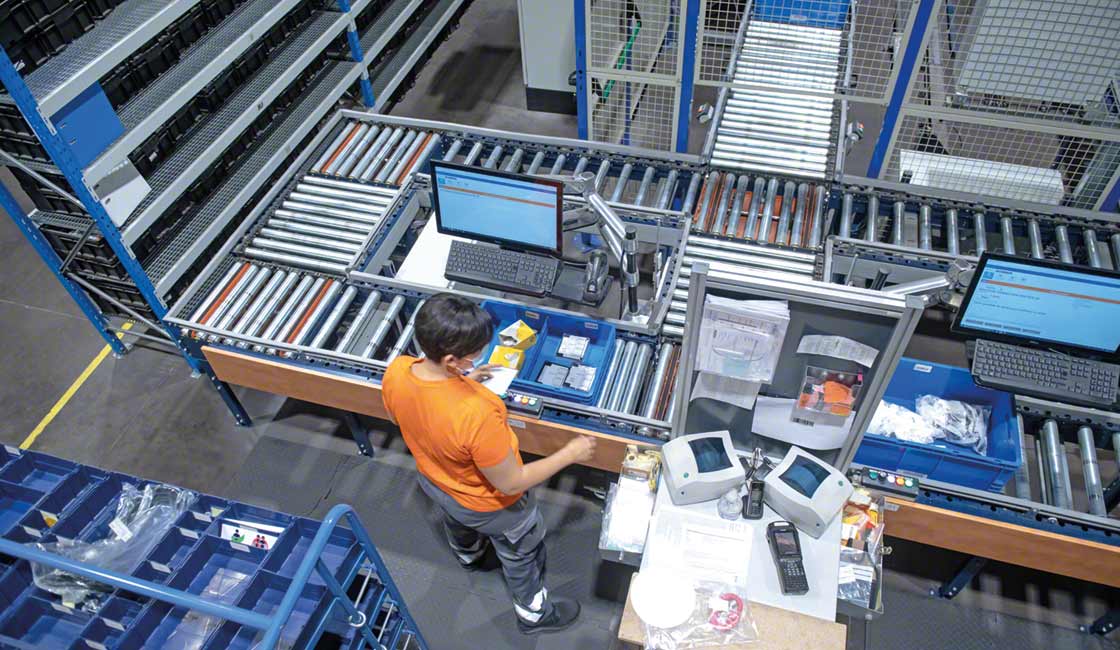 Benefits of retail warehouse automation
Warehouse automation is a measure that's taken off in recent years. Let's run through its advantages:
Effective operations. Automatic handling equipment performs a high rate of product inbound and outbound cycles with minimal operator intervention.
Increased speed. Thanks to automation, operations such as goods receipt and storage can be carried out more quickly than when done by operators with manual handling equipment like pallet trucks and forklifts.
Greater reliability. Retail warehouses prepare many orders made up of different SKUs, both on pallets and in boxes, and with a variety of destinations. The automatic handling equipment supplies the correct products to complete the orders without errors.
Space optimisation. Automated storage and retrieval systems (AS/RS) leverage the available surface area to provide the largest possible storage capacity. The stacker cranes that operate in them can raise goods up to 40 m off the ground.
ROI. The benefits of automation bring down operating costs. Moreover, the initial investment is recoverable.
Ultimately, retail warehouse automation is the best option for enhancing productivity and accuracy in storage and order picking tasks.
Automation of retail warehouse operations
A retail warehouse can be outfitted with mixed automated solutions to execute all operations, from automatic handling equipment for storing products to digital solutions that optimize organization of the goods. Let's take a look at some operations we can automate in a retail warehouse:
Product receiving
Goods receipt is a crucial process when it comes to the proper operation of the warehouse as a whole. Making sure the right products arrive at the facility in the appropriate quantity, conditions, and characteristics enables you to guarantee the availability of the items your customers order.
Besides having to check the goods to rule out any mistakes, the complexity of goods receipt lies in the unloading of the delivery trucks. This task is usually done manually, with forklifts, although it could also be automated with automatic truck loading and unloading systems.
The next step is to transport the goods from the receiving area to the different storage zones. For this purpose, roller conveyors for boxes, totes and bins can be installed to improve speed and safety in the movement of goods.
Goods storage
Automation shortens the time dedicated to storage tasks. Before deciding on the best option, retail companies need to take into account the type of products being managed: boxes, pallets, garments, containers, or other items.
Automated warehouses can also incorporate stacker cranes (AS/RS for pallets) and miniload systems (AS/RS for boxes) that deposit and remove the goods from their locations with full autonomy. One of the pluses of these types of solutions is their agility and safety when storing products.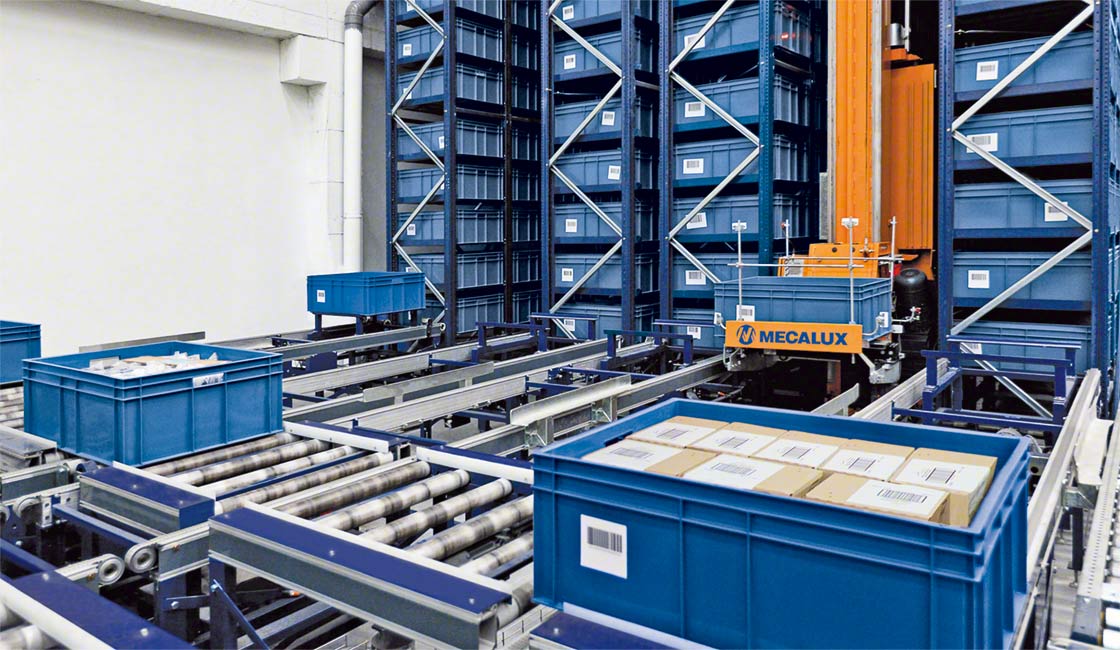 Order picking
Order fulfillment is one of the most demanding and complex operations in any warehouse. According to the study Towards Automated Order Picking Robots for Warehouses and Retail by professors Richard Bormann and Bruno Brito, picking accounts for 55% of total warehouse operating expenses.
Retail warehouse automation opens the door to minimizing this cost. For example, it facilitates the work of the operators so that they can prepare more orders in less time. In this vein, an AS/RS makes it possible to prepare orders according to the goods-to-person method, whereby operators remain at their pick stations while the goods are brought to them automatically.
To carry out picking in line with the goods-to-person concept, retail warehouses require stacker cranes to extract the goods from their locations and conveyors to move them to the pick stations where the operators complete the orders.
Conveyors for boxes can also be installed in retail warehouses that prepare a large number of orders manually (where operators travel up and down the storage aisles to remove products from their locations). In this case, the operators place the items they pick from the racks on the conveyor, which moves the goods automatically to the consolidation and sorting area.
Order packing and shipping
In a retail warehouse, order packaging and dispatch are two key processes. Businesses need to organize both tasks in advance to avoid bottlenecks that lead to delays in the distribution of the goods.
To ramp up the throughput of these two operations, retailers can employ sorters, which classify the goods according to the carrier that will deliver them. This way, all items to be distributed together remain in the same group and can be packed and shipped more quickly.
To organize the goods and orders to be dispatched, retail companies can also implement a warehouse management system (WMS). Easy WMS, the WMS from Mecalux, for example, features the Multi Carrier Shipping Software module, designed to automate dispatch management. This software tells operators how to package the items (if they should be packed as a single unit load or in multiple parcels). Simultaneously, it communicates with the transportation agencies to generate and send the corresponding documents for the carriers.
Returns
One of the most complex operations in retail warehouses is returns management. According to consulting firm McKinsey, in 2020, US consumers returned 10.6% of all their purchases, accounting for $428 billion in products. The fashion industry bears the brunt of this, as customers habitually purchase several sizes and models and then return the ones they've discarded. A McKinsey survey on the management of returns prior to the pandemic indicated a returns rate of 25% for apparel compared to 20% for general commerce.
Reverse logistics calls for goods to be organized and classified in a way that helps warehouse operators decide what to do with each item (store it or recondition it). To do this, sorters can be used in scenarios with a high volume of returns. For optimal returns management, it's best to rely on a WMS to simplify this arduous task. By following instructions, operators can check the status of the items and know exactly where to deposit them.
Examples of retail warehouse automation
The Mecalux Group has automated a number of retail warehouses. Below are some examples that illustrate how automation can boost the productivity of logistics operations.
To drive its international expansion, French ecommerce retailer Spartoo — a leading European company in online sales of footwear, handbags, and apparel — needed to optimize its logistics operations to expand its product catalog and increase its order numbers. In France, the Mecalux Group set up a warehouse for Spartoo that has been added on to year after year to absorb the growing demand. The facility is equipped with conveyors for boxes that connect the various areas of this extensive logistics center.
Another example of retail warehouse automation is the case of BH Bikes, a bike manufacturer noted for the quality of its products and its constant innovation. In Vitoria, Spain, the company has a fully automated logistics center in which the Mecalux Group has installed two automated storage and retrieval systems: an AS/RS for pallets and an AS/RS for boxes. Both solutions facilitate the storage of products of different sizes and turnover as well as the preparation of a large number of daily orders comprising few yet varied SKUs.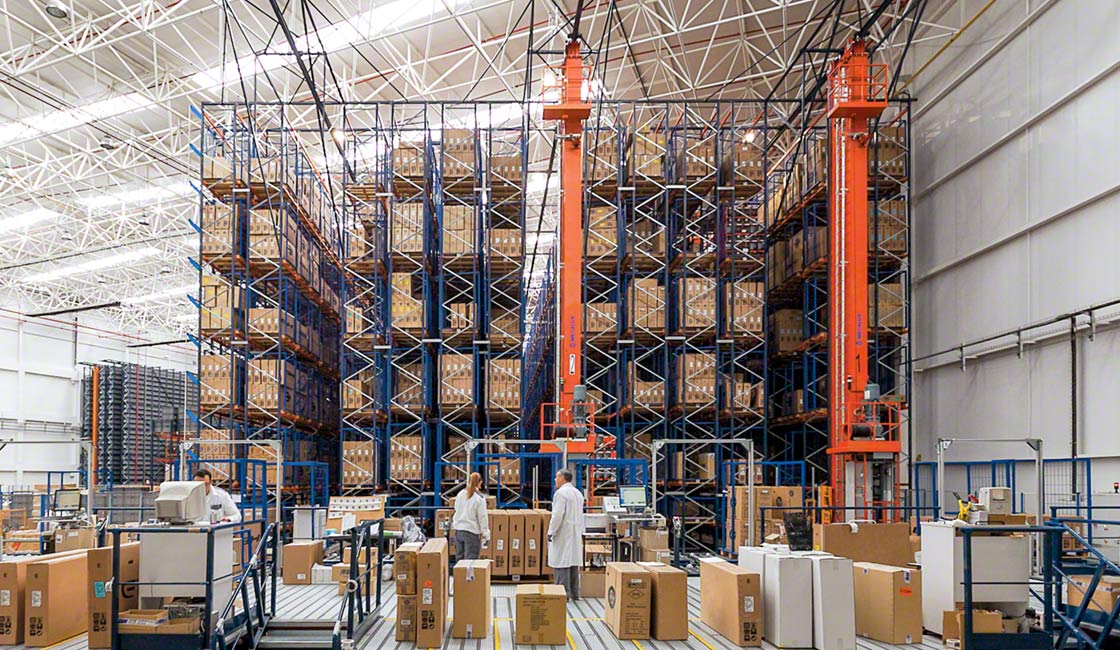 Automation: present and future of retail warehouses
In the retail sector, logistics process are in a constant state of flux with the aim of adapting to new market demands. Technology is an ally for retailers, as it enables them to optimize their operations and provide their customers with better service.
As for solutions you can implement in a retail warehouse, these run the gamut from automated storage and transportation systems to warehouse management software that optimizes and speeds up storage and order fulfillment tasks. At Mecalux, we develop automated storage solutions for businesses from all sectors. If you're a retailer and you want to enhance your logistics processes, don't hesitate to contact us. We'd be happy to design the best warehouse solution for your needs.