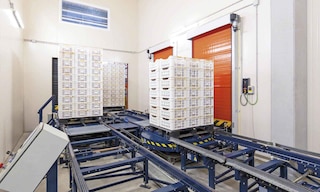 Cold storage warehousing: challenges and solutions
27 Dec 2021
Cold storage warehousing is a priority for any company that works with goods stored at a controlled temperature, e.g., businesses in the food, pharmaceutical, and chemical industries.
These organizations must guarantee that their product handling, preservation, storage and distribution processes are carried out at precisely the right temperature. The reason for this? Breaking the cold chain can lead to major problems, such as the early deterioration of the goods, the loss of their organoleptic properties, and/or the proliferation of bacteria and microorganisms harmful to humans.
What is cold storage warehousing?
Cold storage warehousing ensures that goods are maintained at a low temperature. Foods such as dairy products, meat, and vegetables, as well as medicines and certain cosmetics, need to be kept in freezer warehouses or cold stores to maintain their properties.
A study from Grand View Research estimates that, by 2028, the worldwide cold chain market will bring in a revenue of $628 billion and will have a compound annual growth rate (CAGR) of 14.8% up to that year.
Cold storage warehousing requires logistics facilities adapted to the strict demands of the sector. The storage rooms, built with sandwich panels, are outfitted with cooling equipment to ensure the correct regulation of the temperature: compressors, condensers, expansion valves, and evaporators. In addition, cold store racking should be structures designed to work in cold environments and are usually made of stainless steel.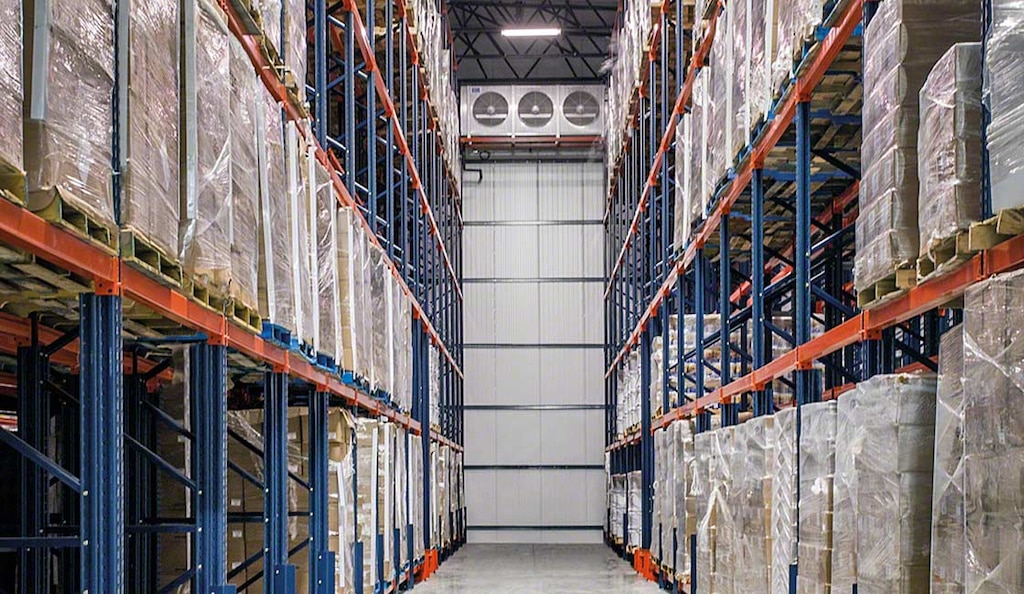 Cold storage warehouse requirements
One of the difficulties of cold storage warehousing is the adverse effects low temperatures can have on human health and on the storage and handling equipment. To mitigate this, operators must wear work clothing that protects against the cold, i.e., appropriately lined jackets, thermal pants, and gloves. Likewise, the equipment installed in a cold or freezer store needs to be adapted to these types of environments. For example, if devices with touchpads are used, they should be designed to be able to work with gloves.
On the other hand, since the products in cold storage are sensitive to changes in temperature, cold storage warehouses usually have sensors that control the temperature inside the facility. Dehumidifiers are also employed, as they significantly reduce ice formation.
Cold storage warehouses must be kept at the right temperature at all times, with the added difficulty that these facilities have a high number of product inflows and outflows. With so many movements of goods, secure airlock systems are installed to prevent the loss of cold. These consist of two high-speed doors, one leading into the cold store and the other, outside, which are never open at the same time. This minimizes sudden changes in temperature, condensation, and cold loss.
Lastly, cleaning the cold storage warehouse adequately will prevent the spread of microorganisms that could damage the products stored. Just as with cleanrooms, in these types of facilities, two types of processes are carried out: the elimination of visible dirt and sanitization, which consists of the use of chemical products that eliminate harmful microorganisms from the goods.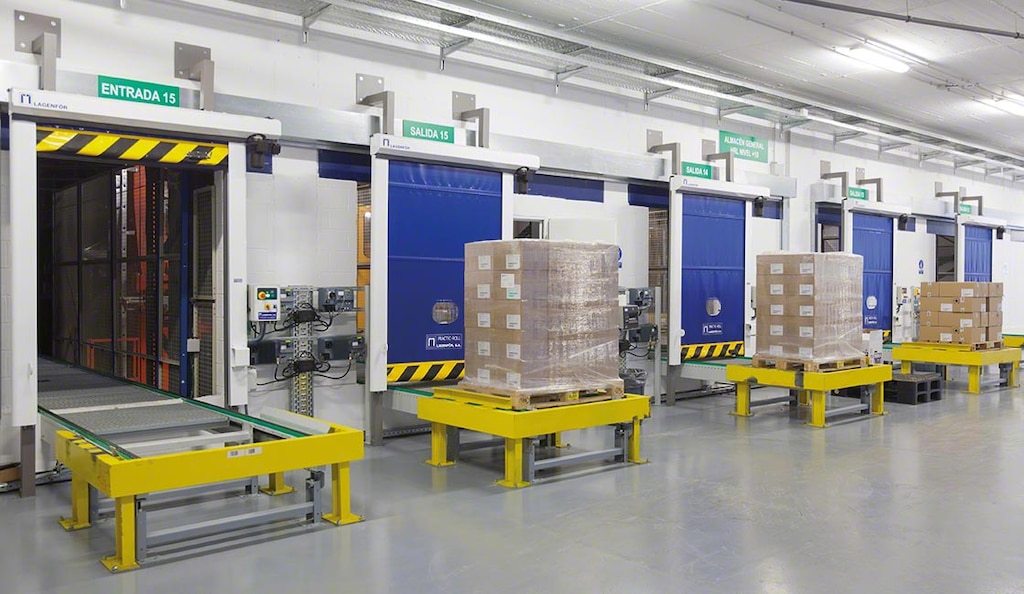 How to build a cold storage warehouse
Cold storage warehousing is extremely demanding: maintaining the products in ideal conditions requires excellent organization of all processes that make up the supply chain. When building a cold storage facility, the solutions available are very varied, ranging from automation to a warehouse management system (WMS). These are aimed at strictly controlling the cold chain and meeting the following objectives:
Improve energy efficiency
Companies that need to store goods at a controlled temperature seek solutions that will maintain the cold chain intact without energy consumption skyrocketing. These businesses opt for compact storage systems because they make cold stores more sustainable: by storing many products in a smaller space, the energy consumption to generate cold for each pallet is lower.
Mobile racking systems are very common in cold storage warehouses, as they notably cut down on energy consumption due to the optimal distribution of cold air among the pallets. Spanish meat company Olot Meats Group equipped its two freezer warehouses with our company's Movirack mobile pallet racks to boost its energy efficiency.
Technology also fosters sustainability in facilities operating at a controlled temperature. Automatic handling equipment such as stacker cranes and conveyors don't use gas or other polluting fossil fuels, which minimizes CO2 emissions to the atmosphere. Stacker cranes (AS/RS) for pallets from Mecalux, for example, incorporate a premium efficiency IE3 electric motor and power regenerators that return the energy generated during the descent and deceleration maneuvers to the electrical network.
Ensure product traceability
Temperature controlled warehouses tend to house fresh or perishable goods, so it's advisable to have a perpetual inventory system via warehouse management software. This software monitors products from the time they enter the warehouse up to their dispatch. Their operation is extremely simple: the warehouse management system (WMS) identifies each item and assigns it a location taking into account its characteristics and demand level. This way, the program knows the exact location of the goods in real time.
Food company La Piamontesa equipped its automated warehouse in Argentina with Easy WMS warehouse management software from the Mecalux Group to maintain accurate traceability of all its SKUs. Diego Ghersi, Head of Engineering and Projects, says: "Easy WMS has given us total traceability. We now know the specifics regarding the products we receive, such as where they're located and what processes they've gone through. This control is vital to our business, as we manage perishable products with expiration dates."
Limit workers' cold exposure
Companies with cold storage warehouses are concerned about curbing the time their operators are exposed to the cold in these facilities, as this can have adverse effects on human health. Cold storage automation is a go-to option for resolving this issue. Automatic handling equipment such as conveyors and stacker cranes for pallets store and transport goods autonomously, thus, avoiding operator exposure to low temperatures for long periods of time.
Spanish meat business Incarlopsa has implemented automated storage solutions from the Mecalux Group in six of its warehouses. This has enabled the company to improve its efficiency, productivity, and speed when handling the food. "I'd stress the security and control of the goods that we've gained by automating our supply chain. We've increased the safety of our operators and our facilities. Thanks to automation, the rate of human error has completely disappeared from stock control," says Victorino Carabantes, General Manager of Engineering at Incarlopsa.
Maximize storage space
Organizations are looking for solutions that maximize the storage capacity of its cold storage and freezer warehouses while minimizing the space to be cooled.
One of the most common solutions for leveraging available space and facilitating cold storage warehousing are high-density storage systems. This is because they reduce the number of aisles in which handling equipment operates, making better use of space and increasing storage capacity.
Out of all the compact systems, automated solutions provide the best results: agility, maximum storage capacity, high throughput, and effective goods management. This is the case of Bem Brasil, a producer of frozen precooked french fries, which equipped its freezer warehouse with the automated Pallet Shuttle system with stacker cranes from the Mecalux Group. "It's a solution that's compact, practical, fast, and flexible. Its automated operations have helped us cut costs in the power we use, improve work conditions for employees, and increase efficiency in the handling and preservation of our goods.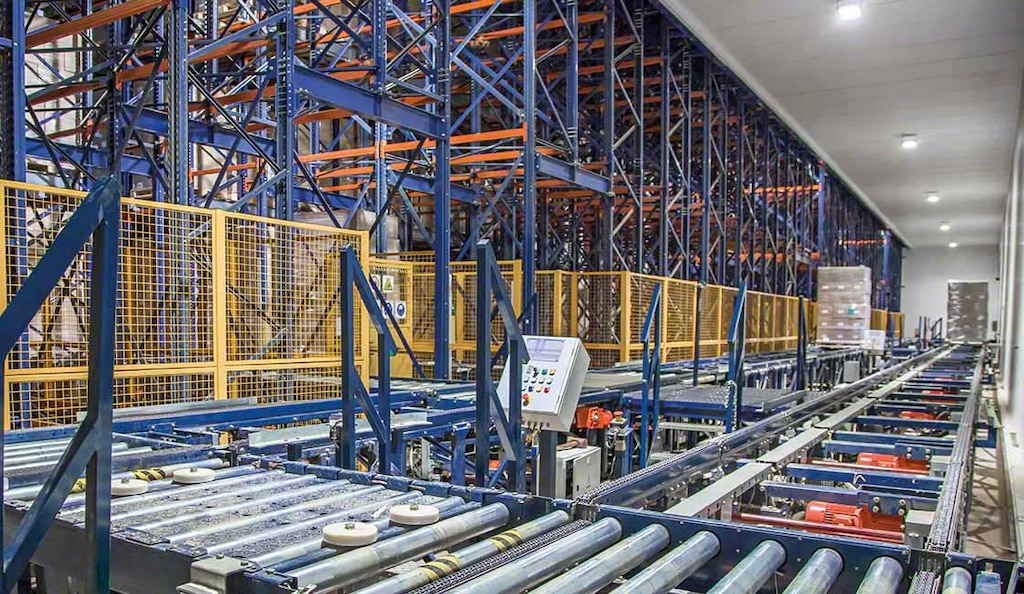 Cold storage warehousing: attention to detail
Logistics becomes more demanding with each passing day, and this is even more true for businesses dealing with chilled and frozen products. Cold storage and freezer facilities are designed down to the last detail to prevent the cold chain from breaking.
To find warehousing and management solutions that raise energy efficiency, enable strict control of the goods, and speed up storage and order picking tasks, it's best to benefit from expert advice. At Mecalux, we have extensive experience in implementing temperature controlled warehouses for companies in sectors such as the food, third-party logistics (3PL), and pharmaceutical industries. Get in touch, and we'll show you how to optimize cold storage warehousing for your business.