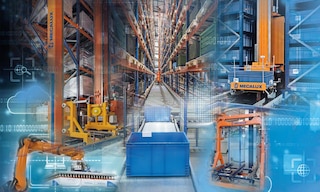 Flexible automation in the warehouse
16 Nov 2021
Flexible automation is the talk of the town these days. This is because there's a tendency to consider the automation of logistics operations as a rigid process with little room for flexibility. But this isn't entirely true: the implementation of automated solutions in a warehouse or production centre provides for possible expansions and modifications in line with the growth forecasts of each customer.
In this post, we analyze flexibility in these automated solutions and dispel the misconception that automation implies rigidity.
Why is it important to consider flexible automation?
Flexibility is an increasingly demanded attribute in logistics. At a juncture in which new consumer trends, e.g., omnichannel retail, are transforming warehouse processes, intralogistics solutions need to be flexible to adapt to changes in demand or in product turnover. The rising cost of logistics floorspace and deliveries in short windows of time have forced many companies to look for logistics solutions that combine automation and flexibility.
Nevertheless, some logistics managers still link automation to rigidity: what happens if my product demand changes after my automated warehouse is all set up? And if there's unexpected growth? Will my warehouse become obsolete?
Before implementing an automated project, it's essential to prepare a feasibility plan including variables provided by the customer such as expected growth and the forecast increase in SKUs for the next few years.
Flexible automation projects call for scalable storage and transportation solutions. But they also require a logistics supplier that understands your particular business, listens to your demands, offers an ideal solution for your needs, and, above all, is by your side as you grow.
How to plan flexible automation in the warehouse
To ensure the flexibility and scalability of an automated storage and retrieval system (AS/RS), the project development phase is crucial. During this stage, the warehouse solutions supplier draws up a feasibility plan taking into account the storage systems installed in the facility at that time, as well as the company's growth prospects and product requirements, among other factors.
This feasibility study sums up the business's demands and needs in each area of the warehouse and the storage characteristics (unit load, space allocated to racking, and environmental conditions). This report takes into consideration static variables such as storage capacity in addition to dynamic ones, such as operation cycles, amount of automatic equipment, and personnel working in the facility.
The main added value of the feasibility study is that it describes all the logistics scenarios agreed upon by the customer's logistics department and Mecalux. From there, the project defines the possible solutions — both conventional and automated — that best fit the logistics requirements. This study guarantees the flexibility of the automation process: the plan provides a set of solutions for expanding the automated warehouse and rerouting material flows if necessary.
Flexibility is a basic concept when considering the implementation of a warehouse management system in a logistics facility. Easy WMS, the WMS from Mecalux, is a completely parameterizable, modular program capable of adapting to all customer needs. That is, it has a wide range of advanced functionalities to enhance production (WMS for Manufacturing), ecommerce (Marketplaces & Ecommerce Platforms Integration), and to leverage big data (Supply Chain Analytics Software), among other features.
Flexible automation in logistics processes comes from the intralogistics solutions provider, which is tasked with accompanying customers as they grow, offering them new solutions suited to their operations at any given time.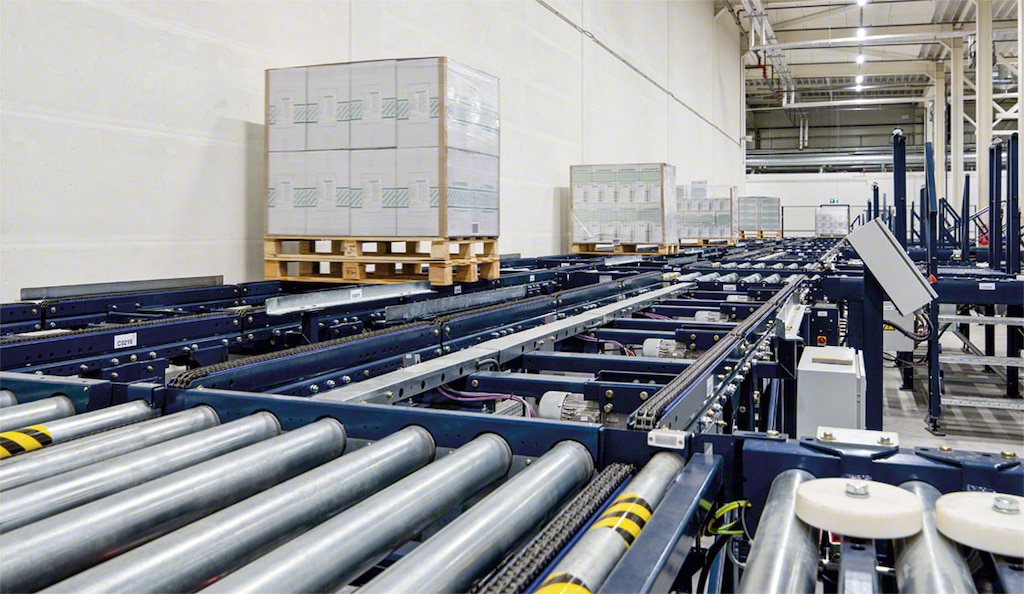 Automation and flexibility: practical examples
Mecalux has extensive expertise in the design and implementation of automated facilities, combining automated storage and transportation solutions with warehouse management software charged with supervising operations. The three examples below illustrate flexible solutions implemented by our organization that are capable of expanding along with our customers' growth:
Intersurgical (Lithuania): automated solutions from the Mecalux Group enabled Intersurgical to absorb a 50% rise in product flows during the coronavirus pandemic. The business's warehouse in the city of Pabradė experienced an increase in its workload, which it was able to handle with flexible, automated logistics operations.
Porcelanosa Group (Spain): the expansion of the Venis (Porcelanosa Group) warehouse, to which five aisles were added on, is the most recent collaboration between the two companies. Porcelanosa encharged the Mecalux Group with expanding its warehouse, motivated by a change in unit load sizes. This flexibility is one of the secrets to the successful collaboration between the two companies: since 2003, this leading multinational ceramics manufacturer has automated multiple centres with the help of the Mecalux Group.
Verlhac Logistique (France): flexibility comprises the use of modular solutions in addition to coordination between multiple companies to optimize their logistics network. This is the case of Verlhac Logistique and its customer ANL Packaging. The Mecalux Group designed a warehouse for each company to enable them to work side by side and optimize the throughput of both facilities.
Automation at the service of the customer
The implementation of an effective automated warehouse depends on the flexibility of the intralogistics solutions of the supplier. This provider has to understand the ins and outs of each customer's business, its growth prospects, and its specific demands. The key is to rely on an all-in-one supplier that can accompany your organization throughout its growth.
At Mecalux, we have a large team of engineers ready to serve our customers. At our technology centres, the team will design a solution tailored to your demands, your needs, and, above all, your growth. Interested in automating processes in your warehouse? Don't hesitate to contact us: our team of experts will advise you on a made-to-measure solution for your business.