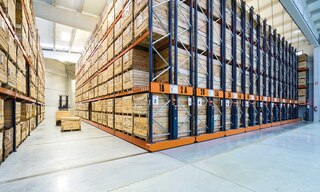 High-density storage: maximum capacity in minimum space
03 Dec 2021
The concept of high-density storage consists of storing the largest quantity of products in the smallest amount of space, eliminating aisles in which operators travel. Compared to conventional warehousing, this allows you to greatly expand your surface area dedicated to storage.
This type of solution is intended for companies that house many goods but one or few SKUs and that have limited storage space.
Pros and cons of high-density storage
The main advantage of high-density storage systems is that they considerably boost storage capacity. Aisle space is leveraged to set up more racking for housing goods, thus forming a compact racking unit. Additionally, these types of systems require less storage space, reducing your investment in logistics real estate. They also cut down on energy consumption, thanks to the optimal distribution of cold air among a larger number of pallets. For all these reasons, high-density storage systems are the ideal cold store racking.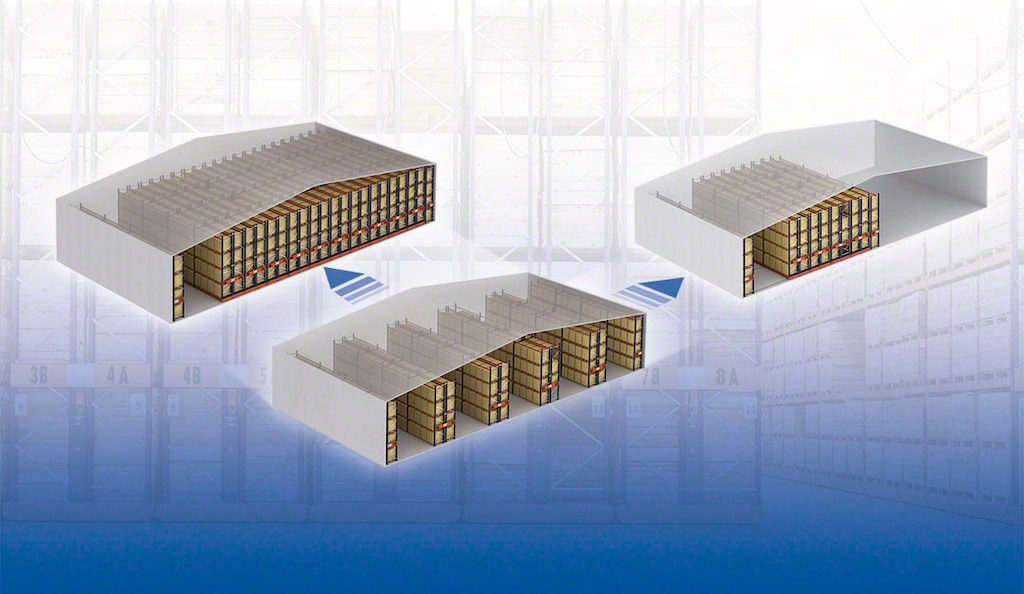 Nevertheless, high-density storage does have its disadvantages: it doesn't guarantee accessibility to all products. Unless they have a mobile base that opens the aisle operators need to work in, these systems only offer direct access to one product of each SKU.
Types of high-density storage solutions
The market today features several kinds of high-density storage systems designed to serve different purposes.
High-density storage for offices and order picking warehouses
Mass storage of documents, office material, and small products is a need many businesses have. For this purpose, you can install:
Live storage for picking. This high-density storage system operates on slightly sloped platforms. With live storage for picking, loads are moved by means of gravity: when the first box is removed, the rest move forward automatically to the first free location. Logistics provider Ekom chose to streamline order picking in its new warehouse in Tortona, Italy, with this solution from the Mecalux Group.
Mobile shelving. Made up of shelving units and lockers mounted on mobile bases, mobile shelving does away with all but one of the aisles between shelves. It's perfect for storing and sorting documents, books, and a wide variety of small items, e.g., pharmaceutical products and spare parts. This is precisely the system installed by multinational company OHL in its document center in Guadalajara, Spain, to optimise space and store 100,000 documents.
High-density storage for pallets
As for pallet storage, there are different high-density storage systems available:
Drive-in and Pallet Shuttle. Both of these storage systems are characterised by compact racking that forms deep channels. The difference between the two lies in the way in which pallets are deposited and retrieved from the racks. With drive-in pallet racking, the operator, aided by a forklift, moves inside the racking unit. On the other hand, with the Pallet Shuttle system, the operator places an automatic shuttle in the first position of the storage channel, and this machine transports the goods inside the structure.
Mobile racking systems. This high-density storage system consists of racks that move sideways to open the required storage aisle. As opposed to other high-density storage solutions, mobile pallet racking systems allow you to access each of the goods. They also provide 80% to 120% more capacity compared to conventional pallet racking. Thus, to boost its storage capacity, logistics operator JAS-FBG chose Movirack, the mobile racking system from the Mecalux Group, for its warehouse in Warszowice, Poland.
Push-back and live pallet racking. These two high-density systems maximise the use of the storage space by relying on gravity to move the loads. They differ in the way that the goods are managed. Although both systems can adapt and use both the FIFO (first in, first out) and LIFO (last in, first out) systems, push-back pallet racking systems normally work in line with the LIFO principle, while live pallet racking are operated based on the FIFO method.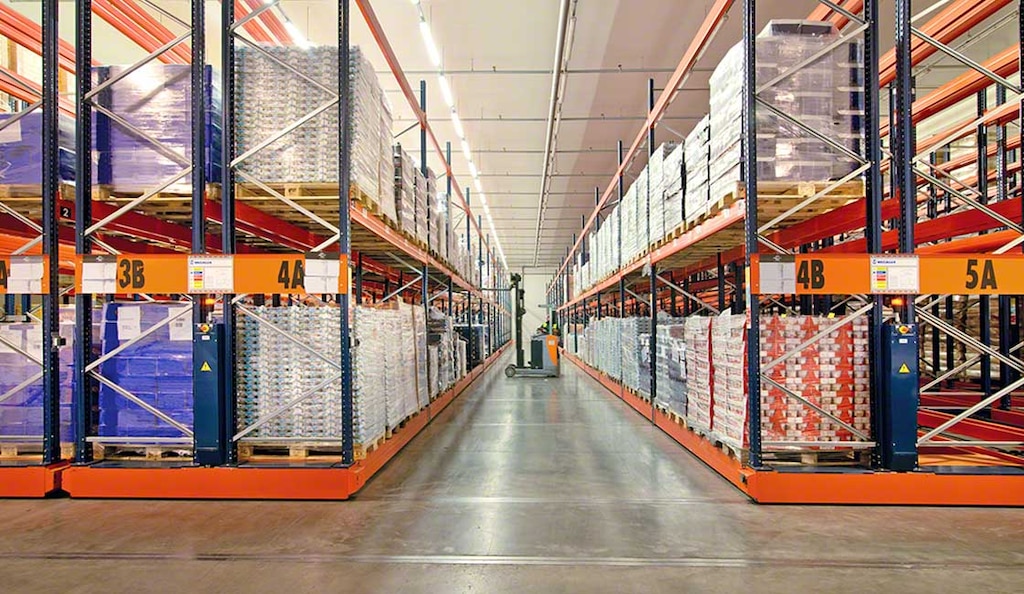 High density and automation
Lastly, we have automated high-density storage systems. Besides making the most of the surface area, they significantly ramp up throughput and the flow of movements, thanks to their fully automated operation.
Automated Pallet Shuttle. This solution employs stacker cranes or transfer cars to transport an automatic shuttle that's placed in the storage channels to retrieve the goods. With this storage system, racks can stand over 131' tall, optimising the available space and boosting capacity. Logistics provider HAVI has increased the storage capacity of its warehouse in Portugal by 75% with the Mecalux Group's automated Pallet Shuttle in contrast to a non-automated racking system.
Live pallet racking with stacker cranes. Solution that works like live pallet racking, the difference being that a stacker crane is responsible for inserting the pallets in the channels, where they move via gravity to the opposite end. Laboratorios Maverick relied on the Mecalux Group to install this solution to manage its finished products ready for dispatch in its logistics facility in Tarragona, Spain.
All automated high-density storage systems require two management systems: (1) a warehouse management system (WMS), which controls stock in real time and assigns each good a location, and (2) a warehouse control system (WCS), charged with sending movement instructions to the stacker crane or transfer car.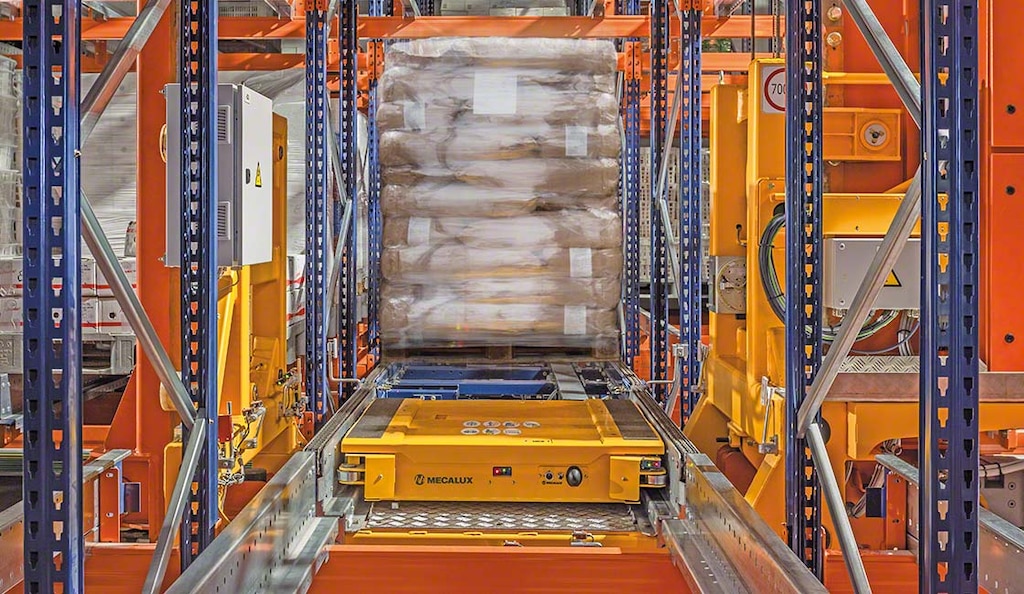 Mobile racking systems: operation and safety
Mobile racking and shelving systems are two of the most widely used high-density storage solutions. The reason is clear: they're the only ones that combine compact storage with direct access to the products.
The operation of these systems is based on installing racks or shelves on mobile bases that move laterally over rails. In the case of Mecalux's Movirack mobile racks, the operator selects the storage aisle they need to access via a remote control or the power panels. The other racks then cascade open automatically, leaving only the working aisle accessible. The Mecalux Group's Movibloc mobile shelving units, meanwhile, can be operated manually, with the help of a crank wheel, or by means of a control switch that automates the movement of the shelving.
Both systems incorporate safety devices that protect both the workers and the goods. Movirack mobile racks are outfitted with exterior and interior barriers that stop the racks from moving if a foreign object is detected; proximity photocells that ensure a smooth, safe stop; and emergency buttons. Movibloc mobile shelving incorporates rail stops to prevent the mobile bases from going beyond the end of the rail, a cross-bracing set to ensure the stability of each mobile rack, a photoelectric barrier capable of locking the entire system, and chain guards that protect the rolling mechanism that moves the shelving units.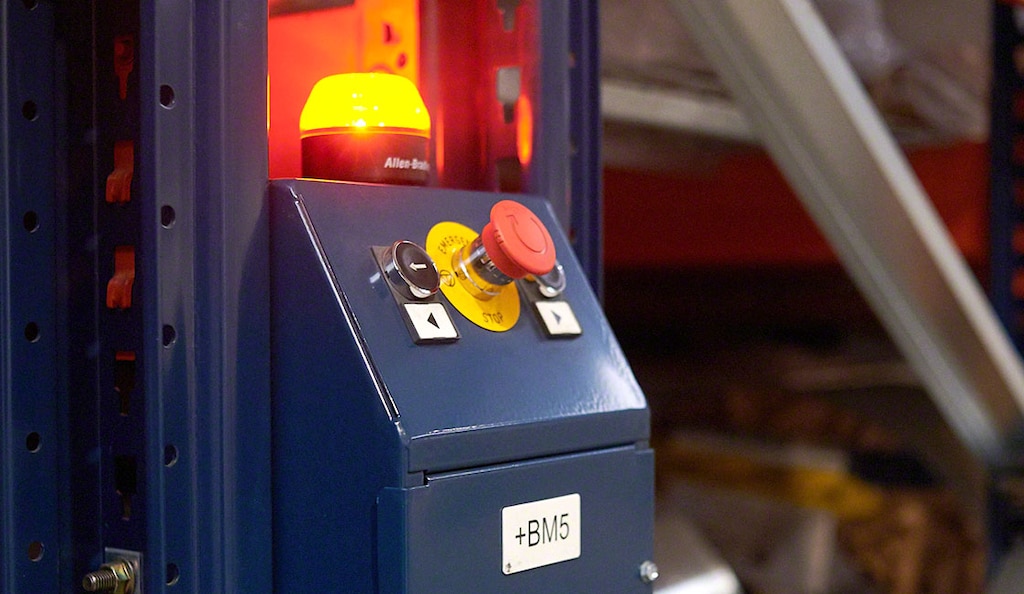 High density and efficient warehousing
High-density storage systems are being installed in more and more warehouses in all sectors, even more so in a context in which companies are trying to get the most out of their logistics floorspace to cut costs and be more efficient. Space optimisation is an enormous benefit nowadays: industrial land is more in demand than ever, and logistics real estate (warehouse rentals and sales) is a key factor to take into account to ensure competitiveness.
At Mecalux, we're experts in installing high-density storage systems that best suit the needs of each customer. Looking for advice from one of our specialists on the different solutions available? Don't hesitate to contact us. We'll help you find the right solution for your warehouse.