30 Sep 2021
Smart logistics refers to the use of new technologies, such as blockchain or big data, to optimise processes taking place in the warehouse. The implementation of new technologies and automated systems in logistics ensures maximum, nonstop operational throughput.
In this post, we delve into the concept of smart logistics, touching on the main technologies employed in warehouses today and, particularly, how to leverage them to digitalise and automate a facility.
What's smart logistics?
Smart logistics is the process of adopting new technologies in all operations carried out inside and outside the warehouse, from the receipt of goods at the loading docks to their distribution and delivery to the end customer as per the agreed upon conditions. In other words, this concept involves the implementation of smart devices to automate logistics operations.
Technologies such as AI (artificial intelligence), big data, and the Industrial Internet of Things (IIoT) have gained a foothold and are set to completely transform warehouses. In fact, a study by consulting company Research and Markets indicates that the Internet of Things (IoT) in the logistics market will grow by 13.2% annually until 2030, going from a turnover of $34.5 billion in 2019 to $100 billion by 2030.
Smart logistics aims to increase process control, optimise warehouse throughput, and minimise operating costs in the facility through the use of interconnected devices and the collection of all the data produced in it. Analysis of these data provides logistics managers with comprehensive information on what is happening in the warehouse before making a decision.
Smart logistics promotes the replacement of manual systems with automated handling equipment or robots in the most repetitive tasks, for example, moving goods, inserting and extracting unit loads, and order processing. These operations are coordinated by a warehouse management system (WMS), a software program that limits the risk of error in the facility and optimises all operations performed in it, from product location management to operator pick paths.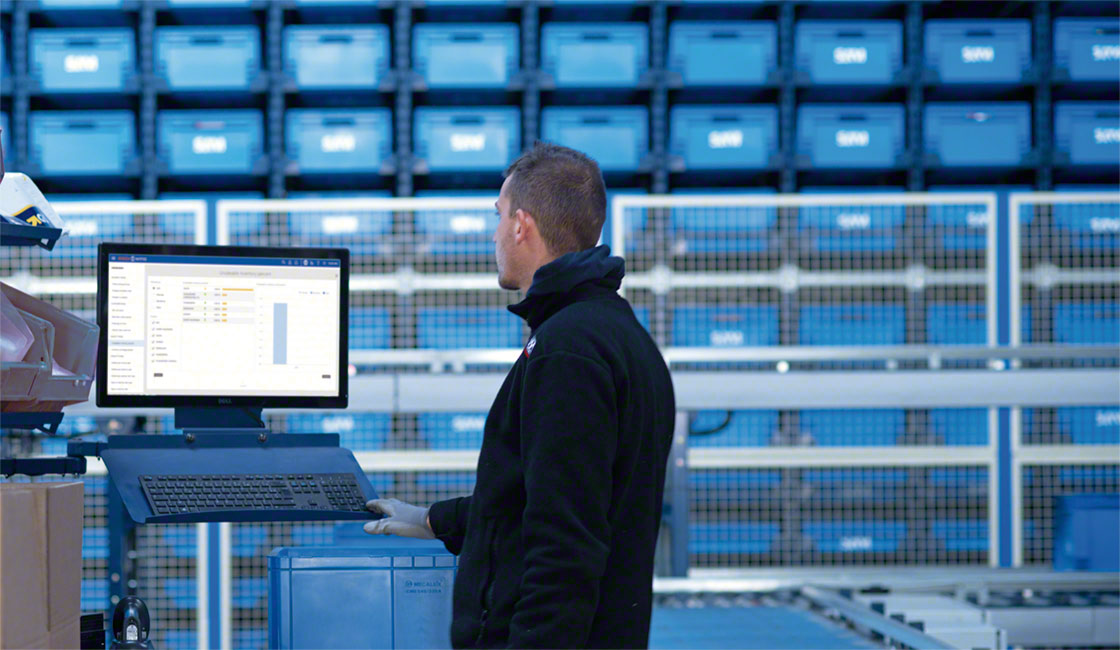 Intelligence and digitisation for warehouse processes
Smart logistics requires a brain to digitise control of the facility. This is generally done by a WMS, which brings AI and reliability to processes taking place in the facility. Among these operations are production line replenishment — syncing of internal orders — and the design of pick paths to streamline operator travel.
Likewise, a warehouse management system such as Easy WMS, the WMS from Mecalux, ensures total stock control by monitoring all product inflows and outflows throughout the day. This software also automates warehouse slotting (location management) based on rules and criteria set in advance by the logistics manager. This aides operators in completing their tasks, making them faster.
Warehouse digitisation ensures that all data generated are collected and transformed into useful information for the logistics manager. A module such as Supply Chain Analytics Software, from Easy WMS, helps managers make sound logistics decisions based on the facility's real throughput. This software collects all the data so that the logistics manager can take all the information produced in the warehouse during goods receipt and slotting operations, among others, and turn it into supply chain KPIs.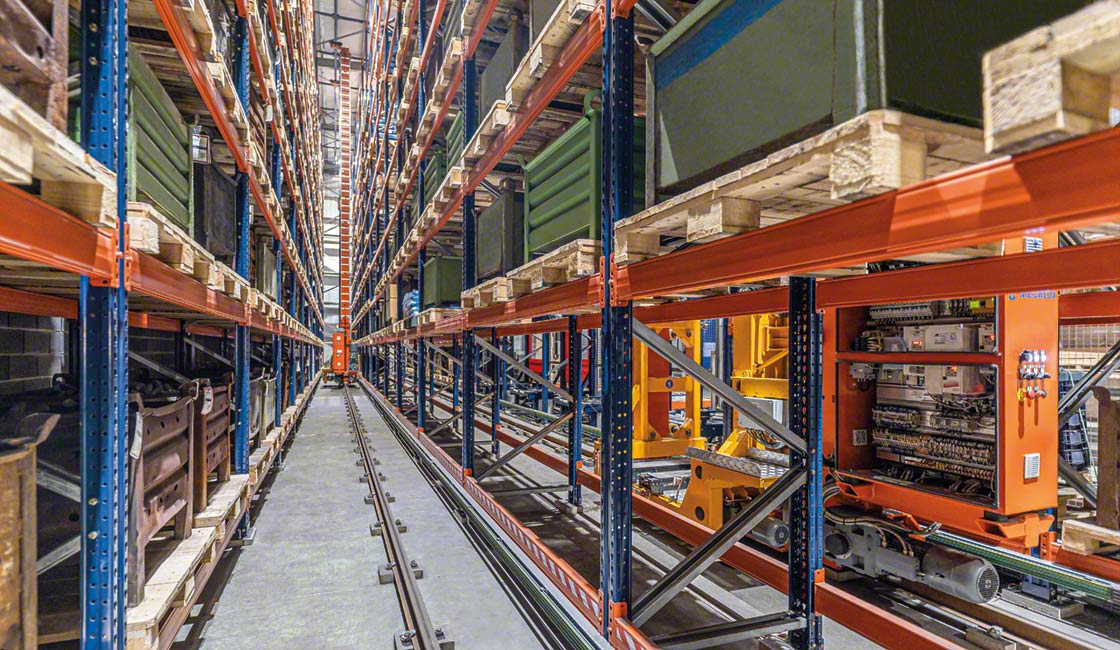 Smart logistics: the role of automation
Process automation is one of the main characteristics of smart logistics. It's the direct result of the implementation of new technologies in the warehouse, such as automated transportation and storage solutions (pallet conveyors, miniload systems, and stacker cranes for pallets). These automated solutions are applied to repetitive tasks to ensure uninterrupted workflows. These systems not only expedite tasks done in logistics facilities, but also maximise the building's storage capacity by storing the goods in a compact way.
Smart logistics has also introduced robotics inside the warehouse: it's increasingly common to find automatic guided vehicles (AGVs), autonomous mobile robots (AMRs), and cobots in processes such as goods movements and order picking.
None of these solutions would be viable if they weren't safe. The consolidation of AI and of IoT has made it possible for products, automated systems, and operators to coexist in the warehouse, ensuring physical integrity for all. As a matter of fact, replacing operators in the most physical and repetitive tasks and reassigning them to activities that add more value fosters worker safety and productivity.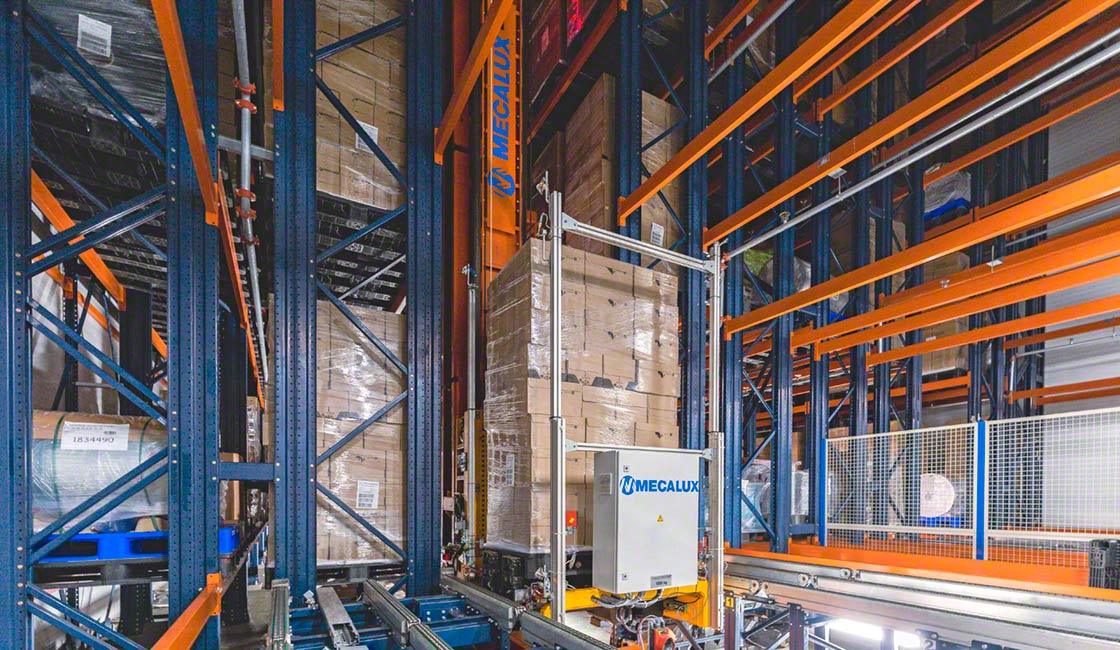 Moving towards smart logistics
Turning a conventional logistics infrastructure into a smart one isn't exactly a walk in the park. Logistics planning is unique for each company and requires specific solutions that, more often than not, combine manual, semi-automated, and automated systems. To optimise logistics operations and implement new technologies in the warehouse, you have to ask yourself: What are the company's needs? Where can productivity be increased? And in which operations can cost overruns be reduced?
The first step is to implement a warehouse management system such as Easy WMS, which has over 80 basic functionalities, scalable through different advanced modules. These are precisely the advantages highlighted by Jean-Noël Rivat, Operations Manager at Groupe LORCA: "We've improved picking dramatically, achieving greater efficiency and agility."
Another effective strategy on the road to smart logistics is to limit the presence of handling equipment, swapping it for automated solutions such as conveyors and stacker cranes for both pallets and boxes. These systems are especially helpful when flows of goods are continuous and repetitive, since warehouse throughput soars. This is the case with Incarlopsa, a market leader in Spain's meat industry. Incarlopsa partnered with the Mecalux Group to open six new logistics facilities. Its warehouses are equipped with stacker cranes for pallets, transfer cars, and the automated Pallet Shuttle, among other systems. The implementation of these automated solutions has boosted productivity in the facilities: "We have uninterrupted, controlled goods movements," says Victorino Carabantes, General Manager of Engineering at Incarlopsa.
Smart logistics: maximum efficiency in warehouse operations
Smart logistics is already a reality in many logistics facilities, thanks to new concepts such as blockchain, AI, and IoT. These technologies promote automation in pursuit of maximum warehouse throughput, doing away with cost overruns and guaranteeing 24/7 operation cycles.
Whether through automated transportation solutions or the implementation of a warehouse management system, smart logistics ensures efficient stock control, improved safety for operators and products, and the elimination of errors in tasks such as order picking and returns management.
Interested in boosting productivity and efficiency in your warehouse? Don't hesitate to contact us. As a one-stop shop for warehousing solutions, Mecalux has a wide-ranging portfolio of solutions tailored to meet your needs. An expert consultant will analyse your situation and offer you the best option.