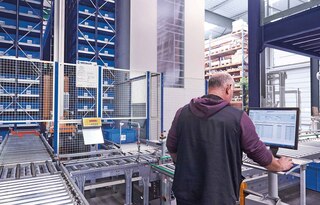 Warehouse management: which KPIs to track
25 Apr 2022
To control your installation optimally, it's vital to have a warehouse management system that records data continuously. This information is translated into key performance indicators (KPIs), which enable you to measure the progress of your intralogistics operations. KPIs serve not only to assess the functioning of your logistics centre from time to time, but also to facilitate its continuous monitoring.
How do you know whether your storage installation is running at the optimal level at all times? The answer lies in these data. However, unless we know how to interpret them and are aware of their impact on the processes, the numbers on the screen will be just that: intricate charts, figures and percentages without any clear meaning.
Tools for tight warehouse control
To carry out effective warehouse management, it's fundamental to review on a regular basis the metrics that measure activity in the installation. This good practice helps you detect problems early and act swiftly, ensuring that the impact of the failure on the supply chain is minimal. To do so, computerised warehouse management is indispensable.
But you also need a system capable of analysing and interpreting copious amounts of data to complement the management functionalities of a WMS. As a basis for this article, we have used the Supply Chain Analytics Software module for Mecalux's Easy WMS.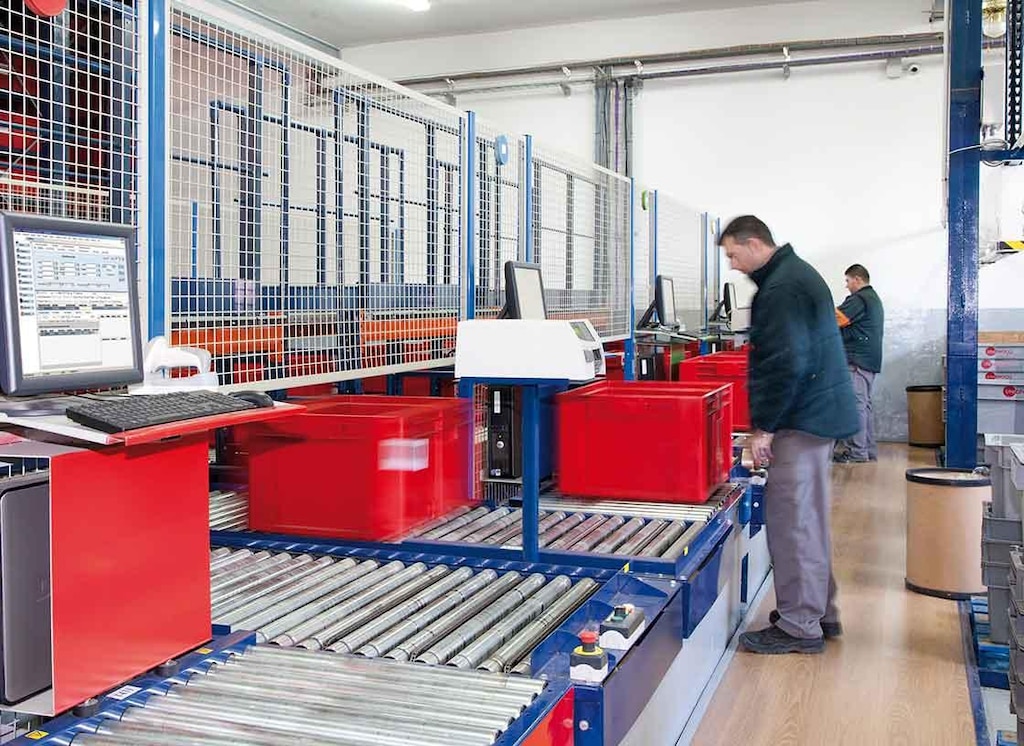 KPIs that facilitate warehouse control
Let's take a close look at the main metrics provided by the Supply Chain Analytics Software module:
Inbound goods management (goods receipts)
| KPI | Description | Impact |
| --- | --- | --- |
| Ratio of dock-to-stock movements | Measures in hours the average time the goods receipt process takes from beginning to end. Reflects the warehouse's operational capacity to convert received goods into registered inventory. | The higher the value, the greater the hours spent and, thus, the worse the throughput. This metric warns you when there's a bottleneck in goods receipts that's delaying inbound goods. |
| Goods receipts and order lines per hour | Illustrates the volume of products received that has been processed each hour. | Detects peaks and valleys in dock activity and facilitates coordination with suppliers. Also shows operator productivity upon receipt of stock. |
| Percentage of undamaged goods received, by supplier and day | Measures the number of goods arriving in perfect condition (all products included must be damage-free). | Together with the following indicator, it enables supplier performance monitoring and reviews of the service level provided. |
| On-time suppliers per day | Indicates the percentage of suppliers that deliver their shipments punctually. | Affects procurement management and the calculation of the reorder point and safety stock. |
Outbound goods management (goods dispatch)
| KPI | Description | Impact |
| --- | --- | --- |
| Line fill rate | Expresses the relationship between picking lines that are managed (individual products) and shipped versus those that are closed or canceled. | Reflects the operational efficiency of the warehouse in successfully completing and dispatching orders. |
| Order fill rate | Shows the connection between incoming orders and outgoing orders (composed of various lines). | Demonstrates the installation's capacity to manage and ship orders. A favorable value would be one close to 100%. |
| Lines entered, dispatched, loaded and closed per hour | This metric divides the order prep process, restricting it solely to tasks for which the warehouse is fully responsible. | Data on the cycle completed in the installation allow you to monitor operator work rates and productivity. |
| Orders dispatched per hour | Measures the number of orders closed each hour. Illustrates the efficiency of operators and of the final verification phase prior to goods dispatch. | The higher the number, the greater the warehouse productivity. |
| Internal order cycle time | Indicates the time it takes to complete an order, from the time it arrives at the installation until it leaves the dispatch dock.Reveals the warehouse's agility in responding to demand. | The less time it takes, the better the warehouse performance. This metric lets you detect picking process delays. |
| On-time orders prepared for dispatch | Displays the percentage of orders completed and waiting to be shipped. An order completed on time is one for which the actual dispatch date is sooner than the planned dispatch date. | Indicates, in the case of a high percentage, that orders are shipped prior to the scheduled date, a sign of optimum efficiency and an excellent service level. |
Inventory management
KPI
Description
Impact
SKUs with stock
Reflects (via percentage) levels of available stock in the warehouse, by SKU.
The more products in stock, the less risk of a stockout. Maintaining updated data facilitates procurement organisation.
Back orders
Shows orders that the installation has received but that are pending preparation due to lack of stock.
Indicates stockouts of certain SKUs.
Unsellable inventory
Refers to stock that can't be sold for various reasons.
Poses problems, as this obsolete inventory is consuming resources, increasing storage costs.
Stock shrinkage
Indicates the difference between stock recorded in the system and actual stock. If your physical stock numbers are below those of your recorded stock, shrinkage, or inventory loss, has occurred.
Helps to guard against undue procurement and detects the risk of not being able to fulfil orders. Shrinkage can result from inventory errors, operational faults, handling mistakes, theft, fraud, damaged products, etc.
Accuracy in picking and order management
| KPI | Description | Impact |
| --- | --- | --- |
| Picking and order prep accuracy | Shows the percentage of error-free orders prepared, that is, orders containing the correct products and completed by the stipulated time. | Helps reach the goal of 100% accuracy, as picking errors are extremely costly. |
| Complete dispatched orders | Constitutes the percentage of orders shipped in full. Assesses operator productivity. | Indicates, in the case of a drop in this figure, problems in communication with operators, in order processing, or human errors. The goal is to achieve 100%. |
| Rate of orders dispatched versus received | Measures the number of orders shipped against that received. | Demonstrates the service level, the objective being to obtain the highest possible rate (thus, reflecting excellent service). Also helps to prevent stockouts. |
Warehouse location and capacity management
| KPI | Description | Impact |
| --- | --- | --- |
| Warehouse volume occupied, by location type | Shows the occupancy percentage of a single type of location (for example, a certain kind of racking or a specific area, such as a buffer).This indicator detects whether there are location types that are either underused or nearly overloaded. | Can indicate the need to redesign your layout or change storage systems to adjust location availability by item type. Also reveals whether an installation is operating below its effective capacity. |
| Warehouse used, by item type | Shows, in the form of a pie chart, the distribution of locations occupied by a single type of product. | Enables analysis of inventory characteristics and trends based on various time criteria (quarterly, weekly, between specific dates, etc.). |
| Days on hand | Refers to the time a SKU remains in stock in the installation. Broken down by item type or specific product. | Allows you to adjust stock replenishment and view SKU turnover. |
Warehouse management with Mecalux's Easy WMS
The Supply Chain Analytics Software module is updated every day via the Easy WMS database and includes a powerful tool for designing reports and customising statistics.It provides comprehensive warehouse control thanks to the enormous amount of information it makes available to users and the clear way in which it's presented.
If you'd like to see how this module works in conjunction with Easy WMS, don't hesitate to contact us. One of our software specialists will provide you with a demo of its full potential when it comes to controlling storage processes.