24 Aug 2021
Automated storage comprises racking structures in which goods are stored in their locations and retrieved from them with the help of automated handling equipment such as stacker cranes (AS/RS for pallets) or miniload systems (AS/RS for boxes).
In this post, we illustrate why automated storage and retrieval systems (AS/RS) are so useful for increasing operational efficiency and optimising available surface area.
What's automated storage? What are its benefits?
Automated storage is the evolution of conventional racks. It enables the mechanised loading and unloading of goods in storage channels, replacing operator-driven forklifts with fully autonomous handling equipment.
So, where is automated storage normally implemented? Generally, in warehouses with high goods flows (for example, facilities that constantly supply the production lines).
Automated storage offers companies several advantages:
Better leveraging of available space. It optimises the warehouse surface area to accommodate more products. The stacker cranes can lift the goods as high as 45 m in aisles just 1,5 m wide.
Agile operations. The stacker cranes insert and remove products with the least possible movements and travel, ensuring excellent productivity.
High availability. Any kind of automated handling equipment can operate 24-7-365.
Goods control. The stored units are monitored in real time, with the warehouse management system (WMS) providing full product traceability.
Error reduction. Errors stemming from manual management are eliminated. The handling equipment inserts and removes the goods with the utmost accuracy.
Automated storage has become more popular in recent years due to the upswing in e-commerce automation, the arrival of Logistics 4.0, and as a solution to tackle the complications brought on by the coronavirus pandemic.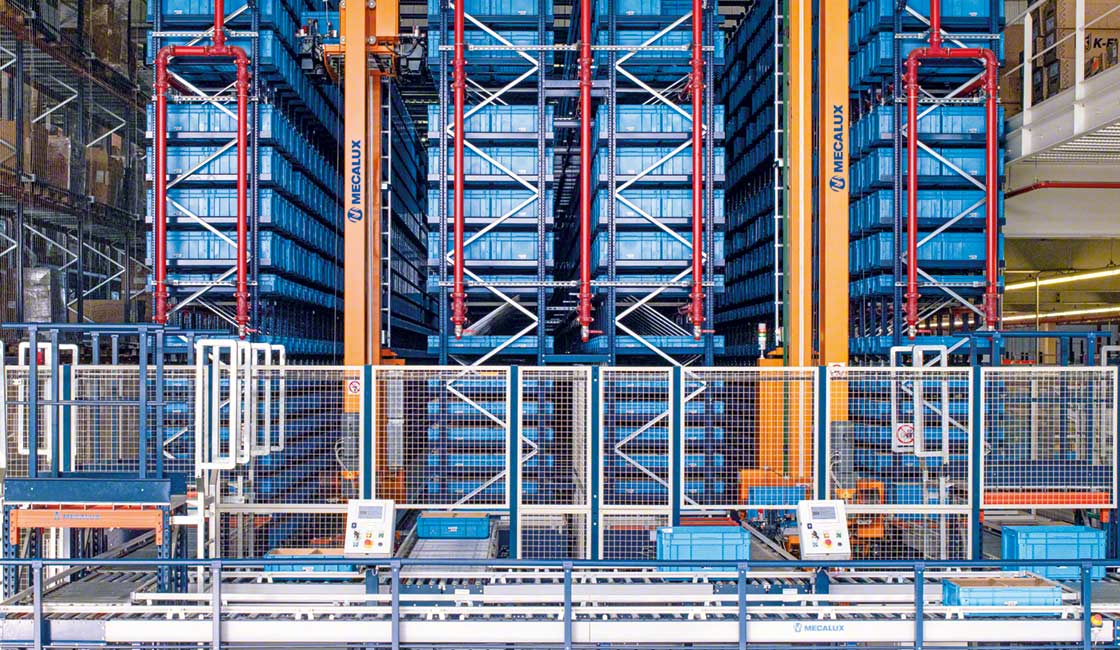 Handling equipment for automated storage
As mentioned above, automated storage incorporates some type of handling equipment responsible for storing and retrieving the goods.
Trilateral stacker cranes, for instance, are used to automate conventional warehouses up to 15 m tall with trilateral turret trucks driven by operators. These machines are charged with handling the pallets in a completely autonomous way by means of a rotating extraction system that picks and deposits the goods in three positions: from the front and the two sides.
The implementation of stacker cranes (AS/RS for pallets) is another automation alternative. Just like trilateral stacker cranes, these machines move vertically and horizontally in the storage aisles, depositing and retrieving palletised loads on the racks automatically. They do this, however, at a much greater height, reaching up to 45 m.
A third automation option is the automated Pallet Shuttle, a storage system comprising a motorised shuttle that moves inside the storage channels, inserting and removing pallets from their locations automatically. Meanwhile, a stacker crane or transfer car automates the movement of the shuttle between the AS/RS entry and exit points and the various storage channels.
Lastly, when storing boxes as opposed to pallets, it's also possible to configure automated storage racks in the form of an AS/RS for boxes. Stacker cranes used with this system are operated in the same way as other types of stacker cranes: they insert and remove products from their slots completely automatically.
Automated storage for pallets
Pallets are the most common unit load used to move and store raw materials and finished products in the large majority of industries. The following types of pallet racks are often automated:
Single-deep racks
These racks offer direct access to the products and can be automated by means of a stacker crane.
For example, cosmetics company Natura Bissé started up an AS/RS for pallets in Barcelona, Spain, consisting of two aisles with single-deep racking on each side. This project has streamlined the company's operations and eliminated errors caused by manual management of the goods.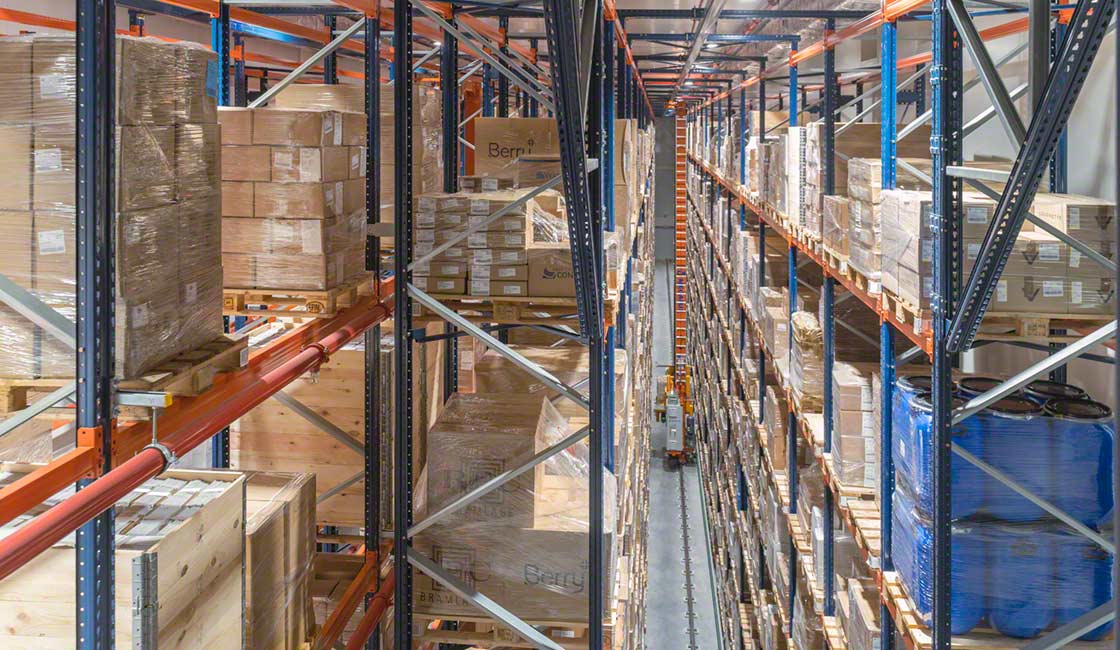 Double-deep racks
These types of racks can be automated by means of a stacker crane with telescopic forks that can reach the pallets in the second position in the racks.
This system was employed in the Intersurgical facility in Lithuania. This medical supplies company boasts a 30 m tall automated warehouse with eight 121 m long aisles and double-deep racks providing storage for 50,400 pallets. The business chose this solution to make better use of its space, increase its storage capacity, and be able to operate all the time, all year round.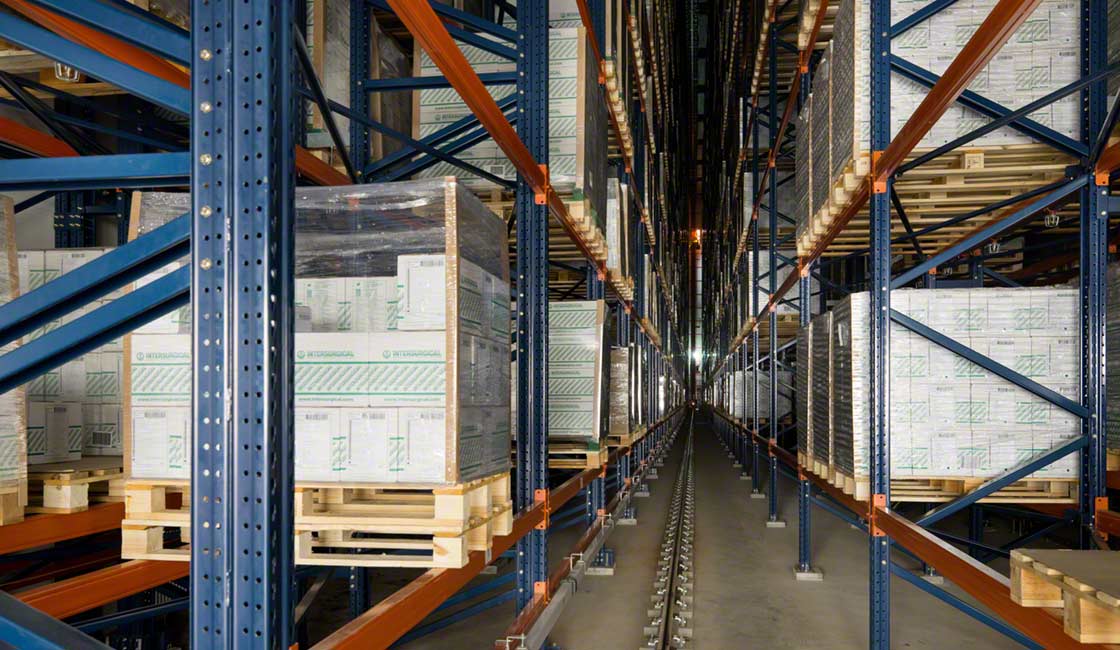 Live pallet racking
In this storage system, the racks are made up of a set of slightly sloped channels in which the pallets are moved by the force of gravity from the highest end (entry point) to the lowest (exit point). These racks can be automated via a stacker crane that inserts and removes the pallets from their slots.
Companies that manage consumer products or goods with a high turnover tend to rely on live pallet racking with a stacker crane to improve agility when storing and retrieving their merchandise. Among them is Spanish chemical cleaning products manufacturer Pons Químicas. It has a unit of live pallet racking and a stacker crane that deposits the finished goods in the corresponding location as they leave production.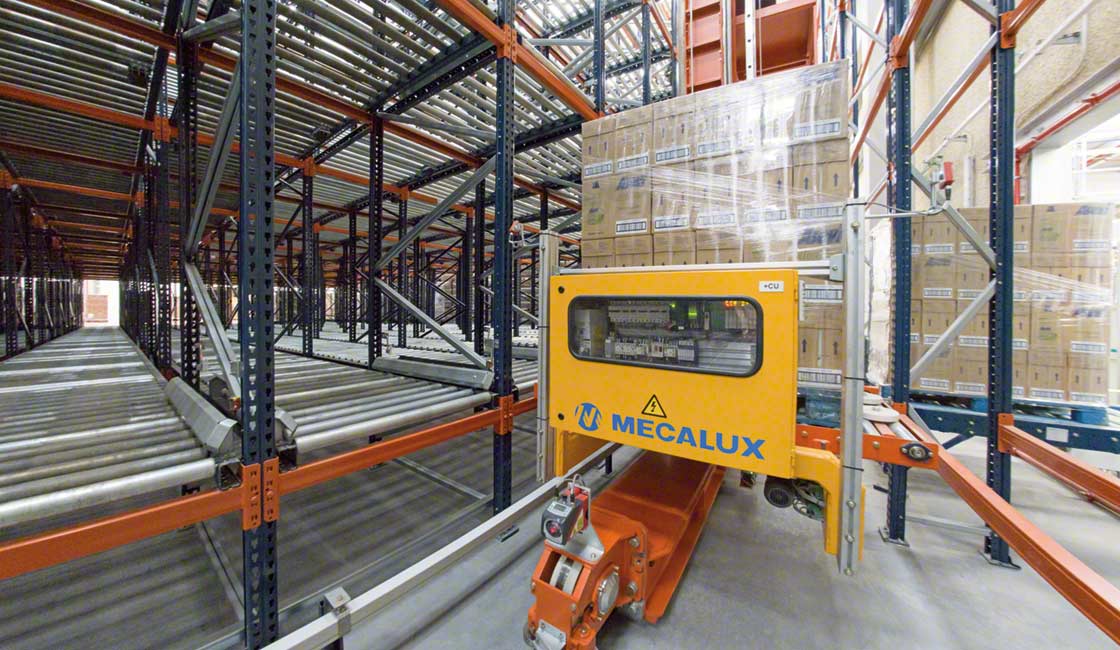 Racks with the Pallet Shuttle
These compact racks can be automated with the semi-automated Pallet Shuttle: a motorised shuttle that enters the storage channels inserting and removing pallets from their locations. Typically, the operator positions the shuttle and the pallets in their corresponding locations aided by a forklift. However, these movements can be completely automated using stacker cranes and transfer cars.
The automated Pallet Shuttle is a solution commonly for businesses that store a large number of pallets per SKU and that handle high-turnover products (with continuous inflows and outflows).
This is the case of Portuguese pulse producer Cistér, which chose the automated Pallet Shuttle with transfer cars to optimise its supply chain. Thanks to the implementation of this equipment — which deposits the finished products as they leave the production lines (about 600 pallets a day) — all goods movements are automated. This, of course, eliminates errors and prevents accidental damage to products.
Automated storage for boxes
Just like pallet racks, racks for boxes can be single- or double-deep.
Single-deep racks are the best choice when prioritising agility over capacity, since the stacker crane for the miniload is faster when storing boxes in these types of racks. This is the option chosen by leading drugstore and perfume wholesaler Unidroco, which is equipped with an AS/RS for boxes with seven aisles with single-deep racks on each side.
Double-deep racks, on the other hand, are ideal for businesses looking for a balance between storage capacity and speed when handling boxes. Fastener manufacturer Paolo Astori, for example, installed these type of racks since it manages many SKUs (20,000 of different sizes, turnover and characteristics).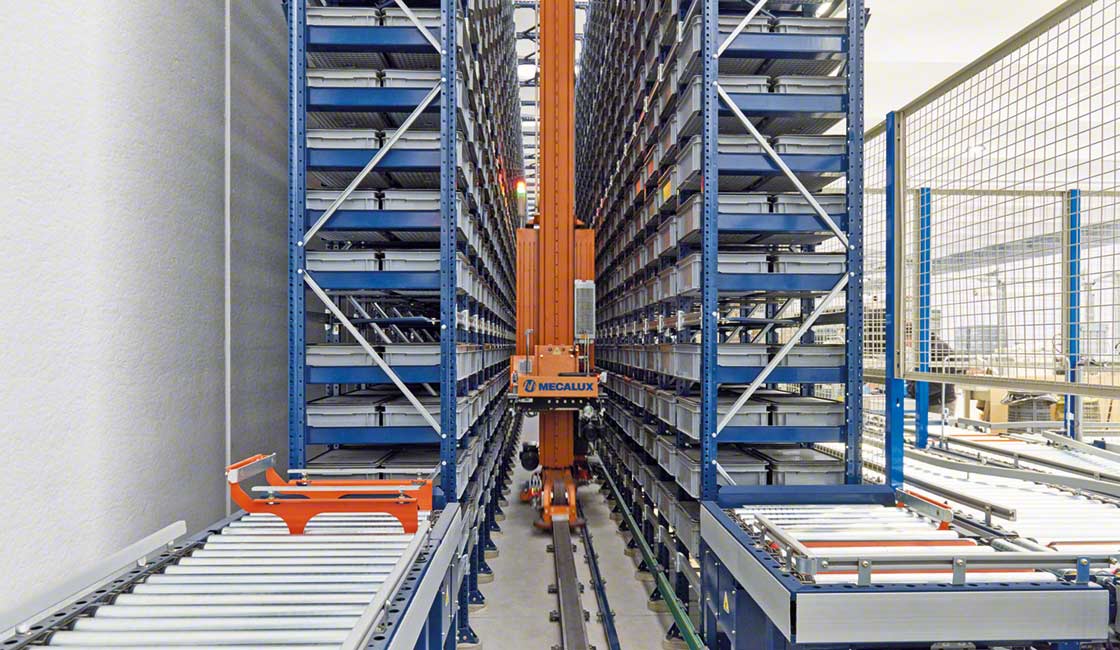 Automated storage for a tech-filled future
Without a doubt, the future will be more and more tech-driven. And logistics automation has become an established trend among companies seeking to stand out from their competitors, improve the quality of their service, and cut costs. Against this backdrop, the implementation of automated storage is a key step on the road towards maximising the efficiency of logistics processes. It provides solutions that ensure speed, accuracy, and safety.
At Mecalux, we have extensive experience in designing personalised automated storage solutions for any need you can imagine. Get in touch. One of our experts will be happy to show you how make the most of your logistics operations through technology.