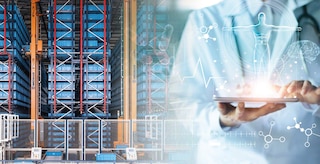 Automation and coronavirus: speeding up logistics
19 Jul 2021
Warehouse automation has taken a major step forward in the face of COVID-19. The coronavirus pandemic brought all industrial activity to a halt. As this began to start up again, companies found themselves facing an extremely different scenario: social distancing, restricted mobility, increased demand for the basic essentials, e-commerce logistics, and so on.
Against this backdrop, the companies were forced to seek solutions that would help them to boost the productivity of their facilities, shorten times, and optimise resources. Logistics 4.0 and the digital transformation of logistics are the way forward to strengthening growth and overcoming challenges.
Even before the pandemic, automation constituted a basic tool used by businesses that wanted to raise their competitiveness. In this post, we examine how the incorporation of technology in logistics has helped companies to adapt to market changes and serve customers without delay.
Coronavirus prevention measures in the workplace
The evolution of the health crisis compelled businesses to adapt their activity through prevention recommendations and measures to avoid infection. These have been implemented on an organisational level for both collective and individual protection for vulnerable employees.
These measures can be regulated and modified based on the development of the infections, which is why it's a good idea to consult the webpage of the relevant authorities in the country or countries where your business operates. Likewise, it's advisable to review the guidance of the United States Department of Labor and, for example, the European Agency for Safety and Health at Work.
The priority of any company has been to reinforce personal hygiene by promoting hand washing (with hand sanitiser, soap and water, etc.), the use of masks, and social distancing between workers. The organisation and movement of people and distribution of space in work centres, hence, have been modified as far as possible, in order to guarantee safe distances.
Without a doubt, information and training have been fundamental. On the one hand, employees have been made aware of the importance to report — as soon as possible — whether they are experiencing coronavirus symptoms or have been in close contact with a person exhibiting them. On the other hand, posters and signage that foster hygiene and prevention have been displayed (for example, instructing staff to cough and sneeze inside their masks and to avoid touching their eyes, nose, and mouth).
In addition to all of this, it's been imperative to maintain proper ventilation of working and inside spaces and to reinforce cleaning and disinfection policies, emphasising surfaces with frequent contact (such as door handles, railings, and buttons on devices and elevators). Likewise, individual responsibility has been encouraged when it comes to the cleaning of shared work equipment.
Automation and coronavirus
According to Time Magazine, more companies have turned to automation as they've struggle to avoid workplace infections of COVID-19 and to keep operating costs low.
For starters, faced with ever-tighter profit margins, companies have relied on automation as a way to eliminate costs. Although this entails a higher initial investment compared to traditional systems, automated storage and retrieval systems (AS/RS) offset that expenditure thanks to reduced operating and personnel costs.
So, in an era in which the presence of staff in companies has been minimised, robotised warehouses have guaranteed uninterrupted service. Automated handling equipment, such as stacker cranes and conveyors, continue to operate even without workers and can handle goods efficiently and safely.
The lockdown and restrictive measures in establishments triggered an increase in e-commerce. Retail, food, and pharmaceutical companies saw their online orders skyrocket. As a result, many firms chose to automate their e-commerce operations; this has let them take on a larger number of orders while keeping their error rates down.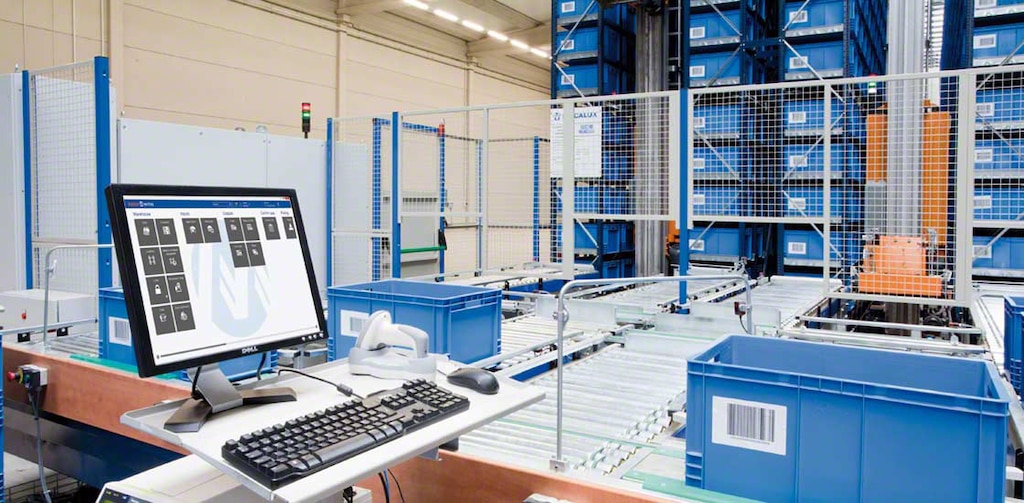 Which operations can you automate?
Warehouse automation not only minimises the physical presence of operators but also improves safety. Let's take a look at which processes could be automated in a logistics centre:
Goods receipt and dispatch
One of the most effective solutions are automatic truck loading and unloading systems, charged with streamlining goods receipt and dispatch.

These comprise transportation systems made up of rollers and/or chains that insert and remove pallets from the trucks in an automated way.
Product flows
Goods movements require a lot of travel around the facility. As many companies have reduced the number of personnel present per shift during the pandemic, pallet conveyor systems and conveyors for boxes have come in handy. These substitute traditional handling equipment and operators, who can be assigned to other tasks. Consequently, there's less manual load handling and more safety in the installation.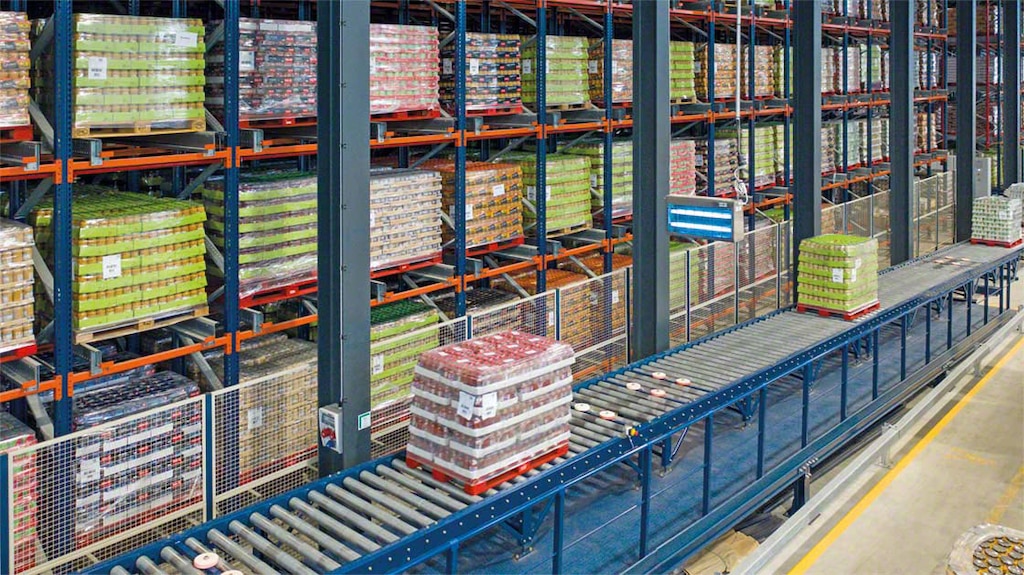 Order preparation
Order processing requires the presence and continuous movement of employees in the facility, locating the SKUs they need.
To cut down on that travel and prevent various operators from running into each other in the same aisle, orders can be prepared according to the product-to-person method. Workers remain at their pick station, waiting to receive the goods.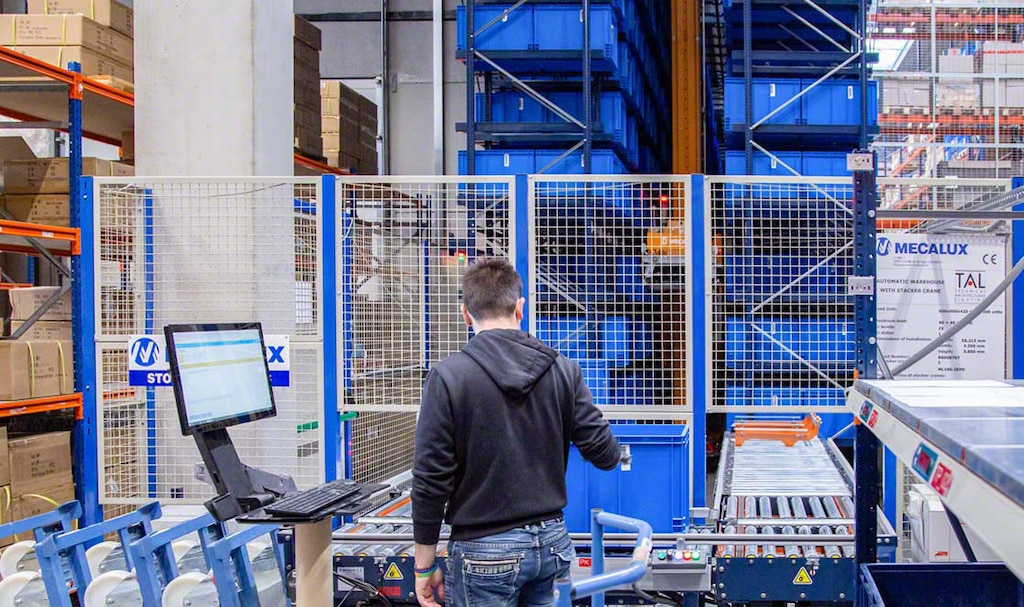 Management
The coronavirus pandemic has highlighted the need to prioritise product traceability and monitor warehouse operations.
Equipping a facility with a warehouse management system such as Easy WMS from Mecalux helps companies to obtain visibility of the status of their supply chains in real time. This software monitors the goods until they're sent to the customers.
Moreover, with a WMS, operations can easily be adapted to health measures. For example, order preparation and dispatch are organised in advance, thus avoiding overcrowding (of both operators in the warehouse and carriers).
Examples of automation in a coronavirus context
Numerous businesses have benefited from the advantages of automation in coping with market changes. They all realised that automation would enable them to grow in the future and overcome adversities, including those brought on by the coronavirus.
Let's examine three case studies of firms that have modernised their logistics systems by means of our company's automated storage and management systems:
Espace des Marques. This French fashion retailer reorganised its two warehouses in the throes of the pandemic. When it was about to implement Easy WMS in its second facility, the coronavirus crisis struck. Espace de Marques agreed to continue with the process remotely — 435 miles apart — to comply with the government's restriction measures and protect the workers.
Intersurgical. Headquartered in the UK, this distributor of medical devices for respiratory support has built an automated clad-rack wharehouse in Lithuania to remain competitive. Martynas Tamosiunas, Group Supply Chain Manager at Intersurgical, notes, "Demand for our products has increased dramatically during the COVID-19 pandemic." Thanks to automation, the company was able to absorb a 50% increase in warehouse inflows and outflows.
Miguélez. This Spanish manufacturer of low-voltage electric cables has a logistics centre equipped with an stacker crane for pallets and a stacker crane for boxes to manage the more than 1,500 SKUs that make up its catalogue. Automation helps the company to supply cable to any geographical point on the Iberian Peninsula in less than two hours. This is also true for exceptional situations, as occurred in Spain with the installation of temporary hospitals to deal with COVID-19.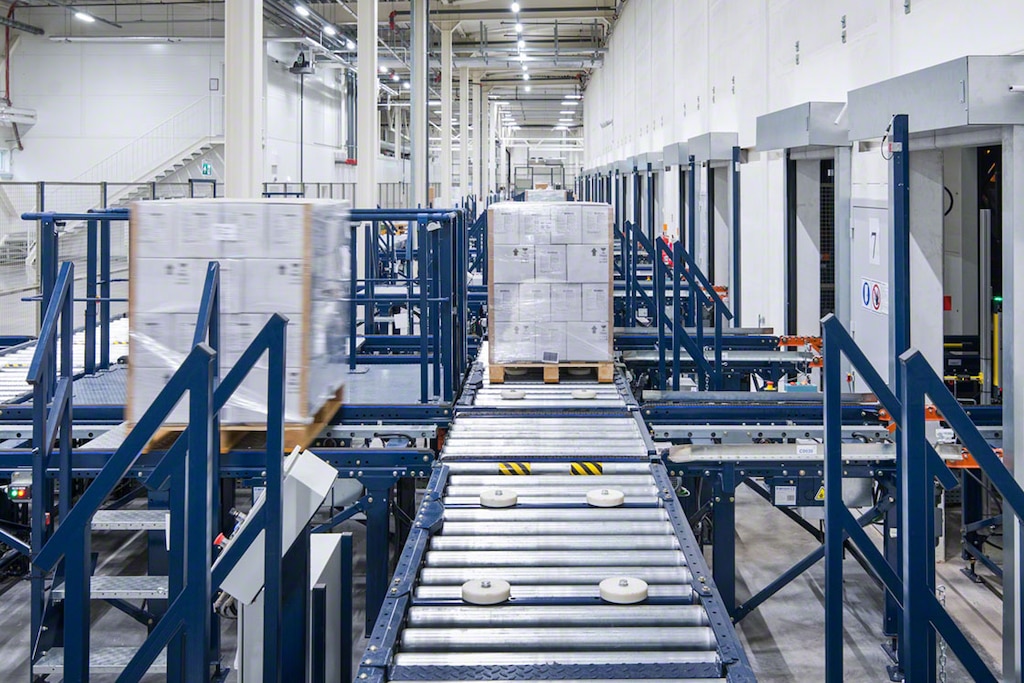 Speeding towards a technological future
Coronavirus containment measures, the temporary cessation of non-essential activities, and market changes have forced many companies to reassess their business strategies. Automation is the answer to these difficulties — in fact, it's gained momentum since the arrival of the pandemic.
Before implementing a project to automate your supply chain, you'll need the advice of a firm with expertise in deploying these types of storage systems, such as Mecalux. We have many years of experience outfitting the logistics facilities of all kinds of companies with automated and conventional solutions tailored to the requirements of each case.
Be sure to get in touch. We'll analyse the operations in your facility to find the best way to raise your supply chain productivity.