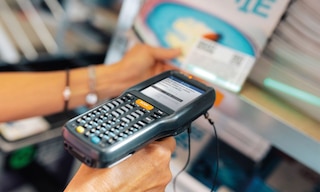 Ecommerce fulfilment: challenges and solutions
10 Dec 2021
Ecommerce order fulfilment represents a logistics challenge for businesses with online sales channels. Consumer trends such as omnichannel and the rise of quick commerce (q-commerce) have prompted logistics managers to digitise processes to ensure maximum efficiency and productivity.
The consolidation of ecommerce has greatly increased the complexity of logistics service due to the different channels in which the company and users interact, i.e., omnichannel strategies. Additionally, this consumer trend has pushed up delivery costs (last-mile delivery) as well as costs deriving from free product returns. Ecommerce logistics demands perfect coordination between the sales department and the warehouse, syncing the product catalog at the various online points of sale with the physical stock in the facility. Any imbalance in this stage could cause a stockout and possibly jeopardise the company's reputation.
What is ecommerce order fulfilment?
Ecommerce fulfilment is the logistics phase that encompasses all actions carried out in a warehouse from the time an online order is received until it's taken to the dispatch area. This stage includes processes such as stock control, the picking of the products that make up each order, and order packaging, among others.
Order preparation is the costliest operation for any ecommerce warehouse. Speed is the priority for these types of facilities, the goal being to ship all orders in the shortest possible time.
Stock management is one of the most complex and most important operations in the preparation of online orders. In recent years, boxes have overtaken pallets as the most common unit load in logistics facilities, particularly in ecommerce warehouses. And this has forced businesses to equip themselves with specific storage systems for each unit load. On top of this, we have multi-SKU orders, making picking more complex.
To dispatch such a large number of diverse orders quickly, the goods and procurement tasks have to be organised to a T. Knowing the status of the goods in detail allows suppliers to send products on time and avoid delays and interruptions in order picking. It's also essential to ensure that work is distributed effectively among your operators so that each of them can concentrate on completing as many orders as possible.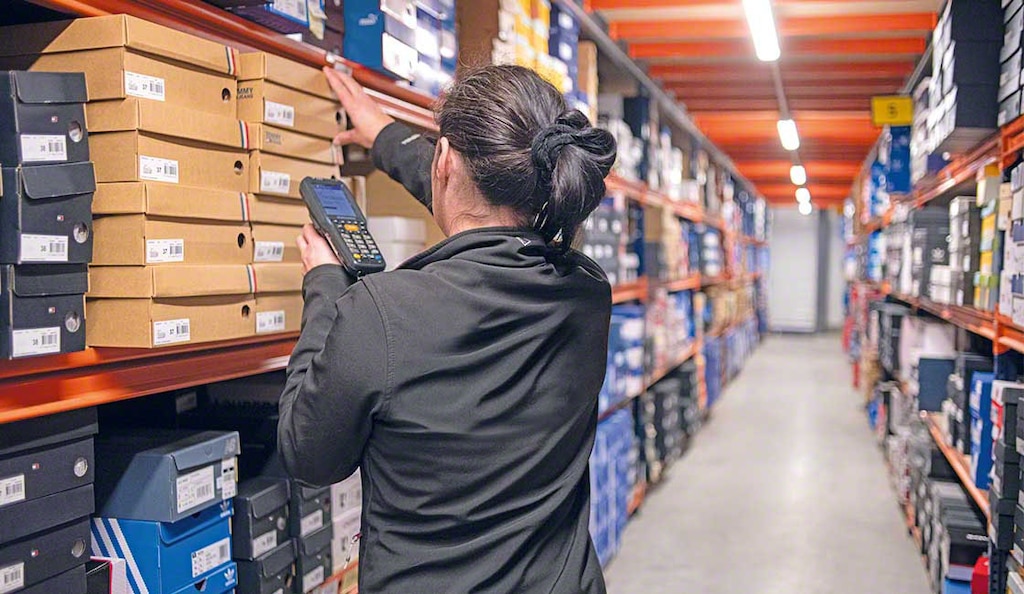 Ecommerce fulfilment challenges
As ecommerce has transformed logistics centres, the layout of a facility geared towards online sales tends to be different from a conventional one. The intrinsic characteristics of ecommerce logistics are forcing traditional warehouses to adapt their design to be more efficient in these new operations. These are the main challenges facing ecommerce fulfilment:
Cut logistics times
Ecommerce requires companies to streamline their warehouse processes to meet same-day delivery standards ― although there are logistics services with even shorter delivery windows. Order picking must be carried out fast, so operator travel needs to be optimised to boost productivity. Warehouse management software plays a key role here: it lets you define a specific picking strategy beforehand based on the characteristics of the product and the facility. This program also distributes goods in locations according to the rules and criteria set in advance by the logistics manager.
Reduce picking errors
To guarantee efficient ecommerce order fulfilment, minimising mistakes is a must. Product returns have become a real headache for online retailers: consulting firm Deloitte indicates that, in the last decade, the ecommerce boom has caused the order return rate to jump by 33%. The firm also anticipates that, by 2022, products worth $573 billion will be returned annually, i.e., four times total ecommerce sales for 2008.
A warehouse management system (WMS) such as Easy WMS from Mecalux eliminates up to 99% of errors stemming from manual goods handling. This WMS guides operators throughout the order prep process and devises the most effective picking strategy in line with the design of the facility and characteristics of the products.
Keep stock up-to-date and in sync
The implementation of sales channels and increasing variety of SKUs in warehouses makes logistics operations such as picking even more complex. To control stock in real time, it's crucial to swap manual inventory processes for warehouse management software that coordinates everything happening in the facility from top to bottom.
The implementation of a WMS can be supplemented with RF scanners or any other picking assistance device that prevents merchandise losses and improves operator productivity in order picking.
Avoid SKU proliferation
Ecommerce fulfilment calls for logistics planning that analyses the turnover of each SKU and the seasonality of the products. This curbs SKU proliferation, that is, the incorporation of more SKUs without previously studying their demand. This complicates warehouse management and can lead to an increase in ecommerce fulfilment errors.
Optimise packing and kitting
Besides dealing with complex operations, ecommerce warehouses have to adjust their packing and dispatch processes depending on the time of year. For example, order boxes and labels are often personalised for certain dates, such as Black Friday, Valentine's Day, and Cyber Monday. Ecommerce warehouses have adapted to this trend, reserving specific areas for workstations to personalise products or orders as per end-customer requests.
Manage the last-mile efficiently
In addition to everything mentioned above are the costs arising from last-mile delivery. This logistics stage requires the utmost organisation to avoid cost overruns that could hinder the company's competitiveness. Therefore, it's vital to have tools that streamline communication between the warehouse and the different transportation agencies. This is precisely the function performed by Multi Carrier Shipping Software, the advanced Easy WMS module that ensures comprehensive control over the goods dispatch process.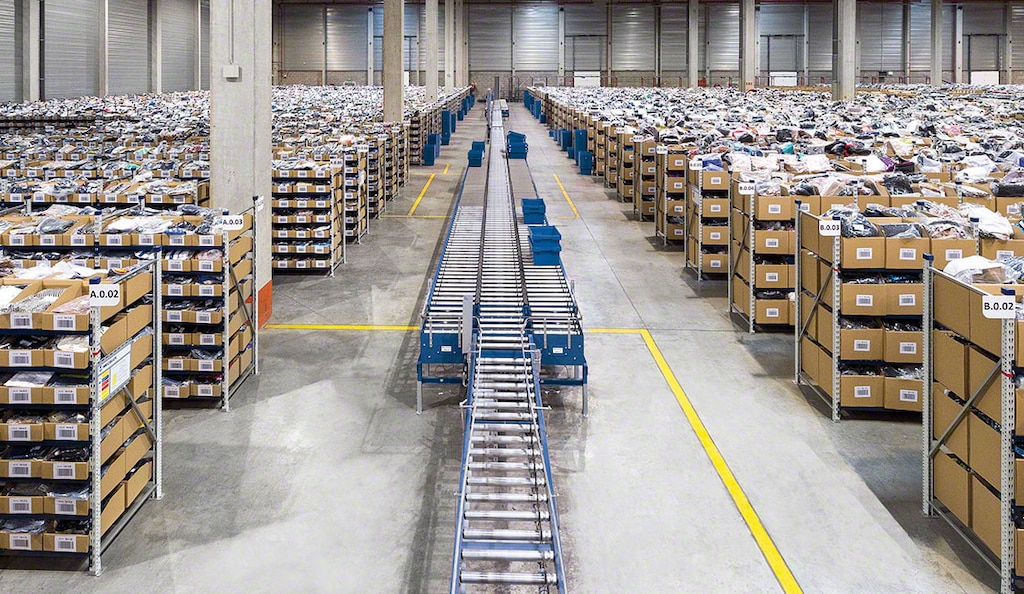 Storage solutions for ecommerce fulfilment
To maximise the throughput of ecommerce order fulfilment operations, businesses need to optimise their resources. And they're doing this by employing logistics planning strategies. These can range from the implementation of new types of logistics centres for preparing and dispatching orders (micro-fulfilment centres and dark stores) to the adoption of picking strategies (e.g., batch picking or pick-to-box) to minimise costs and make the most of operator movements.
There are a number of warehousing solutions on the market to raise efficiency in ecommerce order fulfilment. These are the most popular ones:
Manual storage solutions
Companies choose solutions adapted to the most common ecommerce unit loads, i.e., boxes or trays. This is the case of French ecommerce retailer Deguisetoi.fr, which invested in live storage for picking from the Mecalux Group to speed up picking and augmenting its useful storage area by 30%. Ecommerce warehouses also turn to solutions such as mezzanine floor racking systems, which greatly increase the useful floorspace to expand storage capacity.
Conveyor systems for boxes
Another typical solution is to replace manual handling equipment with box conveyors systems to accelerate the flow of goods in the warehouse. This ensures that stock is continuously supplied to the order preparation area. Ecommerce fashion retailer Espace des Marques equipped its logistics facility in France with a conveyor for boxes and lift installed by the Mecalux Group. Development Manager Vincent Beaufreton says, "They connect the various building levels and speed up goods transfers."
Picking assistance devices
Order preparation can also be optimised by means of picking aids such as pick-to-light and voice picking systems, which boost productivity and reduce the margin of error in this process. Aghasa Turis, an ecommerce retailer specialising in hardware, outfitted its warehouse in Spain with pick- and put-to-light devices to simplify and streamline the work of its operators. "Thanks to the help of the pick- and put-to-light systems, we've increased our picking speed by 15%," says General Manager Darío Alonso.
Specialised software
The digitisation of logistics processes prevents mistakes arising from manual management in a facility. A WMS such as Easy WMS from Mecalux features multiple advanced modules with functionalities that facilitate ecommerce. For instance, Marketplaces & Ecommerce Platforms Integration syncs the company's online catalogue with the physical stock in the logistics facility to eliminate errors. WMS for Ecommerce, on the other hand, adapts warehouse operations to online commerce. And Supply Chain Analytics enables logistics managers to monitor supply chain KPIs to assess the actual performance of the logistics facility. Ecommerce action figure retailer Global Freaks armed itself with three Easy WMS modules (Marketplaces & Ecommerce Platforms Integration, WMS for Ecommerce, and Multi Carrier Shipping Software) to enhance its growth prospects. As a result, the company has tripled the number of orders it can prepare in its facility.
Automated picking
The order preparation process can be automated by outfitting the ecommerce warehouse with automated solutions such as miniload systems (stacker crane for boxes), which expedite the storage and removal of products. This system can be complemented with box conveyors to speed up the flow of goods to the pick stations. Tool manufacturer SAM Outillage has installed an AS/RS (automated storage and retrieval system) for boxes in its logistics centre in France. Automation has increased the company's operational throughput, increasing productivity by 25%. Logistics Manager Candice Aubert says: "Before renovating our centre, operators would walk around the warehouse for six or seven miles a day to locate the SKUs they needed. With the automated warehouse for boxes, goods are moved to the pick stations automatically."
Ecommerce fulfilment calls for efficiency
Companies with ecommerce sales have to align their logistics operations with consumer trends already established in the market and to the standard characteristics of ecommerce. The answer to being competitive in ecommerce is to equip your warehouse with storage systems — both manual and automated — that considerably boost efficiency in order fulfilment and, above all, minimise mistakes in picking.
It also helps to implement a warehouse management system such as Easy WMS, capable of decreasing errors in manual order picking by up to 99%.
Interested in reaping the benefits of ecommerce and, thus, maximising your warehouse's throughput? Don't hesitate to contact us. One of our expert consultants will advise you on the best solution for your business.