13 Jul 2021
E-commerce logistics (or e-logistics) refers to the ever-closer combination of logistics, e-commerce, and the use of the latest technologies in the supply chain.
E-commerce has normalised ultra-fast same-day deliveries, minimum-cost shipments, and free returns. Against this backdrop, companies need to optimise their order processing and goods dispatch operations to ensure their profitability. An example of this is bringing warehouses and distribution centres closer to big cities — micro-fulfilment centres being one of the latest trends — to streamline last mile delivery. As a share of the total cost of shipping, last mile delivery costs comprise 53% overall, according to Business Insider.
Online businesses find themselves up against the predicament of reducing costs and, at the same time, improving their operations. So, how can they overcome this challenge? In this post, we analyse how e-commerce logistics aims to resolve this problem through digitisation and process automation.
Logistics and e-commerce
The consolidation of e-commerce logistics has changed not only operations, but also the types of stock with which companies work. Nowadays, facilities with a lot of SKUs (a phenomenon known as SKU proliferation) are the norm, with pallets being gradually replaced with boxes as the predominant unit load. Why is this? Orders are increasingly smaller and more varied, which complicates the storage, preparation, and dispatch of these products.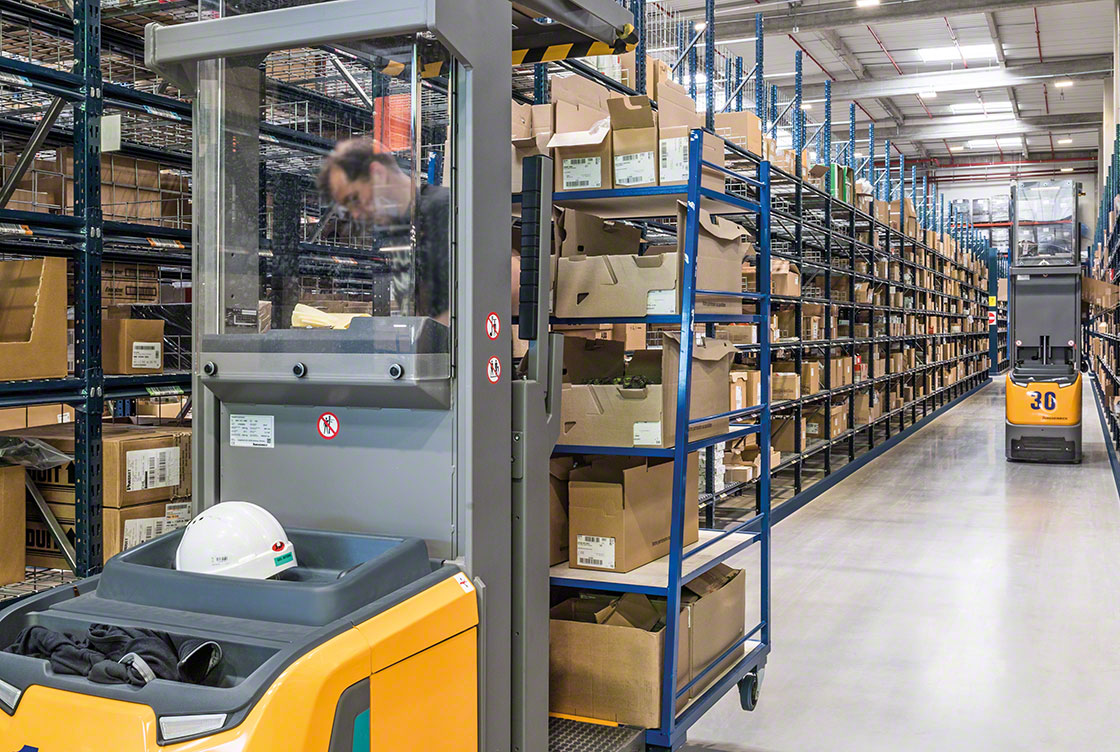 Order picking is a critical point in e-commerce logistics: it's no longer enough to design the warehouse layout to spec and organise operations well. It's essential to have a warehouse management system to definitively do away with wrong orders (and the major cost overruns they entail). In the case of online retailers, it's advisable to choose a WMS adapted to the particular characteristics of these kinds of businesses (WMS for Ecommerce from Mecalux is an example).
Thus, logistics isn't merely an appendage of online retail — it's become a decisive factor for its success and survival. To compete in this new environment, it's necessary to make quick, accurate, low-cost deliveries. One vital element in this new paradigm is the digitalisation of logistics.
E-commerce logistics and information flows
One of the basic principles of e-commerce logistics is digitalisation. That transaction that begins with a click on a website or app must remain active electronically throughout the entire logistics process. Customers should be kept informed of their order status (processing, dispatch, transportation, distribution, and delivery). Additionally, they should be able to intervene as conditions change (cancel or modify the order, change the address or delivery time, etc.).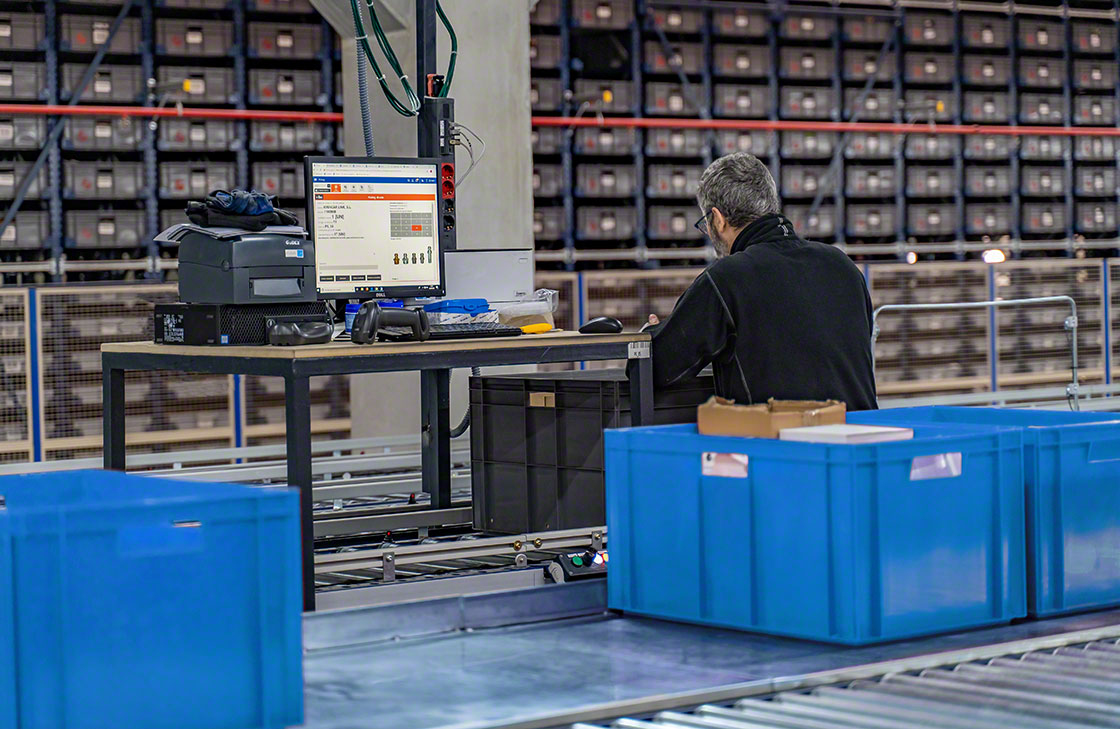 E-commerce logistics entails adapting the entire supply chain to these information flows. And this starts with the e-commerce platform itself and the warehouse: integrating the online store or sales platform with the facility by means of software allows for swifter, more agile order prep and product return operations. The Marketplaces & Ecommerce Platforms Integration module from Mecalux was designed with this objective in mind.
This type of program syncs stock in the warehouse with that of the different online sales points (on marketplaces such as Amazon, eBay, and AliExpress or platforms such as PrestaShop and Shopify). This process automation simplifies the administrative task of creating, editing, and deleting products on the website, eliminating errors deriving from manual management.
The implementation of a warehouse management system (WMS), such as Easy WMS from Mecalux, enables much faster picking, optimal use of space (slotting), and real-time inventory control. This functionality provides the company with total product traceability, which translates into more effective communication with customers regarding their order status or when handling incidents.
Systematising order picking and dispatch
Order prep is the costliest operation in a warehouse, especially in an omnichannel environment. A WMS helps to reduce this cost significantly. Among other functions, the program coordinates the various operators. Via their radiofrequency scanners, workers receive very detailed, step-by-step instructions on the tasks to carry out, simplifying workflows and preventing any type of mistake.
However, picking isn't the only make-or-break phase in e-commerce. Errors in product dispatch, distribution, and delivery can thwart a company's logistics planning, leading to serious losses.
Therefore, in e-commerce logistics, it's key to integrate warehouse management with product deliveries to customers. This is possible through software that links the WMS with the transportation agencies. In the case of Mecalux, the Multi Carrier Shipping Software module takes care of this.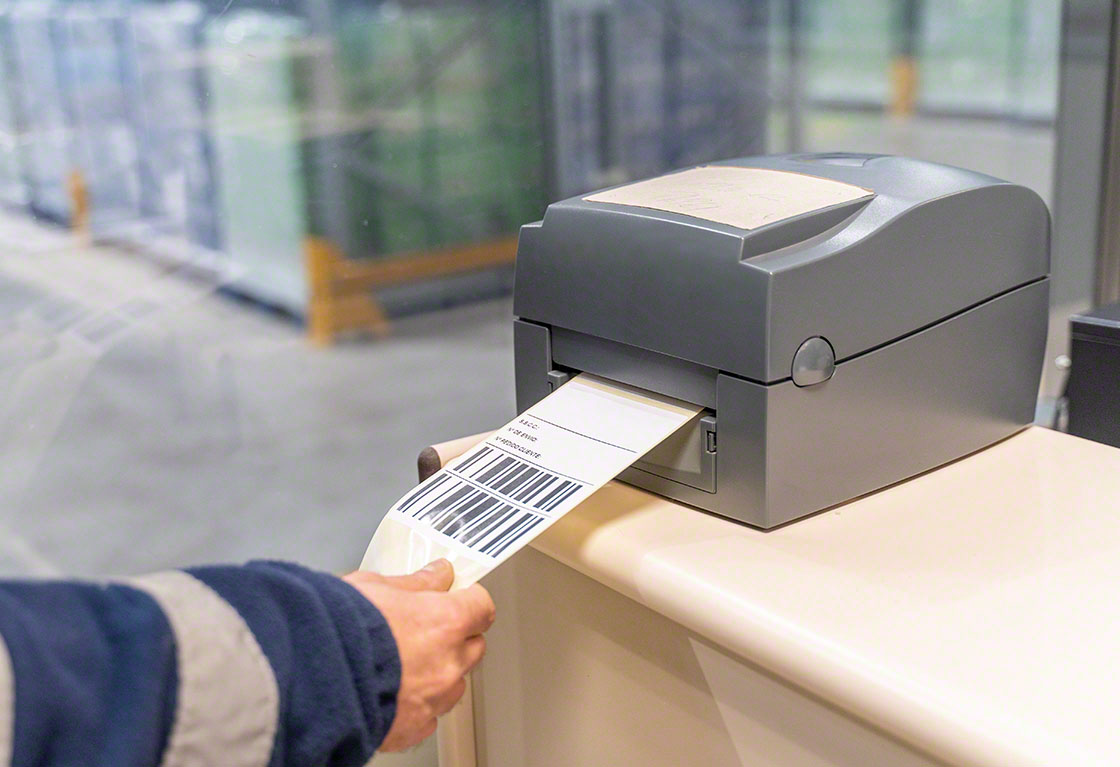 This application makes it possible to group and dispatch orders in the facility by end customer, transportation route, or carrier. In the e-commerce world, this is of paramount importance: companies often work with various carriers, which can generate mismatches resulting in delivery errors. This module automates and syncs management of the transportation agencies, making the business more competitive in terms of shipping costs. Moreover, this software generates the tracking numbers customers can use to receive delivery notifications.
Solution to the e-commerce paradox
E-commerce and new consumer habits are sending companies on a seemingly impossible mission: to expedite deliveries while minimising costs and errors. The resulting paradox can only be resolved one way: through automation and digitalisation. And this is what e-commerce logistics sets out to do.
In fact, without electronic or digital solutions, you can't have an efficient warehouse. A WMS facilitates operator tasks enormously, preventing them from making mistakes stemming from manual product handling. At the same time, this software ensures communication flows between the sales platform, the facility, and delivery, streamlining the entire process and optimising costs.
Whether you're a budding e-commerce company or you want to take your growth to the next level, don't hesitate to contact us. One of our experts will give you advice on the best solution for cutting costs, accelerating management, and going error-free.