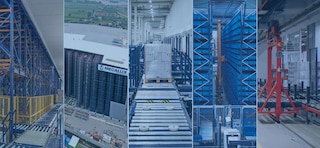 Examples of automated storage & retrieval systems
26 Jul 2021
Explaining automated storage and retrieval systems through practical examples is probably the best way to understand how they work and how they contribute towards optimizing a company's logistics systems. Many times, automated storage and retrieval systems (AS/RS) are the ideal solution when a business requires a high level of logistics activity. More agile goods flows, increased productivity, safer processes, improved stock control, and a marked reduction in errors are just a few of the many benefits of advantages of warehouse automation.
A clear example of an automated facility is one where transportation, storage, and goods management are robotized and digitized. In other words, these warehouses use stacker cranes for pallets, miniload systems, conveyors, and/or other kinds of handling equipment such as the Pallet Shuttle. All these solutions are managed by software (normally, a warehouse management system).
At Mecalux, we have extensive experience in building different types of automated storage and retrieval systems for businesses all over the world. These include diverse solutions such as AS/RS with single-deep and compact pallet racks, miniload systems for boxes, freezer warehouses, and earthquake-resistant facilities. Below are the Mecalux Group's top 5 automated storage and retrieval systems:
Example 1: one of Europe's largest rack-supported buildings
Hayat Kimya relied on Mecalux to build its facility in Turkey, one of the biggest automated warehouses for pallets in Europe. The warehouse of this leading manufacturer in the Eurasian hygiene and cleaning products market measures 120 m long, 105 m wide, and 46 m tall.
As this AS/RS is a clad-rack warehouse, the racks themselves form the building structure. These types of warehouses are more economical and provide greater storage capacity. Additionally, as the facility was built in an area with high seismic activity, it was crucial to reinforce the structure. Therefore, 10,000 tons of steel were used (including over 2,000 tons of extra seismic reinforcement).
With space to accommodate 161,000 pallets, the company has centralized its high volume of orders in a single, fully automated facility. Here, 15 stacker cranes move an average of 6,500 inbound pallets and 7,000 outbound pallets following instructions from Easy WMS, our company's warehouse management system. Likewise, the logistics center is connected to the three Hayat Kimya production plants by means of raised tunnels outfitted with conveyors and lifts.
Tarik Demiryakan, Head of Logistics at Hayat Kimya, says, "We've invested heavily in this warehouse, and we're very pleased that we're receiving an immediate return on our investment. We've saved a lot of money by closing external warehouses and by creating a centralized center that's allowed us to eliminate transportation between different locations."
Example 2: AS/RS with Pallet Shuttle to manage 110,000 tons of frozen french fries
Bem Brasil, a manufacturer of frozen pre-cooked french fries, chose our Group's Pallet Shuttle system. With this type of automated storage and retrieval system, a stacker crane positions a motorized shuttle at the beginning of the storage channel in the rack. The shuttle automatically enters the channel and removes or deposits the pallets.
The Bem Brasil warehouse employs this system to house more than 33,000 pallets with raw materials used in production processes and with finished products ready for dispatch.
This facility is rack-supported as well, with three 143 m long aisles with an 25 m tall racking unit. As it stores frozen food, this warehouse is also a freezer warehouse, operating at a constant temperature of -30 ºC. João Emílio Rocheto, Bem Brasil's Chairman and President, explains that the Pallet Shuttle system is ideal for reducing the energy consumption necessary to generate cold air: "Its robotized operations have helped us cut costs in the power we use, improve work conditions for employees, and increase handling efficiency and conservation of our goods."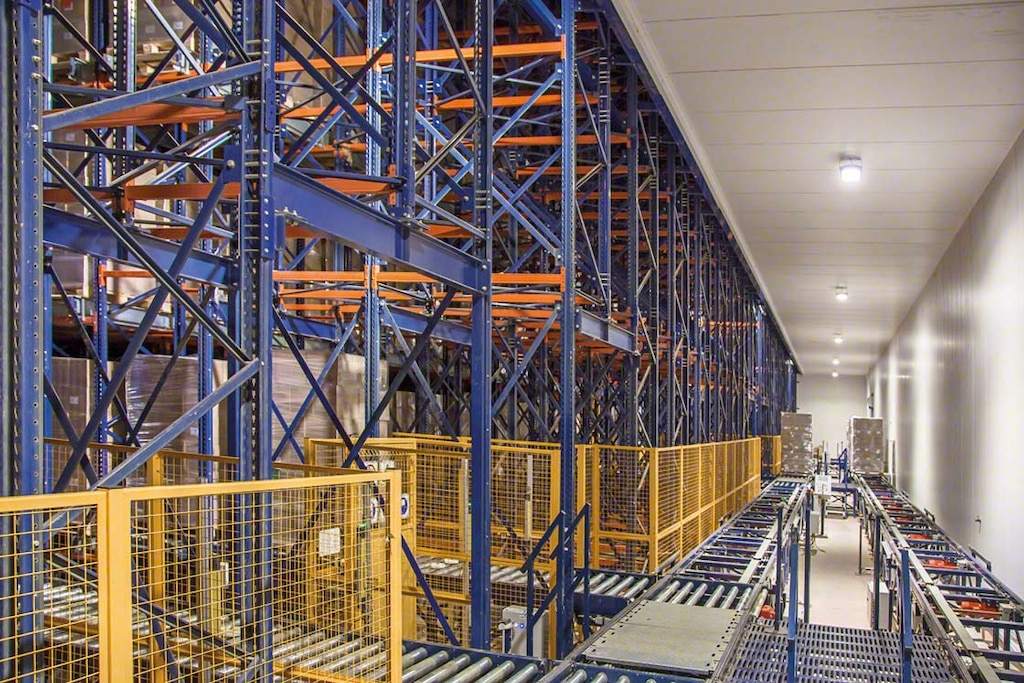 Example 3: an AS/RS for boxes that increases productivity by 25%
French tool manufacturer SAM Outillage completely overhauled its facility in Saint-Etienne, transforming its overloaded, outdated warehouse into a center that leverages each and every inch and has multiplied its throughput. The AS/RS in the examples above moved palletized goods. This case involves an automated storage and retrieval system for small parts organized in boxes.
This miniload system is made up of 3 aisles measuring 40 m long with double-deep racks. The boxes are retrieved and placed on the racks by miniload stacker cranes (similar to those used for pallets but smaller). This configuration enables Sam Outillage to house up to 20,000 boxes, so it's a perfect solution for compact stock storage. This is evidenced by the fact that the company now stores 80% of its SKUs in the AS/RS for boxes. Moreover, with the agility brought by automation, the firm has seen a 25% jump in productivity in all its operations and can deliver its orders within just 24 hours.
SAM Outillage's new automated storage and retrieval system for boxes is managed by Easy WMS, our company's WMS, which addresses the various working areas: goods receipt, product personalization, kitting, order prep, and shipping.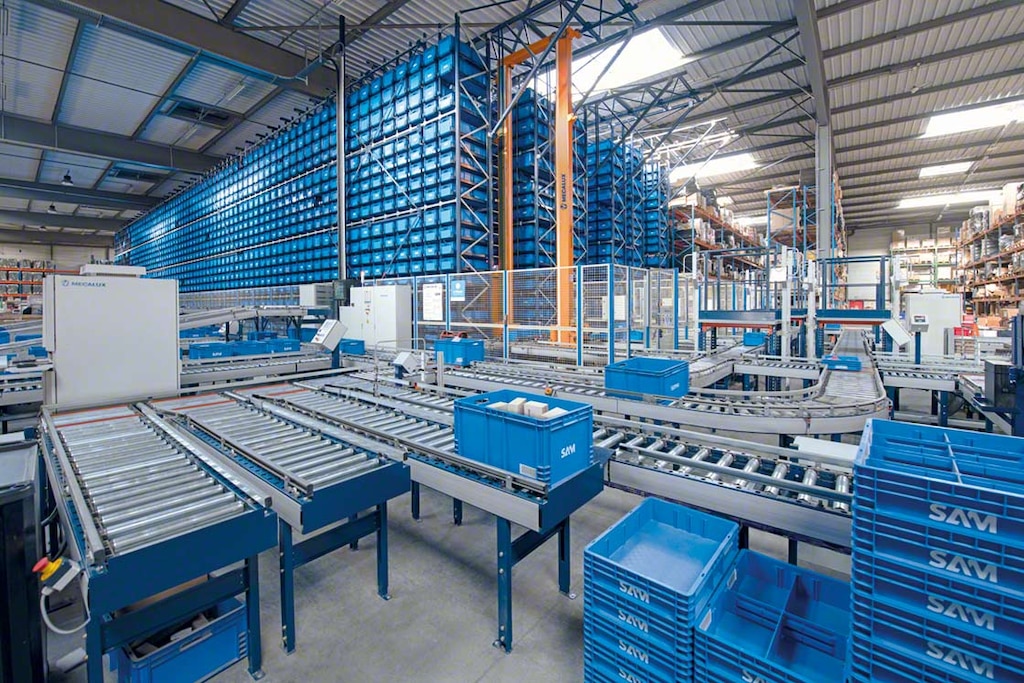 Example 4: combination of Pallet Shuttle/transfer cars handling 4,000 orders a day
In cooperation with the Mecalux Group, logistics operator Luís Simões built an automated warehouse equipped with the Pallet Shuttle system with transfer cars and managed by Easy WMS. As opposed to the Pallet Shuttle with a stacker crane seen above in the Bem Brasil example, this version with transfer cars lends greater agility and speed to goods flows. Why? Instead of a single stacker crane taking care of all the storage levels, a transfer car is installed on each level, multiplying the number of cycles per hour.
In the case of Luís Simões, two transfer cars have been placed on each storage level to double the throughput and guarantee non-stop operations while preventive maintenance is being carried out. This facility serves as a buffer, organizing, sequencing, and programming over 4,000 daily orders for all kinds of businesses, mainly in the food, beverage, perfume, cosmetics, and retail sectors.
As this is a high-density system, the available surface area has been optimized. In this vein, Logistics and Innovation Manager Rui Simões notes, "Clearly, our operational efficiency has improved significantly. To store as many pallets as we do, we'd need 9.000 m² of space. But, with the automated warehouse, we occupy only 6.500 m²."
Example 5: automated warehouse for a medical supply firm to cope with the spike in activity amid COVID-19
Multinational Intersurgical, which designs, produces and distributes medical devices for respiratory care, saw a 50% rise in its warehouse flows with the coronavirus pandemic. In the end, it was able to distribute one million respirators to hospitals in Lithuania in record time. Its secret to doing so quickly and without error? Being equipped with a flexible logistics system and 24-hour operations, thanks to the automation provided by the Mecalux Group's storage systems.
Recently Intersurgical opened one of the largest facilities in the Baltic States in Lithuania as a result of its logistics centralization strategy. With capacity for 50,400 pallets, the automated warehouse comprises eight aisles spanning 121 m long with 30 m tall double-deep racks. This high-density configuration means the racks can house two pallets on the same storage level, one behind the other. To access the pallet positioned further, the stacker cranes incorporate telescopic forks.
Automation has also been decisive for fulfilling one of the essential requirements of pharma logistics and the management of healthcare products: asepsis (lack of contamination). Automated logistics systems prevent operators from handling the goods manually. Plus, the product traceability offered by Easy WMS makes it possible to monitor the goods in real time — from the time they arrive from production through to their dispatch — which is basic when dealing with products for operating rooms and hospitals.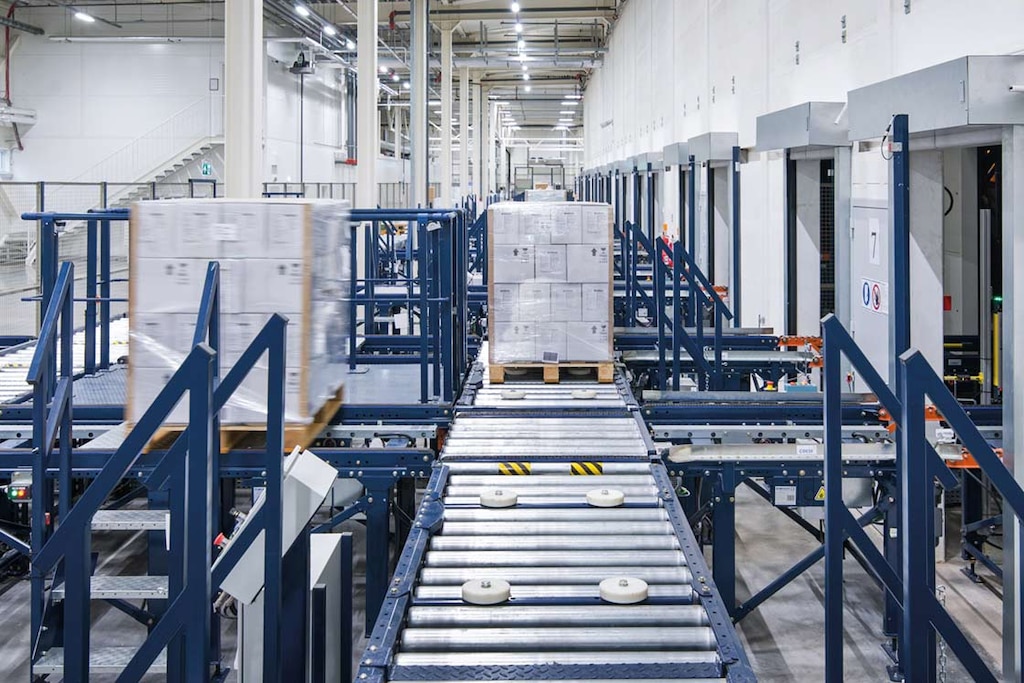 Automation, key for efficient logistics
Implementing technology and robotics in logistics processes has become a must when it comes to managing the logistics systems of companies with a high volume of activity.
If you think your company could benefit from automation — regardless of the product you handle or the sector you operate in — get in touch. We have over 50 years of experience helping businesses find the automated storage and retrieval system that best meets their logistics needs.