06 Jan 2021
What do logistics trends for 2021 look like? Because of the coronavirus, 2020 has been an extremely intense year for the logistics sector. On the one hand, essential goods businesses (mostly those specializing in food and healthcare and pharmaceutical products) have had to ensure the uninterrupted supply of their merchandise in a period of increased demand and all sorts of restrictions. On the other, the situation has given rise to an e-commerce logistics boom; during the months of lockdown, the internet has proven to be a safe and effective purchase channel.
All of this has accelerated the digitalization of logistics even more. Many companies are turning towards technology and automated warehouses with the aim of streamlining and optimizing their operations to, in turn, provide more efficient customer service.
Although the pandemic has constituted a disruptive change from a social and economic standpoint, we can also consider it an opportunity for businesses to modernize their logistics systems. In this post, we'll detail the main logistics trends we expect will have a significant role in 2021.
5G and the IoT
5G doesn't only mean faster cellphone service — it can also be used to automate installations and turn them into smart warehouses.

The major advantage of 5G is that it enables the interconnection of a large number of devices at a speed of up to 10 gigabits per second. As 5G also offers low latency, it's ideal for collecting and processing data in the Industrial Internet of Things (IIoT) and its extension, the Artificial Intelligence of Things (AIoT).
Big data and the importance of data analysis
Automation reigns supreme in a multitude of logistics installations. As a result, sensors are increasingly present. With these devices, companies can detect, interpret, measure, process, and assess everything that takes place in their warehouses.
Inevitably, logistics is bound to work with big data, that is, the gathering, processing, and analysis of a vast amount of data. In this way, firms can study the performance of their operations, identify points for improvement, and adopt strategic measures that boost productivity.
To analyze data generated in a warehouse and optimize logistics processes, it's essential to use specific software. Mecalux, for example, features Supply Chain Analytics Software, a system that converts the tremendous amount of data in an installation into useful information. This includes data such as rate of prepared orders, goods receipts per hour, and percentage of occupied locations, among other supply chain KPIs.
Last mile emphasis
The e-commerce sector saw many changes in 2020: online orders have mushroomed, while urban traffic has fallen because of mobility restrictions. Consequently, last-mile delivery has become smoother.
Nevertheless, the gradual return to normal has made it clear that road congestion continues to be a serious problem (especially in cities). On top of that is the added complication of limited physical contact with end consumers to avoid infection.
In 2021, companies will have to make an effort to ensure that last-mile delivery is quicker and more flexible. One increasingly popular solution is micro-fulfillment centers. These small logistics facilities located in urban areas bring products closer to customers.
Artificial intelligence and machine learning
AI and machine learning are making headway in logistics. Thanks to these two technologies, businesses are able to predict market behavior and anticipate changes.
These technologies will continue to evolve in 2021, and firms that employ them will stand out from their competitors. The reason? AI and machine learning are especially useful for predicting consumer trends, selecting the most effective transportation routes, and gaining greater control over processes in order to make improvements.
Green logistics
Environmental awareness has become more and more widespread among the population, and eco- or green logistics is now a trend.
Companies are concerned about reducing air, land, and water pollution caused by their logistics activities (particularly transportation). So, what measures can businesses take to protect the environment? They can use electric vehicles, raw materials obtained through sustainable processes, biodegradable packaging, and reusable materials, as well as encourage recycling and energy saving.
Automated warehouses can form part of a green logistics strategy. In fact, they're one of the most common solutions for firms looking to reduce energy consumption and maximize their supply chain throughput.
This is because automated handling equipment (stacker cranes, conveyors, etc.) contributes towards cutting down on energy use; these machines are equipped with electric motors that are highly efficient in relation to their mechanical power.
To achieve green logistics, it's also necessary to leverage all available resources. Automated installations optimize building space much better than traditional warehouses and provide far greater storage capacity.
A prime example of this is the installation of La Piamontesa, one of Argentina's largest food companies. We built La Piamontesa an automated clad-rack warehouses with the Pallet Shuttle system (in its automatic mode) serviced by stacker cranes. The objective was twofold: first, to obtain the largest possible storage capacity (space was achieved for 2,415 pallets), and second, to lower power consumption to keep the installation at a constant temperature of between 35.6 and 39.2 ºF.
Blockchain in logistics
Blockchain is a technology that increases speed and safety in the exchange of information. In logistics, it serves to facilitate communication between the various stakeholders in the supply chain and, thus, eliminate errors.
Blockchain has been a trend in recent years and will remain so in 2021: reliability and transparency with customers are priorities for any company.
Autonomous vehicles
Automatic driving systems that operate via AI, that is, autonomous vehicles, are a reality. In warehouses, it's common to see automatic guided vehicles (AGVs) handling and moving goods, as well as cobots assisting operators with their tasks. The possibilities, however, are infinite.
The future will be marked by improvements in these vehicles (more autonomy, speed, safety, agility, etc.) and by the arrival of drones. These could become a transportation system of the future for warehouses and the last mile, used to deliver orders to customers or inspect and monitor the conditions of logistics installations. (Companies could even conduct their annual inventory with drones).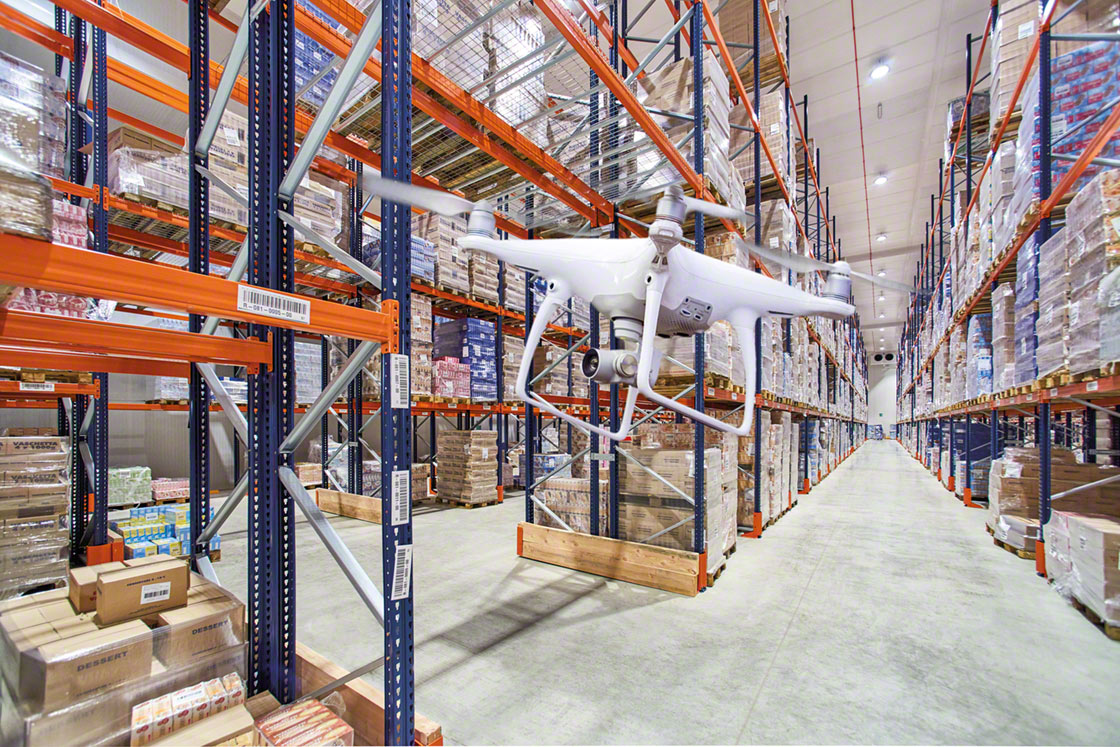 Health and logistics in 2021
After a 2020 fraught with changes and difficulties due to the coronavirus pandemic, 2021 is upon us, filled with new challenges and hopes. This year's priority will be centered on people's health and, at the same time, achieving streamlined, flexible logistics operations capable of adapting to changes.
There's no doubt that the future lies in technology, with automated systems that ensure maximum warehouse productivity. Therefore, it's advisable to benefit from the advice and support of a company with a long history of designing and commissioning automated installations, such as Mecalux. Get in touch with us. We'll analyze the possibilities of your business and show you how to enhance your supply chain and meet new objectives this year.