11 Jan 2022
Mcommerce, which stands for mobile commerce, is the ecommerce branch that uses mobile devices — e.g., smartphones and tablets — for the purchase and sale of products and/or services. These transactions can be carried out via a specific app or from the browser of the device itself.
The popularity of smartphones and omnichannel have put mobile devices front and centre when it comes to online shopping. Smartphones are ubiquitous, and nowadays, we use them to carry out all kinds of transactions. As a result, having an online store is no longer enough. Businesses that want to remain competitive must offer an optimal purchasing experience designed for smartphones, and logistics needs to be up to the task.
What is mcommerce?
Mcommerce can be defined as any commercial activity — purchase or sale — made from a mobile device. In other words, mobile commerce concerns online activities and transactions carried out by means of mobile devices and wireless networks. Mcommerce can take place between businesses (B2B mcommerce), businesses and end customers (B2C mcommerce), or between end consumers (C2C mcommerce).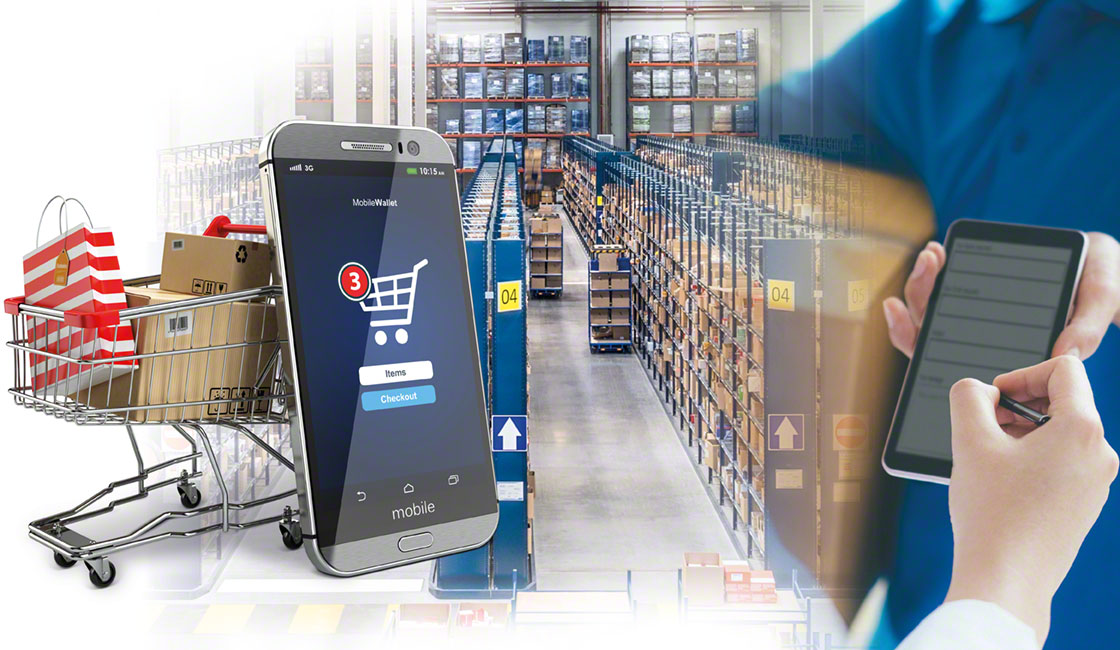 The main mcommerce sales channels are: websites with a mobile-optimized design (and that can work on platforms such as PrestaShop, Shopify, etc.), marketplaces and third-party websites that are already seamlessly integrated in the mobile ecosystem (eBay, Amazon, etc.), and stores' own mobile web applications.
Mcommerce marketing campaigns, for their part, are aimed at users who shop on their mobile devices and are launched through these channels. An example of this would be text messages or segmented advertising that the user sees only when they connect from a mobile device.
The ubiquity of smartphones in all segments of the population and the consolidation of 5G open the door to a greater share of mcommerce among ecommerce sales. A study by Insider Intelligence finds that by 2024, two out of three US mobile owners will use a mobile device to make online purchases.
Mcommerce vs. ecommerce
The basic difference between mobile commerce and electronic commerce is the device from which the online purchase is made: with mcommerce, this is done via a smartphone or tablet, which, for example, facilitates users' geolocation.
Mobile devices also enable more direct communication actions with end customers, such as push notifications in the form of alerts or product recommendations based on each customer's search history.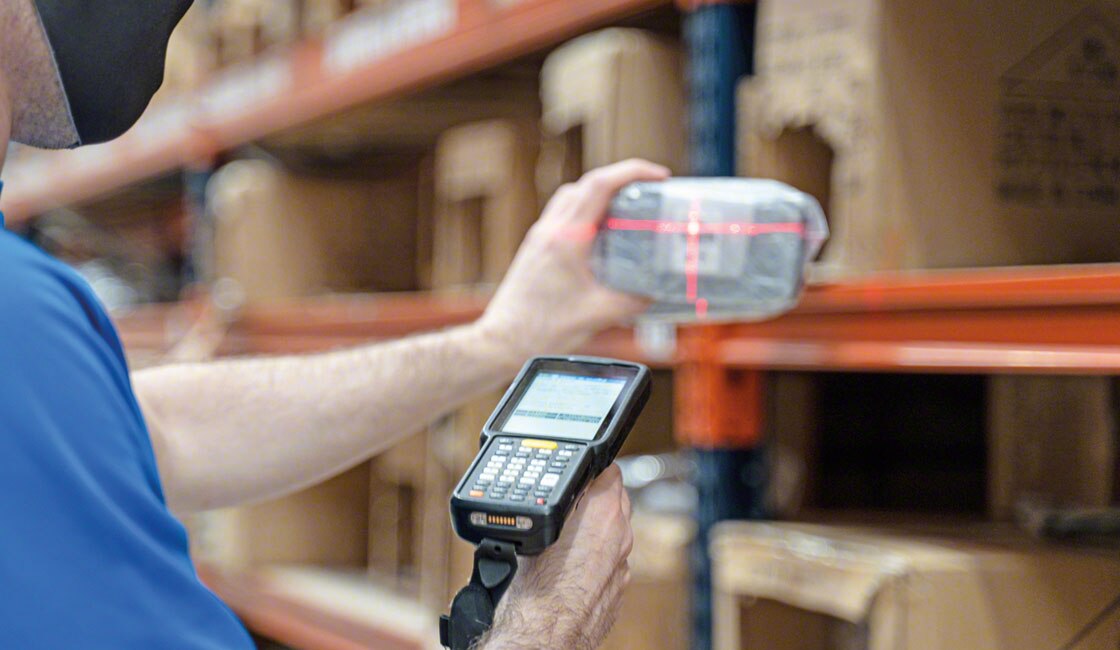 Mcommerce has led to another market trend: nowadays, customers demand an omnichannel experience that allows them to purchase products from a smartphone and pick them up at a brick-and-mortar store. These new business standards complicate logistics operations because there are now many more shipping destinations (last mile delivery to end customers and middle mile delivery to micro-fulfilment centres and dark stores).
Mcommerce logistics challenges and how to solve them
Employing smartphones and tablets as purchasing devices opens up opportunities — and creates complexities — for logistics management. The logistics challenges of mobile commerce are closely related to those linked to the rise of ecommerce:
Optimise delivery times.
Organize the dispatch process efficiently.
Minimize order picking errors.
Integrate online points of sale (POS) with in-store stock.
Managing goods manually will no longer cut it when it comes to performing the logistics operations of companies with mcommerce transactions. Among many other functionalities, implementing software that automates stock control and organizes the operation of one or more of the company's warehouses — multi-location inventory management — becomes a necessity.
A warehouse management system (WMS) such as Easy WMS has a specific module for responding to mcommerce challenges: Marketplaces & Ecommerce Platforms Integration. This program syncs the digital catalog for the various online POS — apps, ecommerce platforms, and/or marketplaces — with the physical stock in the warehouse(s). This advanced feature prevents users from placing orders for items currently out of stock. Ecommerce retailer Global Freaks enjoys this advantage: the module automatically updates the stock on its webpage via the PrestaShop platform, as well as on eBay and Amazon, taking into account the actual stock in the warehouse.
Mcommerce examples: logistics solutions for the warehouse
The Mecalux Group has outfitted multiple facilities for companies with mcommerce strategies. One example of this is the comprehensive solution implemented in the new warehouse of fashion retailer Espace des Marques in La Boissière-des-Landes, France.
This logistics facility combines shelving with raised walkways and conveyors for boxes with the Easy WMS warehouse management system from the Mecalux Group and its Multi Carrier Shipping Software module: "Since opening these two new warehouses, we've doubled our online business," says Development Manager Vincent Beaufreton.
Another success story is the design and implementation by the Mecalux Group of multiple facilities for leading sporting goods retailer Decathlon. The company opened three logistics centres in the Italian towns of Brandizzo, Basiano, and Castel San Pietro Terme, respectively, which ensure efficient logistics service in an mcommerce sales context.
In addition to these new facilities, the Mecalux Group has set up warehouses for Decathlon in the US, the UK, France, Germany, Poland, and Brazil. Particularly, the new distribution centre (DC) in Barueri (São Paulo, Brazil) is facilitating Decathlon's expansion both in physical sales throughout the country and in ecommerce: "The new DC in Barueri has consolidated Decathlon's expansion in Brazil; we've opened more points of sale all around the country, and our online orders have increased. With the storage solutions from the Mecalux Group, we've raised productivity by reducing the number of movements operators make in the warehouse," says Thiago do Nascimento, Logistics Manager at Decathlon Brazil.
Mcommerce: welcome to omnichannel in the warehouse
Mcommerce represents one step further in the revolution brought about by the consolidation of ecommerce in traditional warehouses. Nowadays, to be competitive, it's no longer enough to just have a website. Businesses need to ensure that the mobile shopping experience is optimal and that its subsequent logistics management is satisfactory.
Customers demand short delivery windows to multiple destinations and the ability to track their packages. To deal with these complexities, it's necessary to digitize the organization of your facility with a logistics program, i.e., a warehouse management system. At Mecalux, we've optimized processes in over 1,000 centres in 36 countries with our Easy WMS warehouse management software. If you're interested in minimizing errors in your logistics operations, don't hesitate to contact us. One of our expert consultants will advise you on the best solution for your company.