06 May 2021
Resilience is defined as the capability of a material or system to recover its initial state after having been subjected to disturbance or deformation. In logistics terms, a resilient supply chain is one that is able to effectively overcome the multiple disruptions in its path, ensuring that order preparation and delivery are carried out as per the agreed-upon conditions, despite any incidents that may arise.
Through a supply chain diagnostic, you can analyse the market situation and your competition in order to apply the necessary changes to maintain and gain in competitiveness. To accomplish this, resilient supply chains should follow an integrated logistics strategy, which involves full data sharing among the multiple participants. It's important to bear in mind that an integrated and digitised supply chain is more adaptable to changes.
Capacity for resilience
A study from Michigan State University finds that supply chain resilience should be based on two critical points:
Resistance capacity: the ability of the set of stakeholders that form part of the supply chain to delay the disruption and, above all, reduce its impact on the product. Firstly, it's essential to avoid the problem as far as possible and, secondly, to take the appropriate measures to mitigate its effects.
Recovery capacity: this refers to the capability to analyse the scenario and make decisions based on the results, thus, bouncing back from the disruption. Its main characteristic is that the businesses that make up the supply chain must first go through a stabilisation phase to then return to their previous performance level — or even improve upon that, if necessary.
These principles can be applied to disruptions on account of both natural disasters — for example, tsunamis or earthquakes — and the appearance of new technologies, such as blockchain and big data. But what exactly is a disruption? And how can it affect a product's supply chain?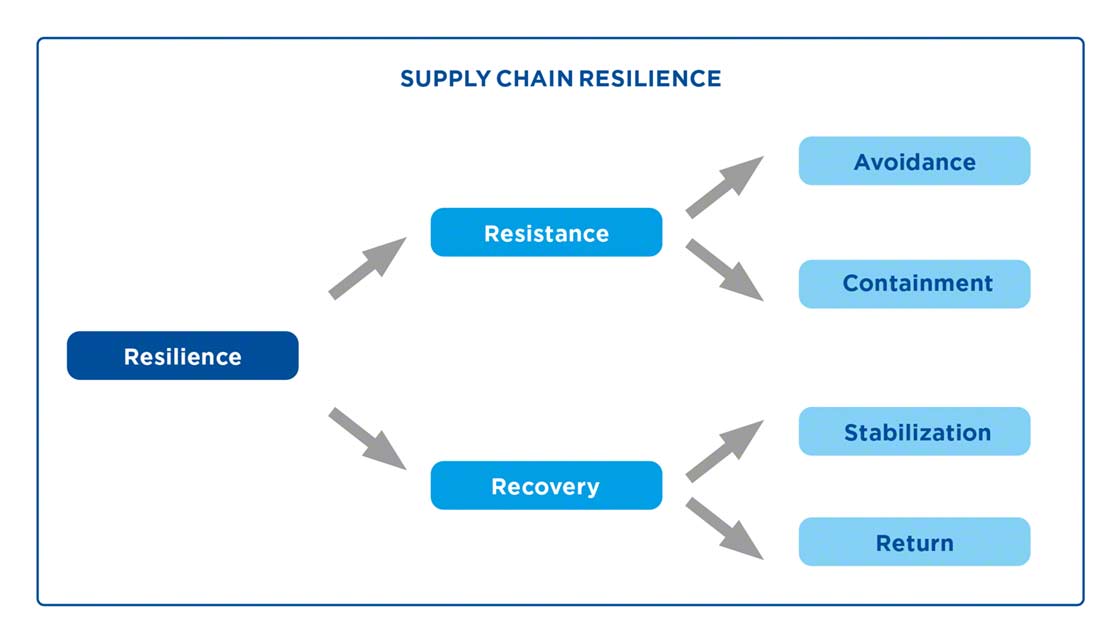 How to measure a company's resilience
Supply chains can be affected by many different types of events that alter their processes, ranging from natural phenomena to technology issues. A supply chain disruption consists of any disturbance occurring in one or more of the links and whose origin is external.
Logistics disruptions can be caused by natural events (an earthquake or snowstorm); biological factors (the coronavirus pandemic); political decisions, (a trade war between countries); or technology, (a cyberattack or data leak).
But how do disruptions affect the supply chain? And, more importantly, how can you make it resistant to disturbances? Researchers at NOVA University Lisbon in Portugal have published the "resilience triangle" theory.
The graph represents the impact of a disruption according to the severity of the disruption and recovery time of each party involved in the supply chain. The smaller the triangle, the greater the company's resilience capacity.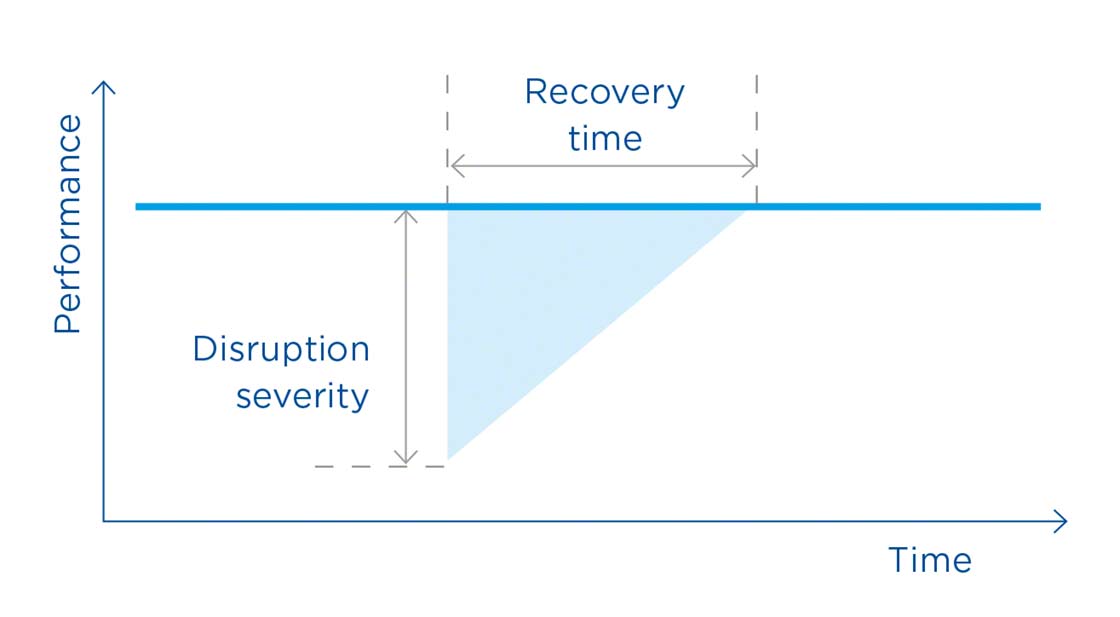 Thus, analysing the risks faced by a company (or the group of organisations that form the supply chain) as well as their severity demonstrates how resilient the supply chain is, enabling you to take action to make sure it remains stable.
The Portuguese study concludes that analytics must form part of any organisation looking to survive the structural changes that occur in industry and logistics.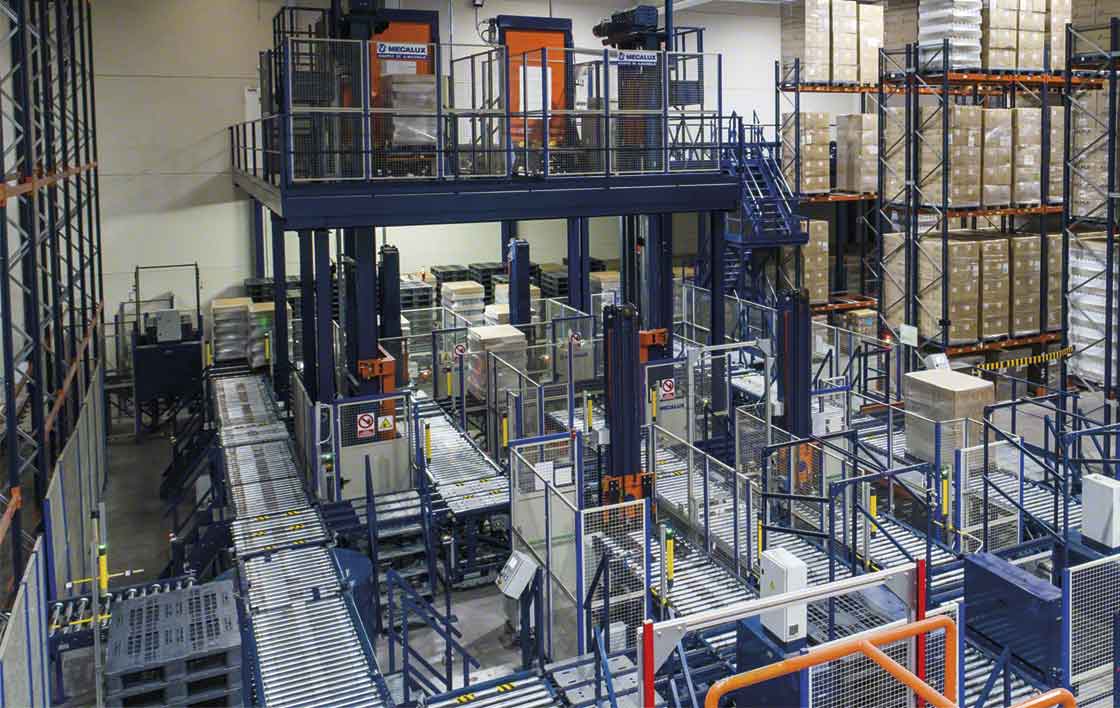 How to build a resilient supply chain
So, what strategies should you adopt to ensure the stability of your supply chain against any kind of disruption? Here are the 5 pillars for maintaining a resilient supply chain:
Digitise and share information with all links in the chain: nowadays, the risk of loss of information is almost higher than that of loss of the material itself. A data leak could jeopardise any logistics operation. For that reason, the use of software such as WMS, ERP, or MES systems is fundamental for syncing the entire supply chain, preventing any bumps in the road.
Establish advance logistics planning: there are plenty of digital tools on the market for analysing the KPIs of your company — as well as those of the sector — to be able to anticipate new trends. Therefore, planning should incorporate the analysis of your competitors' activities, your suppliers, and, in particular, customer expectations.
Integrate a continuous improvement policy in your logistics strategy: a publication from consulting firm EY states that it's essential for continuous improvement techniques to be implemented in the supply chain to cut costs and, especially, respond better to changes in the environment. This trend centres on identifying problems, defining them, and adopting solutions to avoid or resolve the difficulties.
Design a flexible, adaptable logistics and production plan: one of the keys to a resilient supply chain is speedy recovery. Thus, businesses must sync their operations to make stages such as production and logistics flexible and quickly adaptable to new scenarios. A company that's able to foresee trends and incorporate them in an agile way can make the most of any policy or technology changes.
Invest in efficient storage solutions: warehouses made up of automated storage systems (serviced by conveyors or stacker cranes) are the ideal solution for any mishaps. Why? Because they guarantee optimal productivity. Most importantly, they don't require a certain amount of operators to achieve the same storage density when loading and unloading products.
Moving towards a resilient supply chain
Against a complex logistics backdrop, in which companies interact with their customers via multiple channels, any disruption could mean mistakes and less efficiency for (at least) one of the links in the supply chain.
As a result, it's vital that companies share data, ensure product traceability, and guarantee transparency in the manufacture, storage, and delivery of orders to prevent any glitches. An integrated supply chain in which all stakeholders cooperate is better prepared to cope with external and internal difficulties.
From the design of a manufacturing and logistics plan to investments in automated solutions in production and distribution centres, supply chains require the implementation of continuous improvement techniques to strengthen their resilience to changes in their environment.
The digitisation of logistics processes and automation of operations have become the best solutions for maintaining an integrated and resilient supply chain. To learn more about the benefits of deploying software in your warehouse, don't hesitate to contact us. One of our expert consultants will advise you on the best solution for your company.