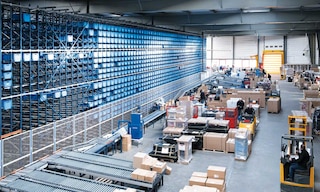 Urban warehouses speed up the last mile
29 Sep 2021
Urban warehouses have become key for ensuring quick logistics service in all urban hubs. These facilities comprise logistics centres set up in or near cities with the objective of being close to customers and delivering products in the shortest possible time.
In this post, we analyse the emergence of urban warehouses, explaining their role in the supply chain. In particular, we break down their design and organisation, which aim to achieve the maximum logistics efficiency of these facilities.
Urban warehouses: characteristics
Urban warehouses are warehousing, order picking, and distribution centres located in or close to big cities and tasked with facilitating same-day deliveries, one of the cornerstones of ecommerce.
A recent study from Adobe indicates that ecommerce sales are expected to surpass $4.2 trillion by the end of 2021. Ecommerce requires speedy storage operations and reduced costs in transport, order processing, and reverse logistics to meet consumer demands. The ecommerce boom is one of the main reasons why urban warehouses have become established in supply chains today.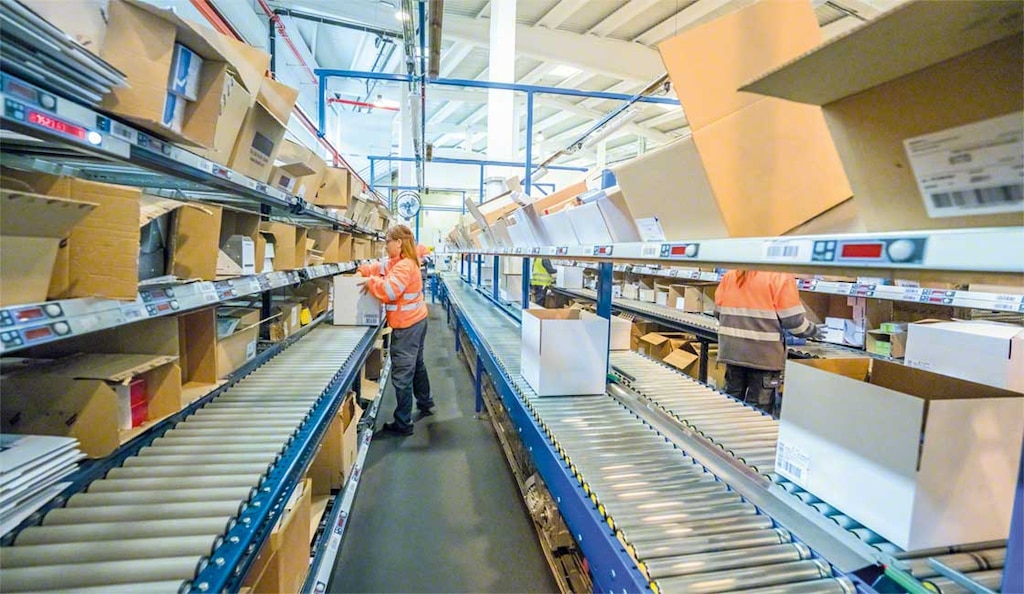 Urban warehouses are characterised by being strategically positioned for the company, between its distribution centre (DC) and the bulk of its customers. Usually linked to ecommerce and B2C commerce, these facilities tend to manage high volumes of small orders (in boxes, trays, or individual packages). Limited square footage is forcing companies to come up with solutions that optimise their resources in the warehouse and guarantee successful last-mile delivery.
Nevertheless, these facilities are also beneficial outside the world of ecommerce. Urban warehouses can be employed by businesses in the pharma and food industries and in brick-and-mortar retail stores with high demand volumes. An example of this is micro-fulfilment centres in cities, which are very popular in the retail sector. Another case in point is dark stores, warehouses set up in urban areas to fulfil customers' omnichannel orders.
How to design and organise an urban warehouse
The layout of urban warehouses is conditioned by the fact that they're located in or near cities. Limited available storage space and price increases in logistics real estate in urban areas are compelling companies that want to acquire more space to grow vertically, maximising the facility's space.
Urban warehouses serve as storage buffers, warehousing goods received from the DC and directly dispatching them to end customers. Therefore, these warehouses normally feature storage systems for boxes or trays — even loose product — that are flexible and capable of expediting multiple SKUs on different levels. One of the most common solutions is live storage for picking, which make it possible to manage large picking volumes by reducing operator travel.
These manual storage systems can be complemented with picking assistance devices such as voice picking or pick-to-light, which facilitate operator tasks by showing these employees how to prepare orders step by step. In urban warehouses with high order volumes, manual storage systems can be replaced with automated solutions. Miniload systems, for example, leverage space while automating the extraction and storage of goods, transporting each item directly to the operator.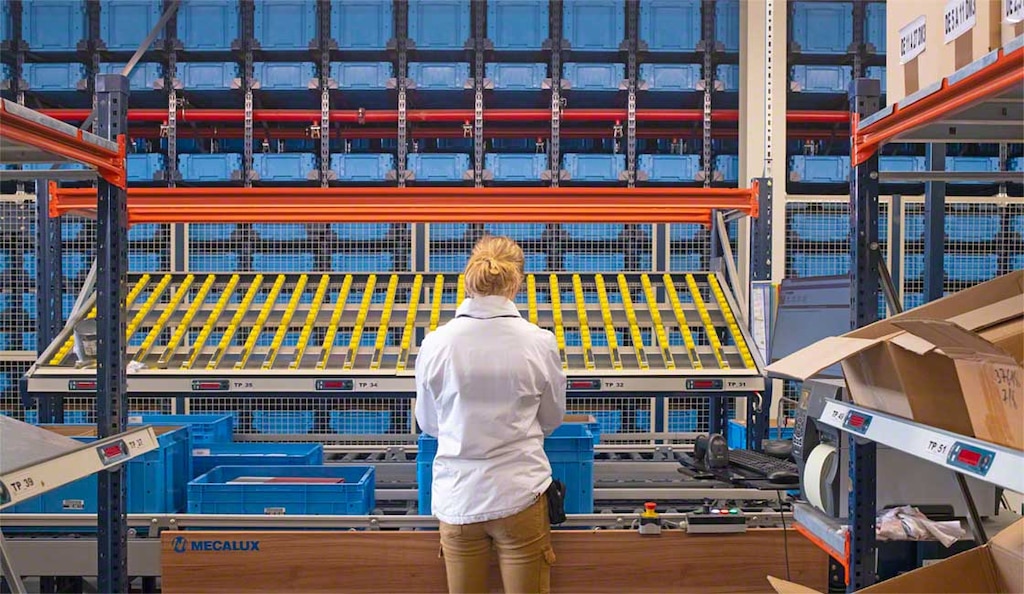 Urban warehouses generally zone storage areas by product type, turnover, or even demand. They often have a logistics staging area set up to store goods temporarily on the racks or directly on the floor. Consequently, it's advisable to have a warehouse management system (WMS). This software automates order management and location based on a set of rules and criteria established in advance by the logistics manager. This program digitises the receipt of goods from the DC, as well as product returns; that is, the software organises the storage of the item on the racks or its possible relocation to an active pending order.
A WMS coordinates all operations in an urban warehouse with the DC, located outside the city. Synchronisation between the logistics operations of both facilities simplifies the replenishment of the urban warehouse through internal orders, limiting the risk of stockouts that could jeopardise the company's competitiveness.
A warehouse management system such as Easy WMS from Mecalux has specific functionalities that expedite the dispatch and delivery of products to urban warehouses. For example, the Multi Carrier Shipping Software module ensures efficient management of last-mile delivery — the last transport leg of the order delivery process — by consolidating all communication with the different carriers in a single platform. This software groups all the orders by route or transport agency, reducing the impact of transport on the cost of the order.
Urban warehouse pros and cons
Urban warehouses are the ideal solution for guaranteeing compliance with ecommerce logistics standards: same-day deliveries and hassle-free product returns. These facilities bring the goods ordered closer to the customer, making management of their return (if necessary) easy and effective while minimising transport costs. A recent study by consulting firm Deloitte analysing urban goods distribution in New York shows that the establishment of warehouses in cities helps to lower the transport cost of each item. The report finds that, in terms of last-mile delivery costs, having a warehouse in the city is a major competitive advantage, as the order delivery window is reduced ("from same day to hours"). According to one example in the study, an urban warehouse is at least 22% more cost-effective than a location outside the city. Why? These facilities do away with cost overruns incurred during the last-mile by enabling efficient organisation of order dispatch by transport route, shortening delivery times, and optimising order routing.
Urban warehouses are essential for ensuring an optimal omnichannel shopping experience: these facilities are capable of fulfilling e-commerce orders, offering BOPIS (buy online, pick up in store) and BORIS (buy online, return in store) service, and replenishing physical stores inside the city in under 24 hours.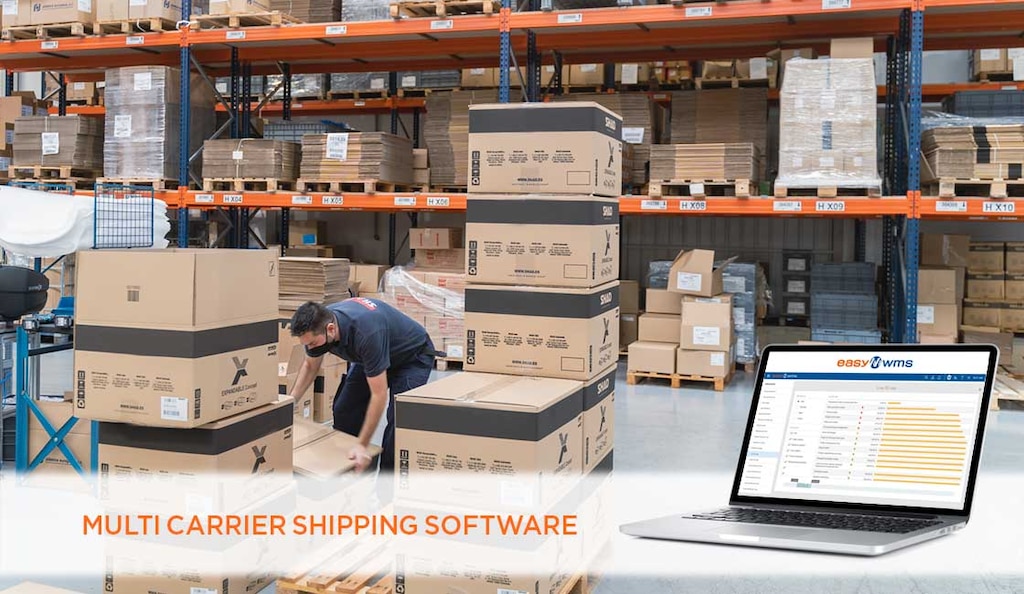 The urban warehouse's strategic position is also vital for lessening the impact of returned orders on the organisation. That is, items are returned to the facility, which stores them temporarily or redistributes them into other active pending orders without the need to send the goods to a location outside the city.
However, the implementation of these warehouses in a company's logistics network means a hefty investment for the organisation. This is because the cost of logistics real estate goes up the closer you get to a big city.
Against a backdrop of increased order management and difficulty in acquiring more logistics square footage, the solution lies in building upwards and implementing storage solutions that compact the goods and make the most of the facility. One such example is an automated storage & retrieval system (AS/RS).
Ultimately, urban warehouses are a possible solution to the rising costs of ecommerce order management. In any case, each company has to weigh the benefits it could obtain by relocating part of its logistics operations to cities, as bringing warehouses closer to customers reduces transport times but drives up storage costs.
Urban warehouses: successful last-mile delivery
A study by consulting company Capgemini concludes that failure to bolster last-mile operations could cause profits to fall by 26%. One way to mitigate the effects of this last logistics phase is to centralise part or all of the shipping stages and product returns management in warehouses close to cities.
These facilities bring products closer to customers, reducing transport times and facilitating both quick commerce and free returns, two basic premises of ecommerce.
The Mecalux Group's extensive experience in designing and commissioning urban warehouses is world renowned. If you're interested in optimising your logistics operations, don't hesitate to contact us. One of our expert consultants will advise you on the best solution for your organisation.