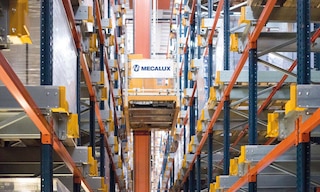 5 warehouse automation benefits
04 Jul 2022
The benefits of automation are many, including greater efficiency and tighter process control. Companies in all sectors are incorporating technology in their logistics facilities to optimise their supply chains.
Warehouse automation is a useful solution for organizations with a high volume of product inflows and outflows and that are looking to provide efficient logistics service.
Businesses can choose to automate all their warehouse operations or specific processes, e.g., the management of small items.
Automated facilities require a warehouse management system (WMS) — such as Easy WMS from Mecalux — to orchestrate all operations. This logistics software automates process management by organizing goods entries and exits, sending instructions to the automatic handling equipment.
Main warehouse automation benefits
Going from manual to automated logistics management is a true paradigm shift for a company: you're completely overhauling your warehouse design and replacing manual product handling with automatic equipment. Warehouse automation benefits include the following:
1. Productivity
Automatic handling equipment provides you with continuous flows of goods. Machines such as conveyors and stacker cranes can operate 24/7 — across all shifts — transporting products from one point to another without interruption.
With automatic handling equipment moving goods in and out of the storage systems, your warehouse throughput goes up. Automated solutions use fewer resources in storage and order picking tasks, resulting in greater supply chain efficiency.
For example, Zbeda Group, a leading Israeli manufacturer and distributor of spare auto parts, turned to automation to boost its productivity and make its logistics processes more flexible. The company's day-to-day consists of supplying carmakers with spare parts. To ensure the total availability of its goods and just-in-time deliveries to its customers, Zbeda Group installed an automated storage and retrieval system (AS/RS) for boxes. "The main advantage this solution has provided us with is speedy order picking," says Shuly Bushari, Vice President of Logistics at Zbeda Group.
2. Real-time inventory
Automated warehouses are equipped with a WMS that identifies and controls all movements of goods, providing businesses with a perpetual inventory system. The program monitors all products from the minute they cross the checkpoint until they're distributed.
Perpetual inventory lets you know the status of your goods at any given time. Controlling your products in real time avoids stockouts that could tarnish your brand name.
At its production plant in Spain, metalworking company Alcorta Forging Group has an AS/RS for pallets in which Easy WMS software maintains a perpetual inventory. "We implemented this system to track our stock reliably, from the arrival of the raw materials to the shipment of orders to customers," says Warehouse Manager José Antonio Fernández.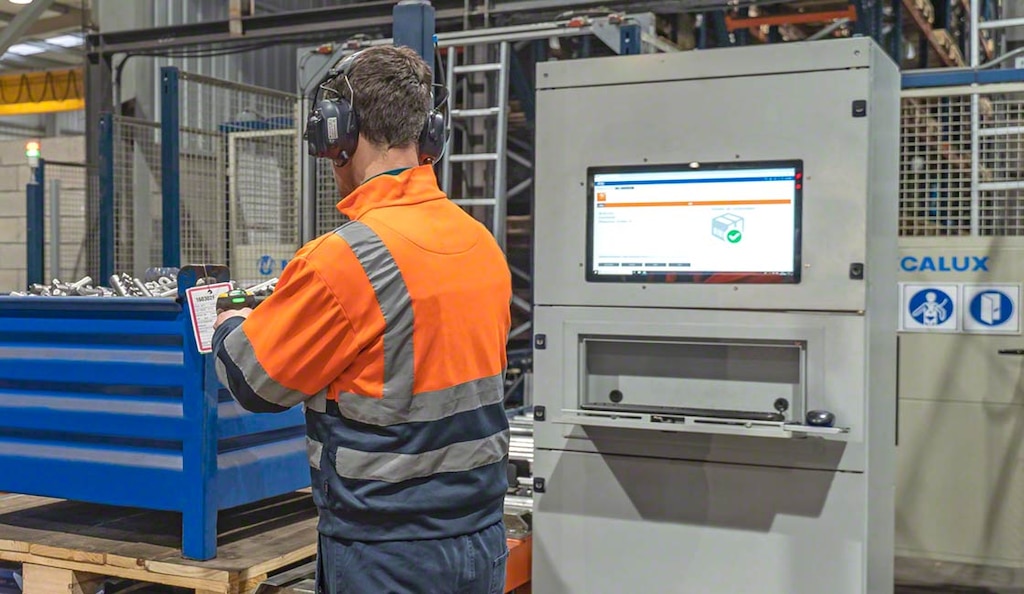 3. Load and warehouse safety
AS/RS are designed to operate with minimal human intervention. Automation is especially valuable in temperature-controlled storage systems, whether cooled or frozen: machines can work nonstop, preventing your operators from exposure to extreme environments for prolonged periods of time.
Automatic handling equipment, e.g., stacker cranes and conveyors, incorporate safety systems to protect the people working in the warehouse, the loads, and the building itself. The machines facilitate secure, controlled movements of goods.
Safety is one reason why pharmaceutical company Novartis decided to automate its logistics infrastructure. The business improves its production and logistics processes continuously to ensure that its medications remain fully effective. In Poland, Novartis has a rack-supported facility that houses its entire production output. In terms of the benefits the company has gained through automation, Novartis Supply Chain Manager Tomasz Marchewa highlights "increased security, lower maintenance costs, control over all movements, expanded storage capacity compared to other traditional storage systems, and reductions in personnel costs."
4. Space maximization
AS/RS stand out for offering the largest possible warehouse capacity in a limited space. Plus, they're flexible: they can be adapted to the particular features of each building. AS/RS are also scalable and can be expanded by adding more aisles if your business's logistics needs so require.
Out of all the AS/RS, clad-rack warehouses are the solution that makes the best use of the surface area and provides the highest possible storage capacity. The structure of these facilities is formed by the racks themselves, to which the roof and side cladding are attached. The racks maximize the storage capacity by doing away with columns and other conventional structural obstacles. Rack-supported warehouses can stand just 12 m to over 45 meters tall.
To leverage storage space and accommodate all its goods, FIC, a company specializing in products for construction professionals, equipped its distribution centre in France with an AS/RS for boxes. "We manage 60% of all our SKUs in the AS/RS for boxes, taking up only 5% of the logistics centre's surface area," says Yannick Taton, Logistics and Transportation Manager at FIC.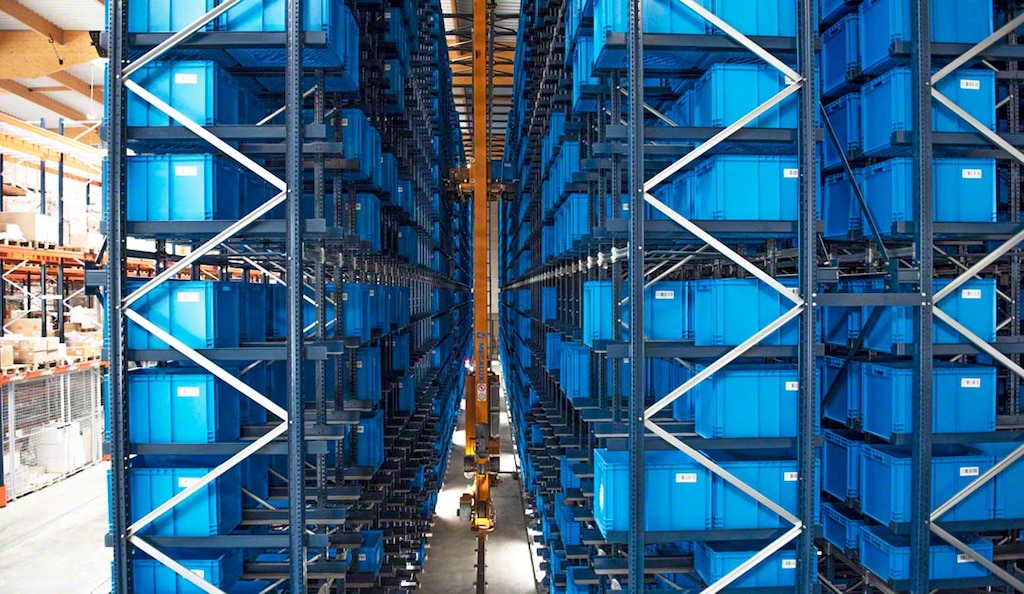 5. Agile, error-free order picking
In an automated warehouse, you can implement solutions that ramp up efficiency and accuracy in order processing.
At the pick stations of an AS/RS, order picking is performed according to the goods-to-person system. With this working method, automatic handling equipment is employed to bring the required products to the operators putting together the orders. Stacker cranes remove the items in question from their locations, and conveyors move them to the operator's pick station. By receiving the goods automatically, the operators don't have to travel to locate the items, saving time and improving efficiency in the facility.
Picking robots are another solution that streamlines order picking. These machines handle and sort products automatically. One of their main assets is their ability to operate 24/7, without interruption or human supervision. Moreover, they speed up picking tasks and make them more agile.
In its logistics centre in Portugal, 3PL provider HAVI has stepped up its picking throughput by means of automation. The company has installed pick stations outfitted a with pick-to-light system, which facilitates and expedites order picking following the goods-to-person method. Meanwhile, in its freezer store, HAVI has implemented an anthropomorphic robot that completes 40% of the orders autonomously, quickly, and without the need for operator intervention in subzero temps.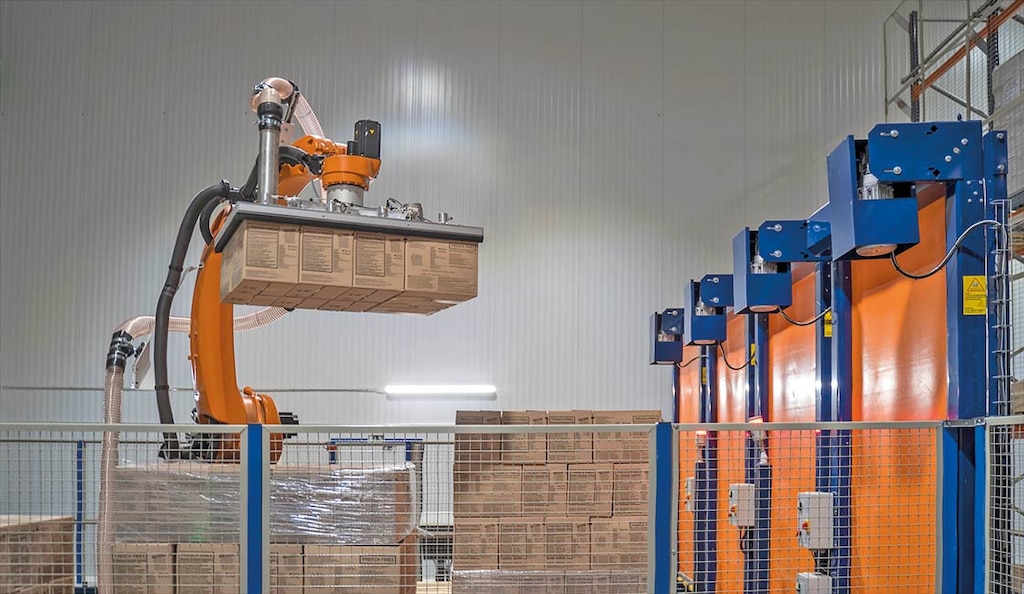 Warehouse automation: greater logistics efficiency
Automation is one of the most effective solutions for achieving logistics efficiency. Implementing automatic handling equipment in your facility has a multitude of advantages, including increased productivity, improved safety in goods management, and more agility in storage and order picking tasks.
At Mecalux, we have vast experience in designing and implementing AS/RS for companies from all sectors. Want to benefit from the advantages of automating your logistics processes? Get in touch so we can show you how our automated solutions can boost your business.