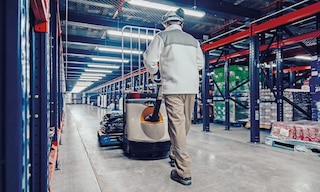 Pick tunnels speed up order picking
03 Oct 2022
Pick tunnels are an ideal logistics solution for streamlining picking of palletised goods and optimising storage space in the warehouse.
Employing pick tunnels eliminates unnecessary movements of pickers and goods while increasing efficiency by filling more orders at the same time.
What is a pick tunnel?
Pick tunnels are a logistics solution that consists of setting up a picking aisle inside the racking at floor level. The upper levels comprise the storage system used to hold the reserve pallets.
This warehousing solution is characterised by high-density storage of palletised goods. It lets you allocate the lower levels to order picking and maximise storage space. The goods housed on the upper levels are managed using conventional handling equipment such as forklifts. Pick tunnels are configured to provide high-density storage and facilitate manual picking operations.
Pick tunnels are commonplace in manually run warehouses with palletised goods of different turnovers. Why? They expedite order picking from pallets and simplify replenishment tasks by storing the reserve pallets on the upper levels. Pick tunnels are integrated in the lower levels of storage solutions such as push-back pallet racking (LIFO system) or live pallet racking (FIFO system).
This logistics option is often confused with pick modules with raised walkways, which offer accessibility to all load levels. As opposed to raised walkways, pick tunnels only allow for order picking on the ground floor; the upper levels hold the reserve pallets.
Advantages (and disadvantages) of pick tunnels
Pick tunnels are a storage system for palletised goods that enable you to:
Optimise storage space: they leverage space by compacting the pallets housed on the upper levels and creating a picking aisle at floor level.
Increase picking throughput: they facilitate picking because operators only travel in that particular aisle to collect the products that make up the order.
Improve goods distribution: they limit operator movements, as the picking area and the zone containing the reserve products used for this operation are located in the same space.
Nevertheless, pick tunnels might not be efficient enough to optimise throughput in warehouses with mass picking. In this case, it's advisable to replace manual storage systems with automated solutions that ramp up productivity. For example, stacker cranes for pallets (AS/RS) ensure uninterrupted flows of goods to the picking area. They work according to the goods-to-person method, whereby the robot moves the required products automatically to the operator's location.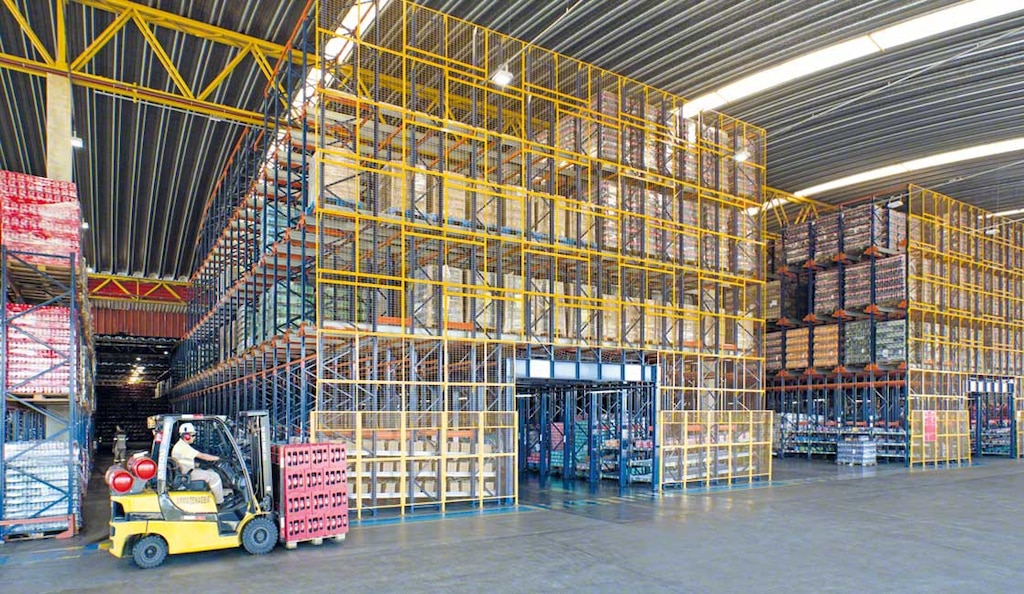 Pick tunnel configuration
With high-density storage systems, there are multiple configurations for storing reserve pallets on the upper levels and for performing picking at floor level.
These are the most typical configurations for combining pallet storage with a pick tunnel:
Live pallet racking: pallets are loaded in one aisle and removed on the other side by means of sloped channels and gravity. This system is perfect for guaranteeing turnover, as the goods are stored according to the FIFO (first in, first out) method.
Push-back pallet racking: pallets are inserted and removed in the same aisle, in line with the LIFO (last in, first out) method.
Pallet Shuttle system: pallets are deposited and extracted from the same aisle. A motorised shuttle moves the products in the storage channel, speeding up storage and retrieval operations.
Pick tunnels also offer multiple combinations for performing picking at ground level. These are the most popular:
Flow channels: these channels have wheels that move the pallets by gravity to the working aisle, where operators pick products. This system increases the number of order picking lines and reduces operator travel.
Pallets on the floor: operators pick directly from the pallet on the floor using manual handling equipment, e.g., a pallet jack.
Live storage for pigking: the storage of reserve pallets on the upper levels can be combined with live storage for picking in the pick tunnel. This streamlines the picking of small items.
Examples of pick tunnels in warehouses
Pick tunnels are a go-to solution for optimising storage capacity and boosting picking throughput in logistics facilities. One example can be seen in the logistics centre of Coca-Cola Refrescos Bandeirantes in Trindade, Brazil. Mecalux outfitted the facility with a pick tunnel used with flow channels for boxes and for pallets to accelerate operations. The upper levels contain two racking units with the Pallet Shuttle system, where an automatic shuttle speeds up the storage and retrieval of palletised goods.
Pick tunnels are also used in Nestlé Purina's warehouse in Teno, Chile. Three 33-foot-tall racking units run by the semi-automated Pallet Shuttle system provide a storage capacity of 7,278 pallets. In two of these units, Mecalux has set up pick tunnels to perform order picking directly from the pallets in the flow channels. "The reserve pallets are stored in the same channel, so we always have the products we need to pick," says Héctor Olmos, Warehouse Manager at Nestlé Purina in Chile.
Another example of this solution can be seen in the facility of logistics provider Tamer in Jeddah, Saudi Arabia. Mecalux equipped the warehouse with a personalised solution combining pallet racks, high-density racking with the Pallet Shuttle system and push-back pallet racking. A pick tunnel was created on the lower part of the 10 push-back racking units. It consists of flow channels on both sides, where operators perform picking. This setup facilitates replenishment of the flow channels for picking. That is, the reserve pallets are kept in the push-back pallet racking in the upper levels of this storage system.
Pick tunnels for warehouse optimisation and throughput
Pick tunnels can be incorporated in a number of manual storage systems. This logistics solution facilitates order picking, optimises space and, most notably, streamlines stock replenishment: storing the reserve stock on the upper levels avoids unnecessary movements in the facility.
At Mecalux, we feature a wide range of personalised solutions to adapt to the demands and requirements of each warehouse. Be sure to get in touch. One of our expert consultants will advise you on the best storage system for your facility.